Compared with a factory radio, a new aftermarket car radio is usually integrated with a lot of practical and entertainment features which may easily make your in-car life more convenient and enjoyable. So if you are fed up with your factory radio which is too outdated to be compatible with modern features, you can consider replacing it with a new aftermarket car radio without any hesitation. If you plan to make the replacement by yourself, you can find a related car radio installation guide to help you. Here I'd like to share a 2008 2009 2010 2011 2012-2013 SUBARU OUTBACK car radio installation guide from Seicane with you. If you own the same car model, you can refer to this guide.
Precautions for this installation:
1.Before you start up any work, park your car well and unplug the negative power cable to avoid any danger.
2.Please make sure that all fastened wires are isolated with electrical tape.
3.Please make sure the ignition is off to avoid short circuit.
4.Please prepare a lever and a screwdriver before the removal and the installation.
5.For your convenience, here's the recommended tools for removal and installation from Seicane, please check for more details: http://www.seicane.com/car-dvd-dismantling-device-srd- 400
2008 2009 2010 2011 2012-2013 SUBARU OUTBACK car radio installation guide
1. The original car radio.
2. Remove the original panel with a plastic knife, pry gently along the gap and pick up the panel, then remove it and then set it aside.
3. Remove six screws that fixed the radio on the dashboard.
4. Gently pull the factory radio out of the dash.
5. Then unplug the connectors at the back of the factory radio.
6. Check all the accessories for the new Seicane car radio.
7. Connect the harnesses to the back of the new Seicane car radio.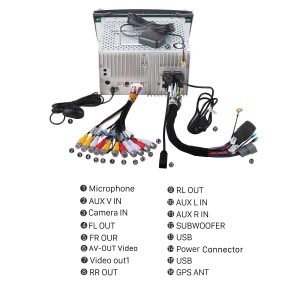 8. Connect the Seicane car radio to your original radio's plugs.
9. Turn on the new Seicane car radio to have a careful check if everything works well. If it doesn't, please check whether all the cables are connected correctly.
10. Put the new Seicane car radio into the dash.
11. Put everything into their original place. All the installation is done.
Wish you can learn some skills from the above installation guide. To deal with the problems you meet during installation, you may seek help from your dealer, someone experienced or a professional. Moreover, if you still think it hard for you to install the new car radio, you can directly arrange a technician to help you with the installation. Here I'd like to share a remarkable 2008 2009 2010 2011 2012-2013 SUBARU OUTBACK car radio from Seicane to you. You may check out the following link for more details.
https://www.seicane.com/hd-touchscreen-android-radio-bluetooth-dvd-player-gps-navigation-stereo-for-2008-2013-subaru-outback-support-dvr-obd2-usb-wifi-rearview-camera-1080p-mirror-link-s32780f
This car radio is advanced enough for you to get access to a wide range of practical and entertainment features so as to upgrade your in-car life. With the newest Android based system of great utility and extendibility, you can search for any applications and download them in the Android market for access to YouTube, twitter, E-book, etc.
Thanks to the worldwide real-time GPS navigation system, you can know your current locations and accurately navigate to your desired destinations through turn-by-turn directions and voice prompts. And with dual zone function, this unit enables you to listen to your favorite music while navigating, which won't have any negative influence on GPS function. In a word, such high-end 3D GPS navigation function can bring you not only convenience but also enjoyment in your driving life.
If you like this car radio, just add it your shopping cart. Good luck to you!