Whether you're an experienced user or installing your car stereos in your Audi for the first time, it's necessary to realize that there are specific steps that should be followed before starting the installation. Audi Users who attempt to replace the factory touch screen on his own without any guide often experience car installer remorse or worse due to their unsuccessful installation. If you want to upgrade or install your radio in your Audi A3, this 7 steps guide to Installing a stereo with Bluetooth Carplay in 2008-2012 Audi A3 will act as a great refresher, which will give your helpful advice and clear structure during the procedure. All you have to do is read it carefully before you plan to start the brain-burning journey.
Before installation, you should pay attention to some important tips. First of all, you can disconnect the power and prepare some tools such as lever or removal keys before the removal and the installation. Secondly, you should keep all the separate parts from the car and take great care of the dashboard to avoid scratching it during its detachment and installation.
Last but not least, you should keep handy any parts from the car and make use of all the original screws from the car as much as possible so that each related part of the unit can be fixed securely.
2008-2012 Audi A3 Radio Installation Guide
Step 1, Use 4 radio removal keys and insert them into the slots of the car radio system
Step 2, Pull the 4 key buckles with appropriate force in order to pull out the radio unit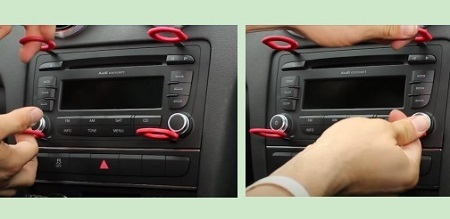 Step 3, Take down the radio unit, remove the key tool, and unplug the connections at the back of the radio unit
Step 4, Have a check for the wiring parts of the new car radio unit
Step 5, Connect the new wiring parts to the car plugs
Step 6, Connect the new touchscreen radio head unit to the dashboard
Step 7, After installing the new radio, start the car to test whether the new radio system functions normally
That's the whole easy steps of installing Audi A3 car stereos. Don't forget to check that the radio is switched on, that the sound is working and that you're picking up the radio and ready to enjoy your new driving time. If you have other trouble, or want to learn more about relevant details, you can ask for a professional technician for help or consult your car dealers. There are also plenty of resources of teaching tutorials online available for each users any time. Here is a link of 2008-2012 Audi A3 Radio from Seicane , which provides good services in car radios market for over 10 years. You can visit this page and consult its Audi A3 Category if you have further questions.
This new car radio offers wireless carplay and Android Auto to create an interface that's just like your phone. All of your navigation, music, apps are performed and controlled on its big 9.7 inch touchscreen display.
In addition, it supports 36 EQ adjustment, which means to provides you the best sound quality during the driving trip and you don't need to worry about the sound problems. Besides these functions mentioned above, it supports 360°camera, which gives you bird's eye view panoramic reversing videos requares 4 cameras.
Just like the old saying goes, actions speak louder than words, so don't hesitate to visit it now if you like it very much !