As a car owner, you must want to create a convenient and relaxing in-car environment and own a wonderful driving experience. To achieve this goal, you can install a new multifunctional car radio to replace your factory radio which is incompatible with a range of modern features. Here I would like to introduce a detailed Seicane car radio installation guide for a 2009 2010 2011 2012-2015 BMW X1 E84 car radio with you. If you have the same or similar dashboard, you can refer to this guide carefully.
Precautions for this installation:
1. Before you start up any work, park your car well and unplug the negative power cable to avoid any danger.
2. Please make sure that all fastened wires are isolated with electrical tape.
3. Please make sure the ignition is off to avoid short circuit.
4. For your convenience, here's therecommended tools for removal and installation from Seicane, please check for more details: http://www.seicane.com/car-dvd-dismantling-device-srd-400
2009 2010 2011 2012-2015 BMW X1 E84 car radio installation guide
1. Use a plastic removal tool to pry the air-conditioning vent panel.
2. Gently remove the hazard button.
3. After remove the screws that fix the top panel, gently take out this panel.
4. Use the removal tool to pop out the panel beside the gear shift.
5. Remove the air-conditioning panel with the help of the removal tool.
6. Disconnect the connectors and plugs at the back of the climate control panel.
7. Unscrew the screws that fix the original car radio with a screwdriver.
8. Pull out the original car radio.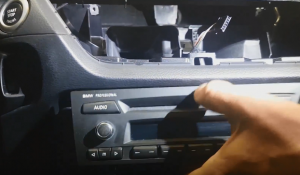 9. Unplug the connectors and cables at the back of the car radio.
10. Check all the accessories for the new Seicane car radio.
11. Connect the harnesses to the back of the new Seicane car radio.
12. Connect the Seicane car radio to your original radio's plugs.
13. Turn on the new Seicane car radio to have a careful check if everything works well. If it doesn't, please check whether all the cables are connected correctly.
14. Put the new Seicane car radio into the dash.
15. Put everything into their original place. All the installation is done.
Wish you can achieve the whole removal and installation process after reading the above instruction. If you have any difficulties that you do not know how to overcome, you can contact your dealer, communicate with someone experienced or turn to a professional for help. Anyway, before installation, please make sure that you've already got an ideal car radio for your beloved car. If you don't have, here I would like to share a remarkable 2009 2010 2011 2012-2015 BMW X1 E84 car radio from Seicane with you. For more details, please click:
https://www.seicane.com/hd-touchscreen-android-2009-2015-bmw-x1-e84-with-monitor-cic-aftermarket-radio-head-unit-car-stereo-gps-navigation-system-bluetooth-phone-support-wifi-dvr-steering-wheel-control-s028239
Your driving experience will be improved to a large extent if you install this car radio in your car. This car radio can offer you the best service due to its higher configuration and performance.
With the assistance of the worldwide real-time GPS navigation system, you can easily locate where you are currently and get the optimal route option to reach any locations you would like to go to according to the turn-by-turn directions and voice prompts. And this unit comes with dual zone function, which enables you to listen to your favorite music while navigating.
Additionally, through the wireless Bluetooth connection between your Bluetooth-enabled mobile phone and this unit, you can freely get access to Bluetooth hands-free phone calls as well as Bluetooth streaming music without taking your hands off the steering wheel control. Thanks to this function, you will gain a lot of convenience and entertainment.
Wish you like this unit. Good luck to you!