If you own a fantastic 2012 Geely Emgrand EC7, you must want to have a comfortable in-car environment and enjoy your driving all the way. The car stereo matters a lot at that point. When you find your original car stereo can't meet all your needs or bring you with great pleasure, it's time for you to replace it with a new aftermarket car stereo. Please look at the following picture which is an excellent Geely Emgrand EC7 car stereo from Seicane after installation, you can take the below installation guide as a reference.
Here are some tips about the installation:
1.Please disconnect the power before the installation.
2.Please prepare a lever and a screwdriver before the removal and the installation.
3.Please keep all the separate parts from the car. Please take great care of the dashboard to avoid scratching it during its detachment and installation. Please keep handy any parts from the car and make use of all the original screws from the car as much as possible. so each related part of the unit can be fixed securely.
2012 Geely Emgrand EC7 car stereo installation guide
1·Remove the original panel with a plastic knife, pry gently along the gap and pick up the panel, then remove it and then set it aside.
2·Remove screws that fixed the radio on the dashboard.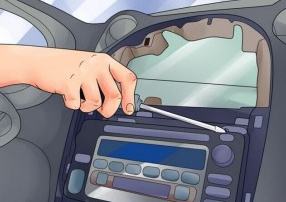 3·Pull the factory radio out of the dash. Pull it with medium force, as the wires are connected to the radio.
4·Unplug the connectors at the back of the factory radio.
5.Make antennas and cables connected step by step as installation instructions show, and you should be very careful when you are doing this for it will affect whole procedure.
6.Put the new Seicane car stereo into your car, you should check whether your connections are correct, and you'd better have a tidy for the cables.
7· If everything is OK, firm screws into their original place.
8·Firm the panel on the new Seicane car stereo. Finally the new Seicane car stereo is installed and a comprehensive test should be conducted on the new radio.
That's all the step-by-step installation guide for a 2012 Geely Emgrand EC7 car stereo, wish it can be helpful for you. It's normal if you encounter some problems during the whole process of the installation. In that case, you can seek help from your dealer or a professional on the car stereo installation.
Besides, it's quite important for you to make sure you have a right car stereo for your car before the installation. If you are unsure which car stereo can fit your car, I'd like to share a modern Geely Emgrand EC7 car stereo from Seicane with you, please click:
http://www.seicane.com/seicane-s126001-quad-core-2012-geely-emgrand-ec7-android-4-4-4-dvd-gps-navigation-car-stereo-with-3g-wifi-am-fm-radio-bluetooth-music-mirror-link-obd2-16g-flash-rearview-camera-steering-wheel-control-mp3
The latest RK3188 1.6 GHz Cortex A9 Quad-core fast processor of this stereo ensures a better performance than before. The accurate navigation system can guide you to any unfamiliar location on time. You can also provide entertainment for your passengers via USB/SD card connection along with playing videos and Bluetooth music.
Under a big discount at present , you'll feel greatly surprised at this high-end Geely Emgrand EC7 car stereo with a lot of advanced components at such a competitive price. Just take it right now and enjoy yourself on all trips!