The direct target of this following article is to make you understand clearly about 2006-2011 Honda CRV Car GPS Navigation System installation and removal.If your car matches the car brand type so that you can refer to steps to upgrade the car head unit.As a result, advanced car radio will make your driving more joyful and safe because of the various and multifunctional performances.
Precautions:
1.Please park your car well and unplug the negative power cable to avoid any danger before start up any work.
2.Please make sure that all fastened wires are isolated with electrical tape.
3.Please make sure the ignition is off to avoid short circuit.
4.Using the improper fuse may cause damage of fire, so when replace the fuse, please consult the professional man.
2006-2011 Honda CRV car Radio Navigation System installation and removal
1·Pry out the speed control with a pry tool and Pull out the speed control gently, and set it side.
2·Unscrew two 10mm bolts under the radio,Off the trim panel with removal tool.
3· pull out the panel and then put it on the top and unscrew two 10mm bolts on the radio.


4·Pull out the radio and Disconnect the harnesses behind the radio.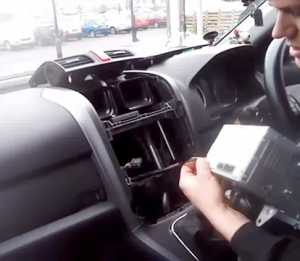 5·Remove the screws that secure the hazard warning switch to the radio, then remove the switch.
6.Install the hazard warining switch and firm the screws.
7·Make antennas and cables connected step by step as installation instructions show carefully.
8·Connect the new Seicane Honda CRV head unit to your dashboard, you should check your connections, the new unit's position.
9·Check whether the unit is working without problem.
10·When the radio is working properly, push the radio into place, firm four removed bolts that are put aside, then make panel back on your new unit.
Hope you have no doubt with the installation and removal for 2006-2011 Honda CRV car stereo. If you still have something confused, please feel free to contact a dealer or professional for support. Surely you can check the link below for more information:
https://www.seicane.com/2-din-radio-android-gps-dvd-player-for-2006-2007-2008-2011-honda-crv-navigation-system-support-usb-sd-bluetooth-3g-wifi-aux-rearview-camera-mirror-link-obd2-dvr-s32789f
This 2006-2015 Honda CRV Car DVD Player comes with the latest Android Radio, RAM 4GB \ ROM 64GB \ CPU 8-core \ Built-in Carplay \ 2.5D IPS Screen, Support RDS, SWC, XM radio APP,support Split Screen Display etc. It replaces your factory radio with android based system of great utility and extendability. And your original factory steering wheel controls will work properly. With this car radio you will offer you a various ways to have a wonderful time during the driving and make your trips safer.