In this era, it has been common that nearly every car owner has installed their favorite car radios inside the car. Apparently, the new radios can bring many benefits including entertainment, phone calls and 4G&wifi function. In this case, more and more people prefer to install the touch screen in their own car by themself as it can save money. As a car owner of TOYOTA REIZ Mark X, how do you start to install your new car stereos on your own? Here is a a 2010-2015 TOYOTA REIZ Mark X car radio installation guide from Seicane. You can refer to the following installation guide if you need.
Before installation, you should pay attention to some important tips. First of all, you can disconnect the power and prepare some tools such as lever before the removal and the installation. Secondly, you should keep all the separate parts from the car and take great care of the dashboard to avoid scratching it during its detachment and installation.
Last but not least, you should keep handy any parts from the car and make use of all the original screws from the car as much as possible so that each related part of the unit can be fixed securely.
2010-2015 TOYOTA REIZ Mark X car radio installation guide
1.Remove the trim panels.
2.Remove screws that fix car stereo.
3.Take down the radios and disconnect the plugs.
4.Seperate the main unit and the A/C button panel.
5.keep the A/C button panel and install it back to the dash.
6.Tighten the screws.
7.Connect Power Harness, RCA Cable and CAM Cable to the new radio.
8.Correspondingly connect the new radio cables to the car plugs.
9.Install the Touch Radio to the dash.
10.Install trim panels back.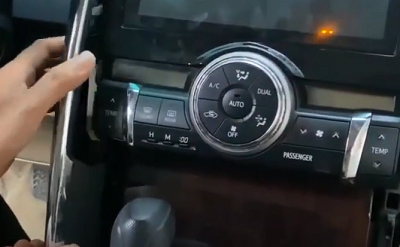 After reading the 10 steps above, I believe you should have a clear idea about how to install your own car touch screen by yourself. If you find some problems during this procedure, you can ask for a professional for help or consult your car dealer directly. I sure you will get what you want from them. And it is wise for you to surf the internet to search for some useful information which can satisfy your need because there are full of various installation videos and manuals there. And here I would like to share one of the outstanding product from Seicane, 2010-2015 TOYOTA REIZ Mark X car radios, which can show you its brilliant function and specific installation steps.
Built in WIFI module, it supports to connect WiFi hotspots to surfing the Internet. It can also supports 3G internet, require to buy external android compatible 3G USB module and insert SIM card from your local telecom carrier. You can enjoy a high speed entertainment during your driving journey.
With the latest Android 10.0 system, it can support for sophisticate technology and features, which means you can keep things up-to-date as you wish. Moreover, its GPS module can support both online and offline navigation app from Google Play App market, you will never get lost during the driving time.
Besides, it is equipped with many optional function such as HD Digital TV, backup camera, TPMS and DAB+, which and enrich your driving life. With high-quality sound, it offers more radio programs over a specific spectrum than analogue FM radio.
In a word, just grab this chance from this moment and buy what you want !