Why I get the touch screen unit for my Honda Fit?
If you also have the 2020 Honda Fit, you'll know there is only a standard radio system in the dash, no screen, no navigation, no video, no Internet. While most of that kind radio only allows us to listen to Bluetooth music and radio channels. Therefore, every time when I drive the car, I feel very boring and inconvenient, especially on long drive. It was at that time, I realized that a touch screen head unit is necessary.
How I replace the 2020 Honda Fit factory stereo?
There are so many style touch screen radios on the online market, I took some time to get one. Fortunately, the 2020 Honda Fit radio replacement is a super easy work, most drivers can do that by themselves. Let's see how to do.
Preparation
– Basic Tools: Plastic pry tool and screwdriver.
– Cut off the car battery before working to ensure safety.
1, Pry to remove the button panel.
2, You'll find two screws that fix the old radio unit, remove them.
3, Then pull out the unit, and unplug all the connectors from its back.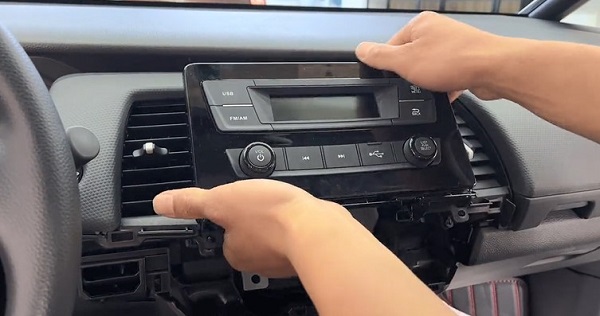 4, Till now the removal job is finished. Let's go to the installation steps. First of all, ensure all the needed cables and accessories handy. Correspondingly connect the new wiring cables of the touch screen head unit to the car.
5, Next correspondingly connect the big screen radio to the car via the new cables. Check the manual book to make sure every cable is right connected.
6, Put the new radio to the dash, turn on your car to test it.
7, If there is no problem, you can install back all the car parts. If there is something abnormal, check again the wiring condition. Ask seller for assistance when needed.
What the new unit brings to my driving life?
It's a 10.1-inch touch screen Android radio provided by Seicane. The screen looks exquisite and has an eye-friendly user interface, which greatly improves visual experience.
On one hand, this unit is able to offer various amazing entertainment, including Bluetooth music, FM/AM radio, 1080P video, online reading, website pages browsing etc. On the other hand, it's phone-integrated, we can connect our phones to the radio via Carplay or Android Auto. With this function, the radio will be turned to the phone, allowing us to apply phone APPs freely on the radio screen.
Having large screen radio head unit, you can easily use navigation. Even there is no Internet, it still works normally and the navigation information keeps in real time and accurate. What's more, you can connect a backup camera to the radio. When you reverse and park the car, the radio screen will display the rear images automatically, assisting you to park car easier. For those who always have trouble in parking a car, this really a big help.