To keep your passengers relaxed in the back seats of your car, it is necessary for you to upgrade your factory radio by installing a new aftermarket stereo which is equipped with a lot of practical and entertainment features. If you own a 2009-2013 HONDA PILOT, and plan to upgrade your factory radio, you can read the following related installation steps to help with your installation.
Tips about the installation:
1.Please disconnect the power before the installation.
2.Please prepare a lever and a screwdriver before the removal and the installation.
3.Please keep all the separate parts from the car. Please take great care of the dashboard to avoid scratching it during its detachment and installation. Please keep handy any parts from the car and make use of all the original screws from the car as much as possible. so each related part of the unit can be fixed securely.
4.For your convenience, here's the recommended tools for removal and installation from Seicane, please check for more details: http://www.seicane.com/car-dvd-dismantling-device-srd-400
2009-2013 HONDA PILOT car stereo installation steps
1. The original car radio.
2. Start by moving shift lever into lower position.
3. Using your pry tool, carefully pry loose left dash panel and slide over shifter. Then use the pry tool to remove the right panel.
4. Using a Philip head screwdriver to unscrew screws that fix the pocket and then remove it.
5. Unscrews four screws that are holding the radio and then take out the radio.
6. Check all the accessories for the new Seicane car stereo.
7. Connect the harnesses to the back of the new Seicane car stereo.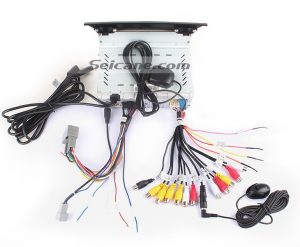 8. Connect the Seicane car stereo to your original stereo's plugs.
9. Turn on the new Seicane car stereo to have a careful check if everything works well. If it doesn't, please check whether all the cables are connected correctly.
10. Put the new Seicane car stereo into the dash.
11. Put everything into their original place. All the installation is done.
Before the installation, please make clear every step. If you have any doubts, you can consult your dealer or ask someone experienced to help you. But if you still think it hard to finish the installation by yourself, you'd better go to a car stereo upgrade center to arrange a technician to install the stereo. Anyway, first of all, please check whether your new car stereo is compatible with your car or not. If not, here I would like to share a 2009-2013 HONDA PILOT gps navi dvd car stereo from Seicane with you. Please click:
http://www.seicane.com/7-inch-1024-600-touch-screen-2009-2013-honda-pilot-android-4-4-gps-navigation-system-with-3-g-wifi-bluetooth-tpms-dvr-obdii-rear-camera-aux-steering-wheel-control-mirror-link-1080p-quad-core-cpu-s083706
This Seicane 2009-2013 HONDA PILOT car stereo is based on the Pure Android 6.0 operation system and a R16 1.6 GHz Quad-core CPU, so you are able to embrace a brand new smoother and faster operation experience than ever. Even though you don't have a good sense of direction, you are capable of finding the best way to get to your destinations with the help of the powerful 3D GPS navigation system in high precision. What's more, with the help of the wireless Bluetooth technology, hands-free calls and Bluetooth music are both available if you connect your Bluetooth-enabled cell phone with this unit. If you like this car stereo, don't forget to add it to your cart. Good luck to you!