With the development of economy, there 's nothing difficult about buying a car stereo from website or other places nowadays, but the question of exactly how hard it is depends on whether it can help you to save some budget on replacing your factory radio and other fees. Therefore, more and more people choose to install the car stereo on their own to solve this problem. If you are thinking about the quick ways to finish this installation, you'd better read some related installation instruction to help you upgrade your in-car life. Here is a 2016 HONDA CIVIC car radio installation guide from Seicane. I would like to recommend it to you that you can refer to this guide carefully.
Some tips before the installation:
1.Please disconnect the power before the installation.
2.Please prepare a lever and a screwdriver before the removal and the installation.
3.Please keep all the separate parts from the car. Please take great care of the dashboard to avoid scratching it during its detachment and installation. Please keep handy any parts from the car and make use of all the original screws from the car as much as possible. so each related part of the unit can be fixed securely.
2016 HONDA CIVIC car radio installation guide
1. Use a flat head plastic removal tool to pry the trim panels.
2. Remove the armrest cusion if necessary.
3. Remove the trim panels.
4. Carefully pull out the Aircon panel which is held by clips. And then disconnect the connector.
5. Unscrew two bottom screws with a screwdriver.
6. Disconnect the 2 connectors (Blue & Grey).
7. The car radio bracket is held by clips. Pull out the original car radio carefully.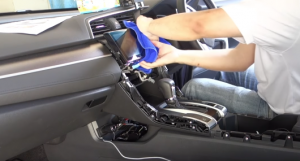 8. Release the clamps that hold the wire harness.
9. Disconnect the connectors at the back of the original car radio.
10. Check all the accessories for the new Seicane car radio.
11. Connect the harnesses to the back of the new Seicane car radio.
12. Connect the Seicane car radio to your original radio's plugs.
13. Turn on the new Seicane car radio to have a careful check if everything works well. If it doesn't, please check whether all the cables are connected correctly.
14. Put the new Seicane car radio into the dash.
15. Put everything into their original place. All the installation is done.
After reading this installation guide, perhaps it is not difficult for you to install and replace a new car radio by yourself anymore. And there are many online guides and companies that provide comprehensive installation services. If you still have questions, you can ask them for help or you can consult your car dealer. Here is a recommended online link of  2016 HONDA CIVIC car radio from Seicane. You can check more details from it.
Loaded with the Latest Android 10.0 Operation system and siri microphone voice control, it provides you the best feeling when you driving on your ways. Built-in WiFi module, supports to connect WiFi hotspots to surfing internet. It can also support 3G&4G internet, require to buy external android compatible 3G&4G USB modem and insert internet SIM card from your local telecom carrier. You will enjoy a high speed entertainment during your driving journey.
Moreover, there are many optional functions are provided to the services including DVR which can record video only to storage in GPS slot card or USB storage,rear view camera which supports RCA AV connector type rear view camera signal input, automatically switch to parking image when reversing gear engaged.
Never miss this chance and you will own what you can cherish in your car life now !