Travelling in your own car with your families is quite exciting, isn't it? To have a more pleasant experience, you can easily add more fun by upgrading your factory radio with an aftermarket multifunctional…..car stereo which can be compatible with a host of entertainment in a car. And you can read carefully this step-by-step 2007 2008 Chrysler Aspen(W NAV) head unit installation instruction from Seicane to guide you to install it in your car.
Tips about the installation:
1.Please disconnect the power before the installation.
2.Please prepare a lever and a screwdriver before the removal and the installation.
3.Please keep all the separate parts from the car. Please take great care of the dashboard to avoid scratching it during its detachment and installation. Please keep handy any parts from the car and make use of all the original screws from the car as much as possible. so each related part of the unit can be fixed securely.
4.For your convenience, here's the recommended tools for removal and installation from Seicane, please check for more details: http://www.seicane.com/car-dvd-dismantling-device-srd-400
2007 2008 Chrysler Aspen(W NAV) head unit installation guide
1.Loosen the trim panel with a lever.
2.Take the panel off the dash and disconnect the wires from the car.
3.Remove the four screws which are holding the unit with a screwdriver.
4.Take out the unit and disconnect the wire harness at the back of the unit.
5.Check all the accessories for the new Seicane unit.
6.Connect the Seicane unit to your original car radio 's plugs.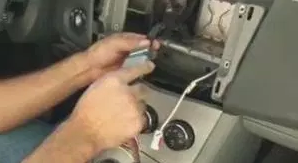 7.Put the new Seicane unit into the dash.
8.Turn on the new unit and have a test if the new Seicane unit is working without problem..
9.Put trim panel back on your new Seicane unit after the normal test.
Wish you can get some help from the above installation guide for a 2007 2008 Chrysler Aspen(W NAV) head unit. If you find your dashboard is different from that shown in the guide pictures, please don't worry, you can still refer to it for your installation. If there is any problem, you can turn to your dealer for help.
Besides, it's necessary for you to check the compatibility between the your new unit and your car. But if you don't have a suitable unit for your car, you can refer to this intelligent 2007 2008 Chrysler Aspen(W NAV) head unit from Seicane, please click for more details:
http://www.seicane.com/2-din-2002-2007-2008-chrysler-aspen-concorde-pacifica-dvd-gps-sat-nav-am-fm-radio-tv-tuner-bluetooth-ipod-iphone-aux-steering-wheel-control-usb-sd-dual-zone-t6015

This up-to-date aftermarket Chrysler Aspen(W NAV) head unit is an ideal replacement for you to upgrade your factory radio to better capabilities. With the built-in wifi, you can freely get access to the online data in your car as long as you can connect with a wifi hotspot. If you want to keep safer and happier on your journey, you can simply link with your enabled cell phone for hands-free calling and music streaming. Just navigate to your destination on time with the help of the most accurate spoken guidance provided by this great unit! Good luck to you!