To improve your in-car environment and take your driving experience up a notch, I would like to suggest you to upgrade your factory radio by installing a brand new car radio which is compatible with a wide range of comprehensive features to meet almost all your needs in car. And to succeed in the upgrade, a detailed installation guide is especially necessary. Here I would like to introduce how to install a 2008-2014 Toyota Highlander car radio. If you have the same dashboard, you can take this guide as reference.
Tips about the installation:
1. Please disconnect the power before the installation.
2. Please prepare a lever and a screwdriver before the removal and the installation.
3. Please keep all the separate parts from the car. Please take great care of the dashboard to avoid scratching it during its detachment and installation. Please keep handy any parts from the car and make use of all the original screws from the car as much as possible. so each related part of the unit can be fixed securely.
4. For your convenience, here's the recommended tools for removal and installation from Seicane, please check for more details: http://www.seicane.com/car-dvd-dismantling-device-srd-400
2008-2014 Toyota Highlander car radio installation guide
1. Carefully pry lower dash panel out.
2. Grip onto the A/C control panel, and give it quick tug to remove.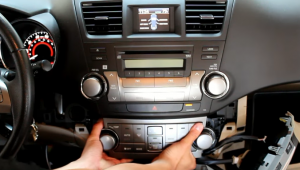 3. Gently pry out air vent and bazel above the radio.
4. There are four 10mm bolts to be removed.
5. Remove these four 10mm bolts with a screwdriver.
6. Gently pull the radio out of the dashboard.
7. Disconnect the connectors and cables at the back of the radio.
8. Check all the accessories for the new Seicane car radio.
9. Connect the harnesses to the back of the new Seicane car radio.
10. Connect the Seicane car radio to your original radio's plugs.
11. Turn on the new Seicane car radio to have a careful check if everything works well. If it doesn't, please check whether all the cables are connected correctly.
12. Put the new Seicane car radio into the dash.
13. Put everything into their original place.
That's all about how to install a brand new car radio for 2008-2014 Toyota Highlander. If you have any doubts, you can consult your dealer for seeking advice or ask a professional for help. However, if you haven't had any related installation experience ever before, you'd better go to a car radio upgrade center to arrange a technician to help you install the radio directly.
Besides, here I would like to share a remarkable 2008-2014 Toyota Highlander GPS Bluetooth Car Radio from Seicane with you for your reference. For more details, please click:
http://www.seicane.com/10-1-inch-pure-android-2008-2014-toyota-highlander-radio-removal-with-sat-nav-car-audio-system-1024-600-multi-touch-capacitive-screen-mirror-link-obd2-3g-wifi-aux-s121012e
With this remarkable 2008-2014 Toyota Highlander car radio in your car, you are able to build up a more convenient, more comfortable and more relaxing in-car environment as well as a high-quality driving experience.
Loaded with the latest Android 6.0 operation system, 8-core 1.5 GHz RK-PX5 A53 processor and 2GB RAM, this unit provides you with smoother, faster and better operation experience and performance.
The large 10.1 inch HD 1024*600 multi-touch screen enables you to enjoy the amazing display effect when you are watching videos, TV programs and movies, etc as well as have a perfect view of the road ahead.
Thanks to the high-precision GPS navigation system, you are able to quickly know your current locations and find the most suitable way to accurately reach your desired destinations according to turn-by-turn directions and voice prompts.
Wish you like it and good luck to you!