Firstly,you can have a look at following picture first: head unit after installation,dvd GPS navigation system support DVR SWC of 2009 2010 2011 Mazda CX-7.
If you are one owner of Mazda CX-7 for 2009 2010 2011 and you are still using oem factory radio,then you can find that the trim panel of it is same with yours.It means that this unit fits your car if you are going to install a new stereo into it.
And this essay is just going to show you detailed steps on how to install 2009 2010 2011 Mazda CX-7 navigation audio system with DVD player 3G WIFI?Maybe most of you are more likely to make things convenient.But I guess you have not known much about it.
Don't worry,because the whole process may only take about few minutes to finish it for professional person and it won't be much difference when you are willing to install the unit by yourself,and you'd better do it according to right installation instructions.
You may need some tools for the mount during this process, such as a screwdriver, a lever and so on.The next part will be the installation operations for Mazda CX-7 navigation system.In order to make sure your safety,please remember to apply the parking brake and remove negative cable on car battery before you begin your actions.
Precautions about the installation:
1.Please read installation instructions from the dealer carefully if you have it
2.Please pay more attention on cables connection between the new unit and car,this is very important to your work
2009 2010 2011 Mazda CX-7 factory radio removal:
1.Use a firm lever to pry edges of trim panel
2.Remove trim panel after it is loosened totally
3.Take down these four screws which lay two on each side with a screwdriver
4.Remove original CD player and disconnect cables that connected them
5.Get down four screws,two as the picture show,and other two on the other side
6.After that remove these two screws and the same to the cable
7.Then you can remove the panel off white part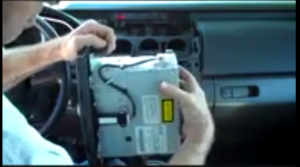 2009 2010 2011 Mazda CX-7 aftermarket stereo navigation system installation:
8.Connect your new stereo with car's dashboard by plugging cables correctly and firming screws on it
9.Sort cables and the dvd player in,fix four screws that are set aside before
10.Cover your radio with other removed parts and turn on new radio to check whether your operations are all right
If you want to know more about this new unit,I suggest you to search for some information from related websites,for example:http://www.seicane.com/lcd-touch-screen-gps-radio-replacement-for-2009-2010-2011-mazda-cx-7-with-dvd-player-3g-wifi-bluetooth-music-dvr-steering-wheel-control-hd-1080p-ipod-iphone-aux-mp3-c097 .
The best way to install the head unit yourself is do it according to right guidance in order to ensure that your radio nav system can be used for longer time.This multimedia car stereo will surely make your usual life more colorful with those new functions and good maintain.
It's possible that you meet some problems that can't solve by yourself,you can ask someone who are professional in this field and wish you successful work.