So, you've just come home with a fancy new aftermarket Skoda FABIA Radio and a brand new set of speakers. Should you install them in your car yourself?
First show you a picture of Seicane 2005-2010 Skoda FABIA Radio after installation.
Do you think it's awesome? By the way, you should make sure whether the new radio fits your car well. I'd like to share a good one which fits 2005-2010 Skoda FABIA with you.
http://www.seicane.com/android-2005-2010-skoda-fabia-radio-dvd-player-gps-navigation-system-hd-touch-screen-obd-dvr-bluetooth-canbus-tv-3g-wifi-rear-view-camera-ipod-s168032
This Skoda FABIA Radio has High quality RK3188 1.6 GHz Cortex A9 Quad-core processor with 1GB Samsung DDR3. And 8 inch HD 1024*600 multi-touch screen with smooth operation, high sensitivity and abundant interaction for the better view of your road ahead. The most attractive is it's intelligent pure android 4.4.4 operation system with exquisite and user-friendly user interface. You can set any of your favorite application icons as shortcut on the main menu and set the position of the icons according to your preference.
Do you think this unit fits your Skoda FABIA perfect? Let's remove the factory radio now.
2005-2010 Skoda FABIA radio installation
1) Pry up the panel around the original radio with plastic tool
2) Pick up the panel on the original car radio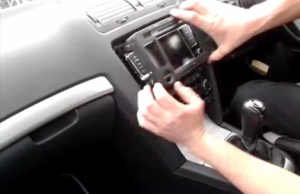 3) Remove the four screws around the radio with a screwdriver
4) Pull out the original radio
5) Disconnect the radio antenna in the back of the radio
6) Unplug the electrical plugs running to the back of the radio
7)Make antennas and cables connected step by step as installation instructions show,and you should be very careful when you are doing this for it will affect whole procedure.
8)Connected the new aftermarket radio to your Skoda FABIA, you should check whether your connections are correct, the new unit is in right position,and you'd better have a tidy for the cables.
9)Finally, you can turn on your new aftermarket radio. If it works without problem, and then you can fix four screws on your new aftermarket radio.Finally put trim panel on the surface of your new Skoda FABIA Radio.
Some notices during installation:
1)Before connecting, please make sure the ignition is off to avoid short circuit.
2)Ensure connect the yellow and red power cable at last.
3)Ensure that all loose wires are isolated with electricaltape
4)Ensure don'tangle the wire when tighten the moving parts(Such as seat rails).
5)Ensure that all GND is connected to the same place.
6)Using the improper fuse may cause damage of fire,so when replace the fuse,please consult the professional.