CarPlay radio GPS has become an indispensable feature in modern vehicles. It offers a wide range of functions that make driving a more enjoyable and convenient experience. Here I summarized some benefits of using CarPlay radio GPS while driving.
One of the features of our product is supporting AM/FM/RDS Radio. It integrated with High-Sensitive radio IC with good reception, supports worldwide analog radio channels reception, RDS standard included for some European countries where with RDS radio signal.
Dual System Free Switching is also supported. Keep the original car system + Android system and switch freely; It can support the computer information display of the original car, highly analyze the original car protocol,support multi-functional steering wheel control, etc.
Another exciting function is real-time traffic updates. CarPlay radio GPS can now provide drivers with real-time information about traffic conditions, such as accidents, road closures, and congestion. This feature enables drivers to plan their routes more efficiently, saving time and reducing stress. Additionally, it can suggest alternative routes, helping drivers avoid traffic jams and arrive at their destination faster. Also supports RCA AV connector type rear view camera signal input, automatically switch to parking image when reversing gear engaged.
CarPlay radio GPS also offers advanced navigation features. It can provide turn-by-turn directions, display 3D maps, and even offer lane guidance. This function is particularly useful when driving in unfamiliar areas or navigating complex road networks. The detailed and accurate guidance ensures drivers never miss a turn and reach their destination effortlessly.
Furthermore, CarPlay radio GPS has integrated entertainment features. Drivers can access their favorite music streaming apps, such as Apple Music or Spotify, directly on the display of their car's infotainment system. Additionally, they can listen to podcasts, audiobooks, and even watch videos during long drives. This integration of entertainment features makes the driving experience more enjoyable and helps pass the time effectively.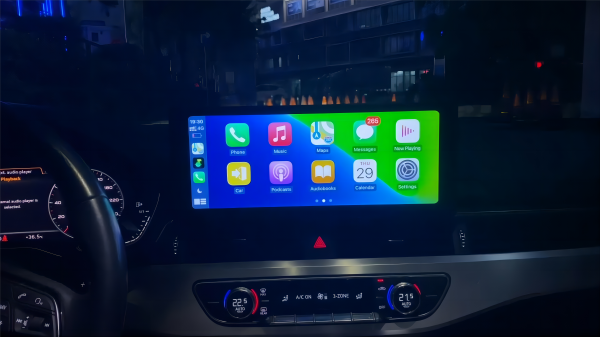 With CarPlay function, drivers can make calls freely, send text messages, and even control their music playback using simple commands. This function not only ensures a safer driving experience but also allows drivers to stay connected without being distracted.
In conclusion, the functions of CarPlay radio GPS have transformed the way we drive. AM/FM/RDS Radio, real-time traffic updates, advanced navigation features, and integrated entertainment options have made driving safer, more efficient, and more enjoyable. As technology continues to evolve, we can expect even more innovative functions that will further enhance the driving experience.