compraron ESTE producto después de verlo. Otros compraron
Detalles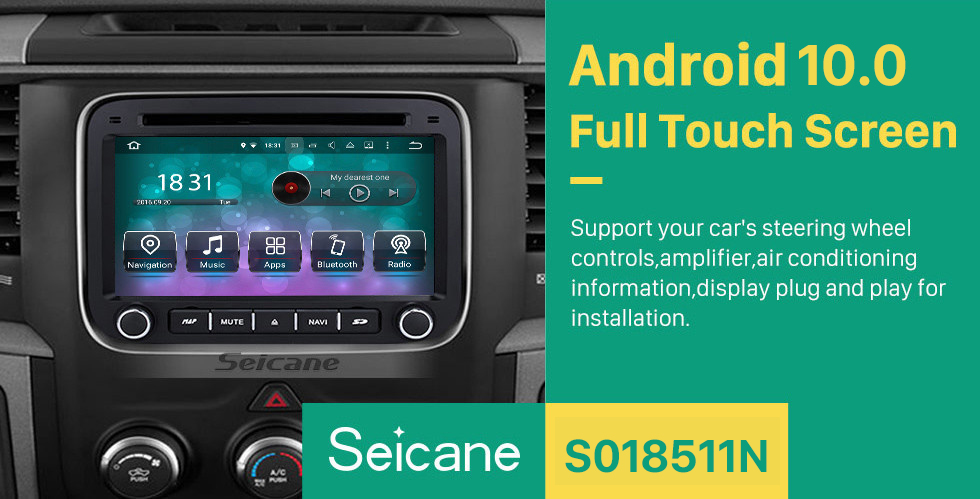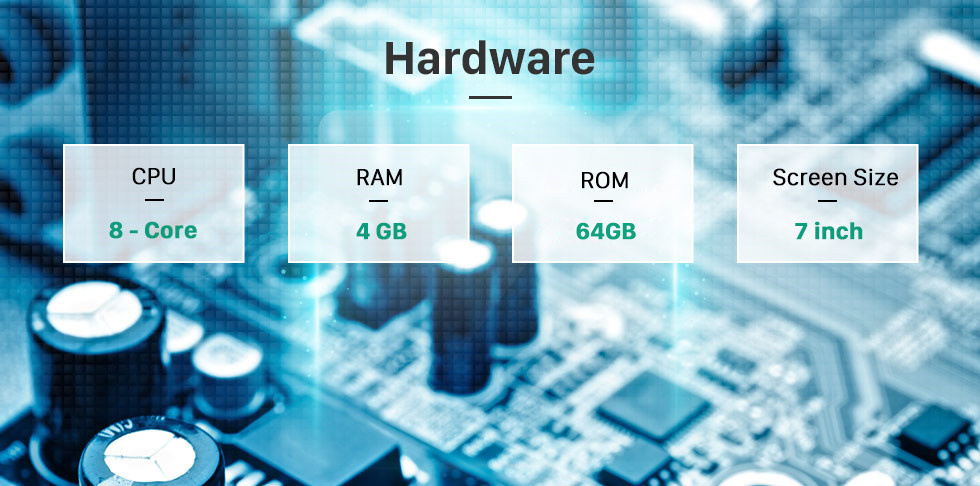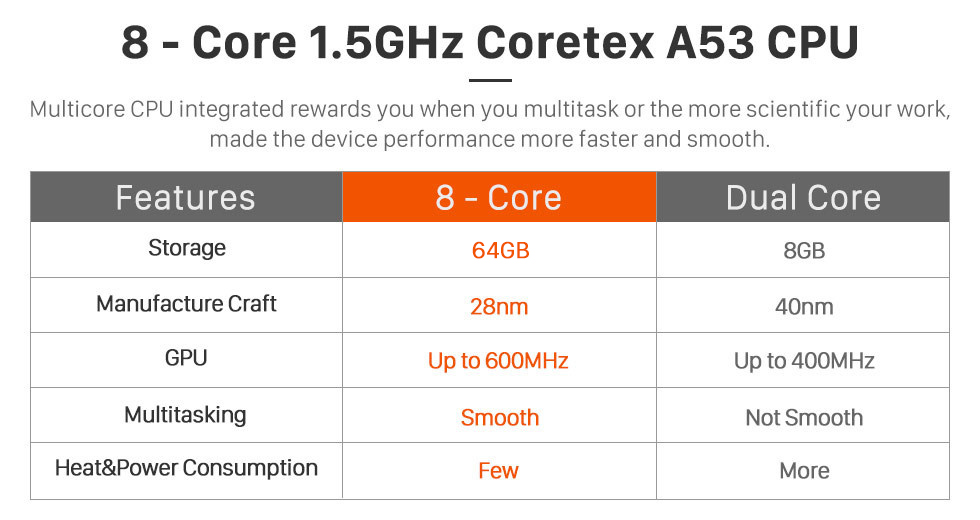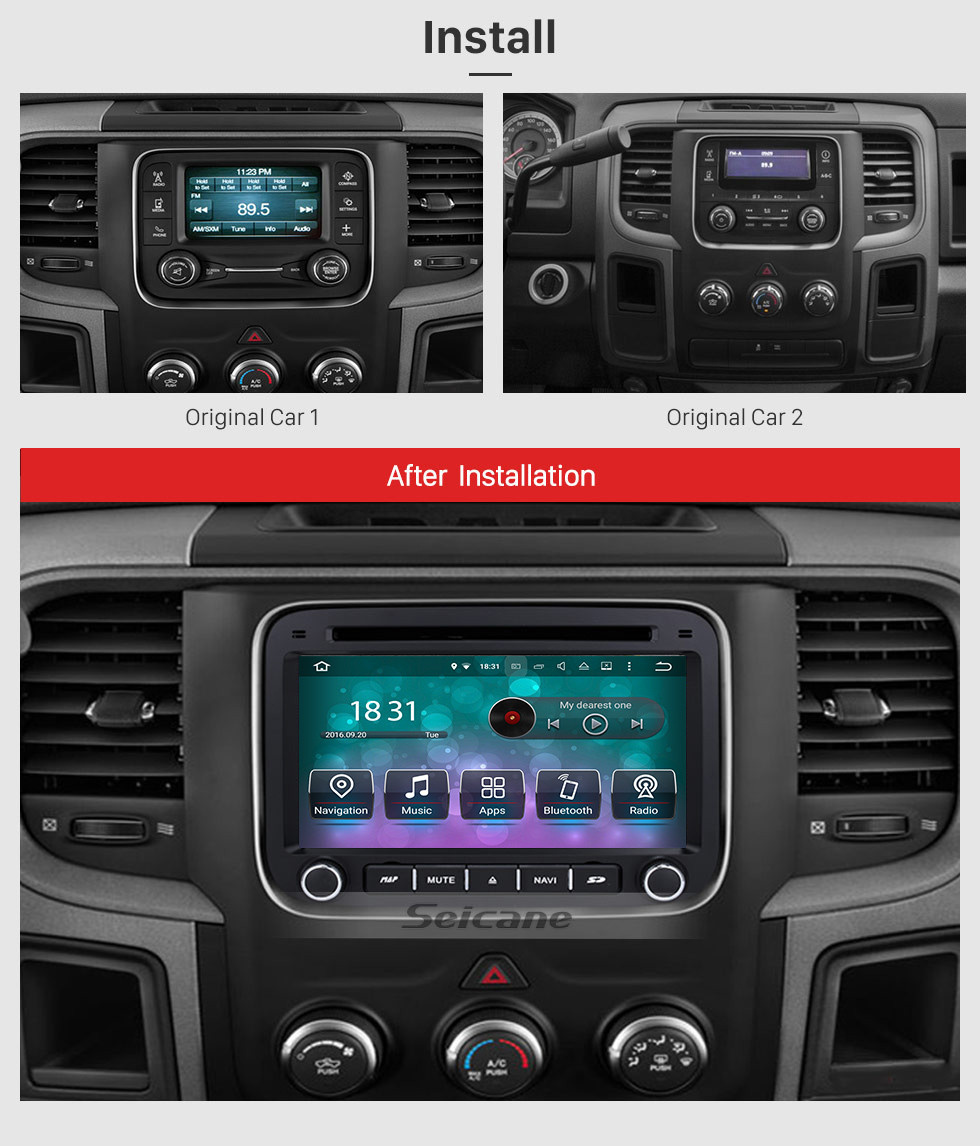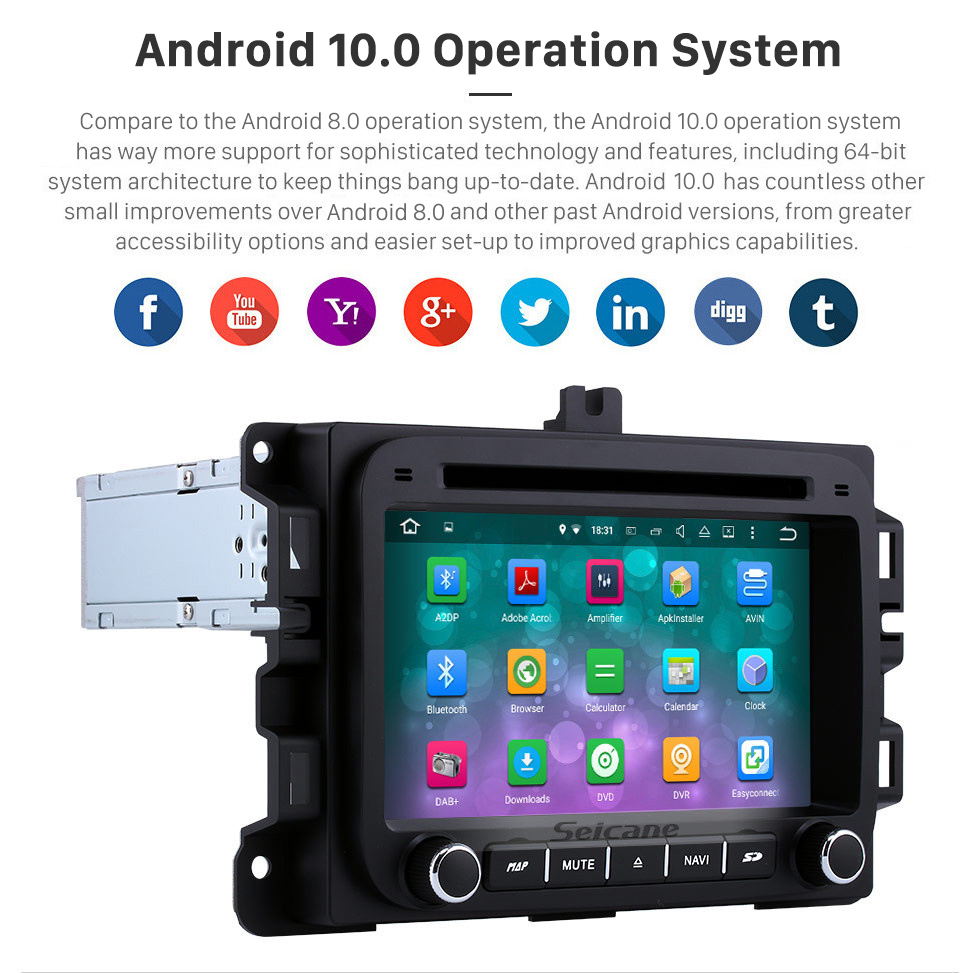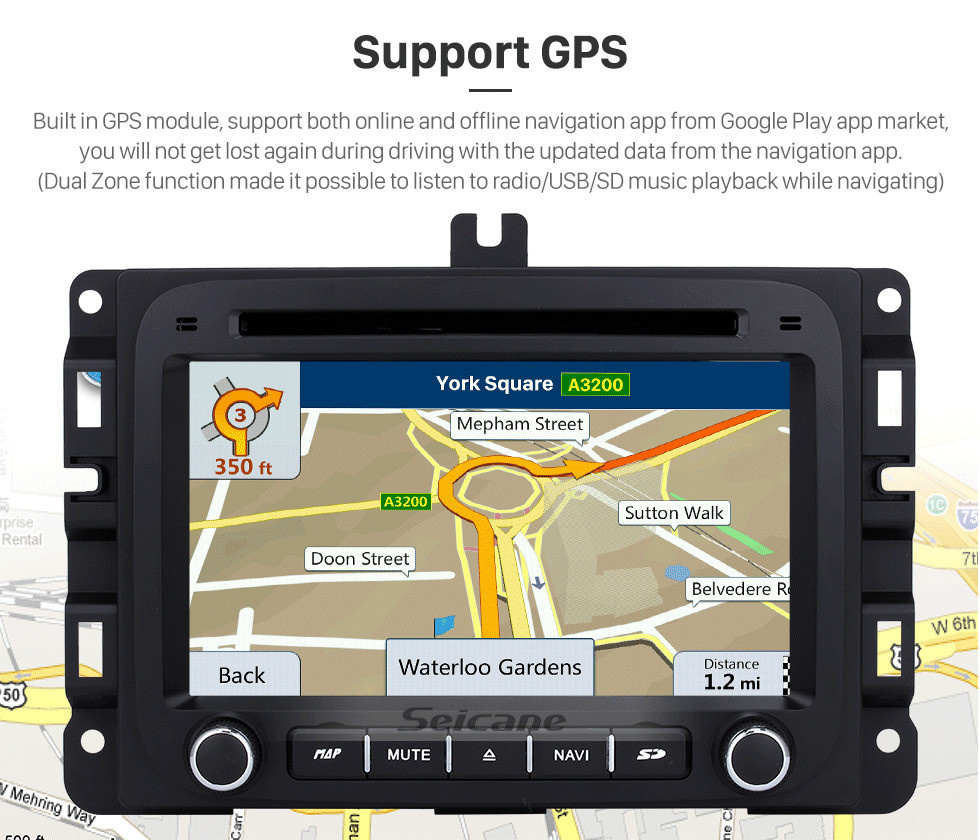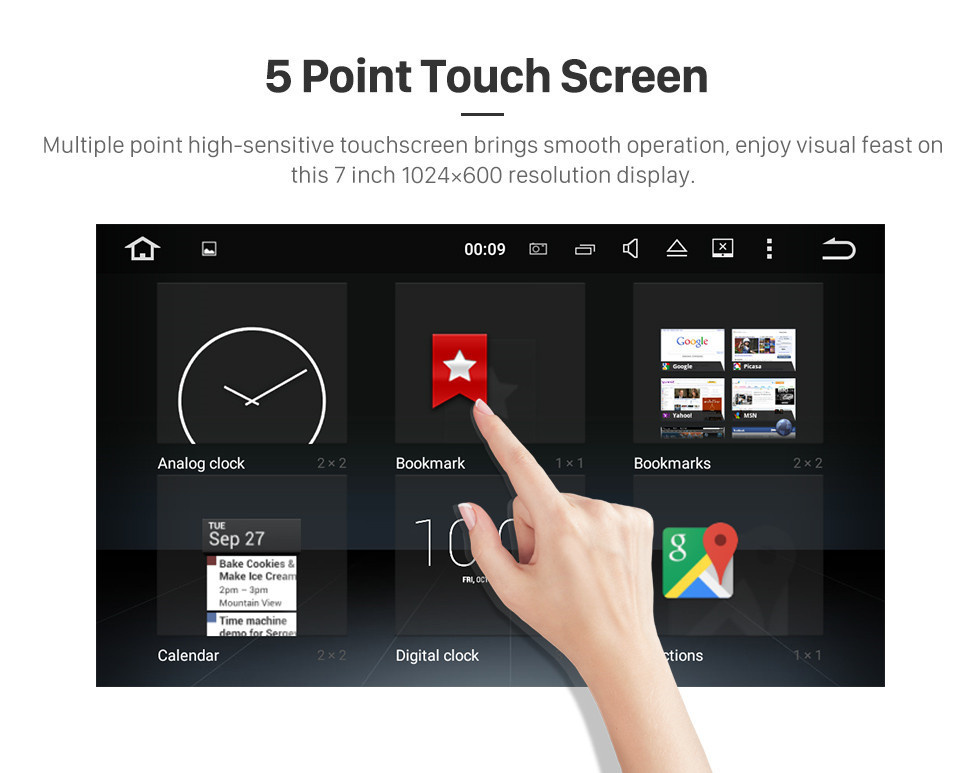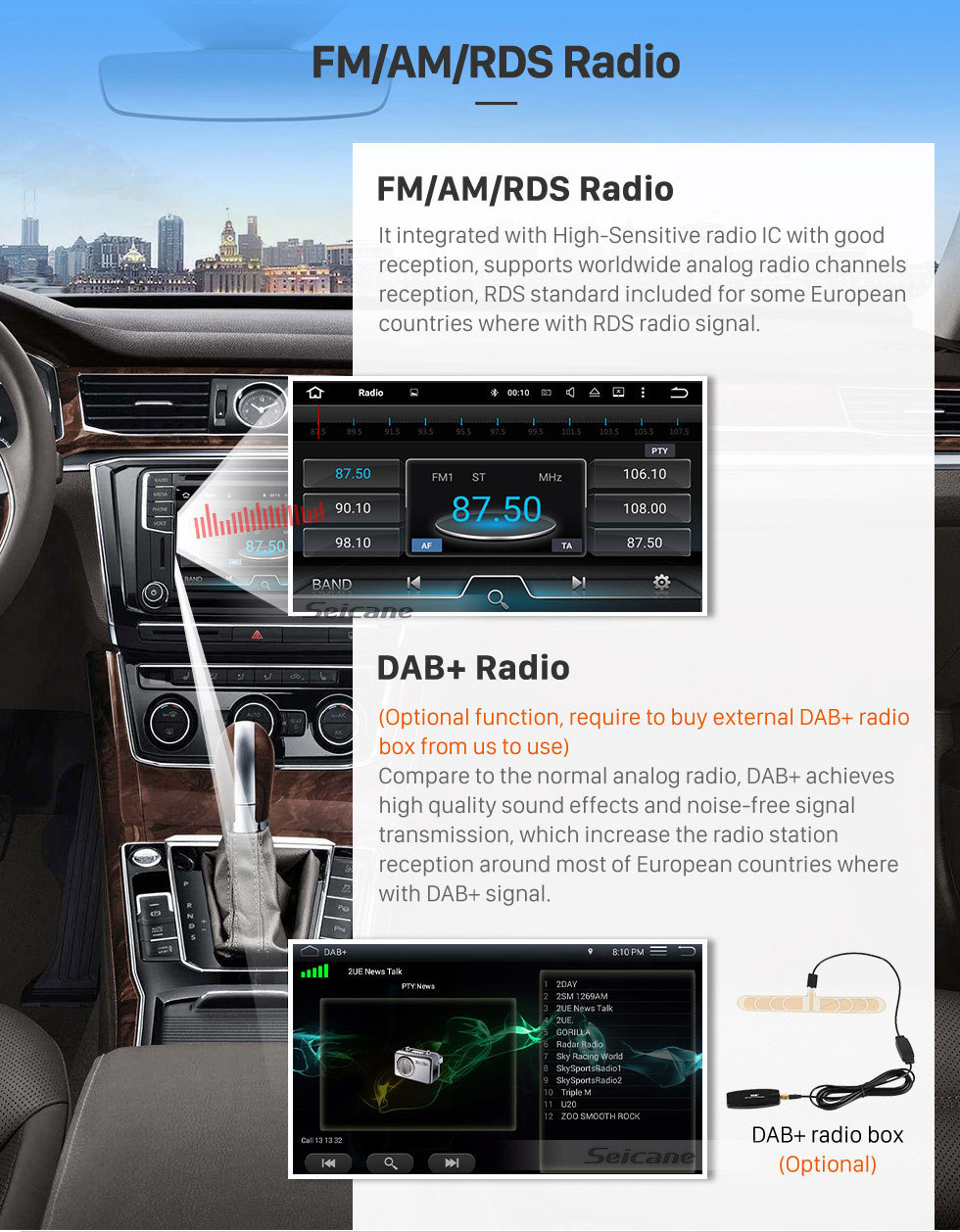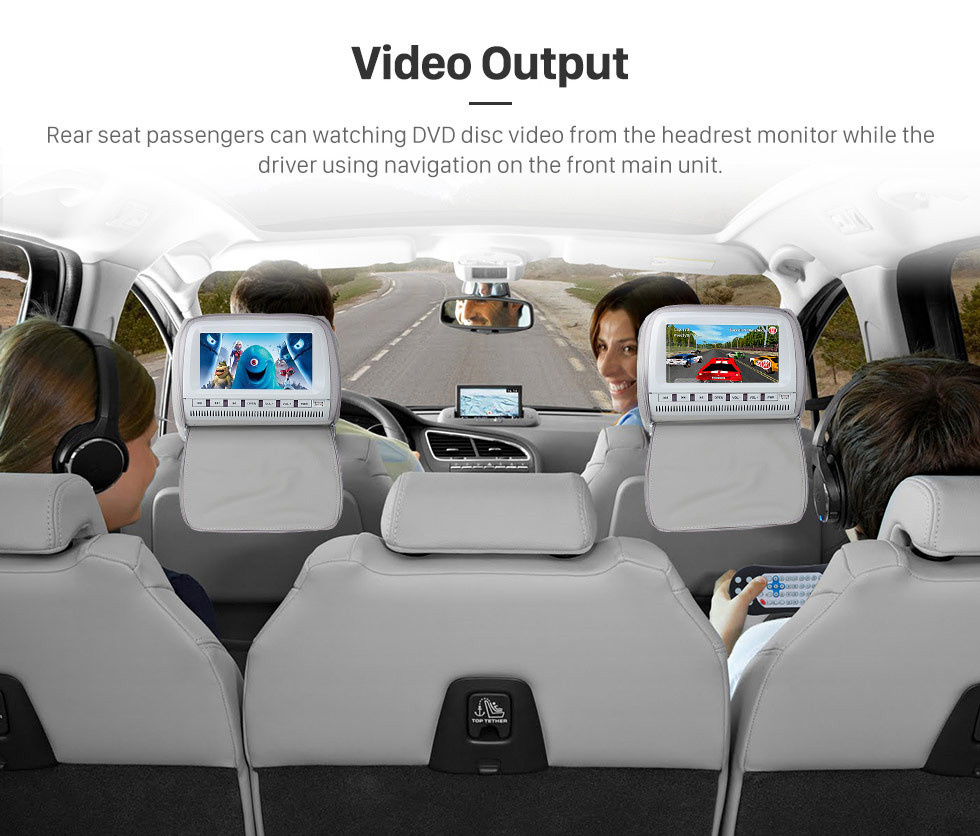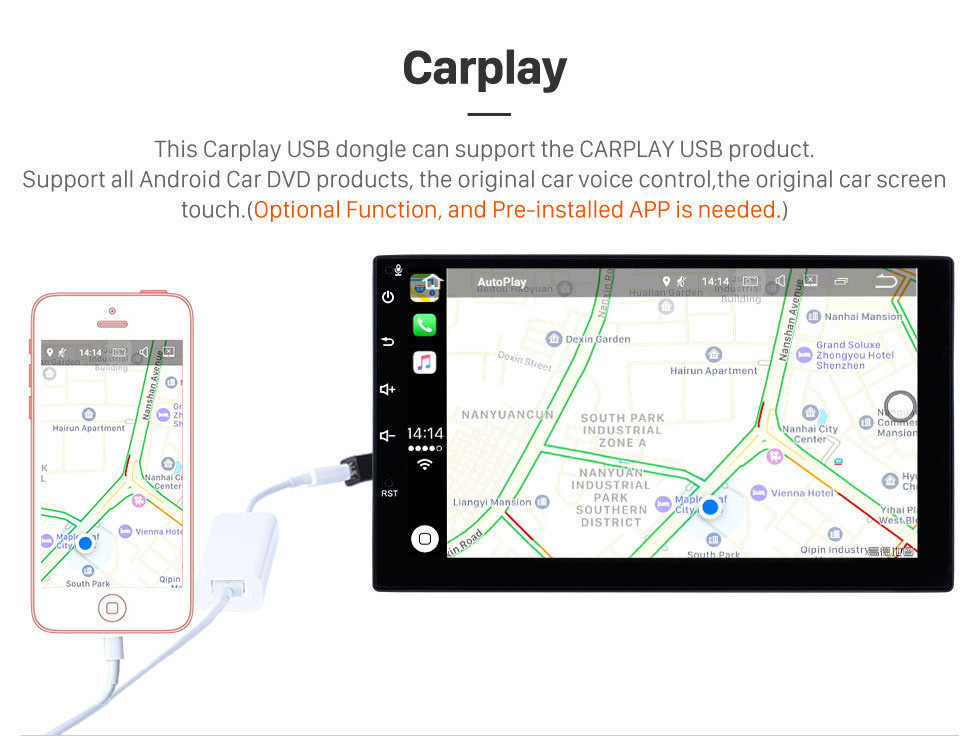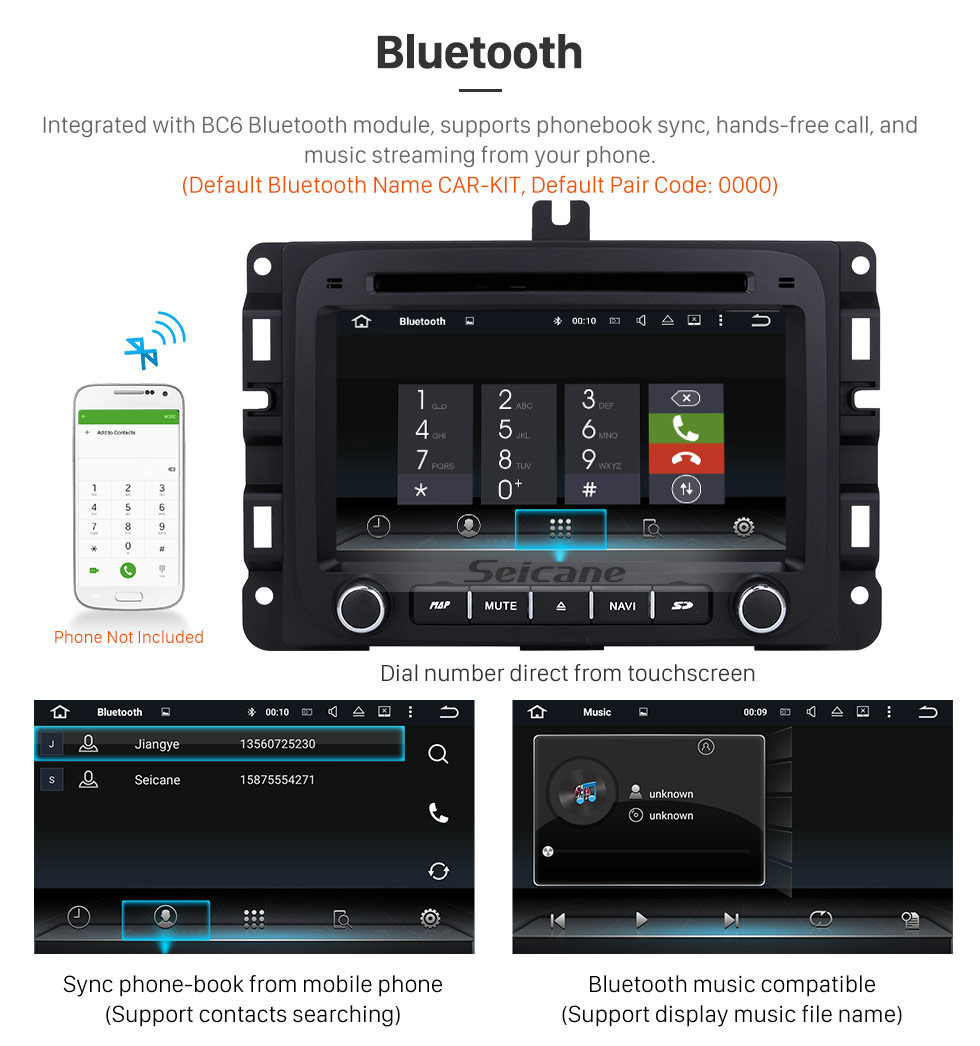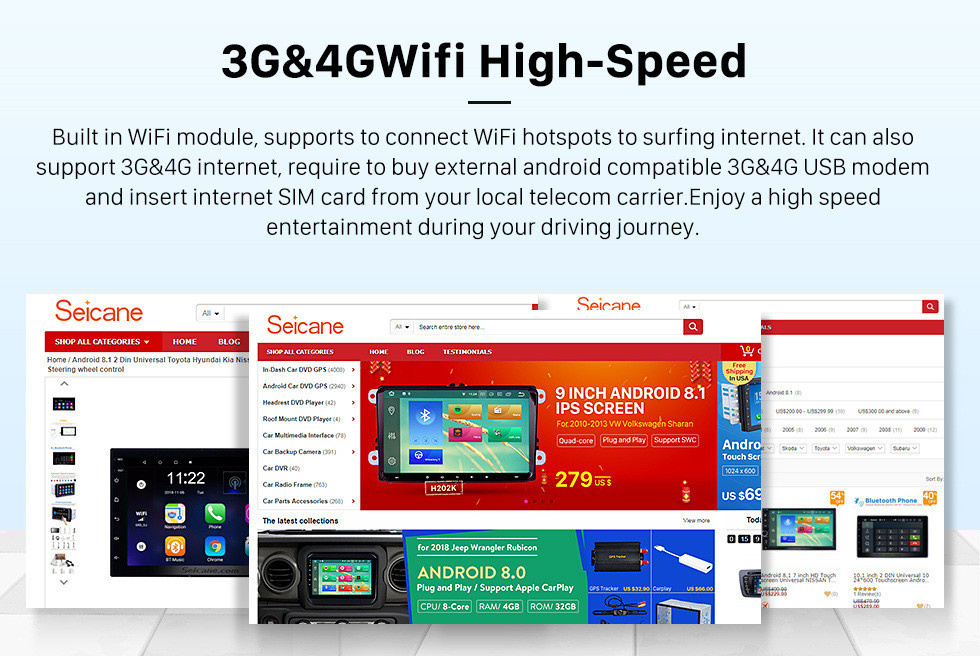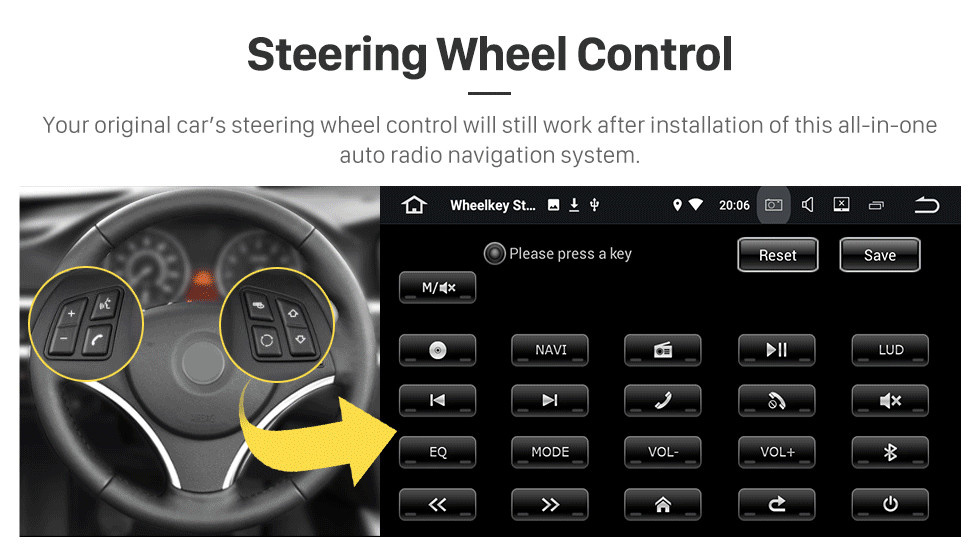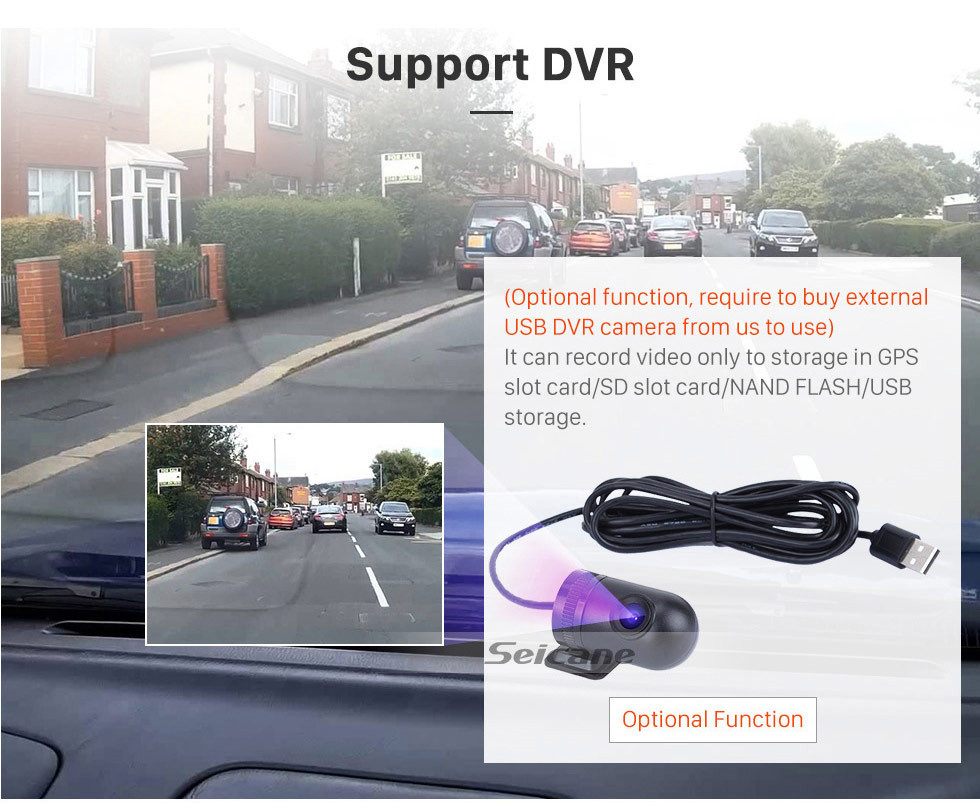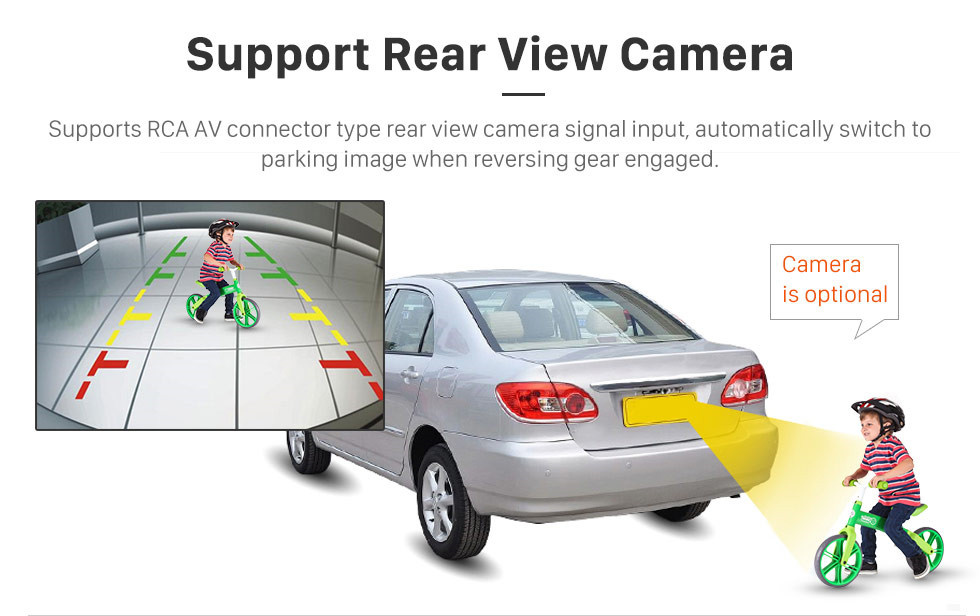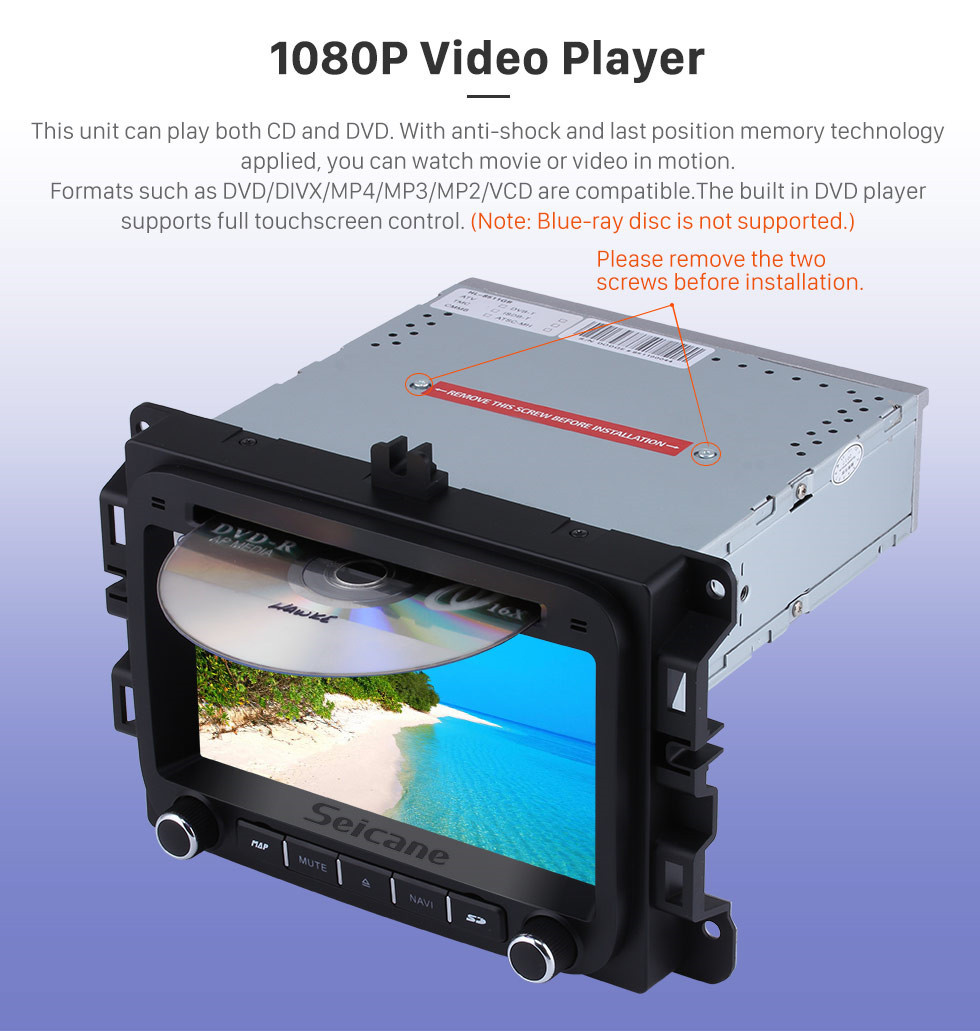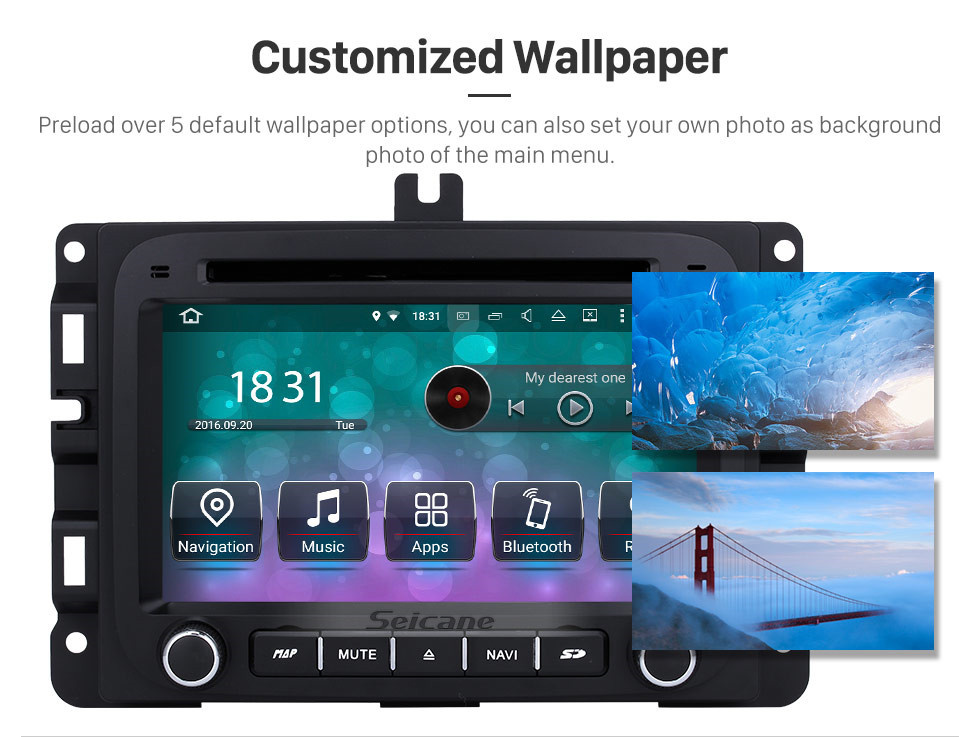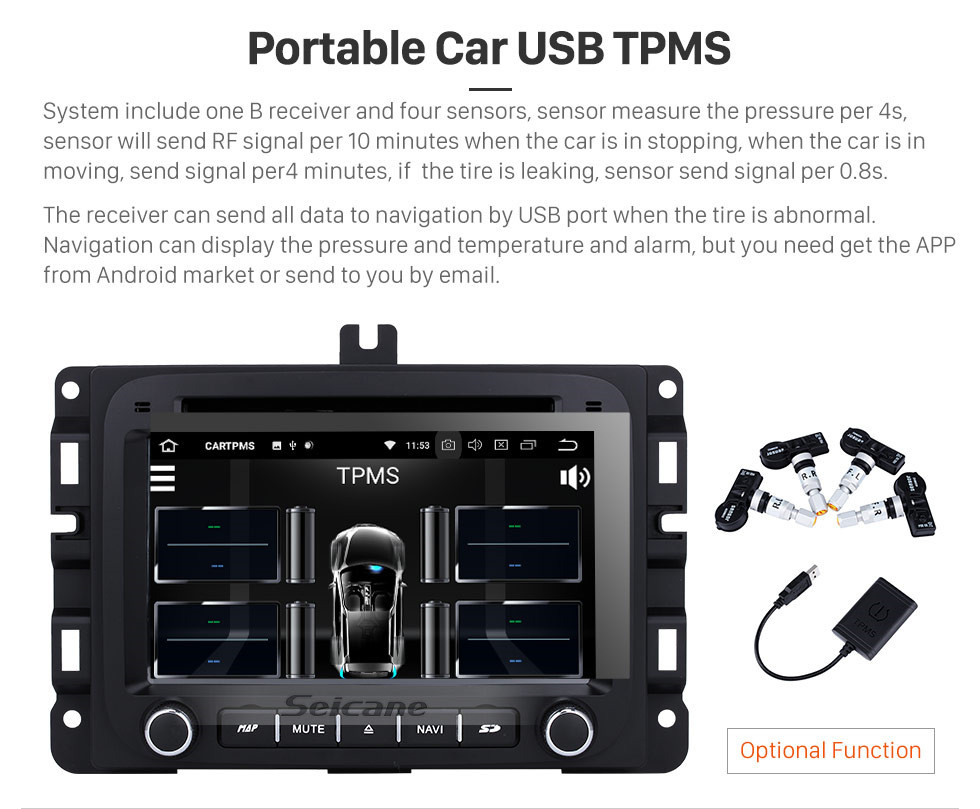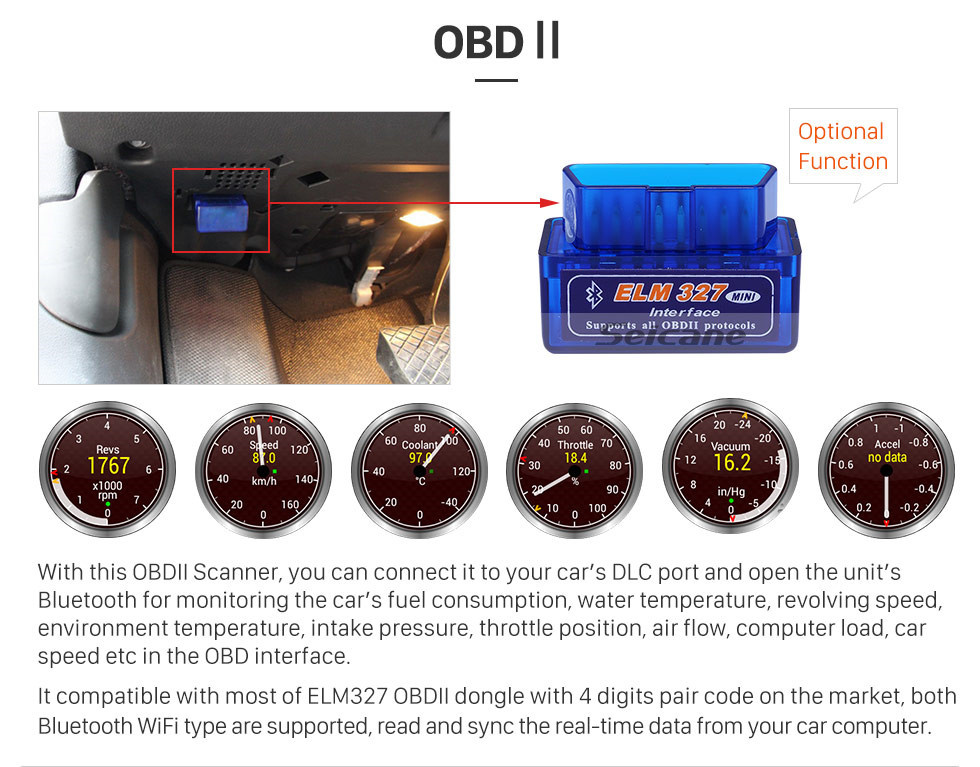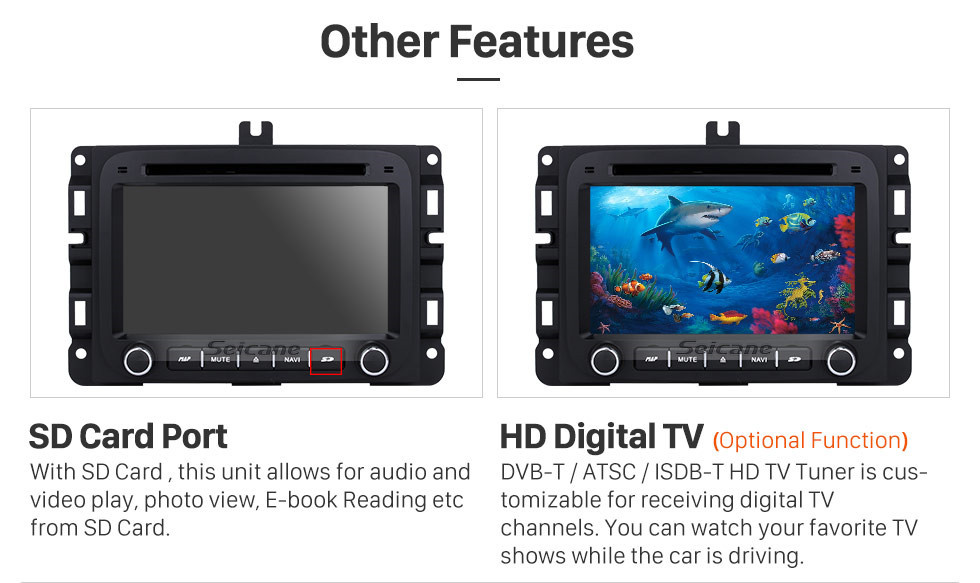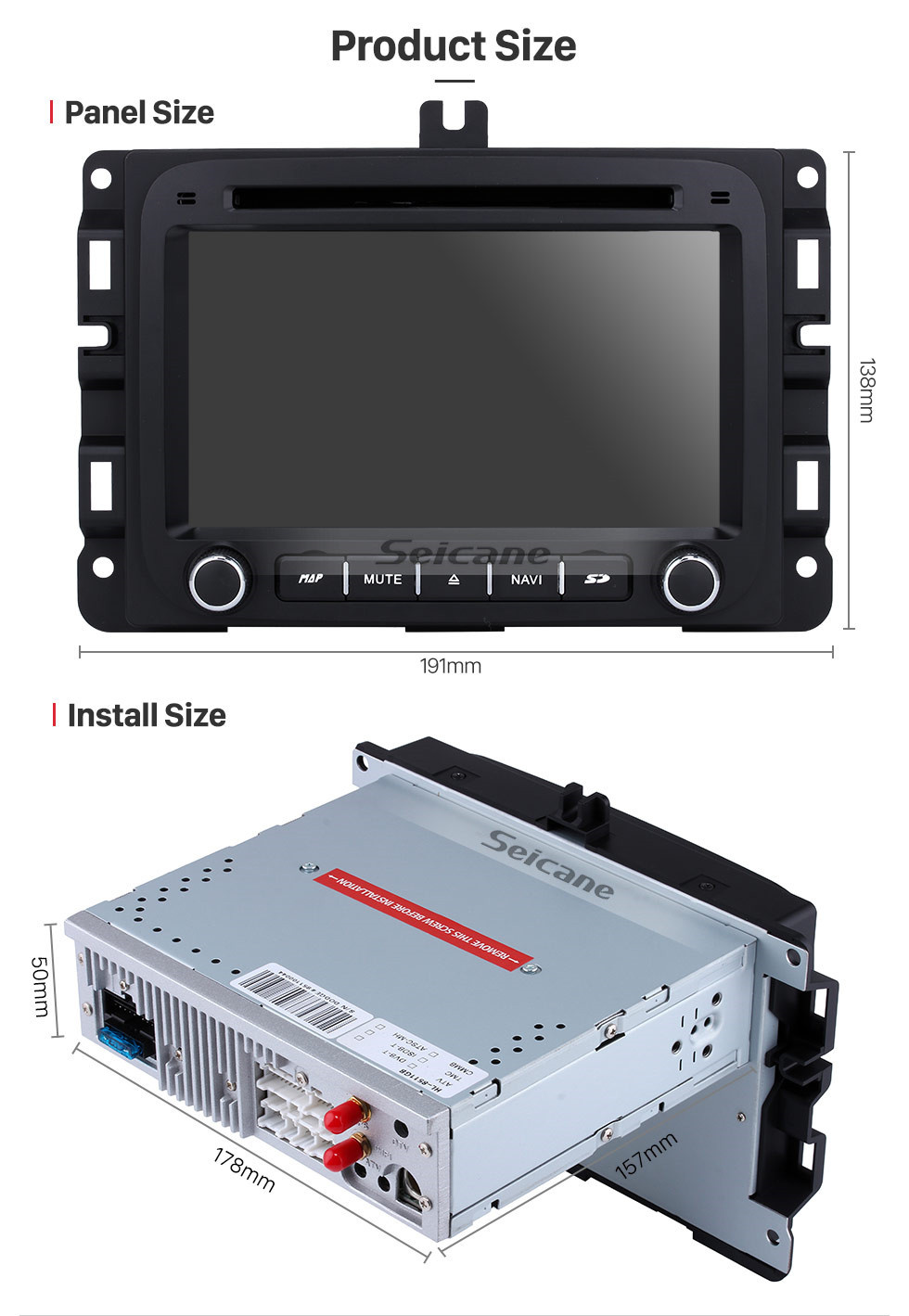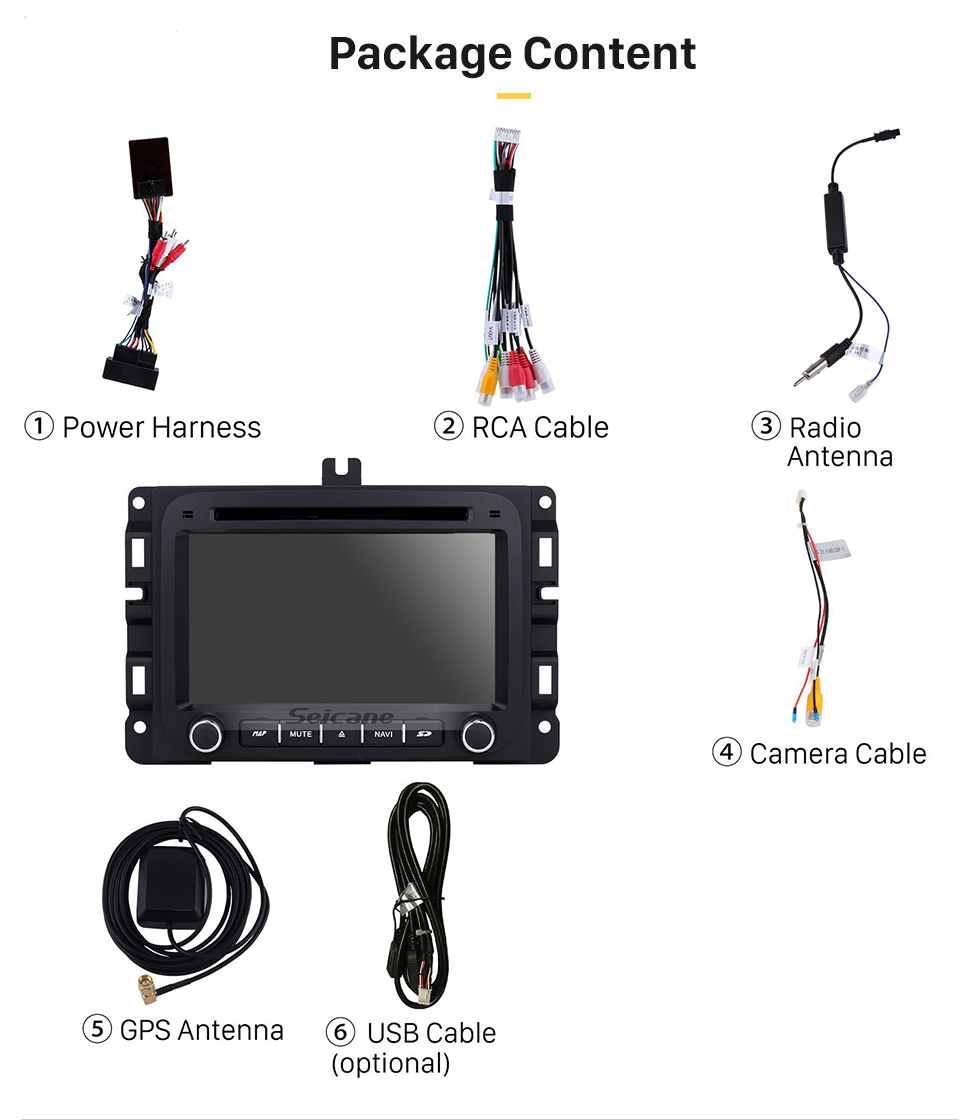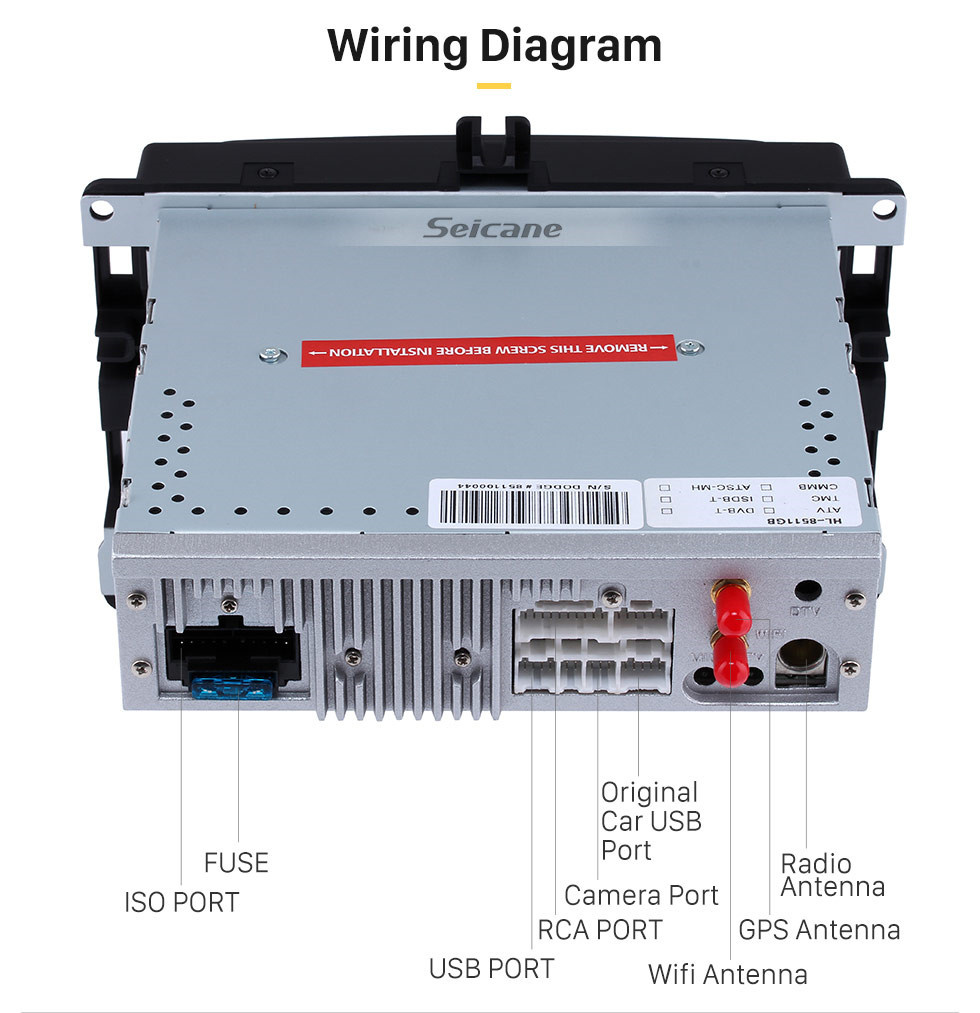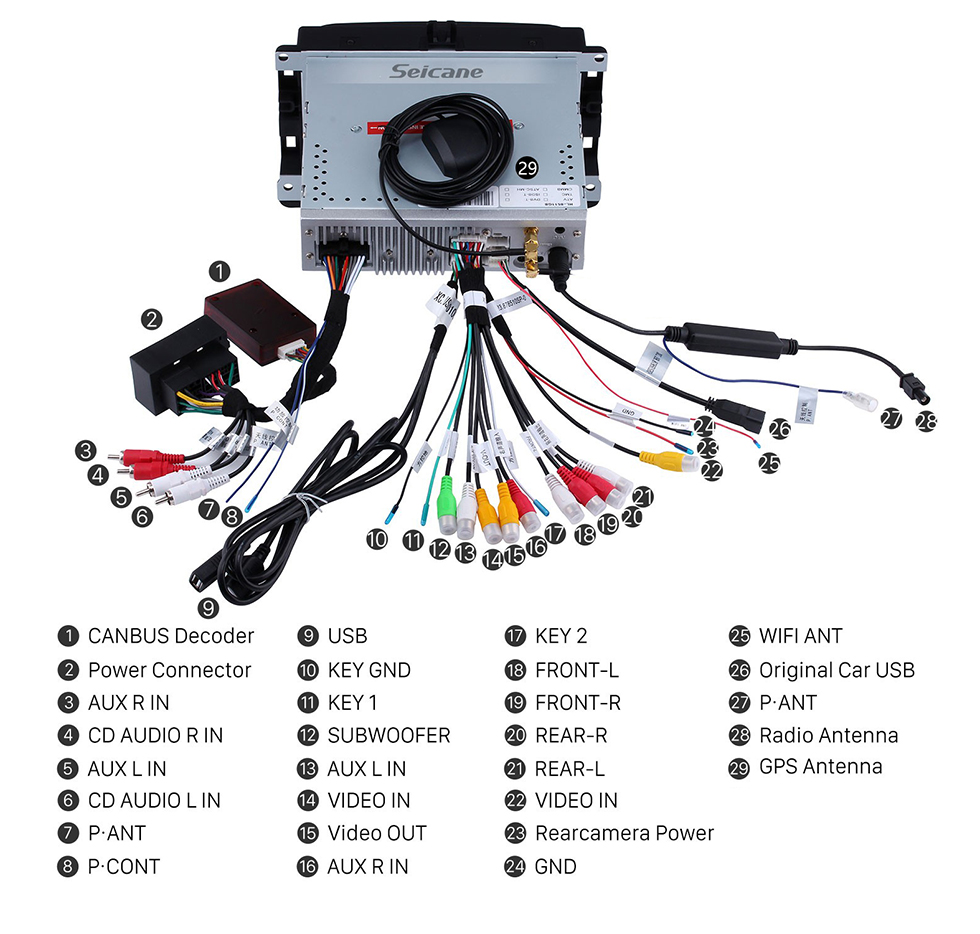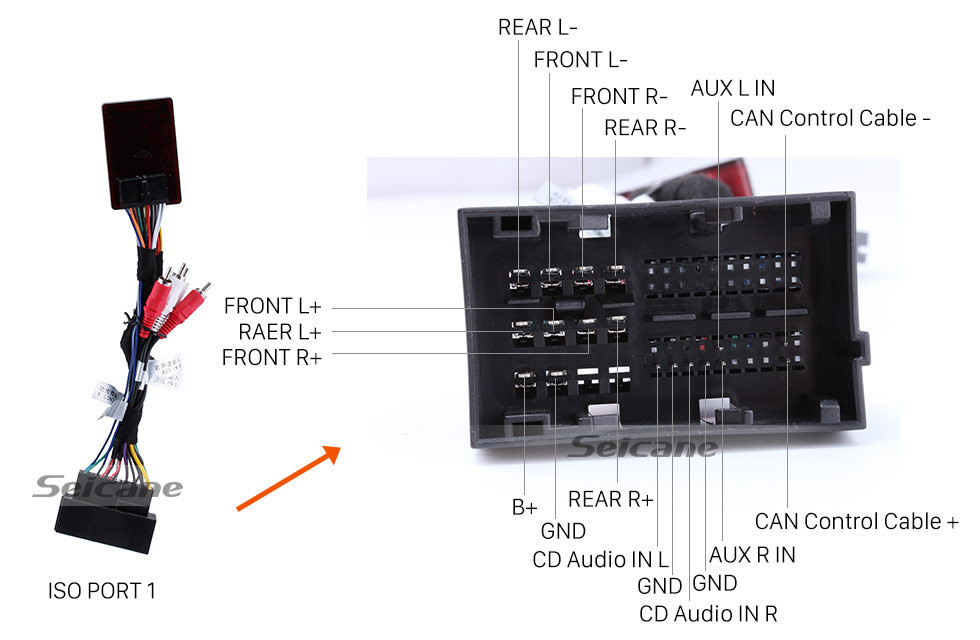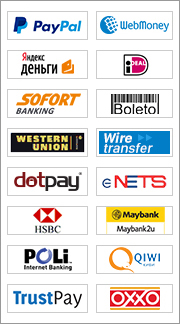 Destacados del producto.

This unit is plug and play, easy to upgrade and install, your car's steering wheel control still work after installation, so you can use hands-free calls and music streaming with buttons of steering wheel. It comes with a big HD touch screen for better visual experience, you can also mirror link your phone. And more importantly, you will have the latest 3D map navigation system for your trip.
Características generales

Built-in: 4G/WIFI/App download/3D GPS Navigation/FM&AM Radio/Bluetooth/Dual Zone/File Management/HD 1080P/Steering Wheel Control/Mirror Link/MP3/AUX/USB.
Opt:OBD2/DVR/Backup Camera/TPMS/Digital TV
Características Avanzadas

Sistema operativo: sistema inteligente Android 10.0 puro
CPU: High-quality 8 - Core 1.5 GHz Cortex-A53 processor with more efficient computing capability
GPU: with Mali-600MP2 GPU, It supports dual-screen display for the highest resolution of 2048*1536.
Hard Disk: 64GB Inland Flash
RAM: 4GB DDR3 RAM memory
UI: interfaz de usuario única y fresca con gráficos dinámicos.
Screen: Smart HD multi-touch screen with smooth operation, high sensitivity and abundant interaction for the better view of your road ahead.
2 USB Ports: It comes with 2 USB Ports to meet your different needs of external devices, more choices for both practical and entertainment service, you also can connect a USB Hub for more USB ports. And USB OTG is also supported.
Características Únicas

El último sistema Android: Cargado con el sistema de operación Android más avanzado, ofrece la operación más rápida y suave que nunca has disfrutado antes.
Prompt Response: Adopted 8 - Core 1.5 GHz Cortex-A53 CPU and high-speed iNAND MLC hard disk, this unit can start up within just 1 sec. And it only takes less than 2 seconds for sound, 3 seconds for rearview and 16 seconds for operation.
High-speed 4G/WIFI Network: It comes with built-in WIFI network and can support the most up-to-date 4G module, allowing you to easily get access to internet for online music listening, online videos watching, online games watching, e-mail checking, etc as long as you reach a WIFI hotspot or connect it to a 4G/module.
Descarga de aplicaciones: Reemplaza su radio de fábrica con un sistema basado en Android de gran utilidad y extensibilidad. Puede descargar cualquier aplicación en el market de Android para acceder a juegos, Skype, MSN, YouTube, Twitter, E-Book, Gmail etc. Este sistema también soporta la instalación o eliminación de aplicaciones en la RAM o SD de forma opcional.
HD Touch-Screen Display: It greatly simplifies the operation with a digital multi-touch screen which can support multi-resolution, making it clearer than resolution 800*480 with the same interface.
Navegación GPS 3D: Con los mapas en 3D (mapas en iNAND), la mejor manera de llegar a su destino está a su alcance en cuestión de segundos. Toda la información de navegación está disponible, como la ubicación actual, la velocidad, el kilometraje, la visualización del edificio de referencia, la vista de la calle en 3D, la búsqueda de destino y las direcciones de voz de giro a giro, etc. También puede descargar la última aplicación de mapas de Google. Y apoya Auto Google, SYGIC etc. Con la función de la zona dual, la música de la radio / AV / TV etc se puede jugar detrás de la escena bajo modo del GPS y pasará a la voz del GPS automáticamente.
Sintonizador de radio: Construido con un fuerte sintonizador de radio FM/AM, este sistema A/V del coche cuenta con una búsqueda de canales de radio automáticamente, manualmente y los almacena en el proceso. También se soporta RDS.
Bluetooth: It upgrades your car with BC6 Bluetooth module for hands-free calls and music streaming. With ringtones and voice coming out from the car speakers, you can dial, receive, reject and mute calls without taking your hands off the steering wheel. Its phonebook function enables you to search for contacts directly on the big screen of the head unit. The capability to stream your favorite music from the Smartphone wirelessly is also desirable. Besides, this powerful Bluetooth function supports CID as well.
Herramientas de oficina: Puede leer y editar formatos de archivos de oficina como DOC / XLS / PPT / PDF / TXT en él como su tableta.
Gestión de archivos: Con el examinador de archivos, puede abrir archivos con las aplicaciones correspondientes, buscar archivos y gestionaros.
AUX: Esta función es para la entrada y salida de audio/vídeo para dispositivos externos.
Control del volante: Los controles del volante original del coche seguirán funcionando después de la instalación. Hay docenas incorporadas del ajuste del modelo del coche para el ajuste de la función del volante-rueda.
USB / SD: Tarjeta doble de la ayuda SD / tarjeta multi-Media / tarjeta del GPS. La capacidad máxima es de hasta 64G. Esta unidad permite la reproducción de audio y video, vista de fotos, lectura de libros electrónicos, etc. desde SD o USB. Una amplia gama de formatos de audio y video son compatibles con esta unidad, incluyendo MP3, WMA, WAV, APE, FLAC, MP4, H.264, WMV, AVI, RM / RMVB, VOB, etc. Además, se admite la imagen JPG / BMP / JEPG / GIF / PNG.
Función del apoyo para la cabeza: Esta unidad puede apoyar la función del apoyo para la cabeza.
Built-in Amplifier: Equipped with TCB001 Amplifier IC, 4 channel output 4*45W Amplifier is embedded into this car audio system.
Enlace de espejo: sincroniza su teléfono móvil con este reproductor de DVD a través de WiFi o USB. Esta tecnología le permite acceder a las aplicaciones de su Smartphone en la unidad para reproducir música y videos, etc. Actualmente es compatible con teléfonos Android y iPhone.
Opciones

TV digital HD: DVB-T / ATSC / ISDB-T el sintonizador de TV HD puede proveerse para recibir canales de TV digital.
DVR de carro: La función de DVR es usada para grabar el proceso completo de accidentes de tránsito, tomar fotos del frente de los vehículos y guardar el video en tiempo real mientras manejas.
Módulo 4G: con este módulo 4g, puedes conectarte a 4g Internet insertando una tarjeta SIM en él.
Cámara de apoyo: Agrega una cámara de apoyo para cambiar automáticamente a la vista de estacionamiento mientras vas en reversa. Esta opción incluye una cámara a prueba de agua y de visión nocturna que será montada en la posición de las luces de la placa de tu carro y los cables para su conexión, La cámara trasera por defecto es alámbrica, si necesita la inalámbrica, por favor mándenos una nota después de poner la orden.
OBDII: Con este escáner OBDII, puede conectarlo al puerto DLC de su carro y abrir la unidad Bluetooth para monitorear el consumo de combustible de su carro, temperatura, velocidad de revoluciones, temperatura ambiente, presión de consumo, posición del acelerador, flujo del aire, carga de la computadora, velocidad del carro etc. en la interfaz OBD.
DAB +: abreviatura de la difusión de audio digital, DAB + como tecnología de radio digital avanzada para radiodifusión de estaciones de radio integra una serie de características para reducir los problemas de interferencia y el ruido de la señal. Con sonido de alta calidad, ofrece más programas de radio en un espectro específico que la radio FM analógica. Además, DAB + no sólo puede sintonizar automáticamente todas las estaciones disponibles, ofreciendo una lista para seleccionar, sino también proporcionar información en tiempo real, como títulos de canciones, tipo de música y noticias o actualizaciones de tráfico. Es la mejor opción para los amantes de la radio y entusiastas de la música.
TPMS: Perfectamente conectado a esta carátula con una instalación simple, los reportes TPMS reportan la presión de los neumáticos en tiempo real vía una pantalla con imágenes o una simple luz de advertencia de presión bala para ayudarte a ahorrar en el consumo de combustible, alarga la vida de las llantas, reduce el tiempo detenido y mantenimiento, e incrementa la eficiencia medioambiental. El reconocimiento oportuno de fallos en las llantas provisto por el TPMS puede evitar accidentes de tránsito para mejorar la seguridad en todo el proceso de conducción.
Escriba su propia opinión
para Buddy Butler
24 de noviembre de 2015
Order # 105277088
At first I went to one of the big car electronics stores because i needed blue tooth for my 2014 Dodge Ram 1500. It was going to cost me $700+ to get a pretty basic replacement stereo put in w/o gps. I went online and found Seicane. It ended up being $200 less than Car Toys...The replacement from Seicane had everything, including GPS, Bluetooth, DVD, CD, with 20 disk storage, Ipod plug, USB Plug, MIC, etc... and every single plug necessary to install it with having to strip one wire....They even had a video for me to watch re removal, and installation. I watched it 2 or 3 times which was extremely helpful. I was amazed at how smooth the install went. It is truly Plug and Play. It looks like it was installed at the factory. The fit is very precise, it even has the Logo that pops up on the touch screen when you turn the truck on. It is truly Custom. They had me send a picture of my factory stereo so they were absolutely sure i was getting the right stuff. We communicated by email as they were getting ready to ship it, and i overlooked something when installing it on the wknd, so i emailed a question to them and i had a response 15 minutes later. Their customer service is OUTSTANDING....Jocelyn was a fantastic contact and sooooo helpful. THANK YOU SEICANE........




Haga Click para agrandar
para Rick
13 de abril de 2020
Factory Radio upgrade
sounds and works great.Alot of options for price.I would recommend.Feedback was great.The only issue I had was shipping was extra .Thanks
¿Le recomendaría este producto a un amigo? definitivamente sí
para Sam
28 de enero de 2015
2015 dodge ram 1500 quad cab radio upgrade
My vehicle is a 2015 dodge ram 1500 quad cab. I just bought the car. This stereo from SEICAEN is way cheaper than here in California. That's the main reason why I took a chance. Well, after installation, I found that its abundant features are as good as described!
The installation is quite easy with the professional installation video. Its wiring harness is compatible with car. Most of the functions have been tested and are working perfectly. Great unit! Best regards.

¿Le recomendaría este producto a un amigo? definitivamente sí