kauften DIESES Produkt
Einzelheiten

Die folgenden sind die Autos, mit denen es als Referenz funktionieren wird:


| | |
| --- | --- |
| NISSAN TIIDA 2004-2010 | NISSAN QASHQAI 2007-2010 |
| NISSAN SONNIG 2005-2007 | NISSAN X-TRAIL 2001-2011 |
| NISSAN PALADIN 2005-2011 | NISSAN GRENZE 2001-2011 |
| NISSAN PATHFINDER 2005-2010 | NISSAN-PATROUILLE 2004-2010 |
| NISSAN TREEANO 2005-2010 | NISSAN VERSA 2004-2010 |
| NISSAN MICRA 2002-2010 | NISSAN MURANO 2002-2011 |
| NISSAN 350Z 2003-2009 | NISSAN LIVINA 2006-2010 |
| NISSAN NAVARA 2001-2011 | NISSAN MP300 2001-2011 |
| NISSAN SENTRA 2007-2011 | NISSAN NV200 2009-2011 |
| TOYOTA RAV4 | TOYOTA FJ CRUISER |
| TOYOTA ALPHARD | TOYOTA PREVIA GL |
| TOYOTA HIACE | TOYOTA IELAS |
| TOYOTA FORTUNER | TOYOTA INNOVA |
| TOYOTA COROLLA | TOYOTA CAMRY |
| TOYOTA-GELÄNDEWAGEN | TOYOTA HILUX |
| TOYOTA YARIS | TOYOTA-VIOS |
| TOYOTA-TUNDRA | TOYOTA HIGHLANDER |
| TOYOTA CELICA | TOYOTA MR2 |
| TOYOTA 4RUNNER | TOYOTA SEQUOIA |
| TOYOTA KLUGER | TOYOTA Terios 2006-2012 |
| Toyota Rush 2006-2012 | Daihatsu Be‣go 2006-2012 |
| Daihatsu Terios Eco 2006-2012 | Daihatsu Terios Wild 2006-2012 |
| Perodua Nautica 2006-2012 | Toyota Echo 1998-2005 |
| Toyota VIZI 1998-2005 | Toyota Vitz 1998-2005 |
| Toyota Soluna Vios 2003-2007 | Toyota-Limousine |
| KIA CERATO 2003-2009 | Kia sportage 2004-2009 |
| Kia Sorento 2002-2009 | Kia-Spektren 2003-2009 |
| Kia carens x_trek rondo rond7 2006-2010 | Kia Optima 2005-2010 |
| KIA Picanto 2004-2011 | Kiario 2005-2011 |
| Kia Limousine 2006-2011 | |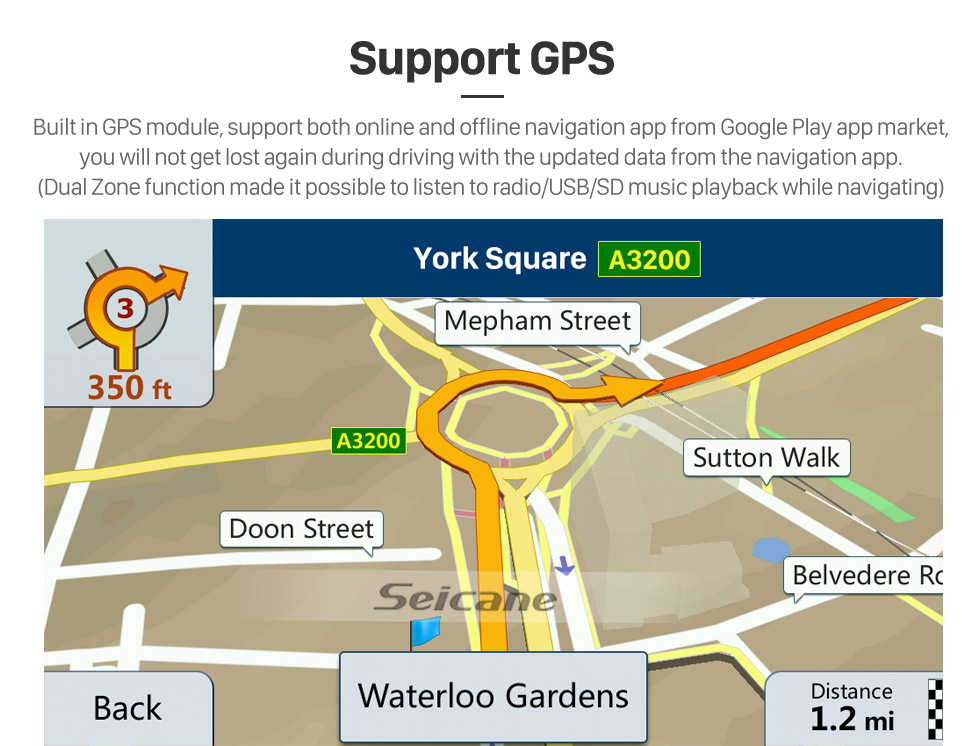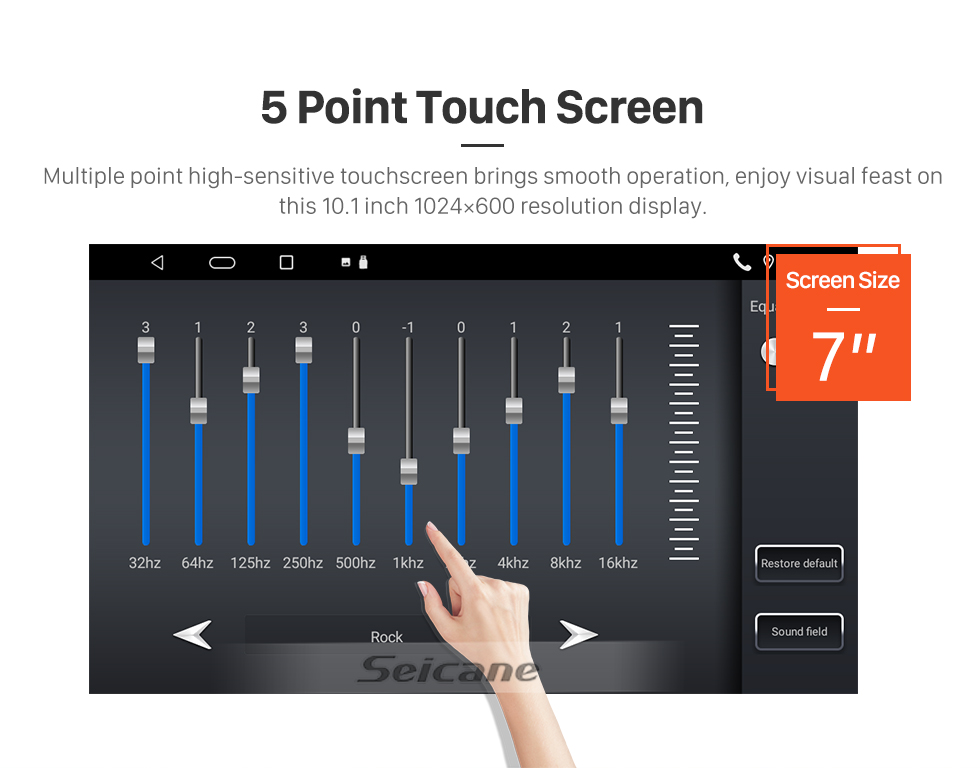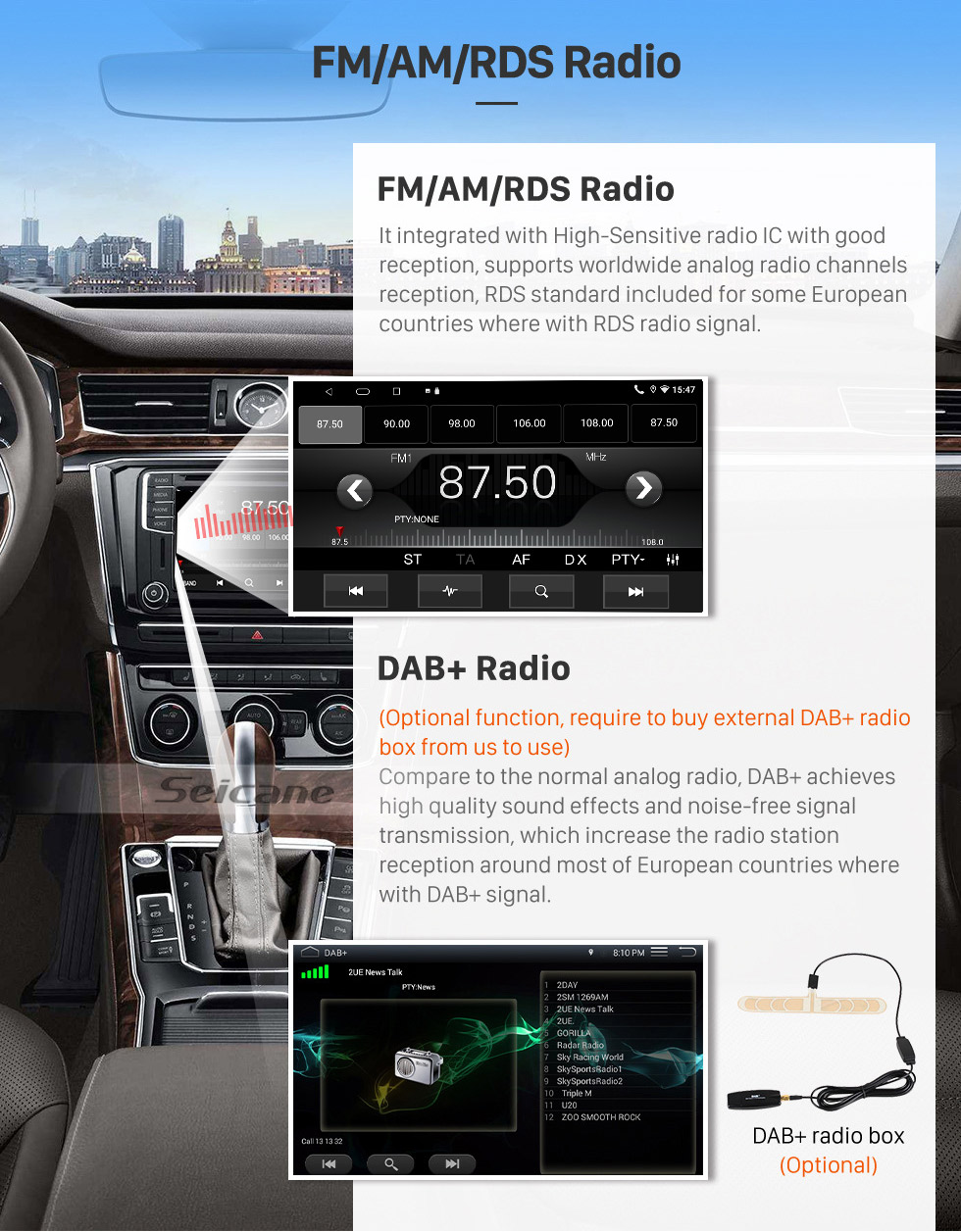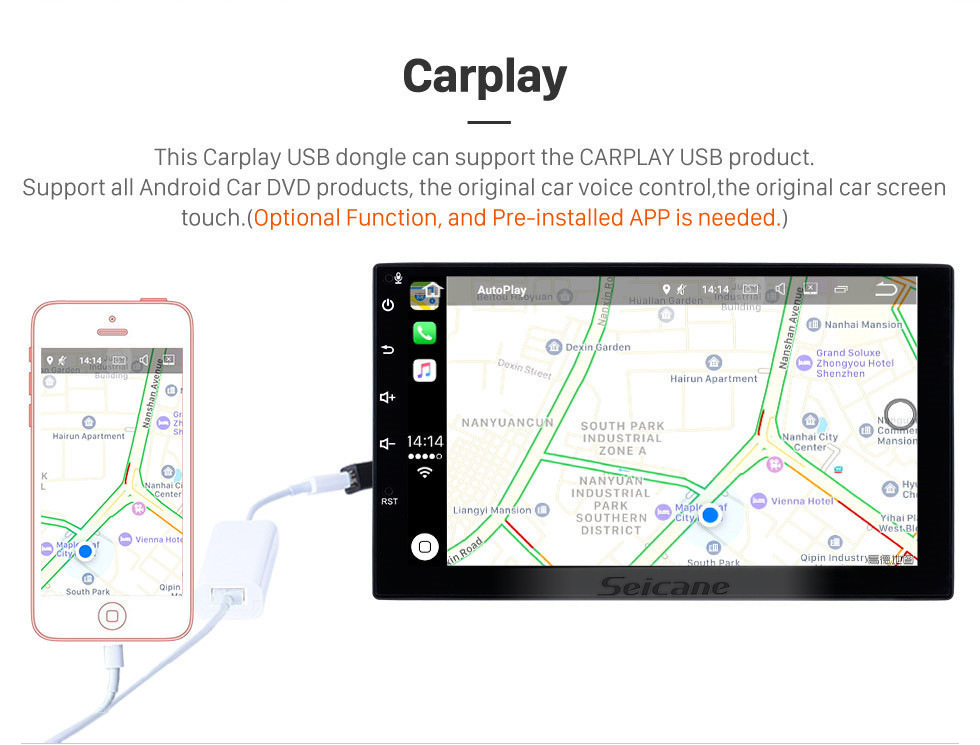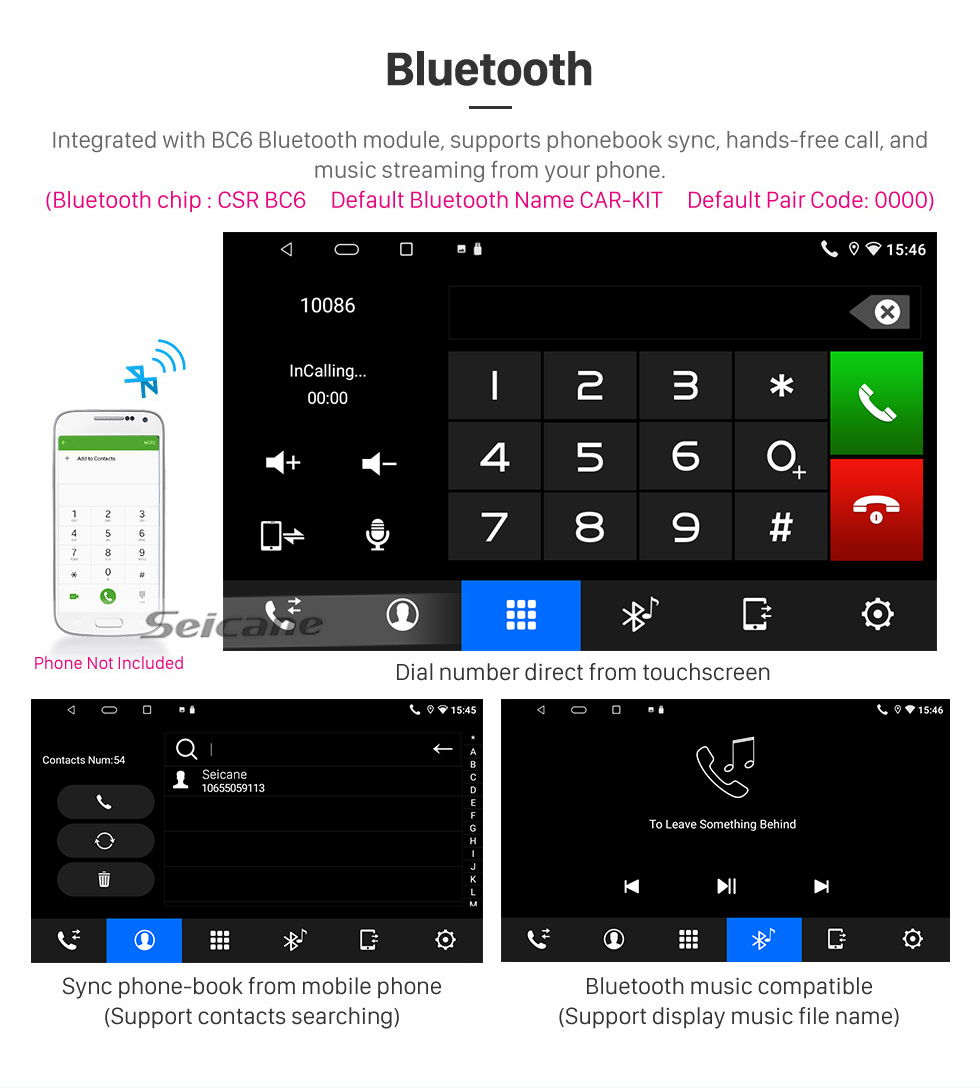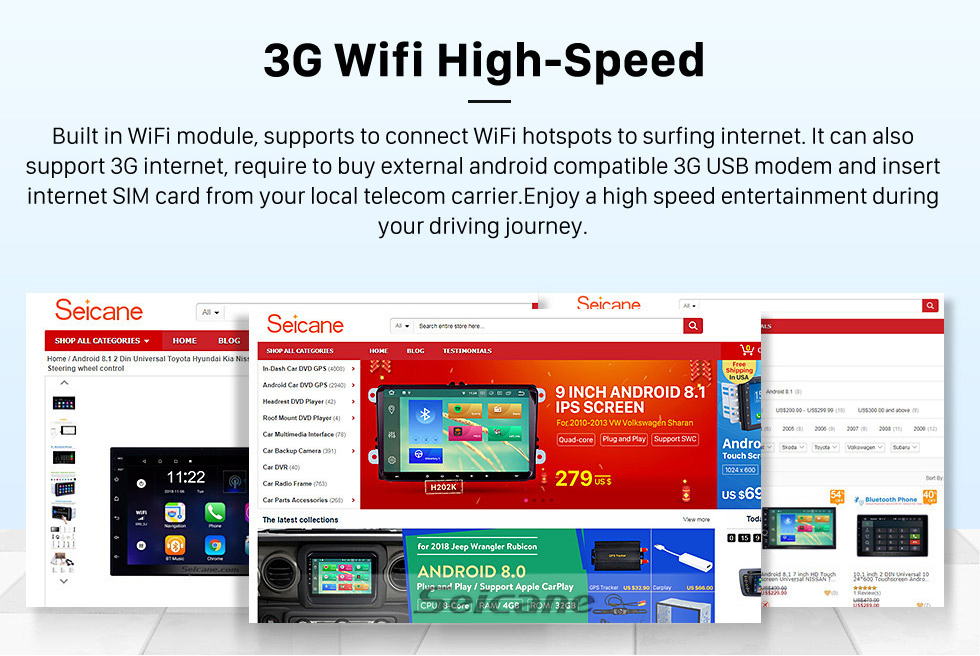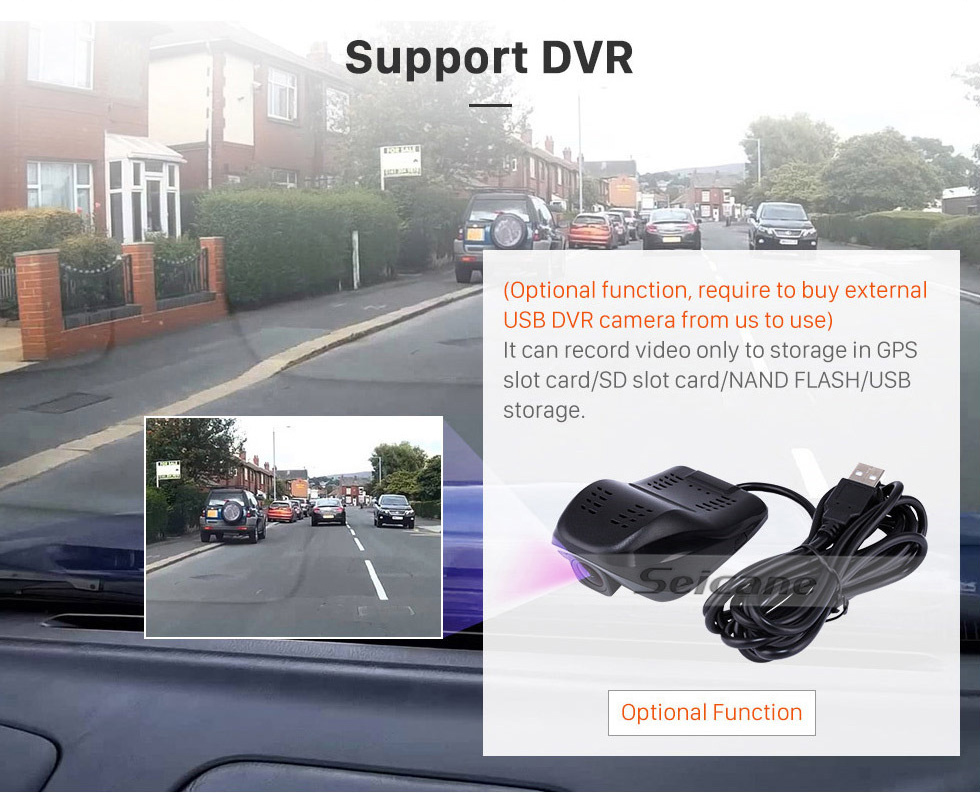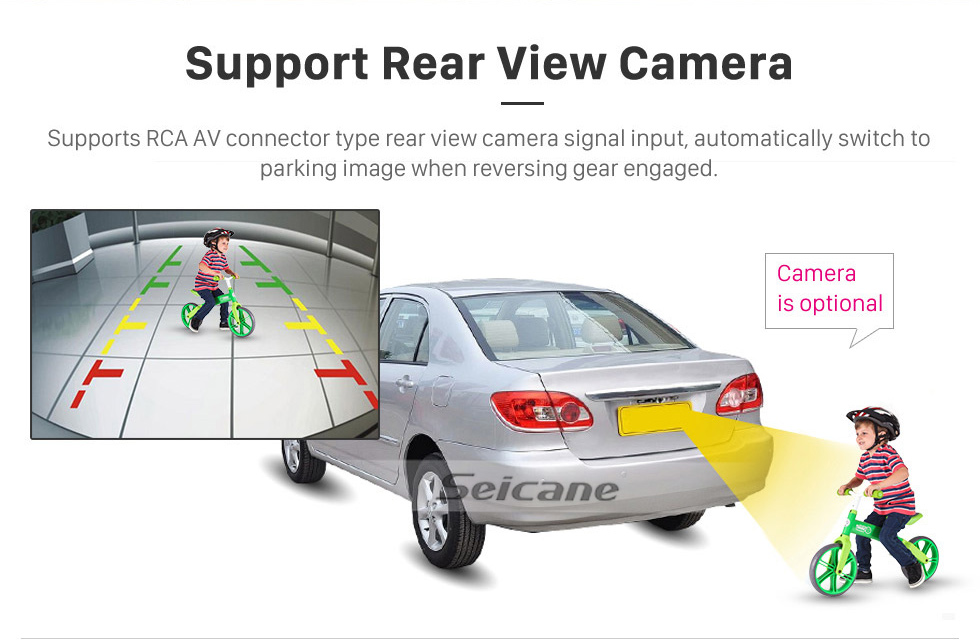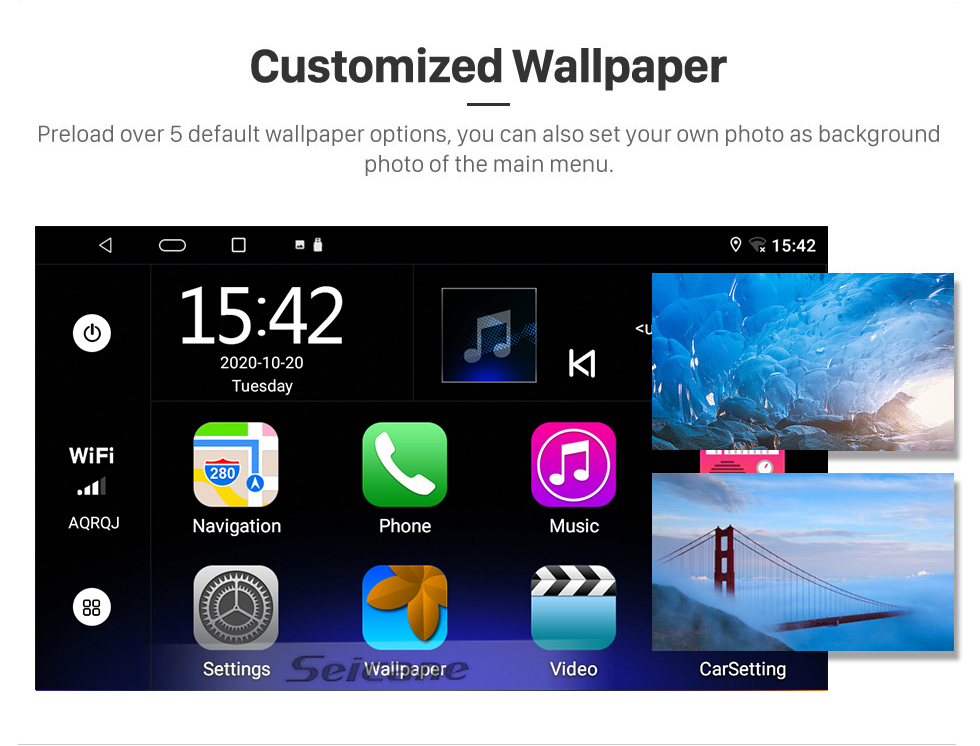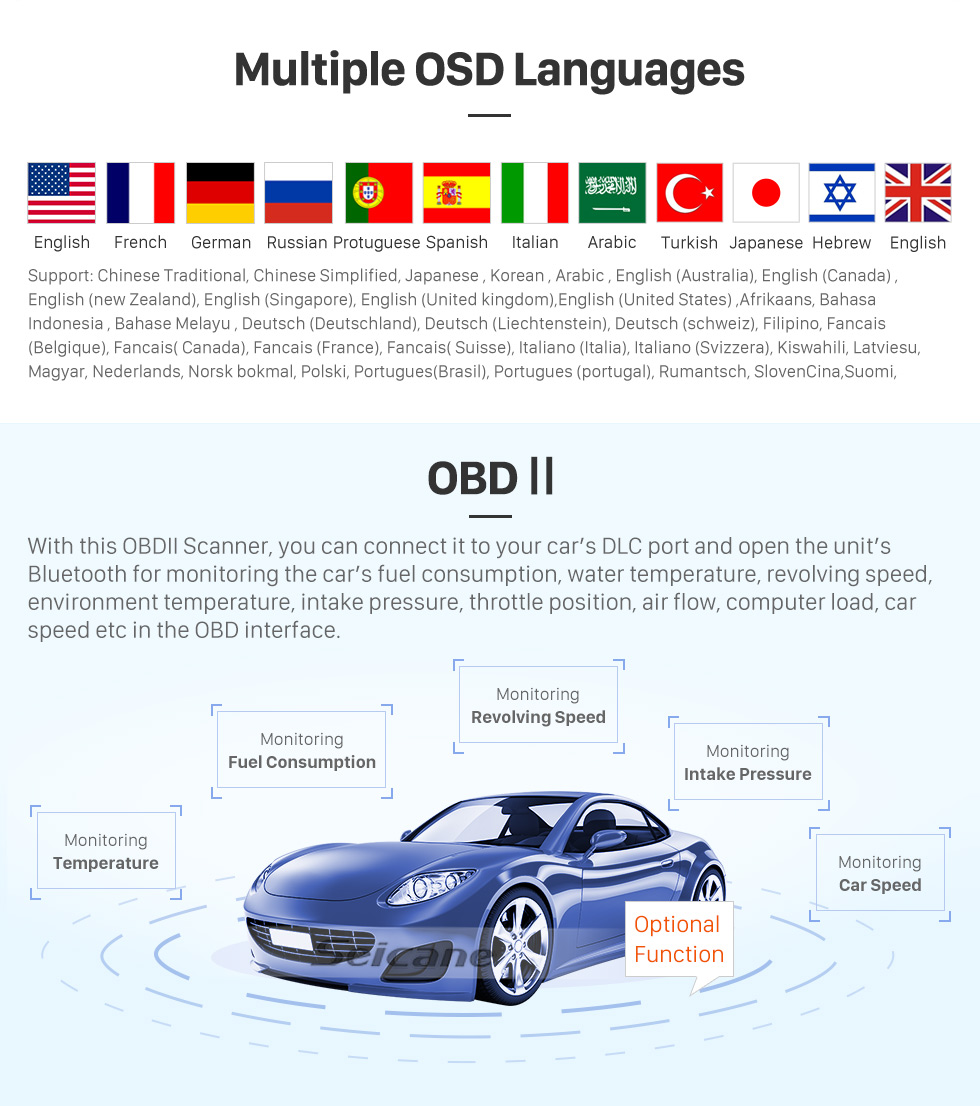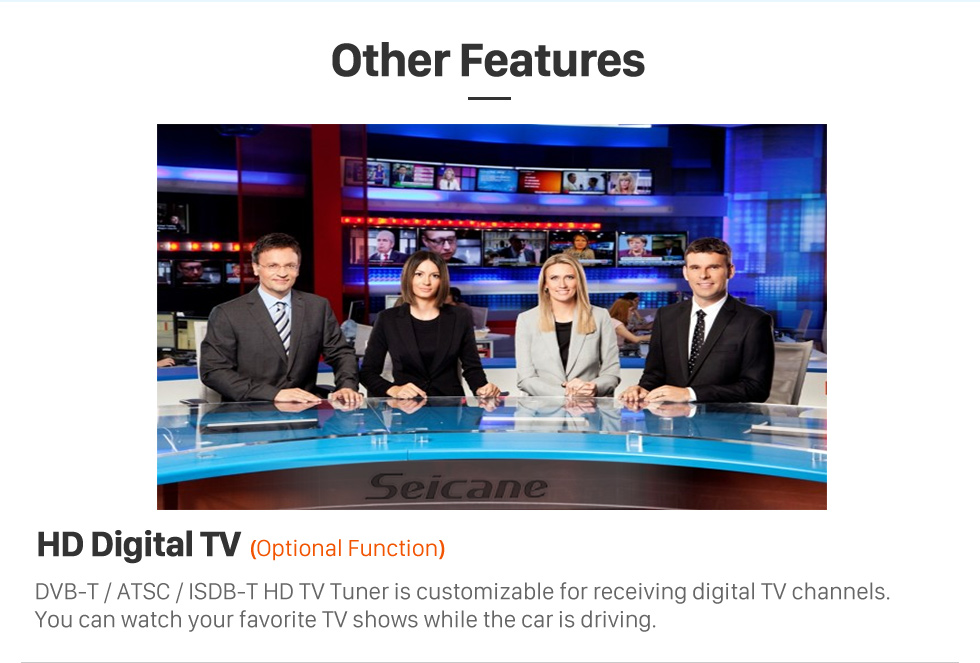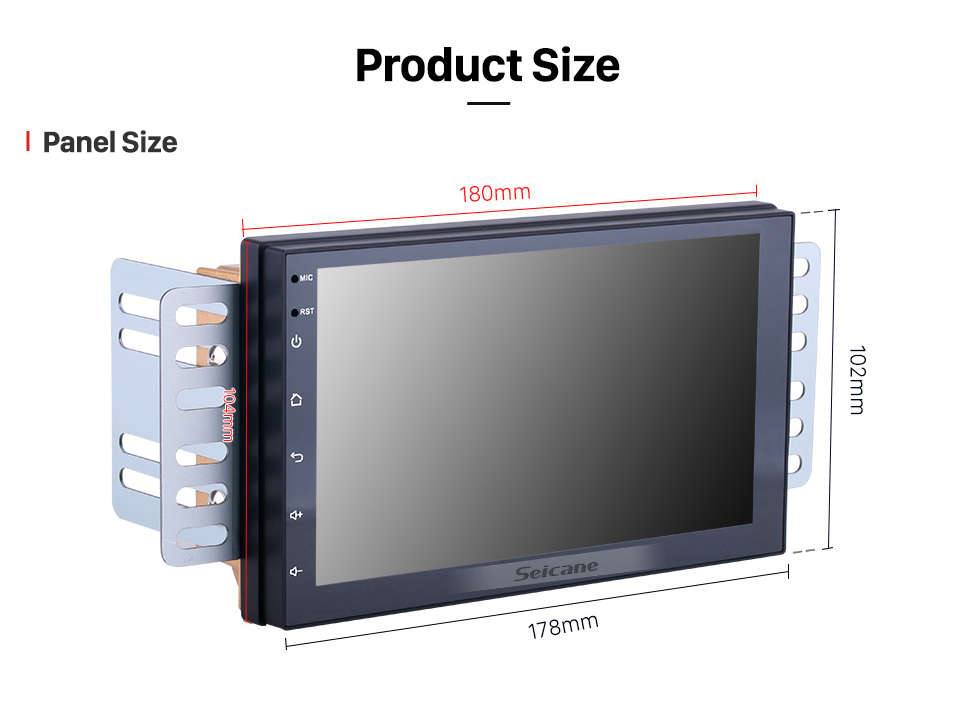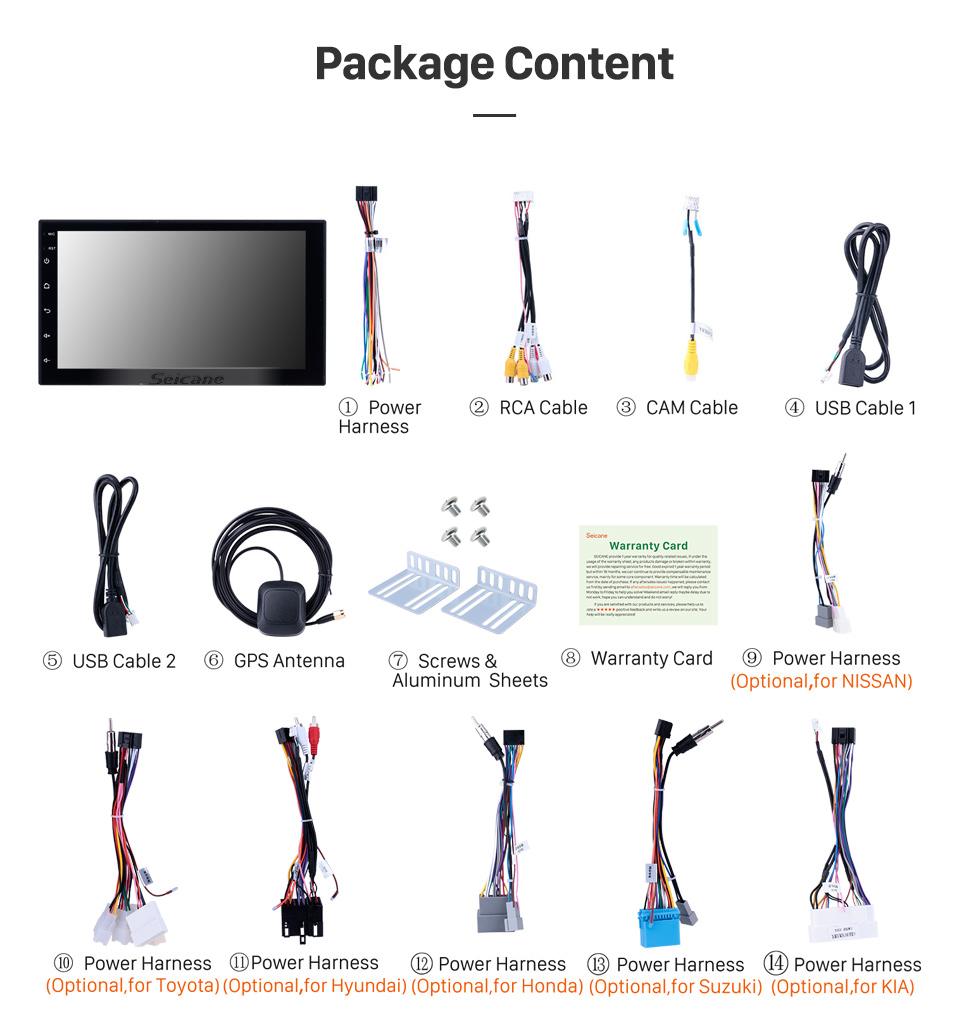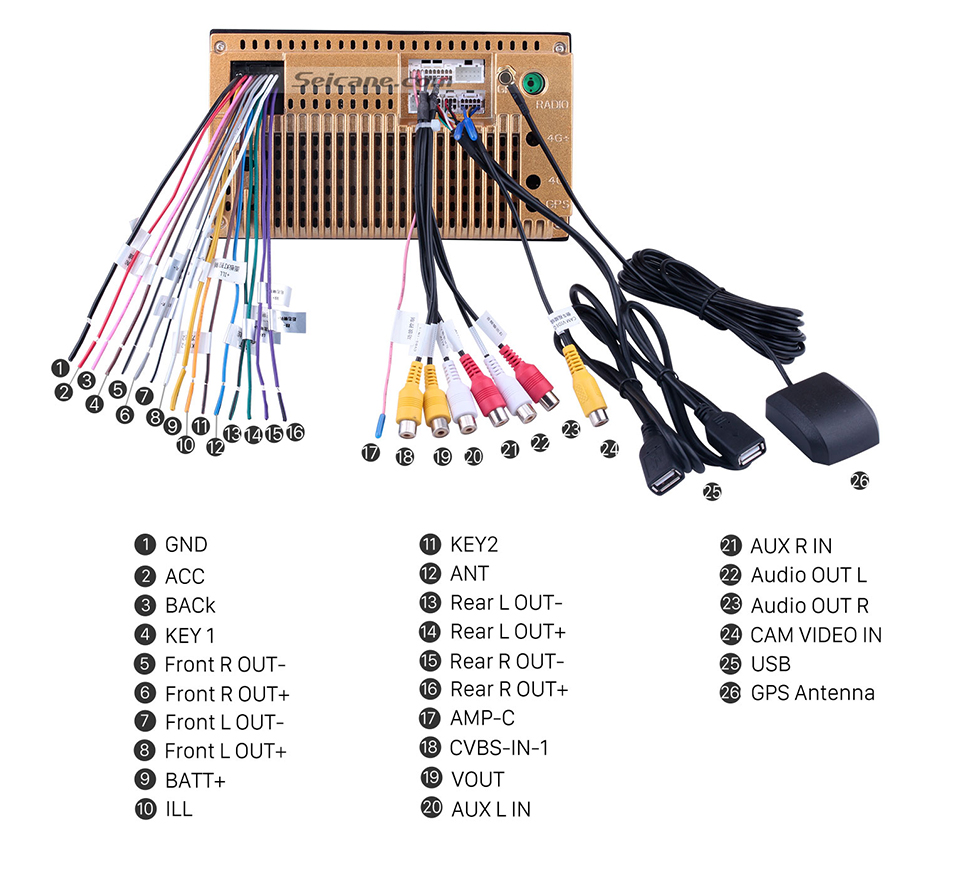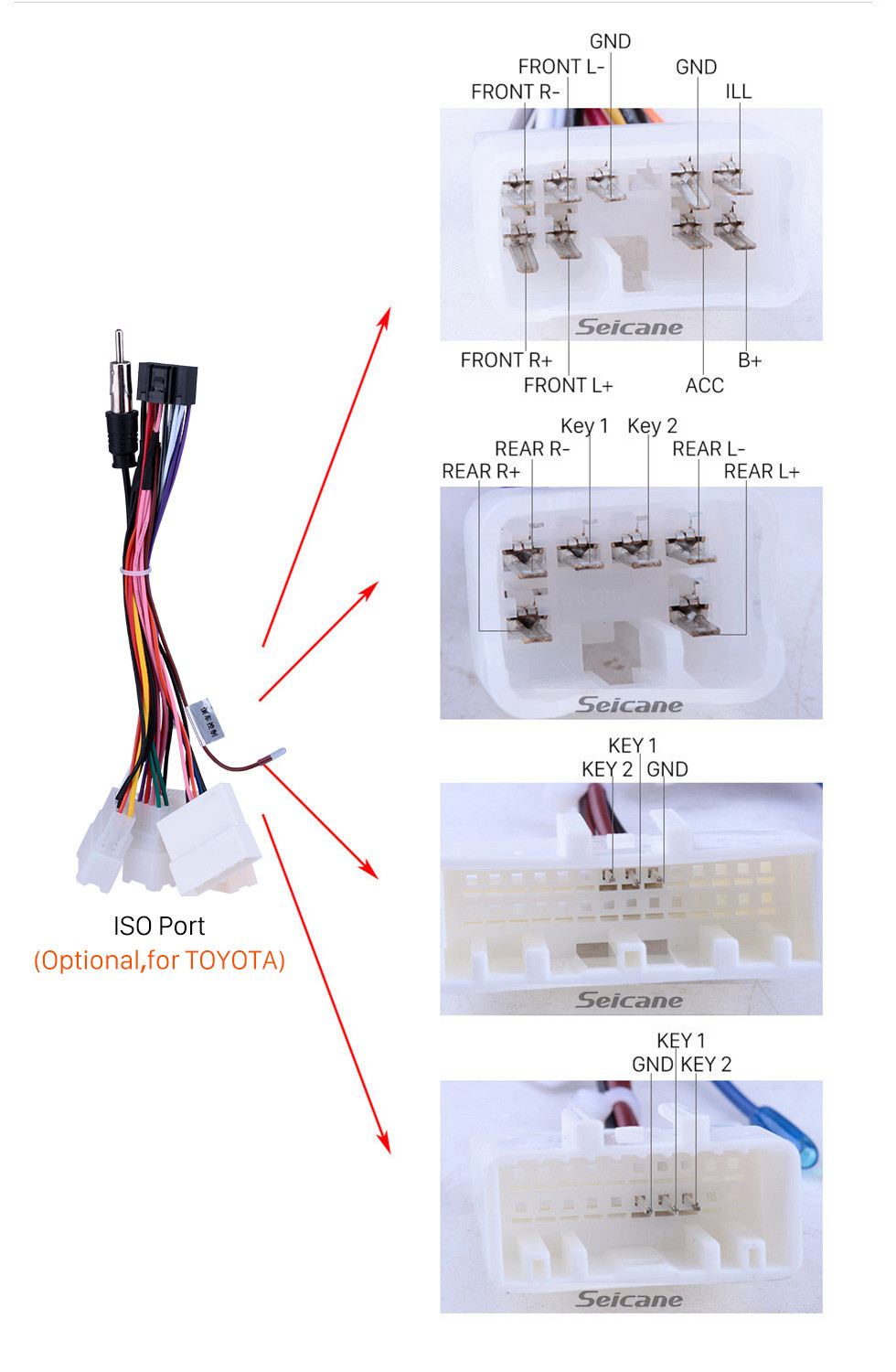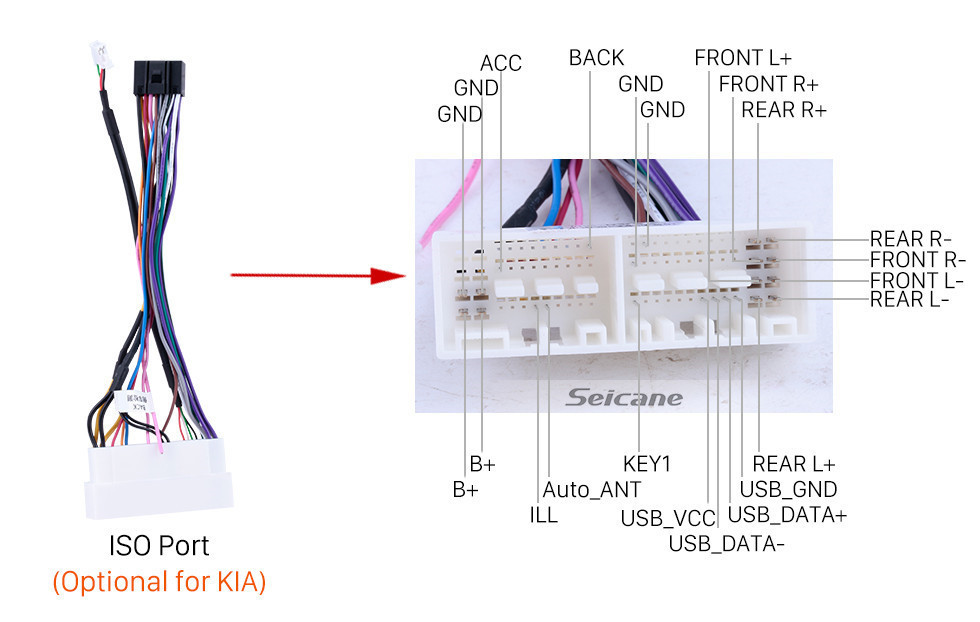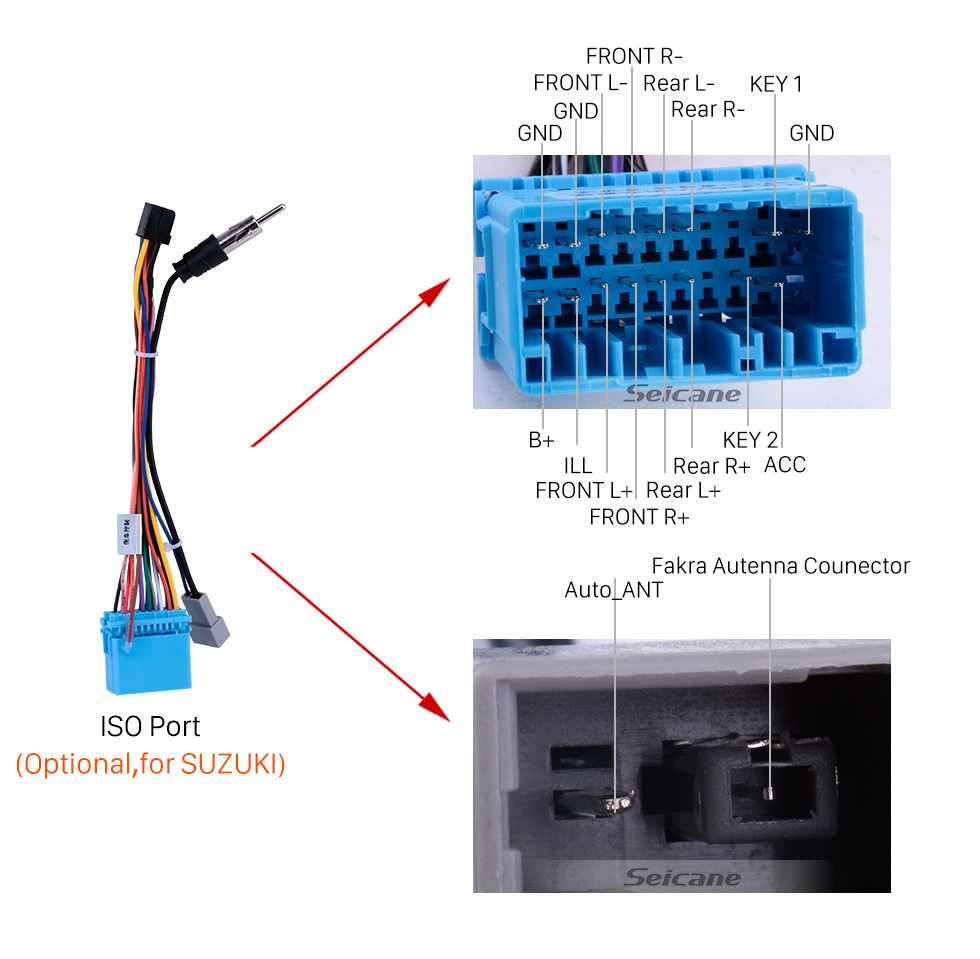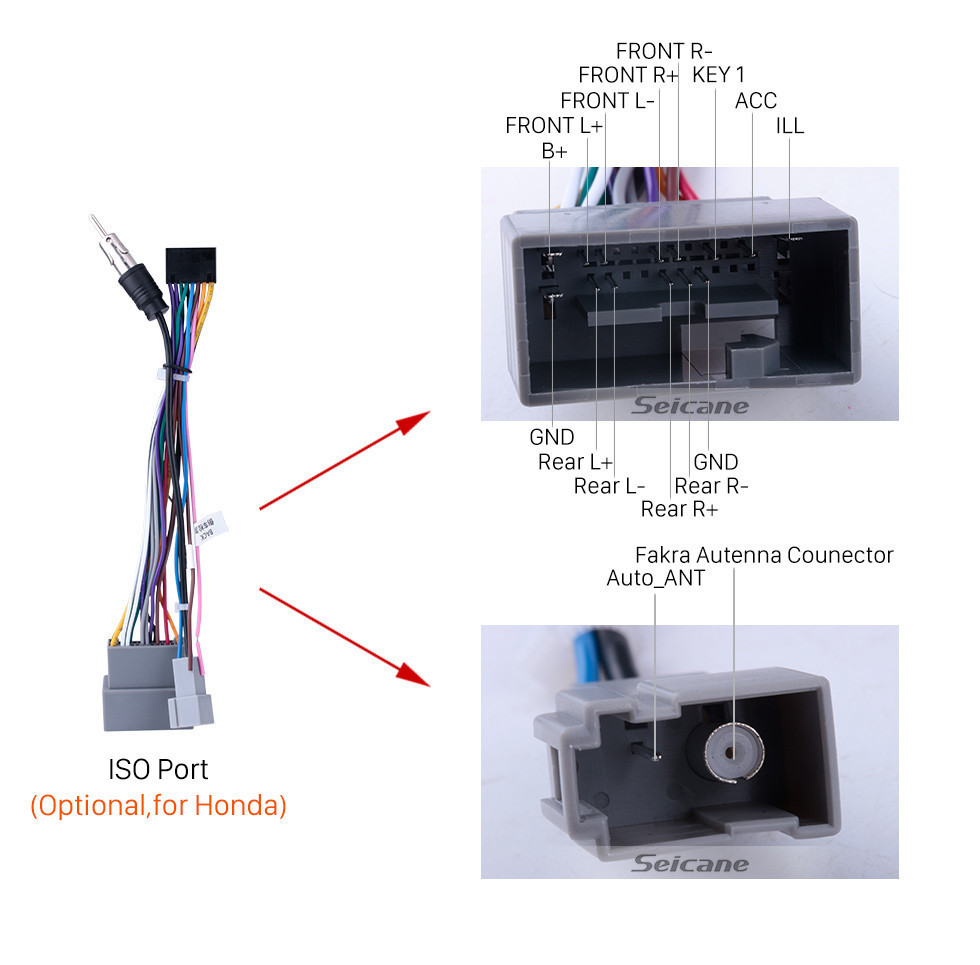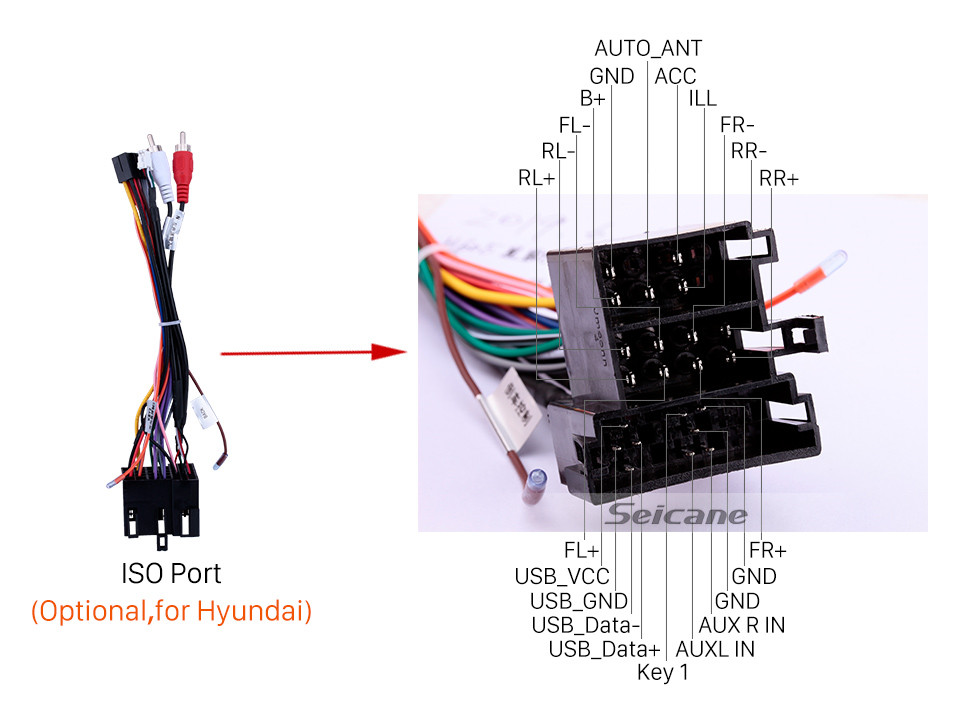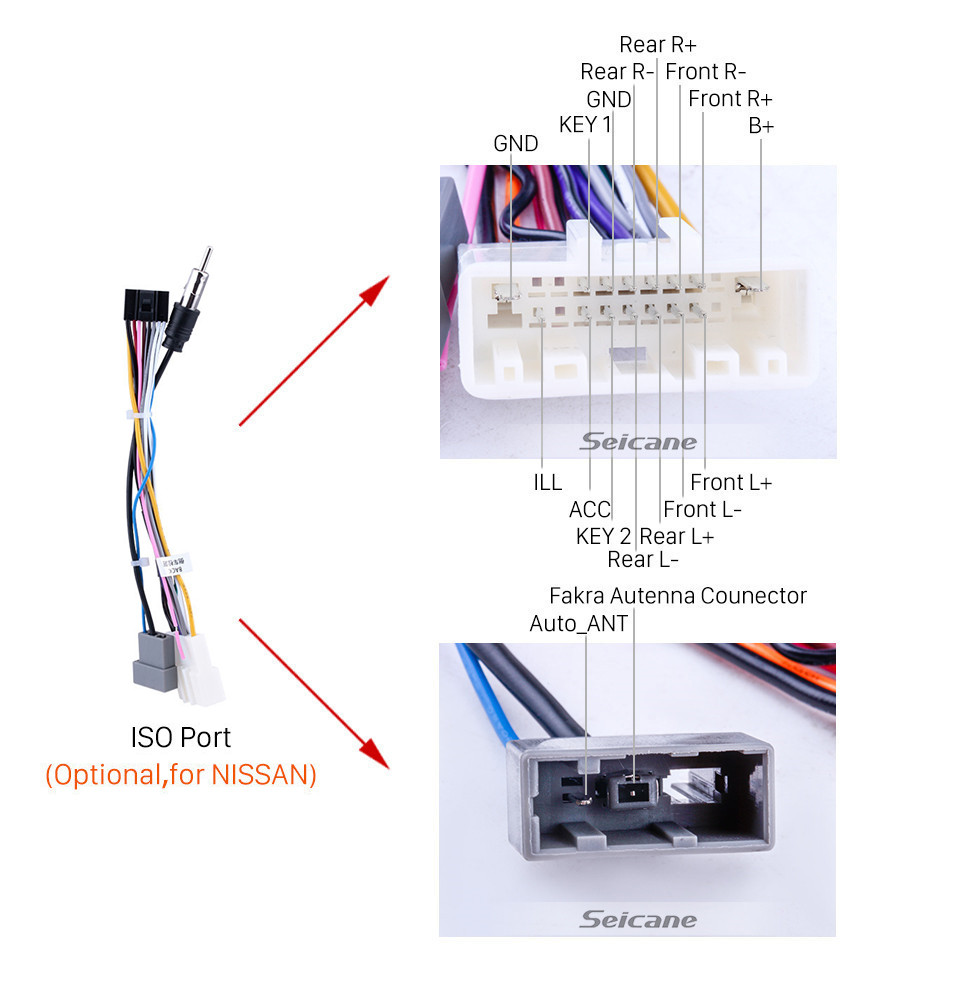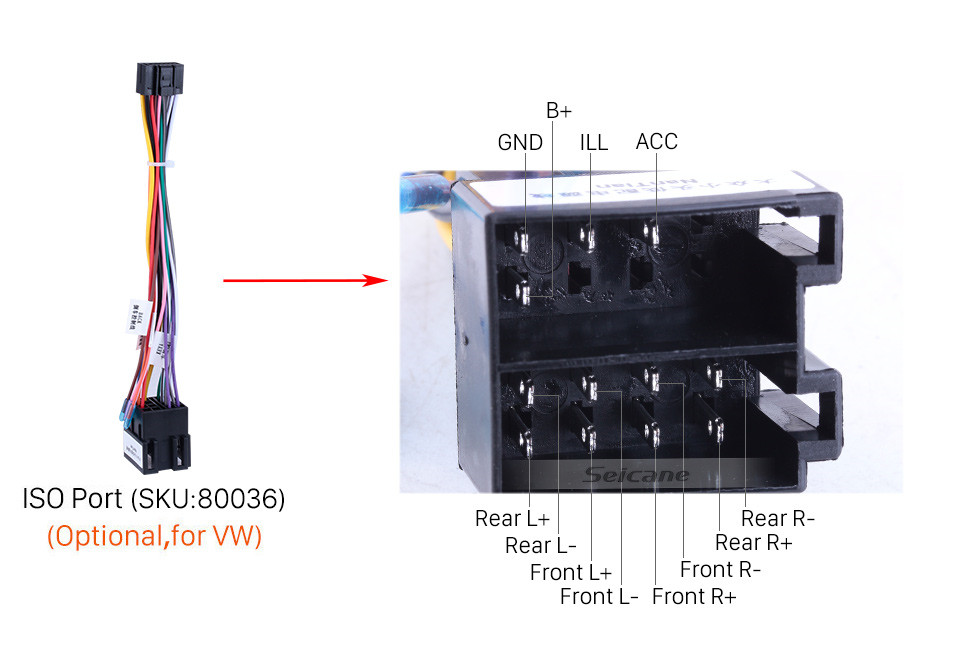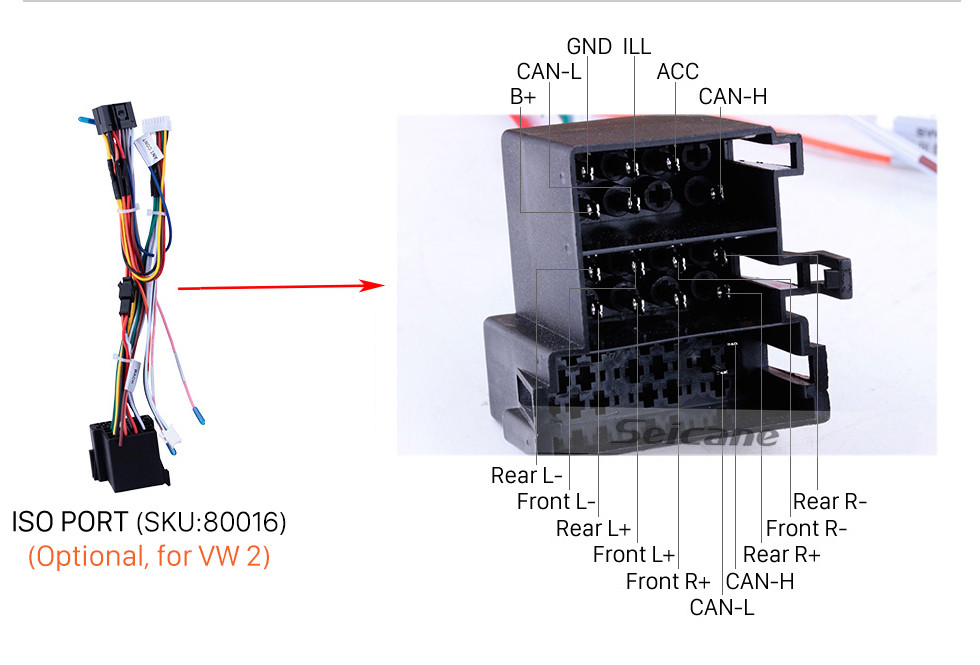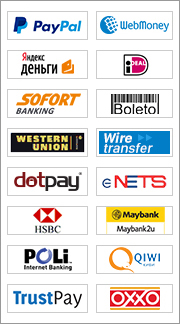 Resumen

Carplay/Android Auto/Sistema de sonido DSP/Radio FM/AM/RDS/4G y WiFi/Descarga de aplicaciones/Navegación 3D/Bluetooth/Administración de archivos/Video HD 1080P/Control del volante/OBD2/DVR/Cámara de respaldo/MP3/AUX / USB / SD, etc.


Configuración

SO: sistema operativo Android 12.0.
CPU: Cortex-A53 de 1,5 GHz de cuatro núcleos de alta calidad con un gran rendimiento
GPU: con GPU de cuatro núcleos Mali-T820, admite pantalla dual para la resolución más alta de 2048 x 1536.
Pantalla: pantalla multitáctil con un funcionamiento suave, alta sensibilidad y abundante interacción para una mejor vista de su camino por delante.
Proporciona una interfaz de usuario exquisita y agradable a la vista, lo que mejora en gran medida la experiencia visual.


Características

Internet WiFi y 3G de alta velocidad: el sistema admite la navegación por Internet a través de 3G o WiFi. Viene con módulo WiFi. Puede realizar búsquedas en Google en el camino con el cuadro de búsqueda rápida, jugar juegos en línea, ver videos, descargar datos en línea y revisar correos electrónicos conectándose a cualquier punto de acceso WiFi dentro del alcance o Internet 3g.
Descarga de la aplicación: reemplaza su radio de fábrica con un sistema basado en Android de gran utilidad y extensibilidad. Puede descargar cualquier aplicación en Android Market para acceder a juegos, Skype, MSN, YouTube, Twitter, E-Book, Gmail, etc. Este sistema también admite la instalación o eliminación de aplicaciones en RAM o SD opcionalmente.
Navegación 3D: el estéreo del automóvil está equipado con una función de navegación mundial en tiempo real de alta precisión. Con la ubicación actual, la velocidad, el kilometraje, la visualización de edificios emblemáticos, la vista de la calle en 3D, la búsqueda de destinos y las indicaciones de voz paso a paso, será su compañero de viaje perfecto. Con la función de zona dual, la música de la radio/AV/DVD/TV, etc. se puede reproducir detrás de escena en el modo GPS y cambiará automáticamente a la voz del GPS.
Sintonizador de radio: integrado con un potente sintonizador de radio FM/AM digital, este sistema de A/V para automóvil presenta la búsqueda de canales de radio de forma automática, manual y los almacena en el proceso. RDS también es compatible.
Bluetooth: actualiza su automóvil con el módulo Bluetooth BC8 para llamadas manos libres y transmisión de música. Con los tonos de llamada y la voz que salen de los parlantes del automóvil, puede marcar, responder, rechazar y silenciar llamadas sin quitar las manos del volante. Su función de agenda le permite buscar contactos directamente en la pantalla grande de la unidad principal. La capacidad de transmitir sus canciones favoritas desde el teléfono inteligente de forma inalámbrica también es deseable. Se incluye un micrófono interno para hablar sin distorsiones.
Herramientas de oficina: puede leer y editar archivos de oficina como WORD/EXCEL/POWERPOINT/PDF/TXT en su tableta.
Administración de archivos: con el explorador de archivos, puede abrir archivos con las aplicaciones correspondientes, buscar archivos y administrarlos.
Video HD 1080P: este reproductor de DVD para automóvil admite la reproducción de video HD 1080P.
AUX: esta función es para entrada y salida de audio y video desde dispositivos externos.
Control del volante: los controles originales del volante de su automóvil seguirán funcionando después de la instalación.
Conexión USB/SD de 32 GB: con ranuras USB y SD de 32 GB de capacidad, esta unidad permite reproducir audio y video, ver fotos, leer libros electrónicos, etc. desde SD o USB. Formatos de audio MP3, WMA, AAC, RM, LFAC, MPEG-1/2/4, H264, H263, VC1, RV, RMVB, DivX, Sorenson SparK, Spark, VP8, AVS Transmisión de video y JPG/BMP/JEPG/GIF /Imagen PNG son compatibles.
Carga de iPod/iPhone: este dispositivo multimedia admite la carga de su iPod/iPhone a través del cable USB.
Idiomas OSD: se admiten 37 tipos de idiomas OSD, incluidos: chino tradicional, chino simplificado, japonés, coreano, árabe, inglés (Australia), inglés (Canadá), inglés (Nueva Zelanda), inglés (Singapur), Inglés (Reino Unido), Inglés (Estados Unidos), Afrikáans, Bahasa Indonesia, Bahase Melayu, Deutsch (Deutschland), Deutsch (Liechtenstein), Deutsch (Schweiz), Filipino, Fancais (Bélgica), Fancais (Canadá), Fancais (Francia) ), Fancais (Suisse), Italiano (Italia), Italiano (Svizzera), Kiswahili, Latviesu, Magyar, Nederlands, Norsk bokmal, Polski, Portugues (Brasil), Portugues (Portugal), Rumantsch, SlovenCina, Suomi, Svenska, Pyccknn.
Elementos que se pueden diseñar: 8 fondos de pantalla en vivo y 21 fondos de pantalla están predeterminados. Puede configurar cualquier imagen que desee como fondo de pantalla. También está habilitado para la imagen de inicio de bricolaje y el menú principal.
Amplificador integrado: el amplificador de 4 x 45 W de salida de 4 canales está integrado en este sistema de audio para coche.
Mirror link: Sincroniza tu teléfono móvil a través de WiFi o USB. Esta tecnología le permite obtener acceso a las aplicaciones de su teléfono inteligente en la unidad para reproducir música y videos, etc. Actualmente es compatible con iPhone, Samsung Galaxy (Android 4.2 y superior).


Opciones

HD Digital TV: DVB-T/ATSC/ISDB-T HD TV Tuner se puede proporcionar para recibir canales de TV digital.
DVR para coche: el DVR La función se utiliza para grabar todo el proceso de los accidentes de tráfico, tomar fotos para la parte delantera de los vehículos y almacenar el video en tiempo real mientras se conduce.
Dongle 4G: con este dongle 4g, puede conectarse a Internet 4g insertando una tarjeta SIM.
Cámara de respaldo: Agrega una cámara de respaldo para cambiar automáticamente a la imagen de estacionamiento al dar marcha atrás. Esta opción incluye una cámara trasera impermeable y de visión nocturna que se montará en la posición de las luces de la matrícula de su automóvil y los cables para su conexión. La cámara de visión trasera predeterminada está cableada. Si necesita el inalámbrico, envíenos una nota después de realizar el pedido.
OBDII: con este escáner OBDII, puede conectarlo al puerto DLC de su automóvil y abrir el WIFI de la unidad para monitorear el consumo de combustible del automóvil, la temperatura del agua, la velocidad de rotación, la temperatura ambiental, la presión de admisión, la posición del acelerador, el flujo de aire, la computadora carga, velocidad del coche, etc. en la interfaz OBD.
DAB: abreviatura de transmisión de audio digital, DAB es una tecnología de radio digital avanzada para la transmisión de estaciones de radio que integra una serie de funciones para reducir los problemas de interferencia y el ruido de la señal. Con un sonido de alta calidad, ofrece más programas de radio en un espectro específico que la radio FM analógica. Además, DAB no solo puede sintonizar automáticamente todas las estaciones disponibles, ofreciendo una lista para que seleccione, sino que también brinda información en tiempo real, como títulos de canciones, tipo de música y noticias o actualizaciones de tráfico. Es la mejor opción para los amantes de la radio y los entusiastas de la música.
TPMS: Perfectamente conectado con esta unidad principal con una instalación simple, el TPMS brinda información en tiempo real sobre la presión de los neumáticos a través de una pantalla de pictogramas o una simple luz de advertencia de baja presión para ayudarlo a ahorrar combustible, extender la vida útil de los neumáticos, disminuir el tiempo de inactividad y el mantenimiento y aumentar la eficiencia ambiental. El reconocimiento temprano del mal funcionamiento de los neumáticos proporcionado por TPMS puede evitar accidentes de tráfico para mejorar la seguridad en todo el proceso de conducción.
Carplay/Android Auto: es compatible con el control de voz original del automóvil y la pantalla táctil. Con él, puede disfrutar libremente de la función carplay/Android Auto de su teléfono inteligente en su automóvil.
Schreiben Sie Ihre eigene Kundenmeinung
Verifizierte Käufer

Bewertungen mit Bildern
High-quality Universal,a must-buy product
Super radio catches, plays and calls from the phone. The screen is 1024 by 600 or as stated-corresponds. The video works. ZhPS and GLONASS catch 12 and 4 satellites, respectively. The rear camera has earned immediately (the main thing to the wire bacs connect the frog back gear (+) when powered on) Google playmaker is the rest of everything as in the phone. There are two full usb. One of the very successful purchases.
um Stephen
3. August 2018
super fast delivery and good pack
I like "EasyConnected" software was built in the unit. it's very simple to control the entire of my hand phone. Thanks Seicane.

Klicken für Bild in voller Größe
Möchten Sie dieses Produkt einem Freund empfehlen? wahrscheinlich
um manolito
21. Juli 2018
Toyota Innova 2013 model
The unit fits in my car but you to buy spacer for it. Attached are the photos after installation. The product is great. Looks like you have a smart phone in your car.

Klicken für Bild in voller Größe

Klicken für Bild in voller Größe
Möchten Sie dieses Produkt einem Freund empfehlen? definitiv ja
um Dan

30. August 2018
Good product
The interface is simple and intuitive.
The buttons on the left console are offset (to be searched). Waze and Google Maps work well.
The microphone is not the best and unfortunately an auxiliary can not be mounted.
The GPS antenna has a good signal although I mounted it inside the dashboard.
The backup camera is very good at low light.
I recomand a wireless steering wheel controller, because is hard to operate de buttons on the left side.
Möchten Sie dieses Produkt einem Freund empfehlen? wahrscheinlich
Nice Navigation unit, recommend it!
A great product, works very well. Professional packing. Fast delivery.

Klicken für Bild in voller Größe

Klicken für Bild in voller Größe
Klicken für Bild in voller Größe

Klicken für Bild in voller Größe
Möchten Sie dieses Produkt einem Freund empfehlen? wahrscheinlich
Excellent seller, thank you.
The player was a good one. but bit hard to install. wiring not easy to find. i fitted it to mazda verisa. working well. still not check the navigation and wifi. mounting bracket not good. i have to make my own mounting bracket. But this is a good quality product. today i fixed it to the car. In future will see whats going on with this player.
Möchten Sie dieses Produkt einem Freund empfehlen? wahrscheinlich
A GOOD QUALITY PRODUCT.
Arrived quickly, as advertised. I'm very satisfied with order. Thanks

Klicken für Bild in voller Größe

Klicken für Bild in voller Größe
Möchten Sie dieses Produkt einem Freund empfehlen? wahrscheinlich
Fast shipping & good product!
Fast shipping. The track was tracked. Excellent packaging. Works good. Radio catches not worse than a regular head. The wires are the same in colors. Thank you to the seller.

Klicken für Bild in voller Größe
Möchten Sie dieses Produkt einem Freund empfehlen? definitiv ja
um Samuel
10. August 2018
Tested works nicely, thanks seller.
Shipping Peter for a week! Super! Very good machine for installation in car, good quality picture and sound, customizable to your taste appearance and menu. Good sensitivity of receiver and Bluetooth. A drawback, pretty much heated body, it is cooler amplifier.
Möchten Sie dieses Produkt einem Freund empfehlen? wahrscheinlich
um Paul Fearon
14. Oktober 2020
Everything works properly, better for such a price is not found.
Ordered 15.07 on the tracker came 25.07, from the point of issue called 29.07 could deliver, but took it himself. The installation took 1.5 -2 hours. Delivery-5, packing-5 (you want not to crush), everything works, sound-zaeb .. Sy, навигация-5, adapter to the antenna is. recomed! respect the seller!
Artikel 1 bis 10 von 17 gesamt
pro Seite
Seite:
1