Einzelheiten
Bitte beachten Sie:
1.Für Autos ohne Bildschirm und DSP ist dieses Gerät Plug-and-Play. 2.Für Autos mit Bildschirm, aber ohne DSP, ist dieses Gerät Plug-and-Play. 3.Für Autos ohne Bildschirm, aber mit DSP ist die Installation relativ kompliziert. Sie müssen die Lautsprecherkabel separat anschließen, um Audio zu erhalten, und Ihr ursprünglicher DSP funktioniert nach der Installation nicht mehr. 4.Für Autos mit Bildschirm und DSP kann dieses Gerät den DSP des Originalautos nach 2001 unterstützen. Über den folgenden Link können Sie überprüfen, ob Ihr Auto über DSP verfügt:
http://www.seicane.com/bmw-x5-e53-car-stereo-head-unit-upgrade-buying-guide-installation#tab3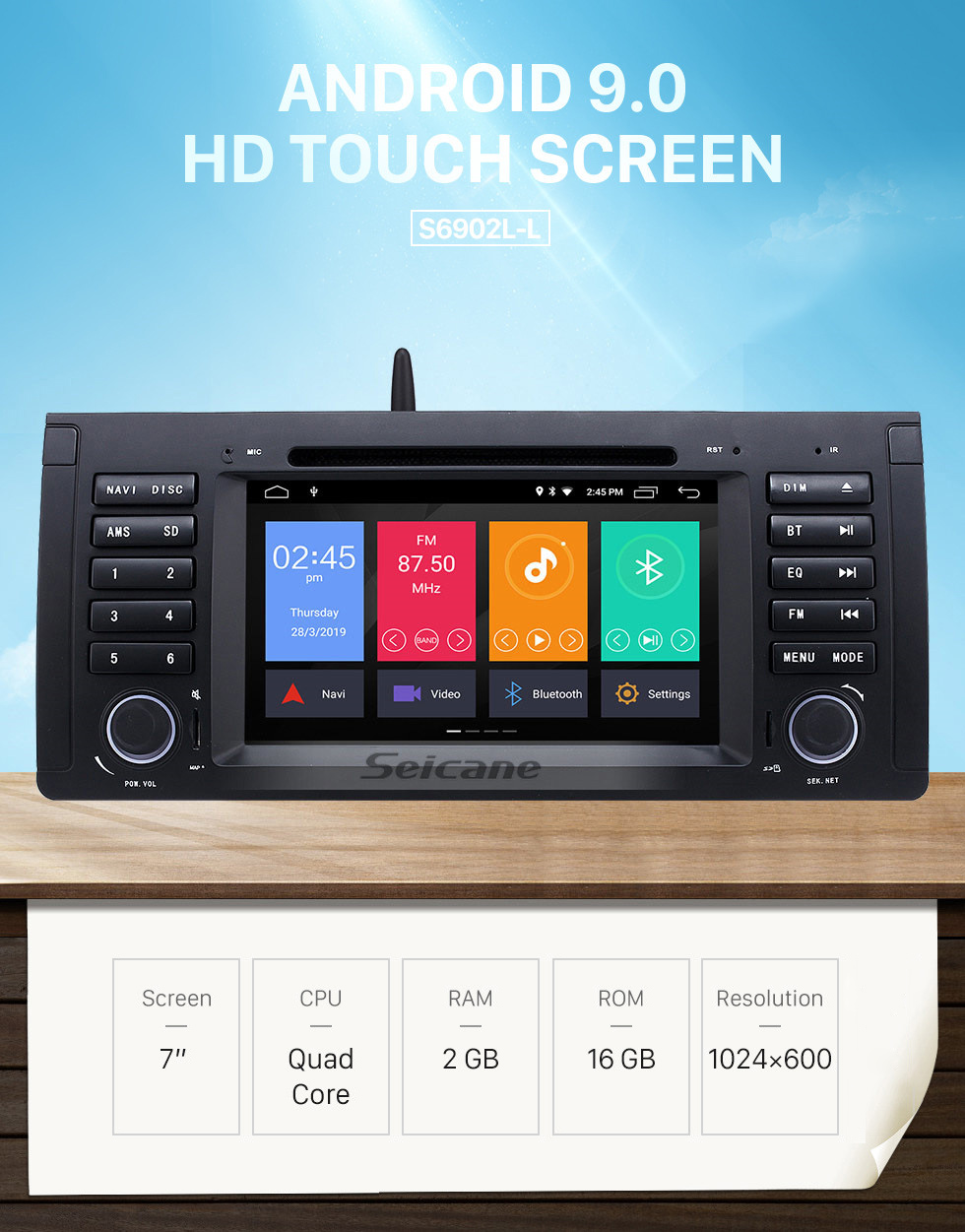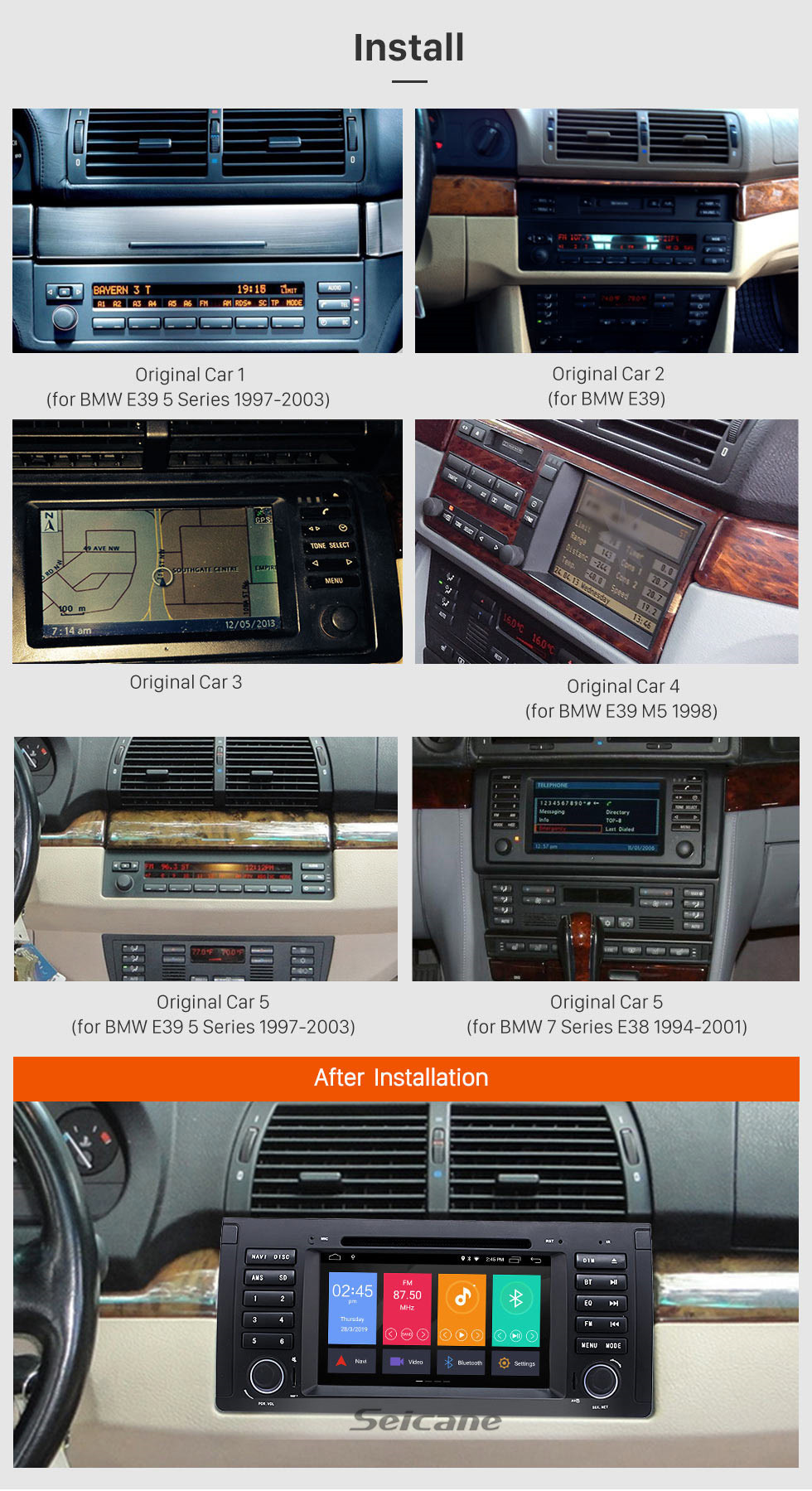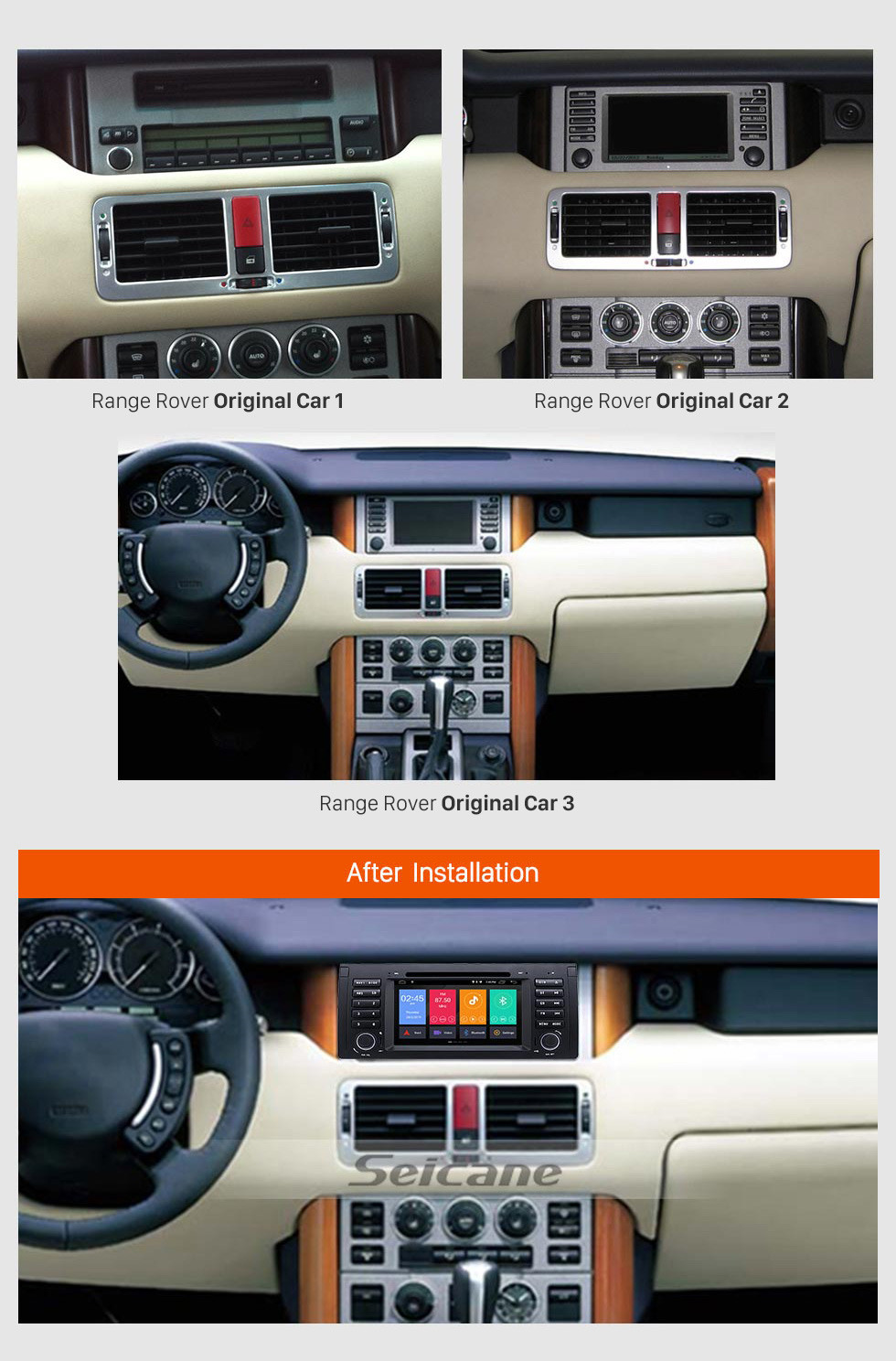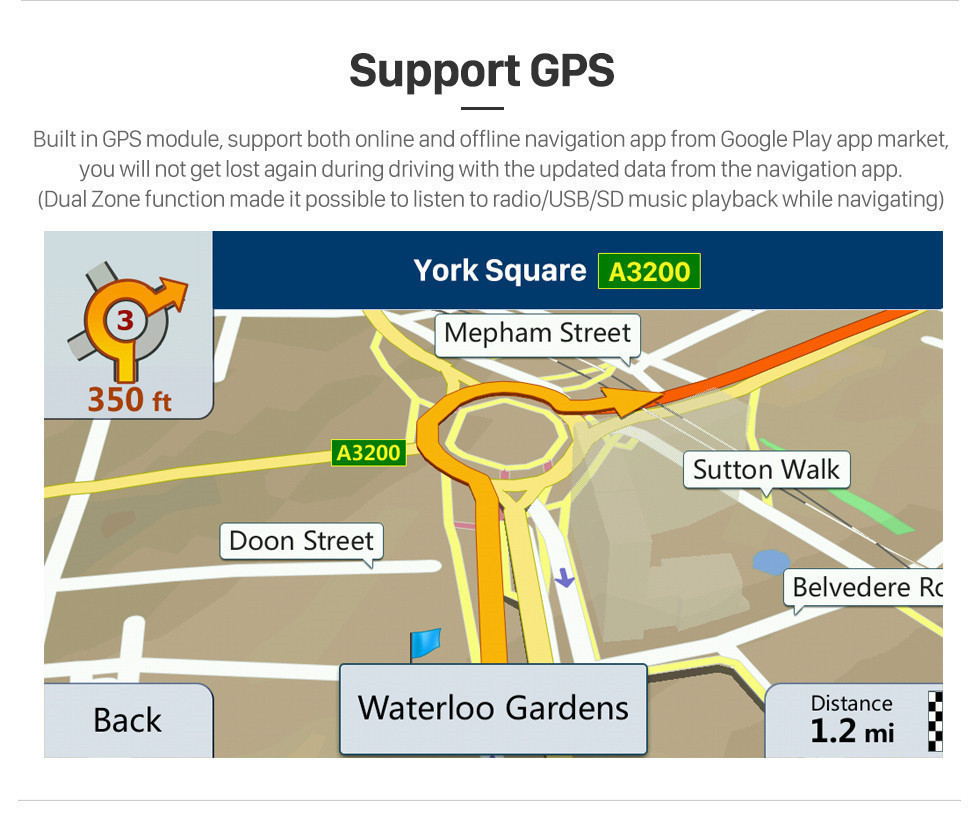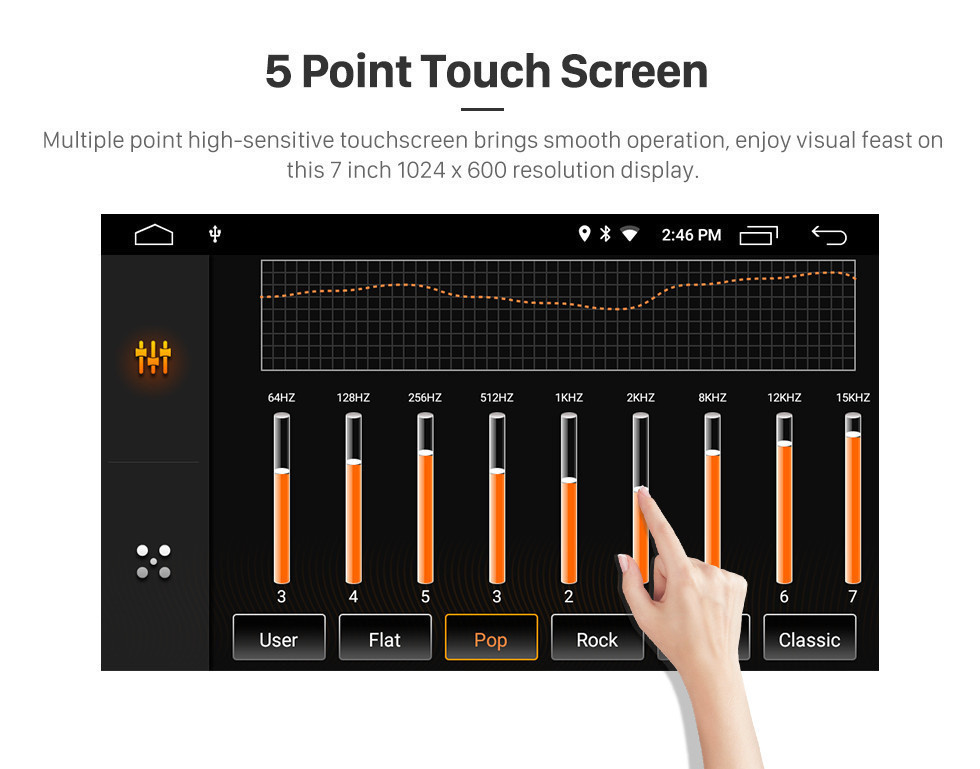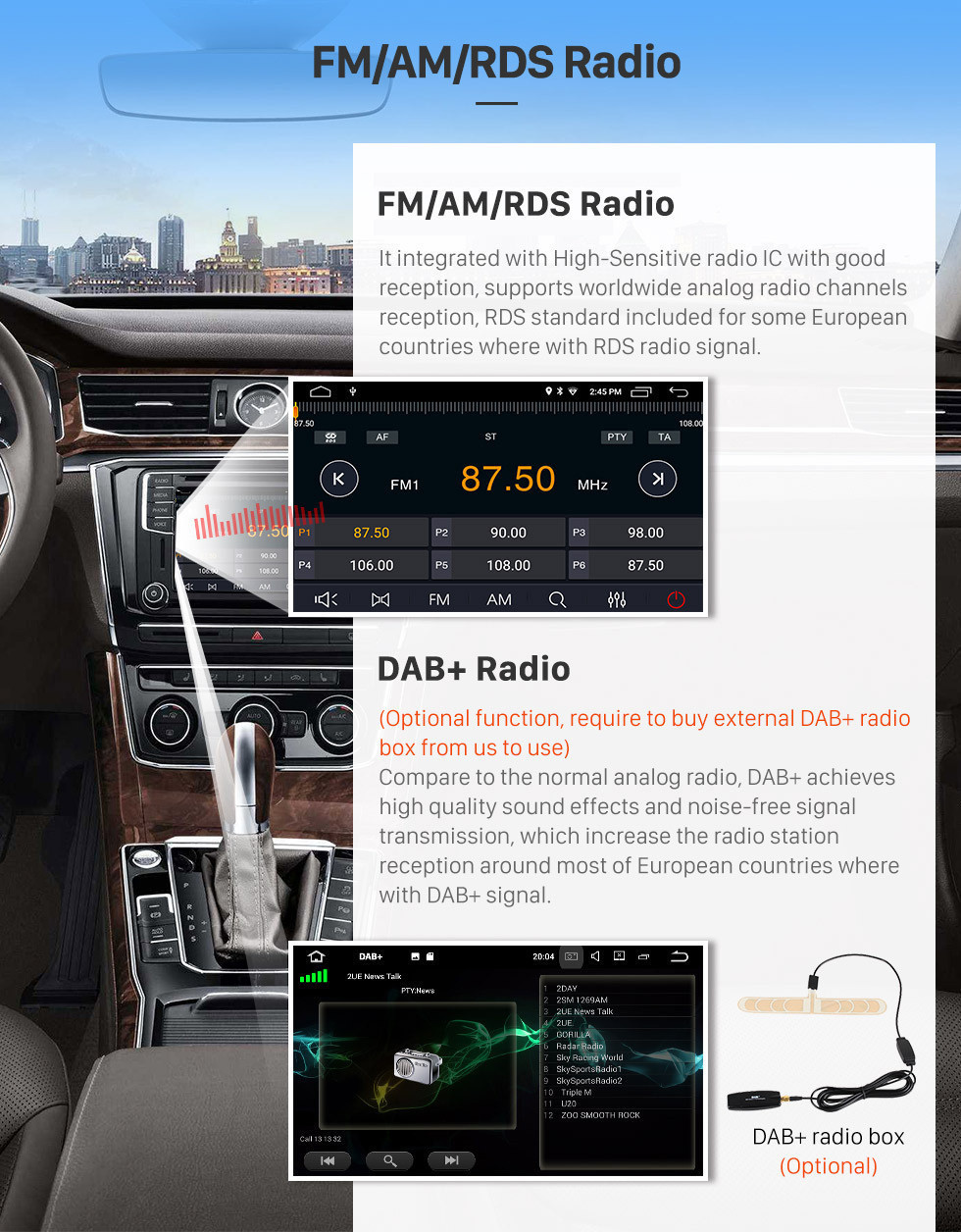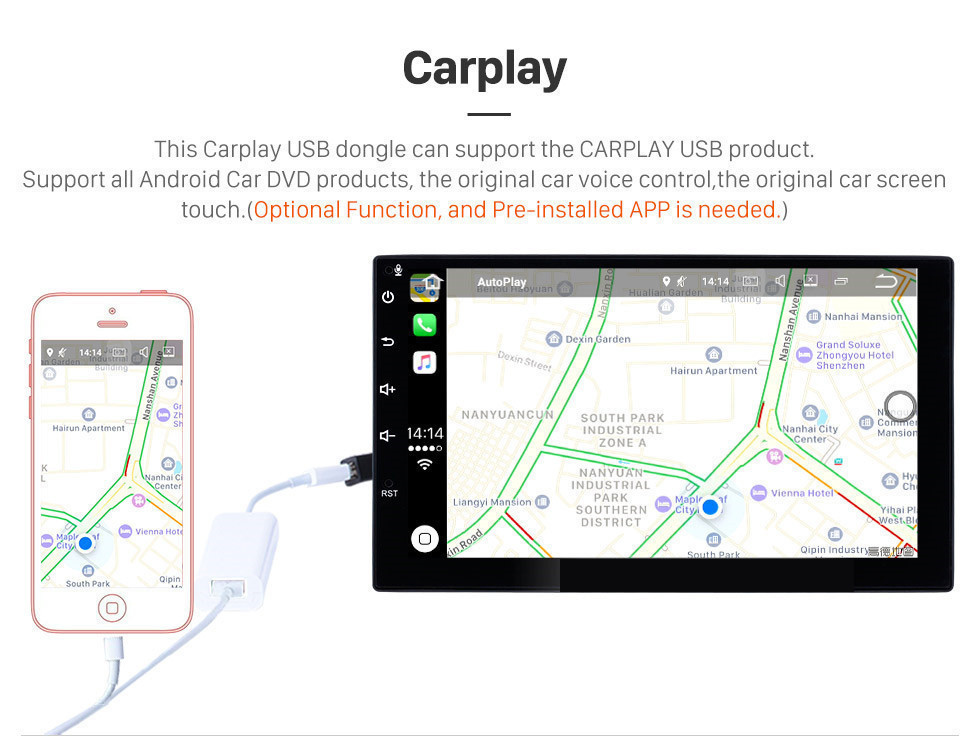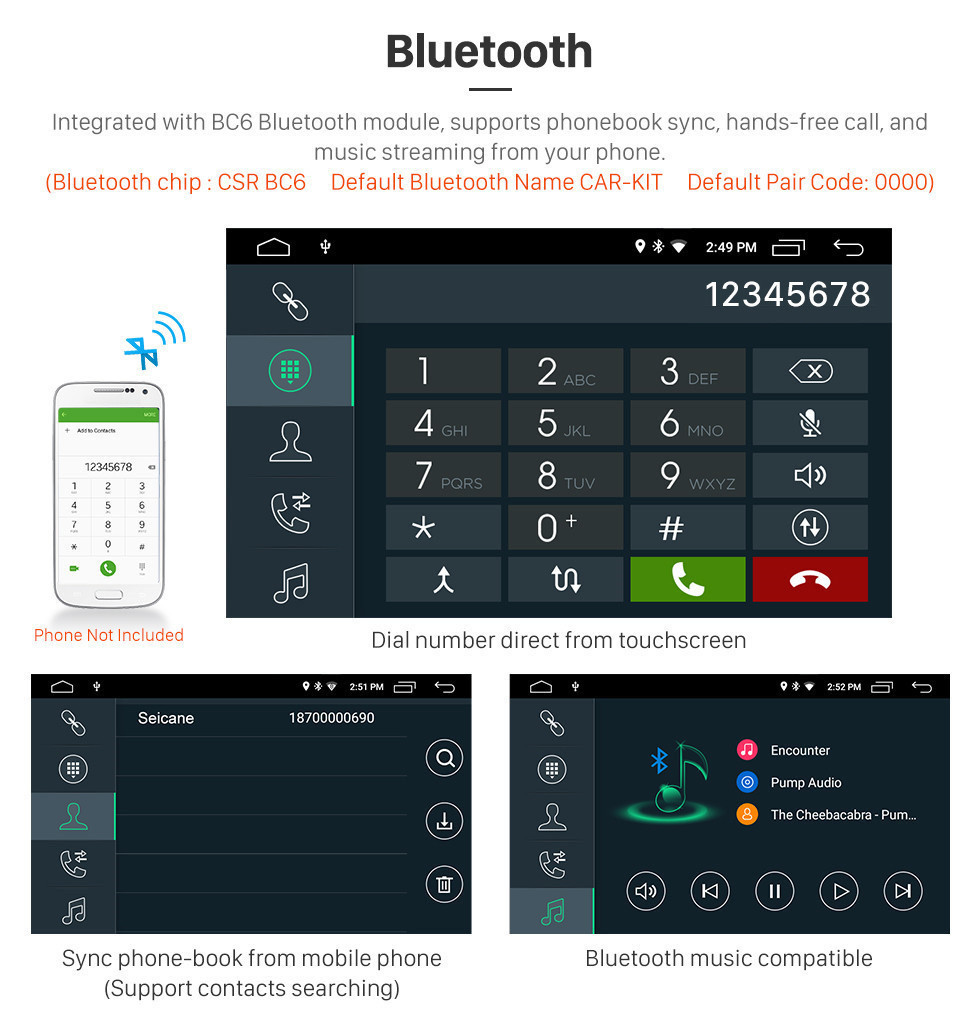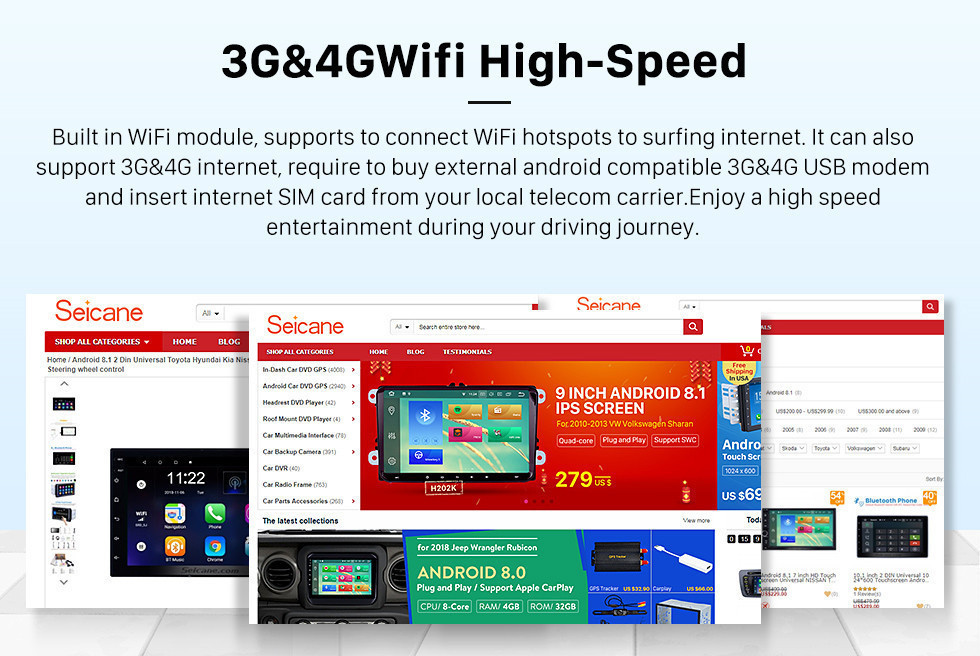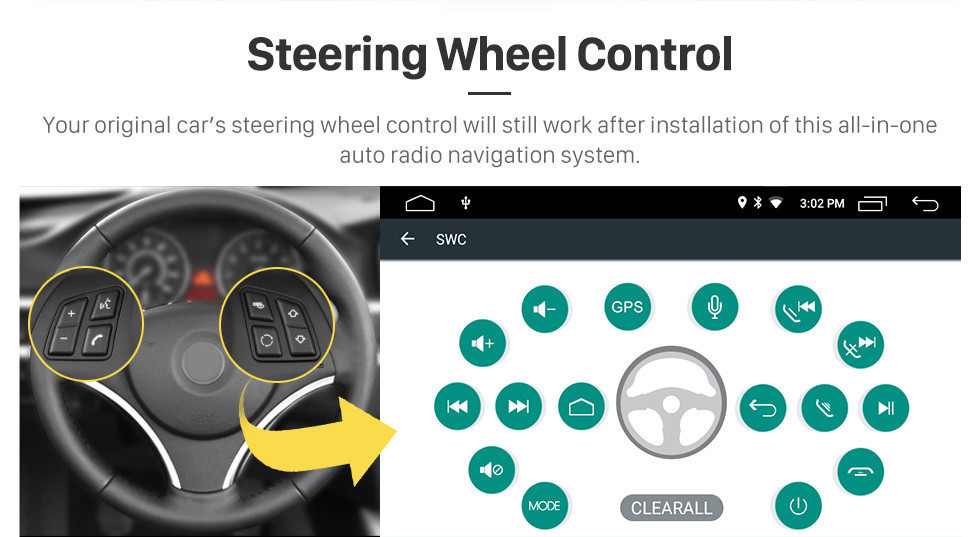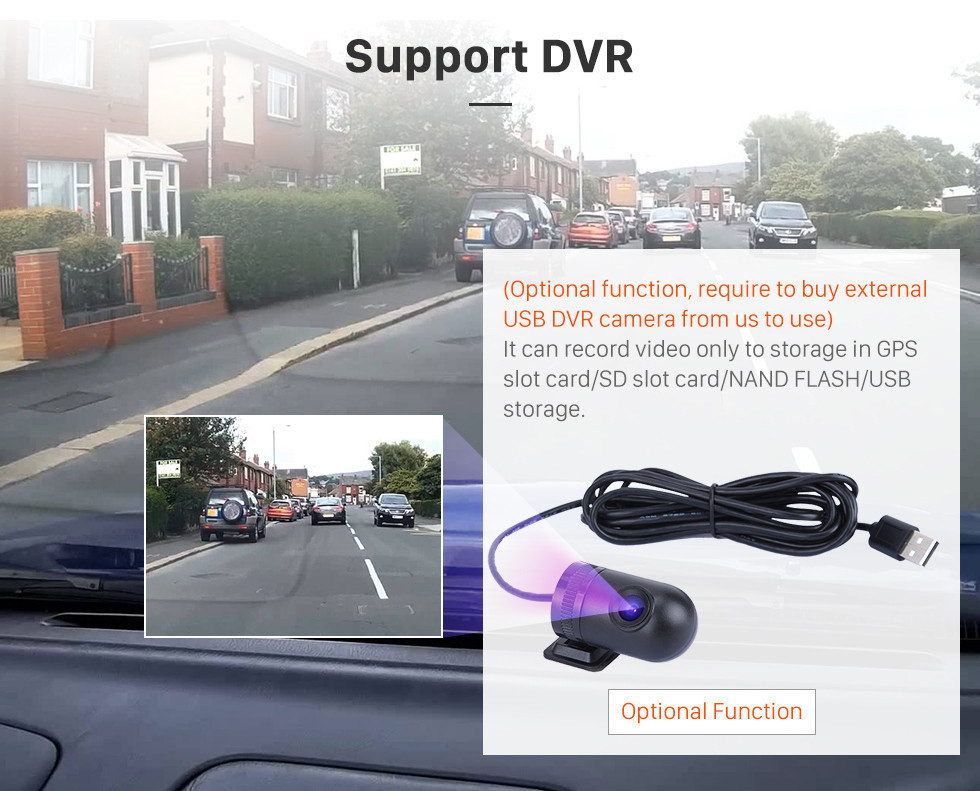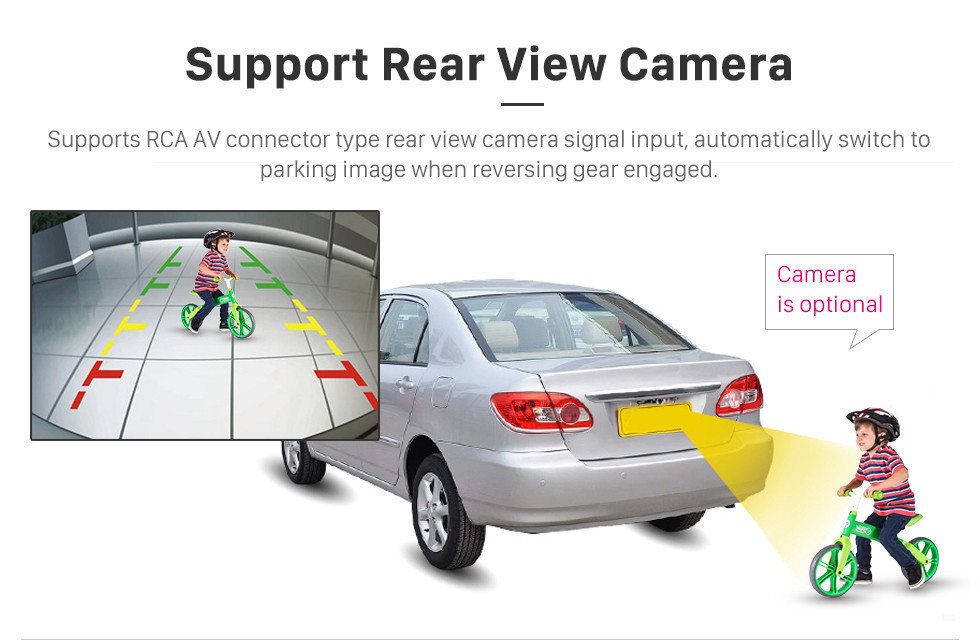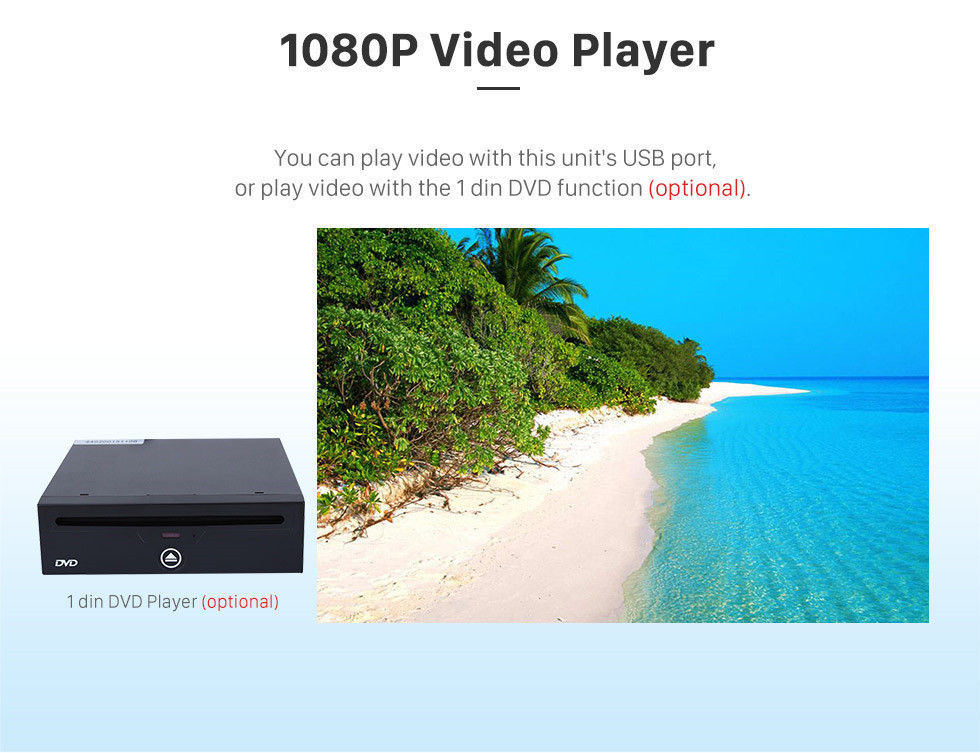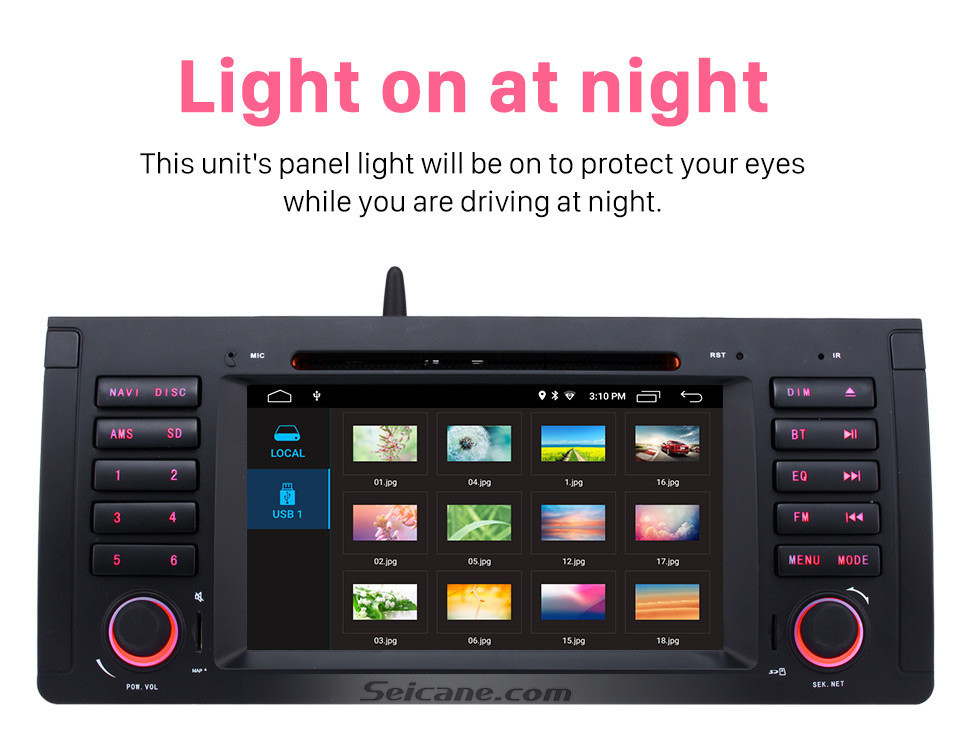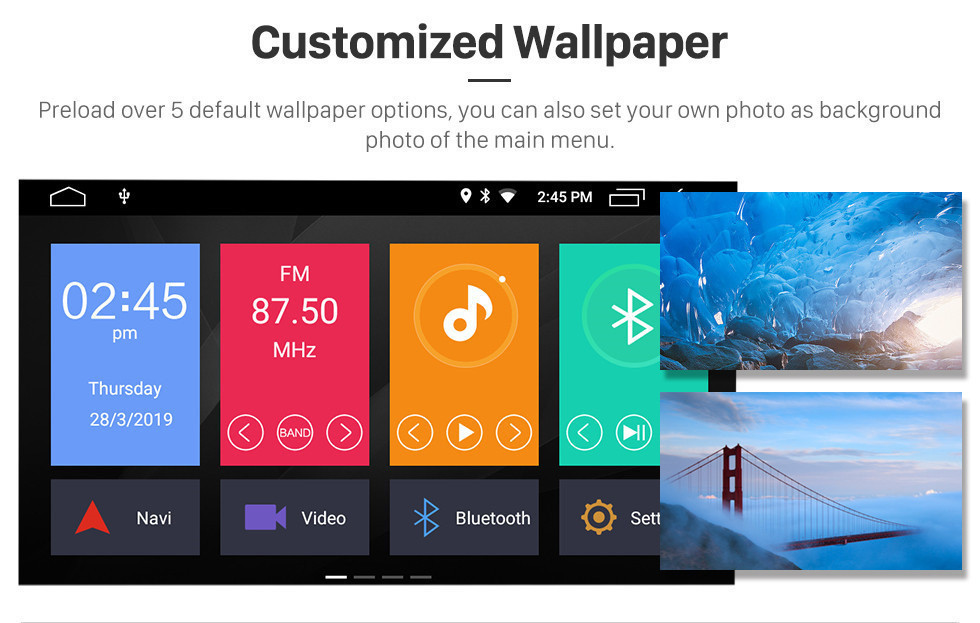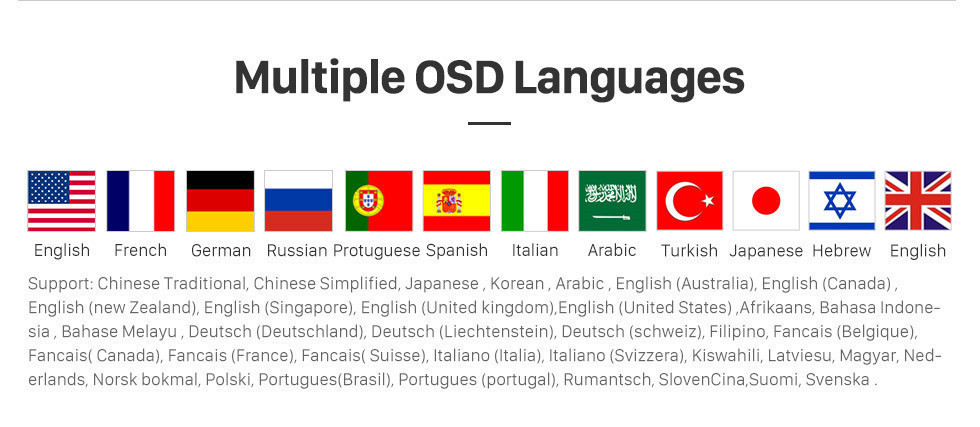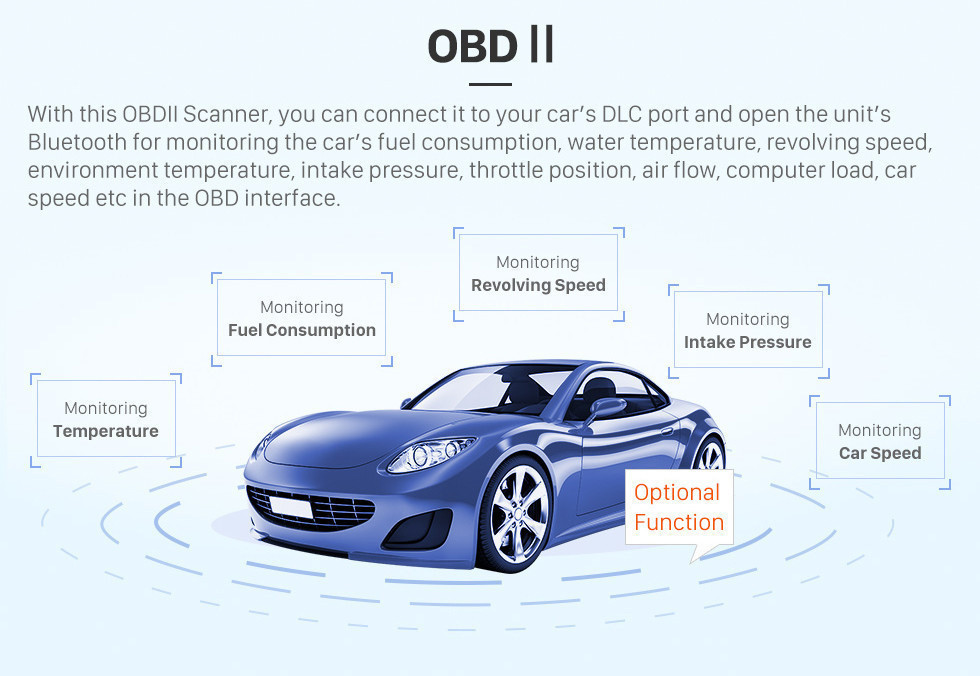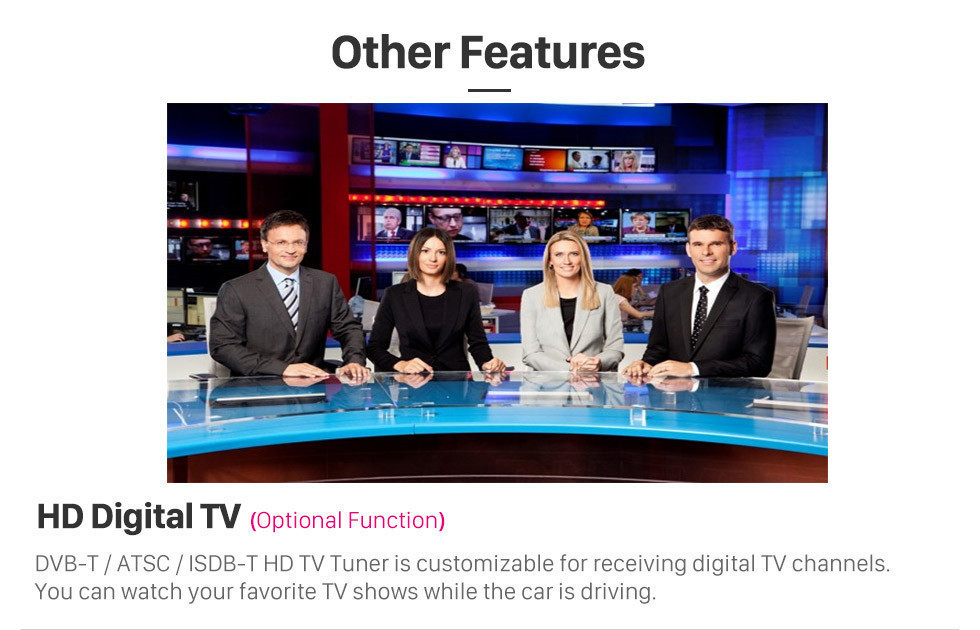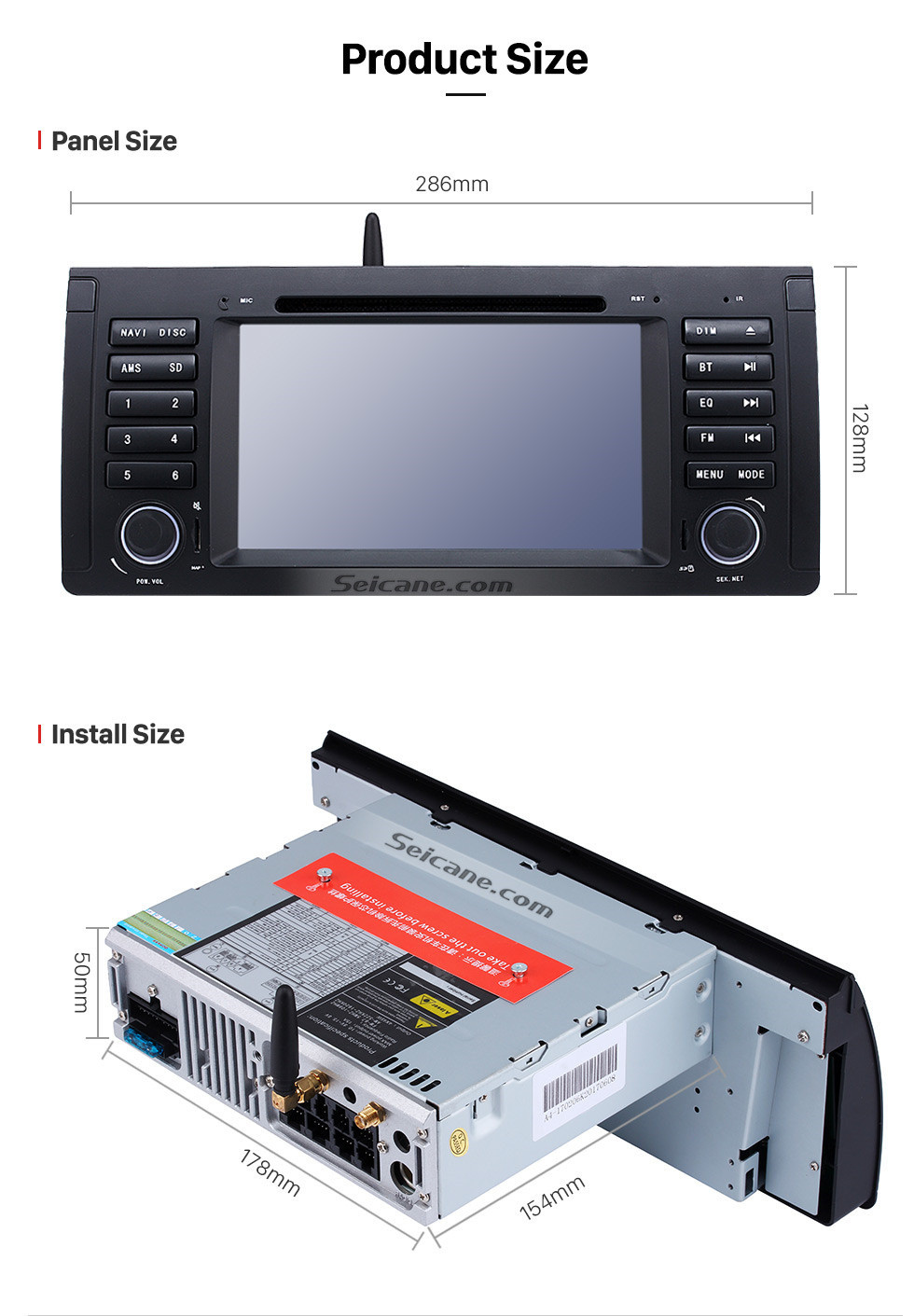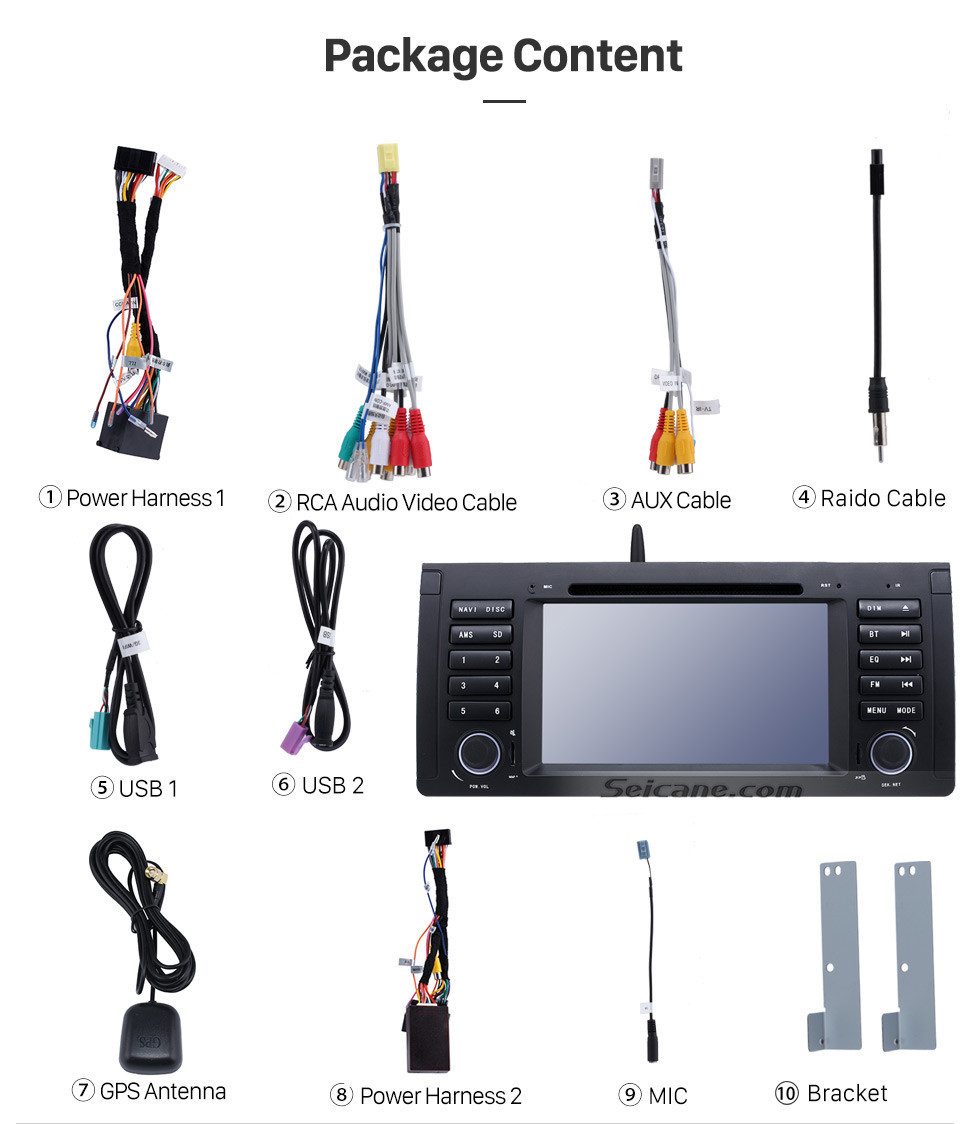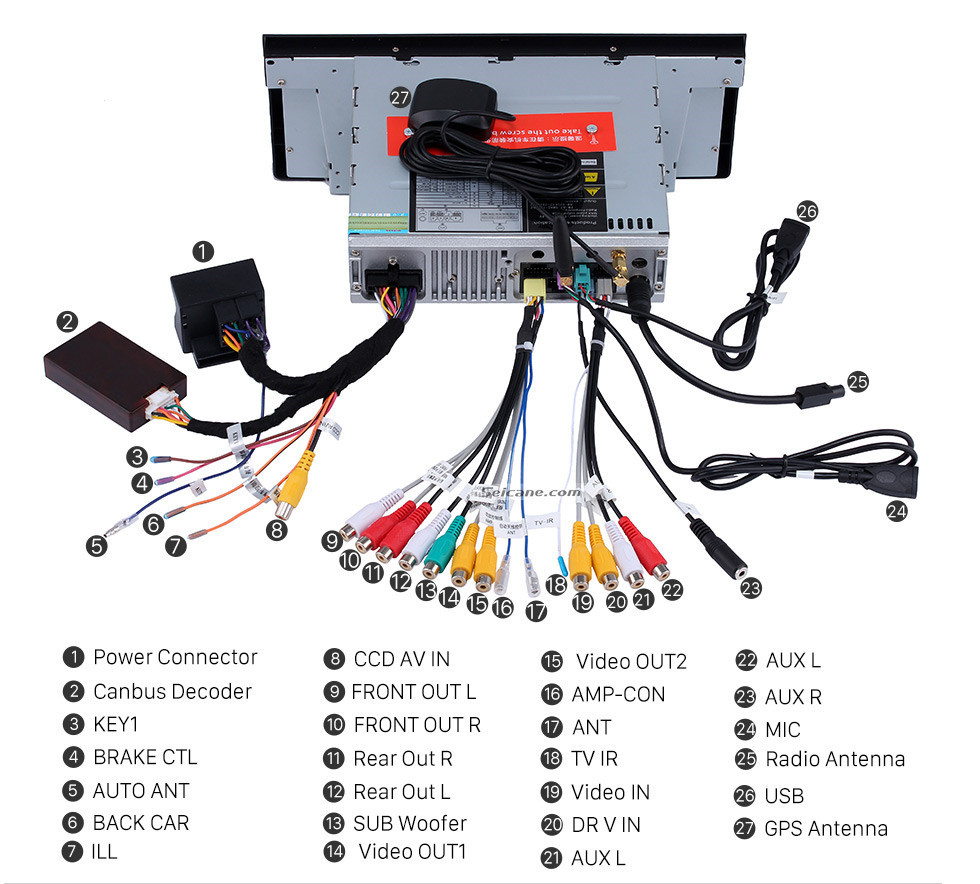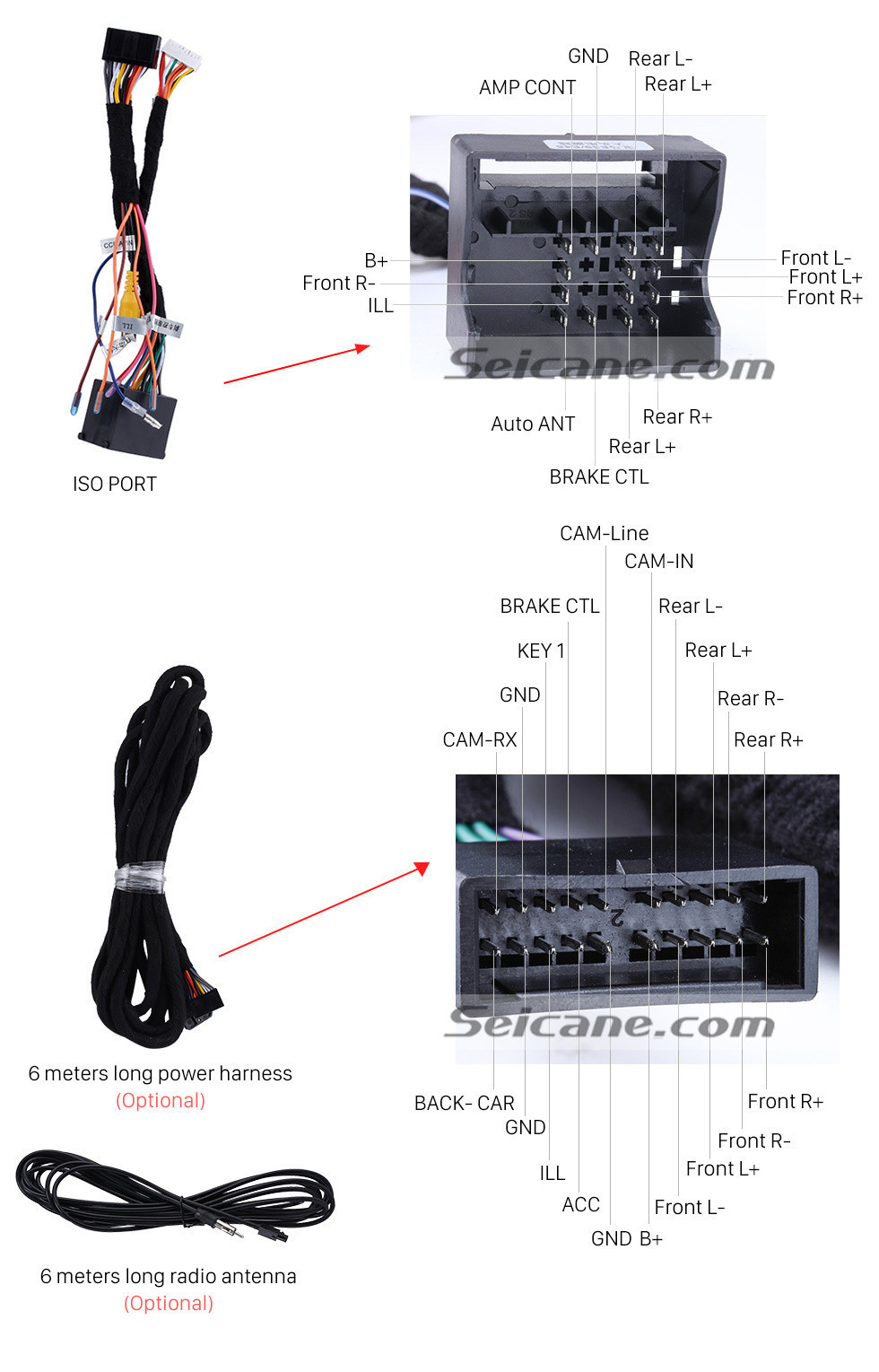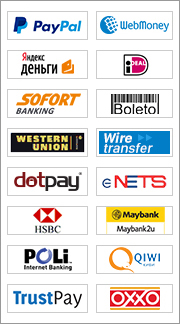 Produkthöhepunkte

Dieses Gerät ist Plug-and-Play und lässt sich einfach aufrüsten und installieren. Die Lenkradsteuerung Ihres Fahrzeugs funktioniert auch nach der Installation. Sie können also mit den Tasten des Lenkrads Freisprechanrufe und Musik-Streaming verwenden. Es verfügt über einen großen HD-Touchscreen für ein besseres visuelles Erlebnis. Sie können Ihr Telefon auch per Mirror-Link verbinden. Und noch wichtiger: Sie haben das neueste 3D-Kartennavigationssystem für Ihre Reise.
Features im Überblick

Eingebaut: 4G / WIFI / App-Download / 3D-GPS-Navigation / UKW / MW-Radio / Bluetooth / Dual Zone / Dateiverwaltung / HD 1080P / Lenkradsteuerung / Mirror Link / MP3 / AUX / USB.
Wahlmöglichkeit: OBD2 / DVR / Rückfahrkamera / TPMS / Digital-TV
Erweiterte Konfigurationen

OS: Intelligent pure Android 9.0 system
CPU: High-quality Quad-core 4*1.2GHz MTK 8227L ARM A7 processor with more efficient computing capability
GPU: with Mali-600MP2 GPU, It supports dual-screen display for the highest resolution of 2048*1536.
Festplatte: 16GB Inland Flash
RAM: 2GB DDR3 RAM memory
UI: Frische einzigartige Benutzeroberfläche mit dynamischer Grafik.
Screen: Smart HD multi-touch screen with smooth operation, high sensitivity and abundant interaction for the better view of your road ahead.
2 USB Ports: It comes with 2 USB Ports to meet your different needs of external devices, more choices for both practical and entertainment service, you also can connect a USB Hub for more USB ports. And USB OTG is also supported.
Einzigartige Merkmale

Latest Android 9.0 System: Loaded with the most advanced Android operation system, it offers the fastest and smoothest operation you've never enjoyed before.
Prompt Response: Adopted Quad-core 4*1.2GHz MTK 8227L ARM A7 CPU and high-speed iNAND MLC hard disk, this unit can start up within just 1 sec. And it only takes less than 2 seconds for sound, 3 seconds for rearview and 16 seconds for operation.
High-speed 4G/WIFI Network: It comes with built-in WIFI network and can support the most up-to-date 4G module, allowing you to easily get access to internet for online music listening, online videos watching, online games watching, e-mail checking, etc as long as you reach a WIFI hotspot or connect it to a 4G/module.
App herunterladen: Sie ersetzt Ihr Werksradio mit Android-basiertem System von großem Nutzen und Erweiterbarkeit. Sie können alle Applikationen auf dem Android Market für den Zugriff auf Spiele, Skype, MSN, YouTube, Twitter, E-Book, Gmail usw. downloaden. Dieses System unterstützt auch die Installation oder Deinstallation von Anwendungen auf RAM oder SD optional.
HD Touch-Screen-Display: Es vereinfacht den Betrieb mit einem digitalen Multitouch-Bildschirm, der Multi-Auflösung unterstützen kann, was es klarer macht als die Auflösung 1024 * 600 mit der gleichen Schnittstelle.
3D GPS Navigation: Mit 3D Karten (Karten in iNAND) ist der beste Weg zu Ihrem gewünschten Ziel nur in Sekundenschnelle in Reichweite. Alle Navigationsinformationen stehen zur Verfügung, wie zB der aktuelle Standort, Geschwindigkeit, Kilometerstand, Landmark-Gebäudeanzeige, 3D-Straßenansicht, Zielsuche und Turn-by-Turn-Sprachrichtungen usw. Sie können auch die neueste Google Map App herunterladen. Und es unterstützt Auto Google, SYGIC etc. Mit Dual-Zonen-Funktion kann die Musik von Radio / AV / TV usw. hinter der Szene im GPS-Modus gespielt werden und es wird automatisch auf die GPS-Stimme umschalten.
Radio-Tuner: Eingebaut mit starkem digitalen FM / AM-Radio-Tuner, bietet dieses Auto A / V-System die Suche nach Funkkanälen automatisch, manuell und speichern sie in den Prozess. RDS wird auch unterstützt.
Bluetooth: Es aktualisiert Ihr Auto mit BC8 Bluetooth-Modul für Freisprechanrufe und Musik-Streaming. Mit Klingeltönen und Stimme, die aus den Autolautsprechern herauskommt, kannst du Anrufe wählen, empfangen, ablehnen und stummschalten, ohne deine Hände vom Lenkrad zu nehmen. Die Telefonbuchfunktion ermöglicht es Ihnen, Kontakte direkt auf dem Großbildschirm der Kopfeinheit zu suchen. Die Fähigkeit, Ihre Lieblingsmusik vom Smartphone drahtlos zu streamen, ist auch wünschenswert. Außerdem unterstützt diese leistungsstarke Bluetooth-Funktion auch CID.
Office Tools: Sie können Office-Dateiformate wie DOC / XLS / PPT / PDF / TXT auf ihr als Tablet lesen und bearbeiten.
Dateiverwaltung: Mit dem Dateibrowser können Sie Dateien mit den entsprechenden Anwendungen öffnen, Dateien durchsuchen und verwalten.
AUX: Diese Funktion ist für Audio- und Video-Eingang und Ausgang von externen Geräten.
Lenkradsteuerung: Die Lenkradsteuerungen Ihres Originalwagens funktionieren nach der Installation noch. Es gibt eingebaute Dutzende von Auto-Modell-Einstellung für Lenkrad-Funktion Einstellung.
USB / SD Anschluss: Stützen Sie doppelte Sd-Karte / Multi-Media Karte / GPS-Karte. Die maximale Kapazität beträgt bis zu 64G. Diese Einheit ermöglicht Audio- und Video-Wiedergabe, Foto-Ansicht, E-Book Lesen usw. von SD oder USB. Eine breite Palette von Audio- und Videoformaten sind mit diesem Gerät kompatibel, einschließlich MP3, WMA, WAV, APE, FLAC, MP4, H.264, WMV, AVI, RM / RMVB, VOB, etc. Außerdem werden JPG / BMP / JEPG / GIF / PNG-Bild unterstützt.
Eingebauter Verstärker: Ausgestattet mit 7388 Verstärker IC, 4 Kanal Ausgang 4 * 45W Verstärker ist eingebettet in dieses Auto Audiosystem.
Mirror Link: Es synchronisiert Ihr Handy mit diesem DVD-Player über WiFi oder USB. Diese Technologie ermöglicht es Ihnen, Zugriff auf Ihre Smartphone-Anwendungen auf dem Gerät zu spielen, um Musik und Videos etc. zu spielen. Es unterstützt derzeit Android-Handys und iPhone.
Optionen

HD Digital TV: DVB-T / ATSC / ISDB-T HD TV-Tuner für den Empfang von digitalem TV-Sender zur Verfügung gestellt werden.
Auto DVR: Die DVR-Funktion zur Aufzeichnung des gesamten Prozesses von Verkehrsunfällen eingesetzt wird, Fotos für Front der Fahrzeuge zu nehmen und das Video in Echtzeit zu speichern während der Fahrt.
4G-Modul: Mit diesem 4g-Modul können Sie sich mit 4g Internet verbinden, indem Sie eine SIM-Karte einstecken.
Backup-Kamera: Es fügt eine Backup-Kamera automatisch in die Park Bild Schalten bei der Umkehrung. Diese Option beinhaltet eine wasserdichte und Nachtsicht-Backup-Kamera, die Ihr Auto montiert wird, um die Position der Kennzeichenbeleuchtung und die Kabel für die Verbindung. Die Standard-Rückfahrkamera ist verdrahtet. Wenn Sie die drahtlose ein benötigen, schicken Sie bitte eine uns beachten Sie nach der Bestellung.
OBDII: Mit diesem OBDII Scanner, können Sie es zu Ihrem Auto DLC-Port anschließen und die Bluetooth-Einheit öffnen für den Kraftstoffverbrauch des Fahrzeugs überwachen, Wassertemperatur, Drehzahl, Umgebungstemperatur, Einlassdruck, Drosselklappenstellung, Luftfluss, Computer Last, Fahrzeuggeschwindigkeit usw. in die OBD-Schnittstelle.
WIFi zur Überwachung des Kraftstoffverbrauchs des Autos, Wassertemperatur, Drehzahl, Umgebungstemperatur, Ansaugdruck, Drosselklappenstellung, Luftstrom, Computerlast, Fahrzeuggeschwindigkeit usw. in der OBD-Schnittstelle.
DAB +: Kurz für den digitalen Audio-Rundfunk, DAB + als fortschrittliche digitale Funktechnologie für Rundfunksender integriert eine Reihe von Funktionen, um Störungsprobleme und Signalrauschen zu reduzieren. Mit hochwertigem Sound bietet es mehr Radioprogramme über ein bestimmtes Spektrum als analoges FM Radio. Außerdem kann DAB + nicht nur automatisch auf alle verfügbaren Stationen abgestimmt werden und bietet eine Liste für Sie zur Auswahl, sondern bietet auch Echtzeit-Informationen wie Song-Titel, Musik-Typ und News oder Traffic-Updates. Es ist die beste Wahl für Radio-Liebhaber und Musik-Enthusiasten.
TPMS: Perfekt mit diesem Kopfeinheit mit einfacher Installation verbunden, die TPMS-Berichte in Echtzeit Reifendruckinformationen über ein Piktogramm-Display oder einem einfachen Licht-Niederdruckwarnung Ihnen zu helfen, den Kraftstoffverbrauch, verlängern die Lebensdauer der Reifen, verringern Ausfallzeiten speichern und Wartung und Steigerung der Umwelteffizienz. Die frühzeitige Erkennung der Störung von Reifen durch TPMS versehen können Verkehrsunfälle zur Verbesserung der Sicherheit in den gesamten Prozess des Fahrens zu vermeiden.
Schreiben Sie Ihre eigene Kundenmeinung
um dazafa
23/12/2012 09:47 PM (GMT)
Excelent product
This component works excelent, the support service is very good, I personally recommend this unit.

Klicken für Bild in voller Größe
um Risto
23/07/2014 05:02 PM (GMT)
upload a review with pictures
I am uploading a review with a picture after installation.

Klicken für Bild in voller Größe
um Toby
01/06/2015 12:59 AM (GMT)
BMW X5 2006 Install of E53 with GPS/Nav/Bluetooth
I bought this after ensuring it was the correct model which their customer service also confirmed before sending. This unit was a plug and play, as I didn't have DSP, however I chose to have it professionally installed. The customer service upon receiving the unit was phenomenal. They are extremely fast and responsive to all questions that I submitted via e-mail. I cannot emphasize enough that this was truly one of the best customer service experiences I have ever had. They even reimbursed my account the difference that it took to purchase a GPS antenna locally because I did not receive mine with the package. They didn't even hesitate, and actually were the ones that made the suggestion as the solution to not getting it. I simply sent them a copy of the invoice via email and within a couple hours they sent me confirmation of the reimbursement of the amount I sent.

Aside from that, the unit itself is amazing, and is far better quality in sound and use, then the original BMW nav/stereo/ blue tooth set up. I bought this for my wife's car and she absolutely loves it and the phone/Bluetooth function is very easy to pair and use. The navigation looks great and so many additional very useful features/apps built in. The DVD player is great, too, only issue there which has nothing to do with the unit, is the angle of the dash and the unit so hard to see from rear seat.

I would recommend this product to anyone looking to upgrade and replace the original unit.
Möchten Sie dieses Produkt einem Freund empfehlen? definitiv ja