After Viewing This Item People ultimately bought
Details
Seicane T338B H.264 (MPEG4) DVB-T2 TV RECEIVER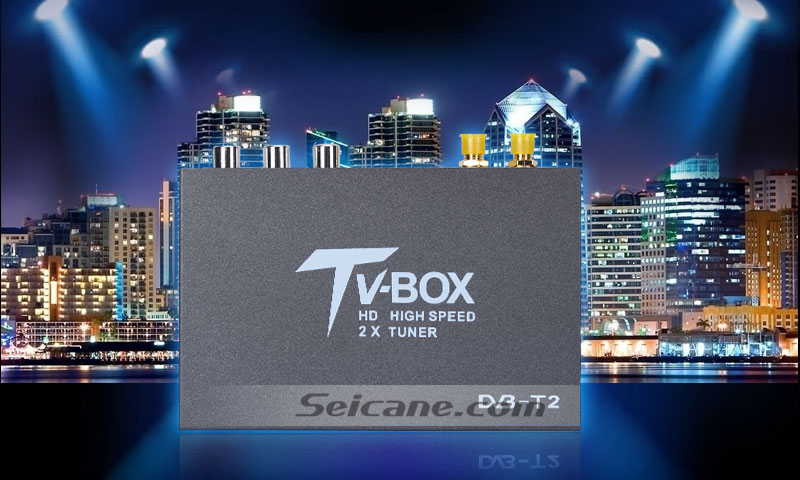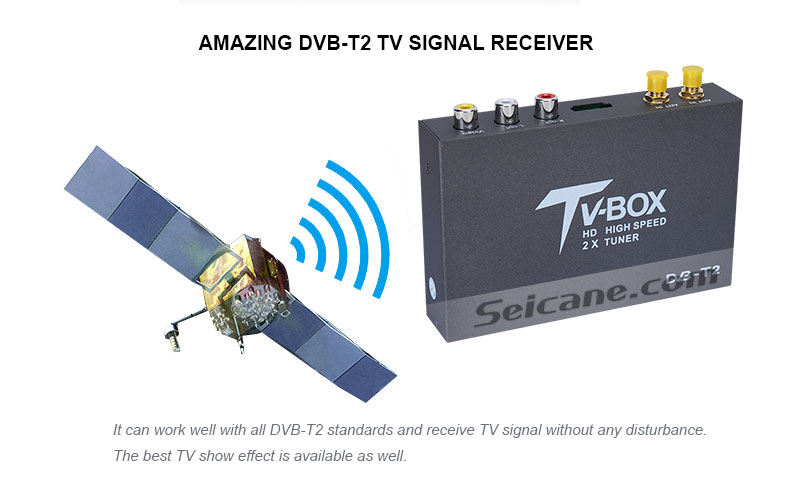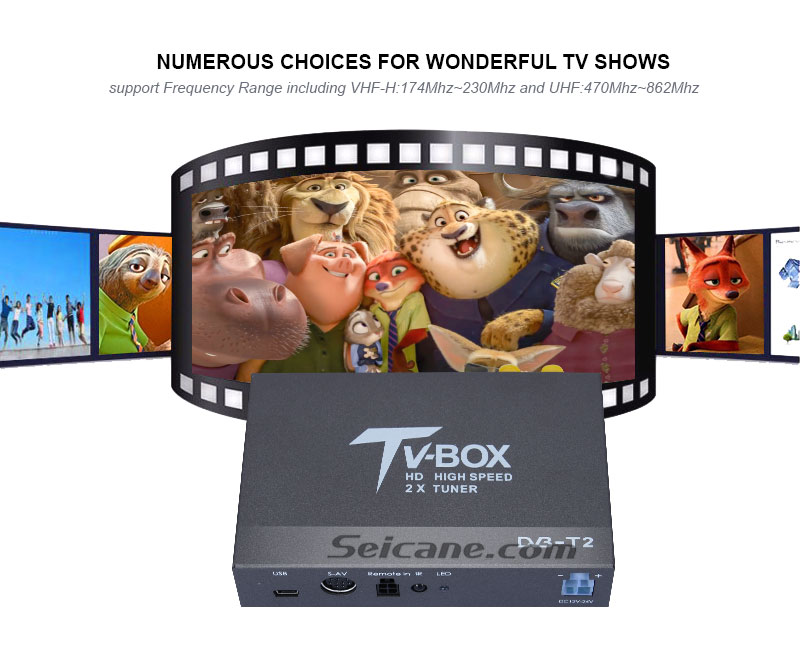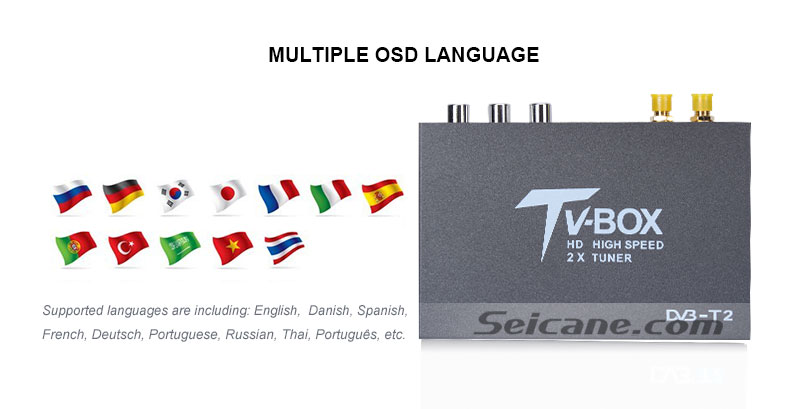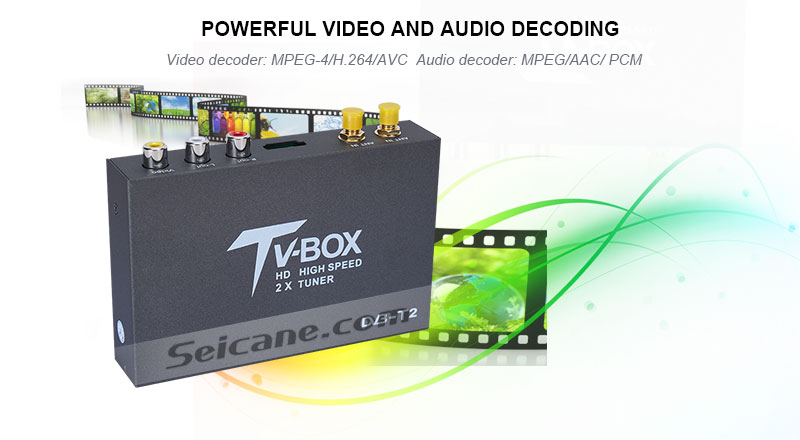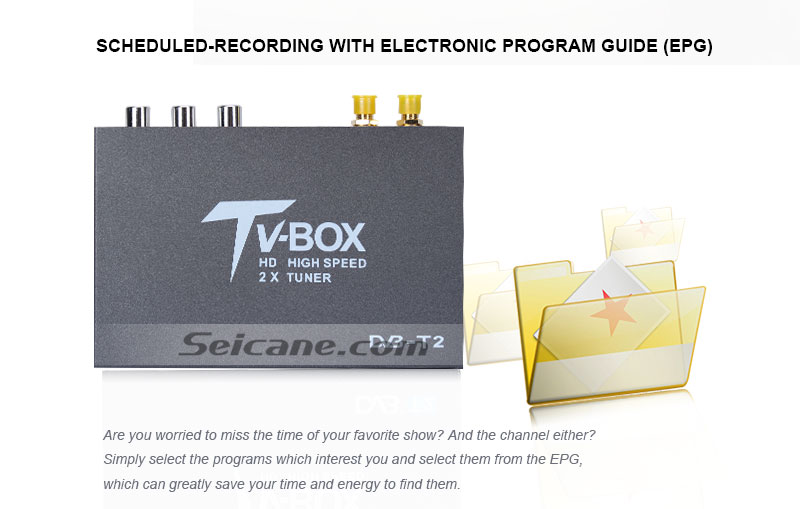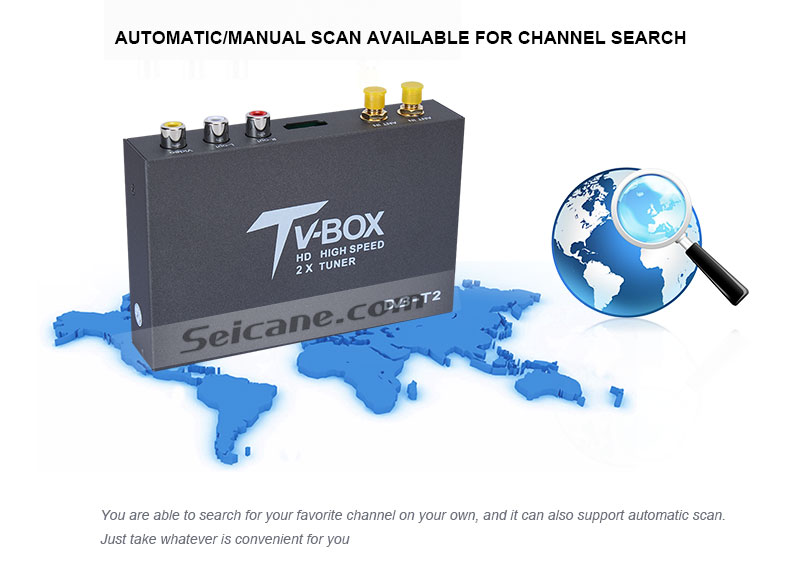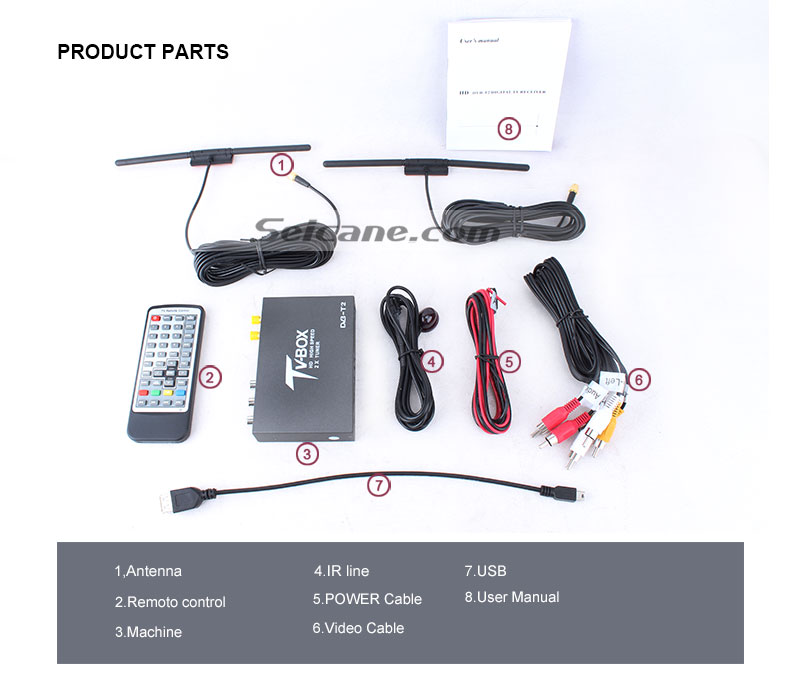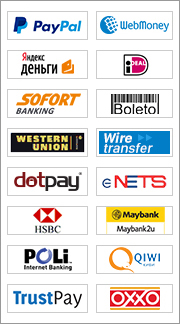 What We Have the Best:
Double tuners with diversity structure TV box
Super Signal Receive, supports high speed above 160km/hours
Best Bronze Input & Output
High Quality Guarantee, International Standard


Unique Features for This Product:
T338B H.264 (MPEG4) DVB-T2 TV RECEIVER
This DVB-T2 TV Receiver in model T338B supports signal receive in high speed driving. It can be compatible with all DVB-T2 standards. It comes with double antennas with diverse structure TV box for high speed driving above 160km/hours.
Wide Frequency Range for numerous TV signals
It can support frequency in two types which include VHF-H and UHF. And the frequency range of VHF-H is from 174Mhz to 230Mhz, while UHF can be searched from 470Mhz to 862Mhz. A variety of wonderful TV programs are available for you just in your reach at any time.
The most fitting design for cars use
The tiny design of this DVB-T2 TV Receiver makes it quite portable to take and convenient to use in cars.
Scheduled-Recording with Electronic Program Guide (EPG)
Are you worried to miss the time of your favorite show? And the channel either? Simply select the programs which interest you and select them from the EPG, which can greatly save your time and energy to find them.
Automatic/manual scan available for channel search
You are able to search for your favorite channel on your own, and it can also support automatic scan. Just take whatever is convenient for you
Various channel editing function
There are four functions for channel editing, including favorite , move , lock , delete. Mark down your favorite shows by simply clicking the button Favorite. And you are able to lock it according to your preference. To move and to delete are both easy to operate to meet your different needs.


Specifications of This Product:
Compliant with DVB-T2 standards
Twin tuners with diversity structure TV box for high speed driving
Support signal receiving in the range of 60-80 kilometers away
Frequency Range:VHF-H:174~230Mhz UHF:470~862Mhz
Support high speed above 160km/hours
Video decoder MPEG-4/H.264/AVC
Audio decoder MPEG/AAC/ PCM
DVB subtitling ETSI 300473 compliant and OSD tele-text
Logic channel number
Easy first installation
Supports multiple OSD languages menu
EPG (Electronic Program Guide) with now and next and 7 days events
Channel search with automatic/manual scan
Various channel editing function ( favorite , move , lock , delete )
Software upgrade through RS232/USB
USB 2.0 support PVR,JPG/BMP/GIF picture,MP3
Standby consumption < 1W
CVBS video and L/R audio output
Suitable areas: Russia, Southeast Asia, Europe.


What's in the package:
1 x remote cable
1 x AV cable
1 x Remote controller
2 x TV antennas
1 x Power cable
1 x Power cable