After Viewing This Item People ultimately bought
Details
This all-in-one HD multi-touch Screen autoradio navigation stereo will make your journey more enjoyable by pointing you to the right direction and integrating with a whole lot of in car entertainment capabilities.
The unit has been designed specially to fit in the following Mercedes Benz vehicles:
1998 1999 2000 2001 2002 2003 2004 Mercedes Benz CLK Class C209 W209 CLK 270 CDI, CLK 320, CLK 350,CLK 430 ,CLK 500, CLK 55 AMG, CLK 63 AMG, CLK 200 K, CLK 230 ,CLK 220 CDI, CLK 240, CLK 270 CDI, CLK 280, CLK 320 CDI
2000 2001 2002 2003 2004 2005 Mercedes Benz C Class W203 C180, C200, C220, C230, C240, C270, C280, C320, C350, C32, C30, C35 etc
1998 1999 2000 2001 2002 Mercedes Benz A Class (W168) A 140, A 160, A 190, A 210, A 160 CDI, A 170 CDI
1996 1997 1998 1999 2000 2001 2002 2003 2004 2005 2006 2007 2008 Mercedes Benz CLK Class C208 W208 CLK 200, CLK 200 Kompressor, CLK 230 Kompressor, CLK 320, CLK 430, CLK 55 AMG
1998 1999 2000 2001 2002 Mercedes Benz E Class (W210) E320, E400, E420, E430, E55 AMG, E300, E300 1994 1995 1996 1997 1998 1999 2000 2001 2002 2003 2004 2005 2006 Mercedes Benz G Class (W463) G550 G500 G400 G320 G270 G55
1998 1999 2000 2001 2002 Mercedes Benz M Class (W163) ML 230, ML 270 CDI, ML 320, ML 430, ML 500, ML 400 CDI, ML 350, ML 55 AMG
1998 1999 2000 2001 2002 Mercedes Benz SLK W170
2002 2003 2004 2005 Mercedes Benz Vaneo
2004 2005 2006 Mercedes Benz Viano
2004 2005 2006 Mercedes Benz Vito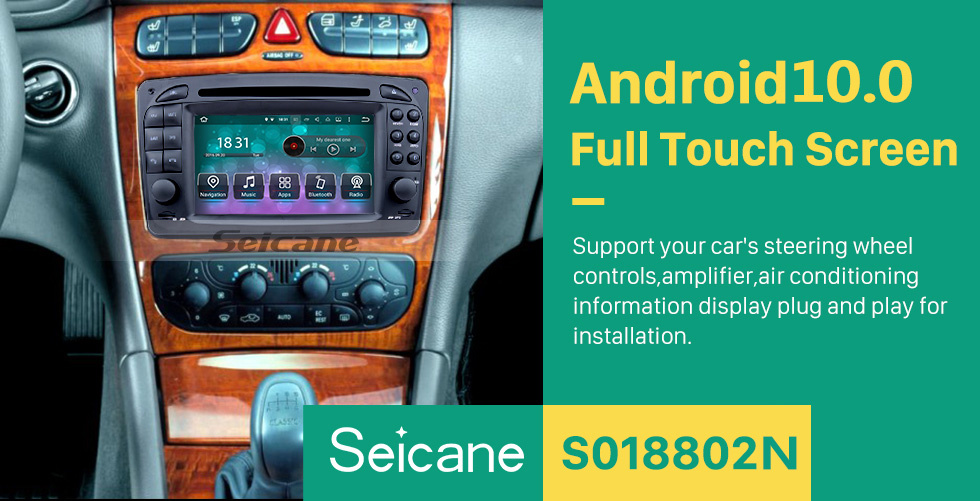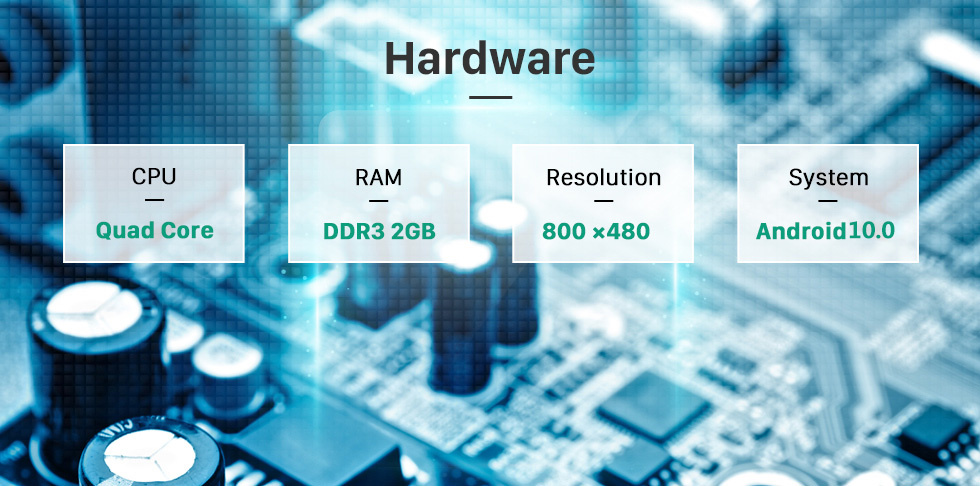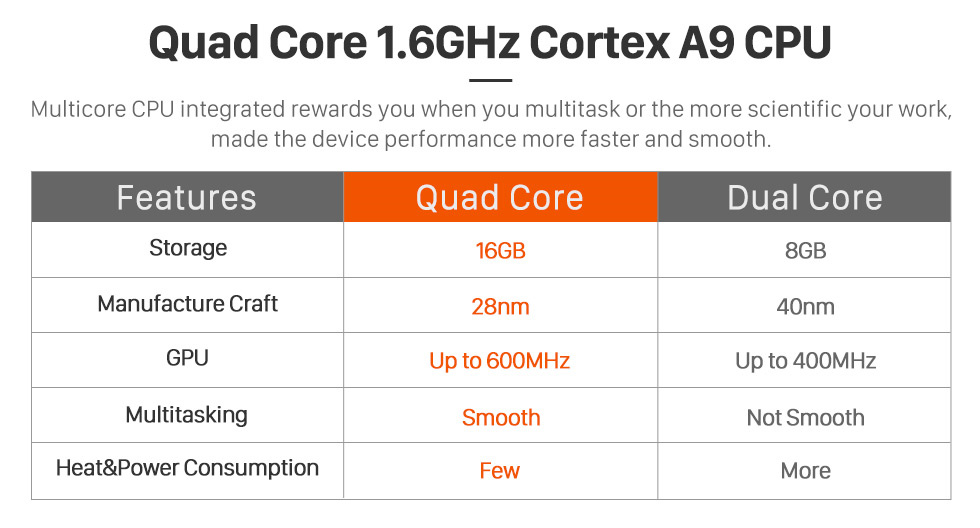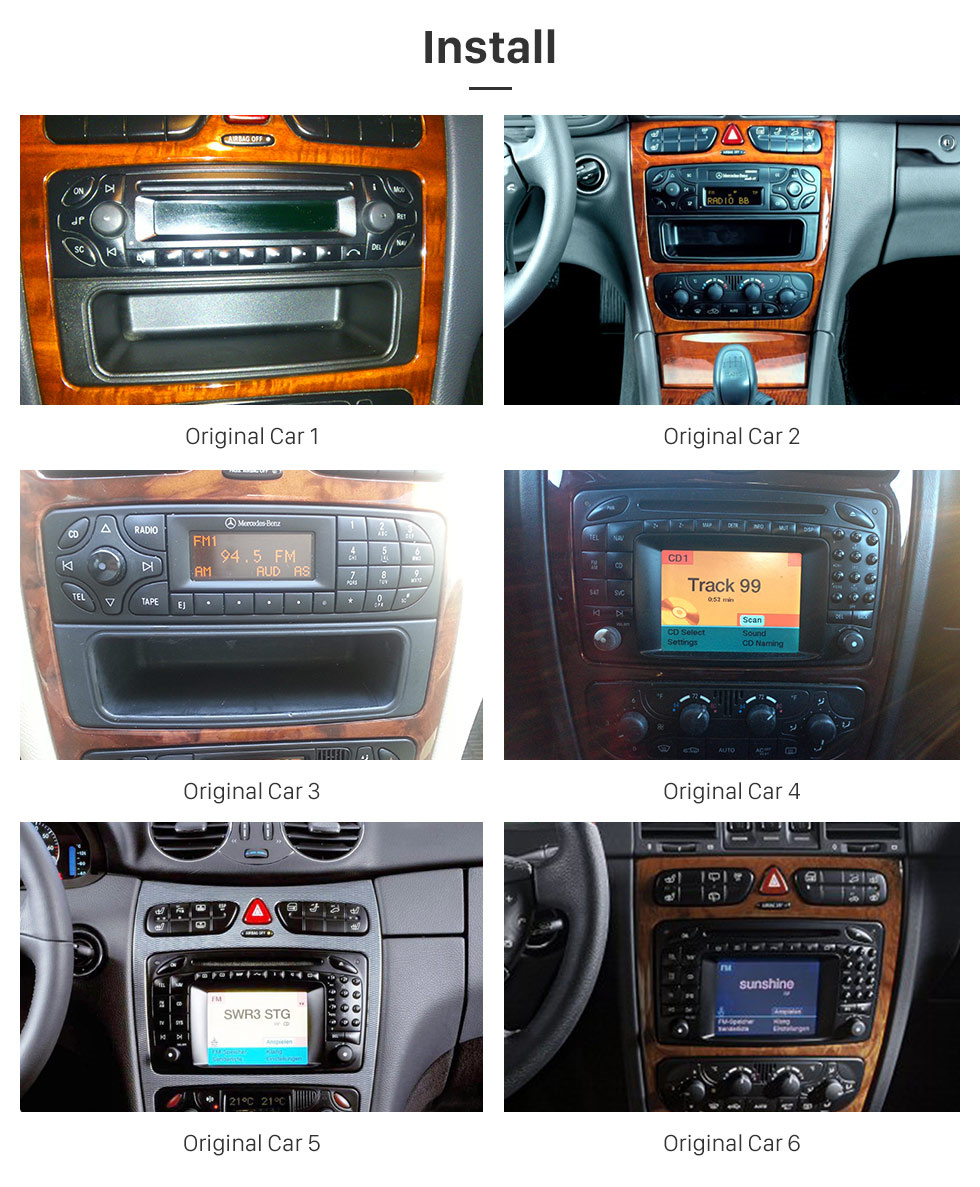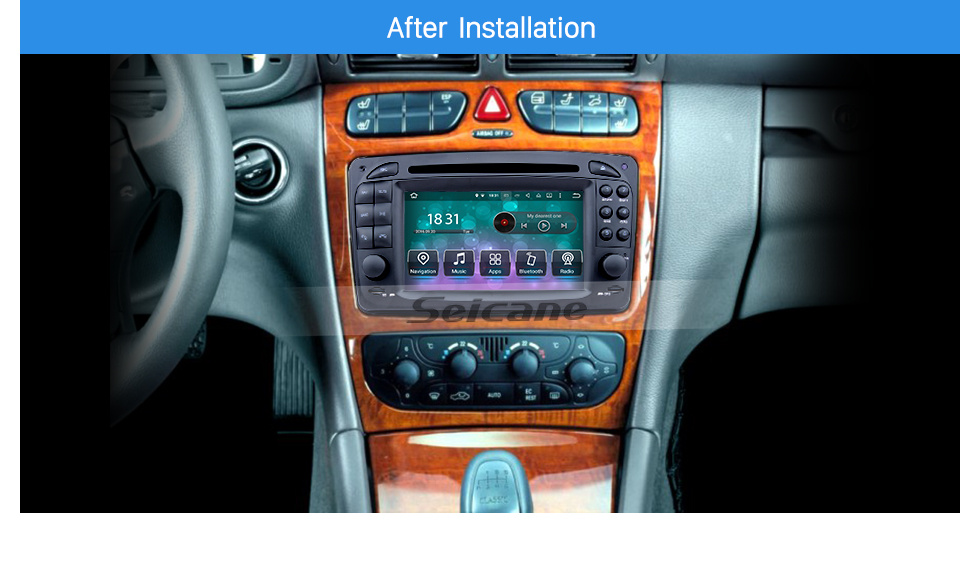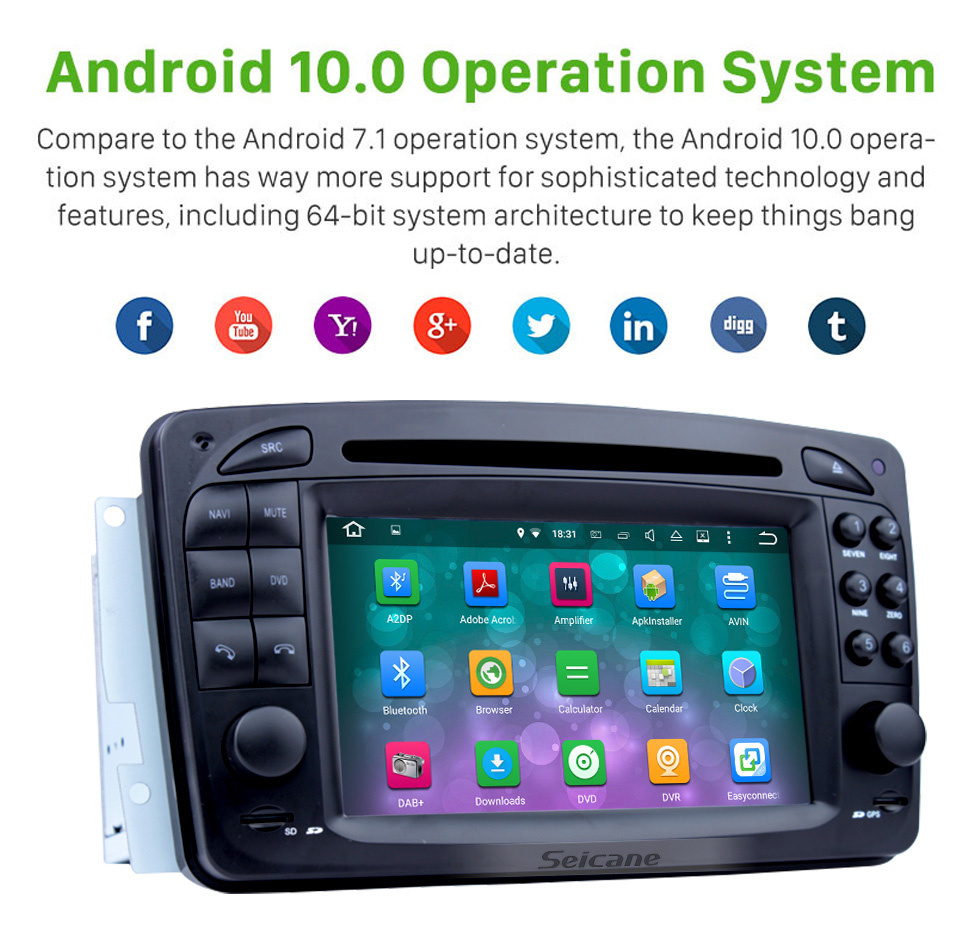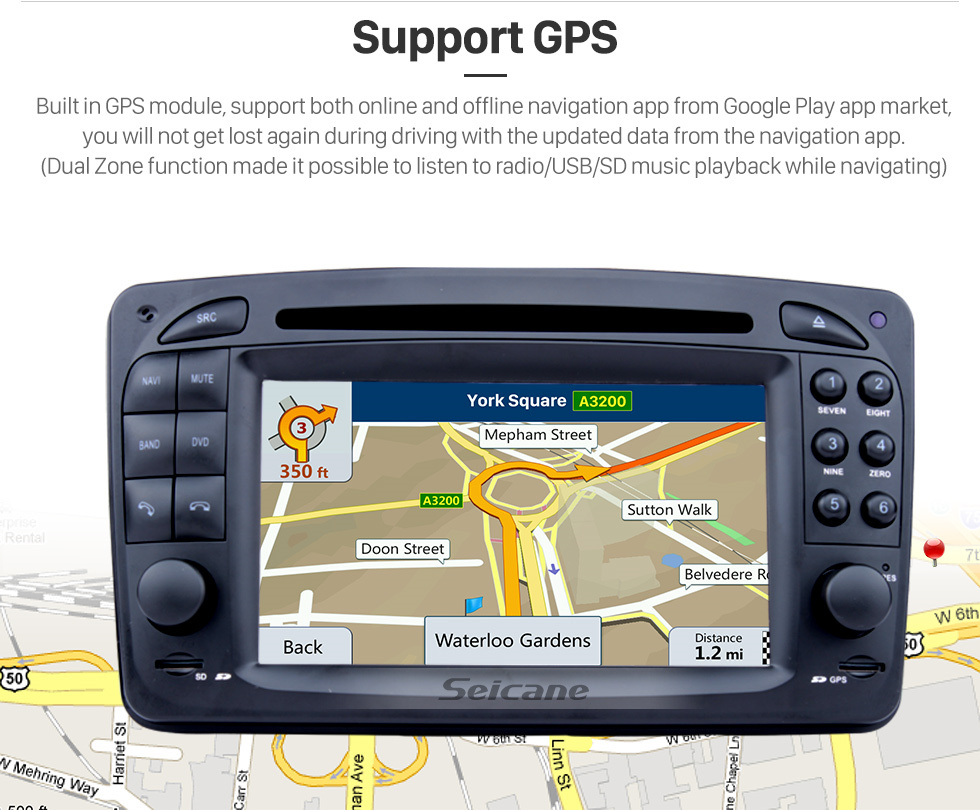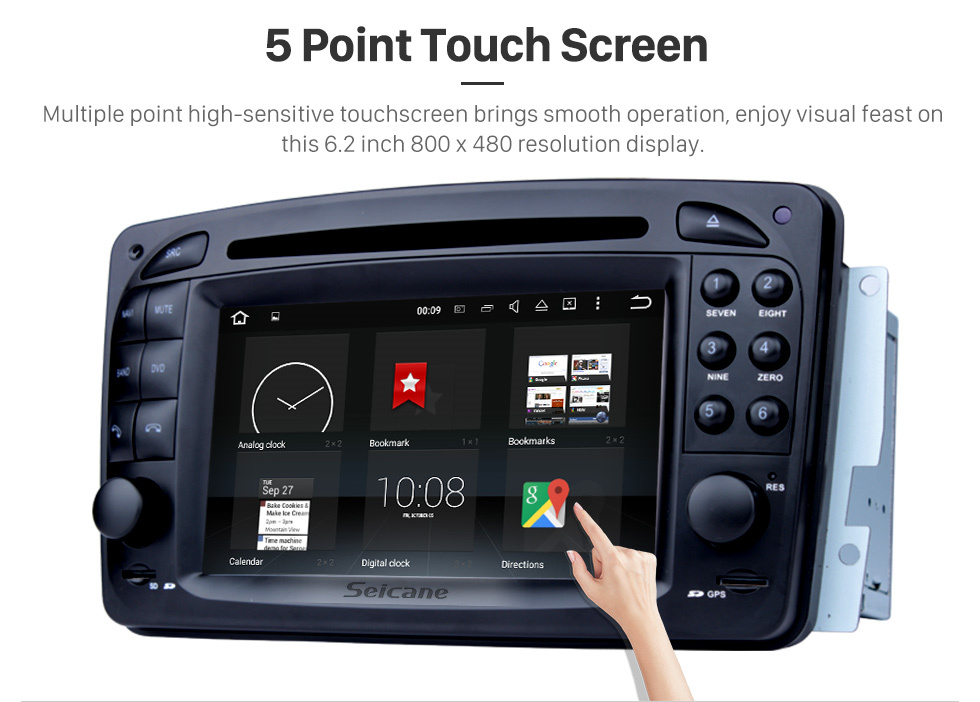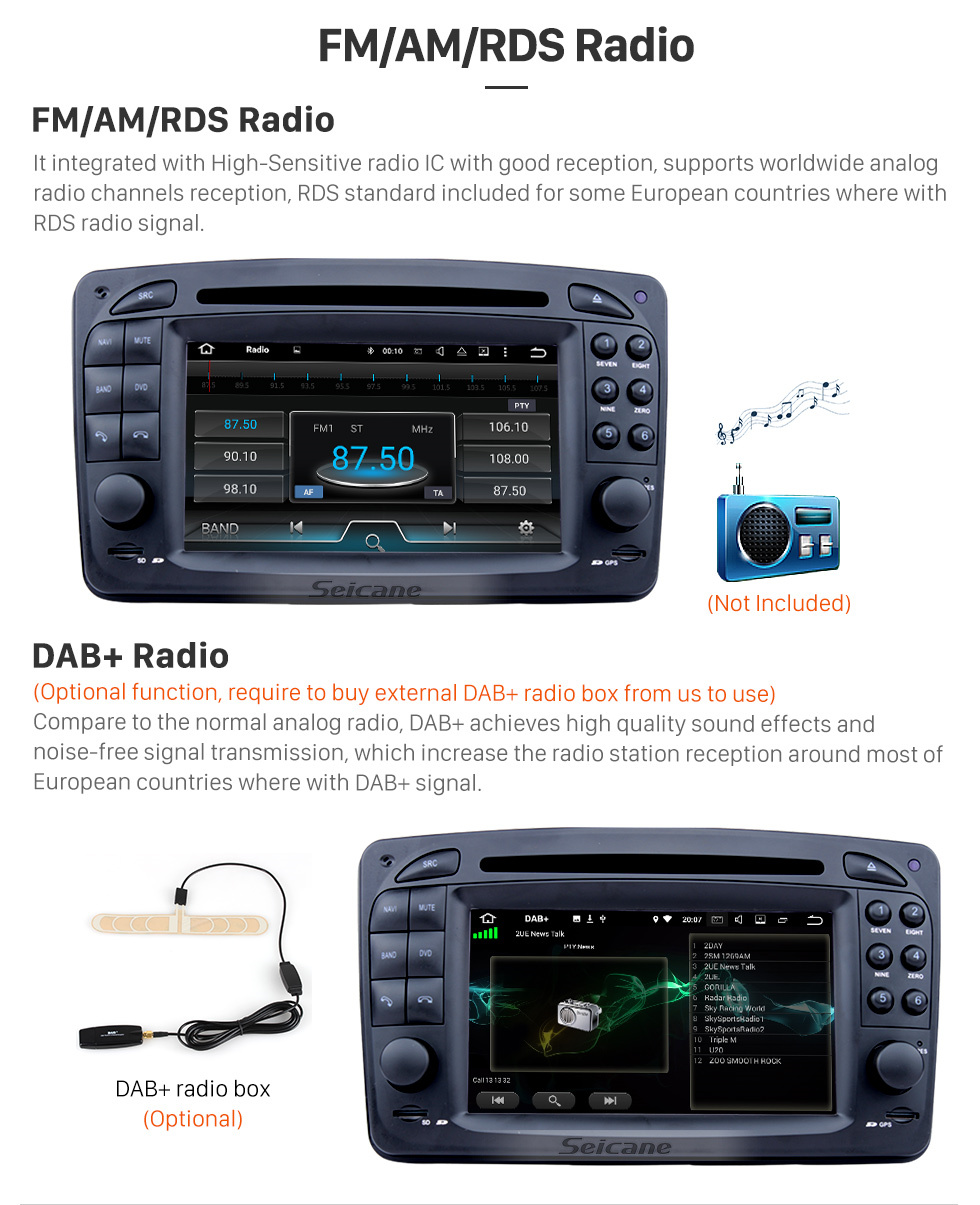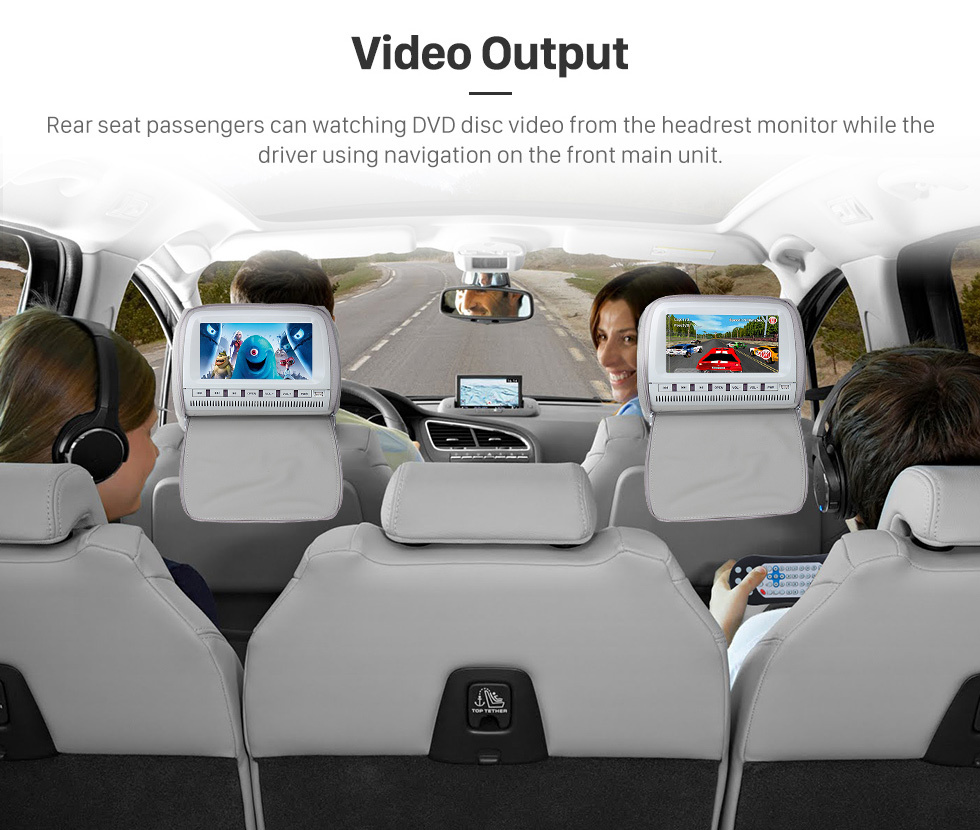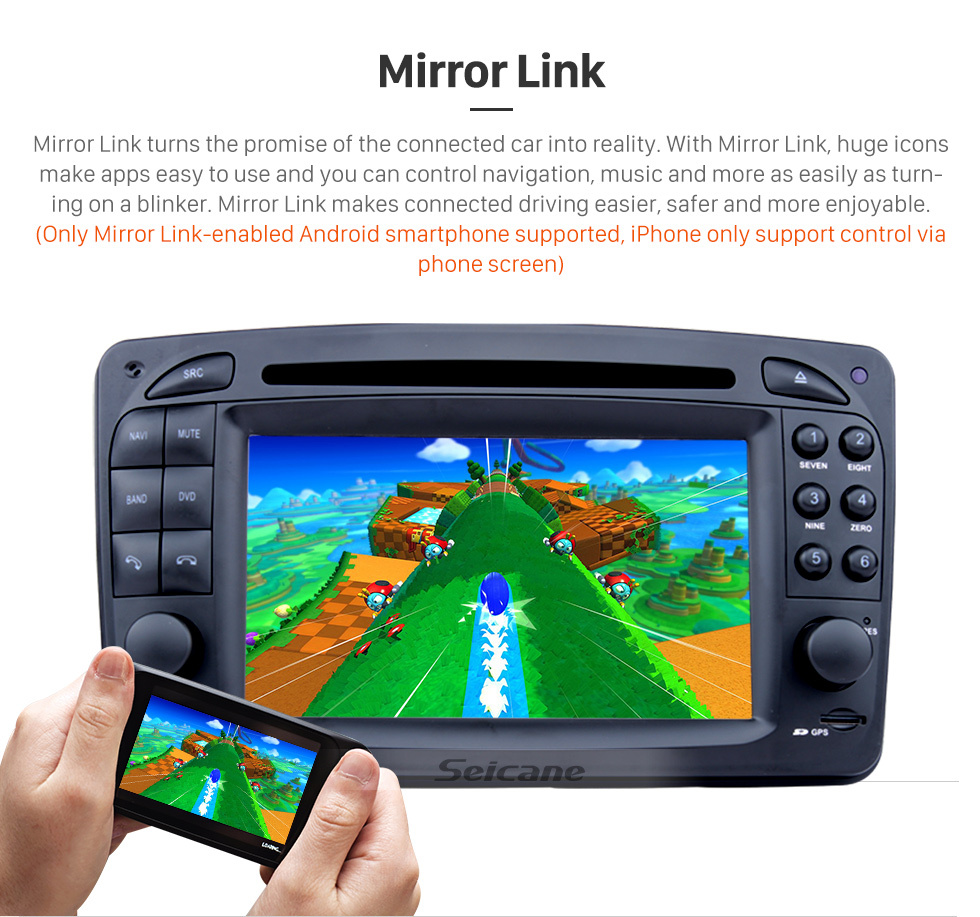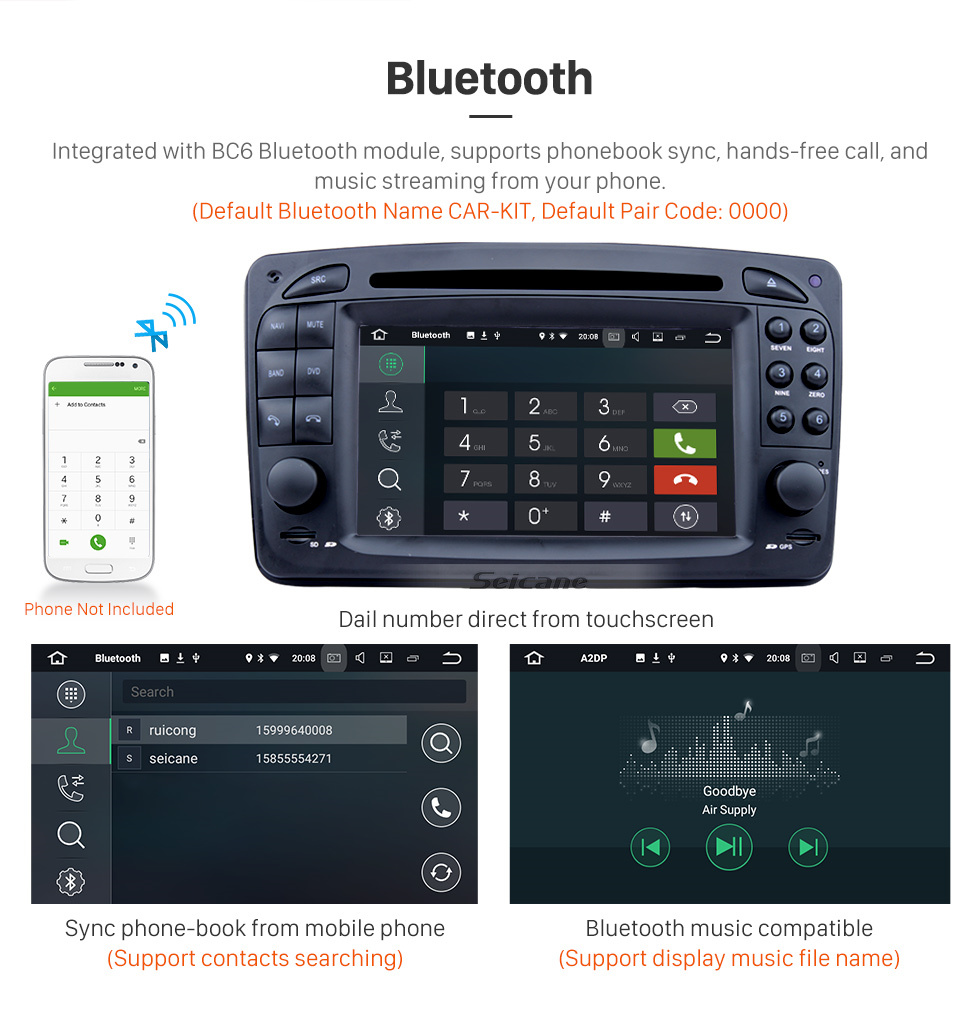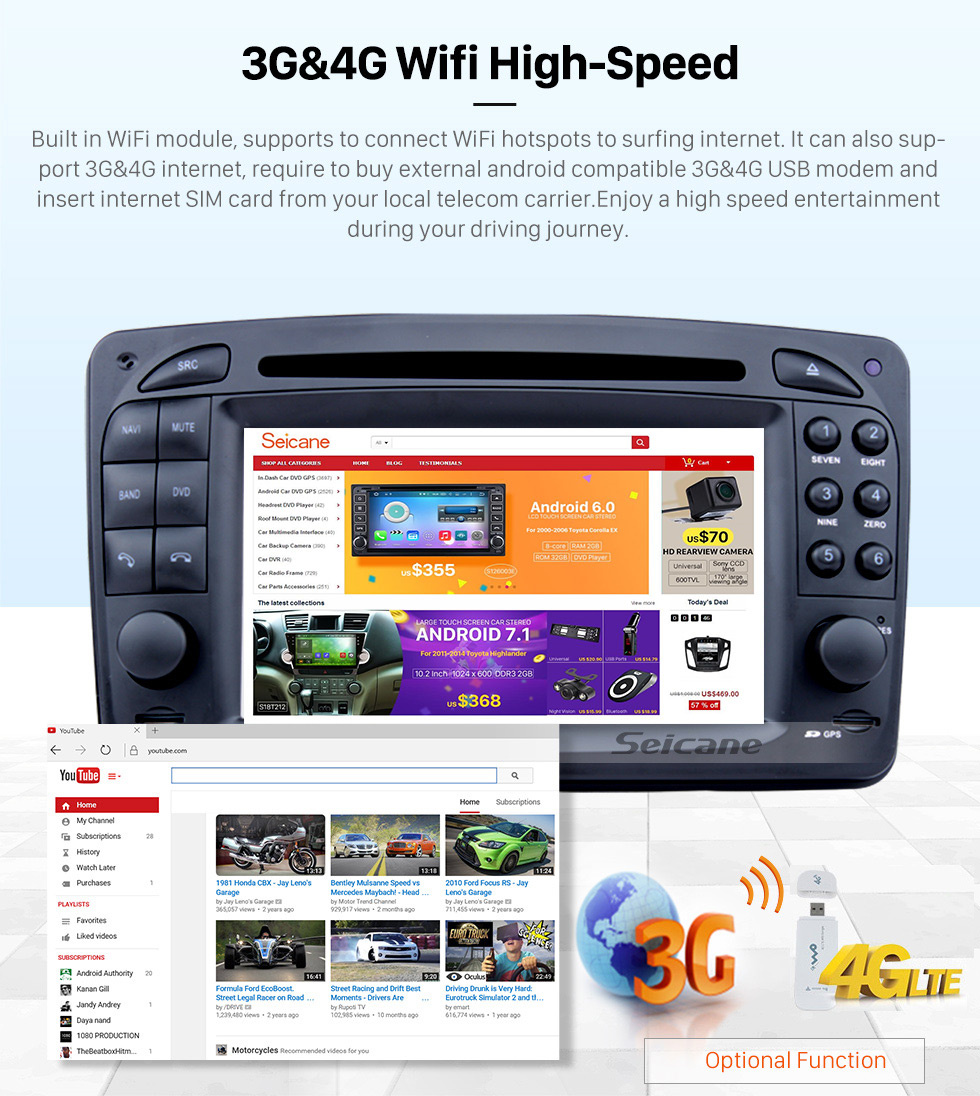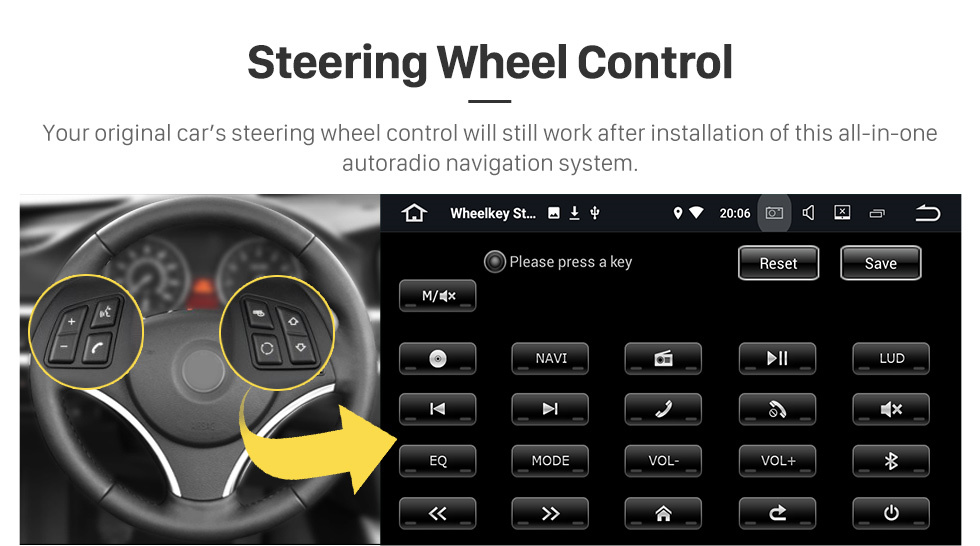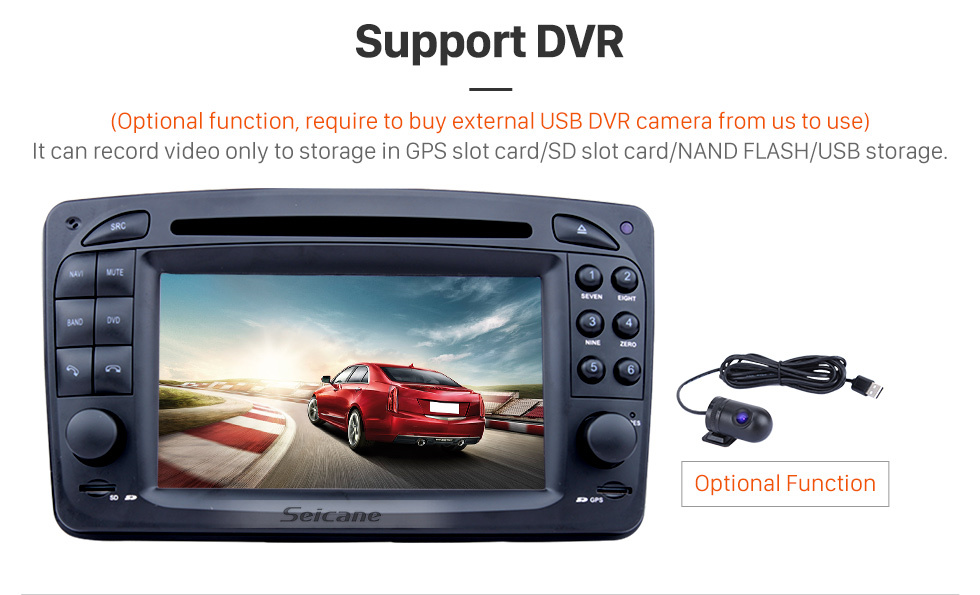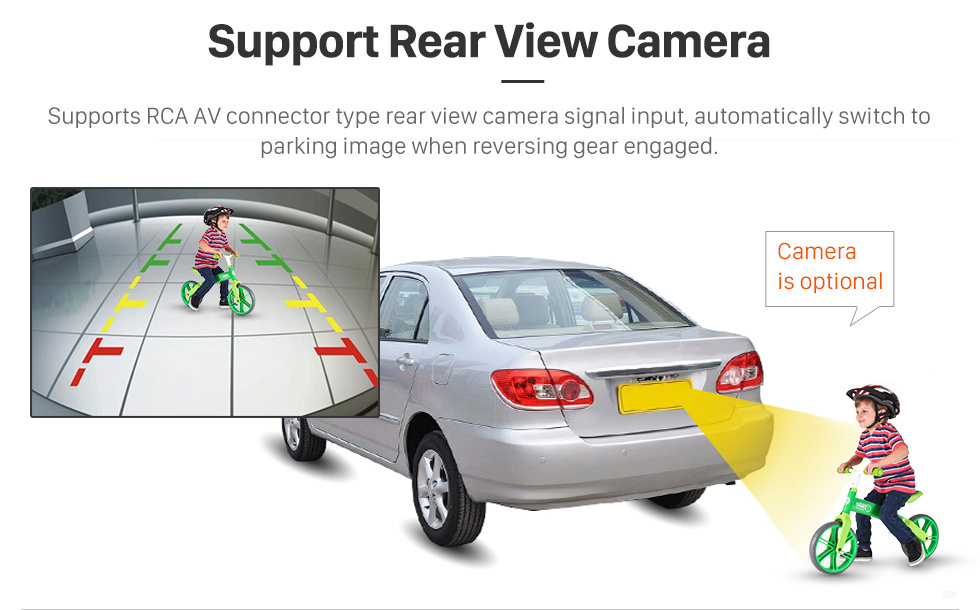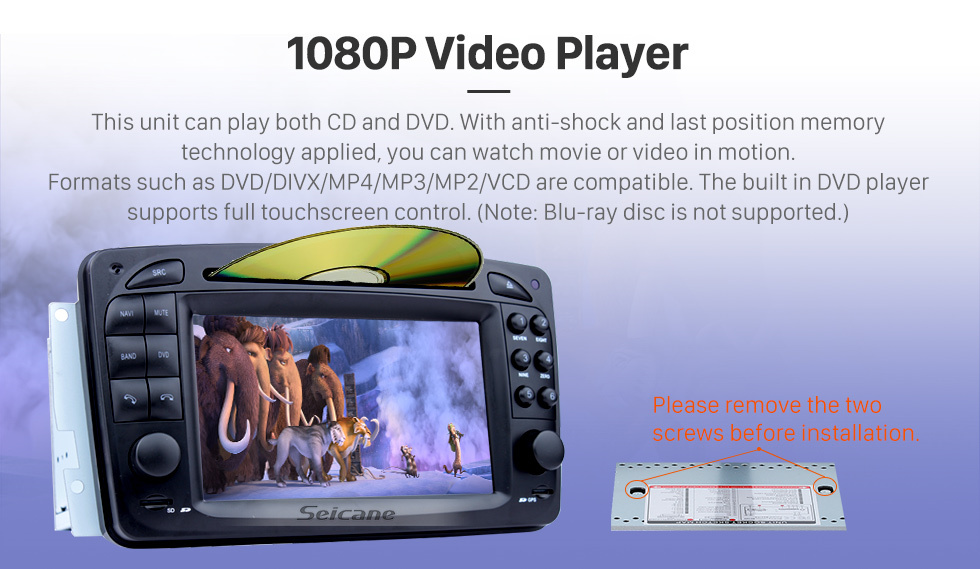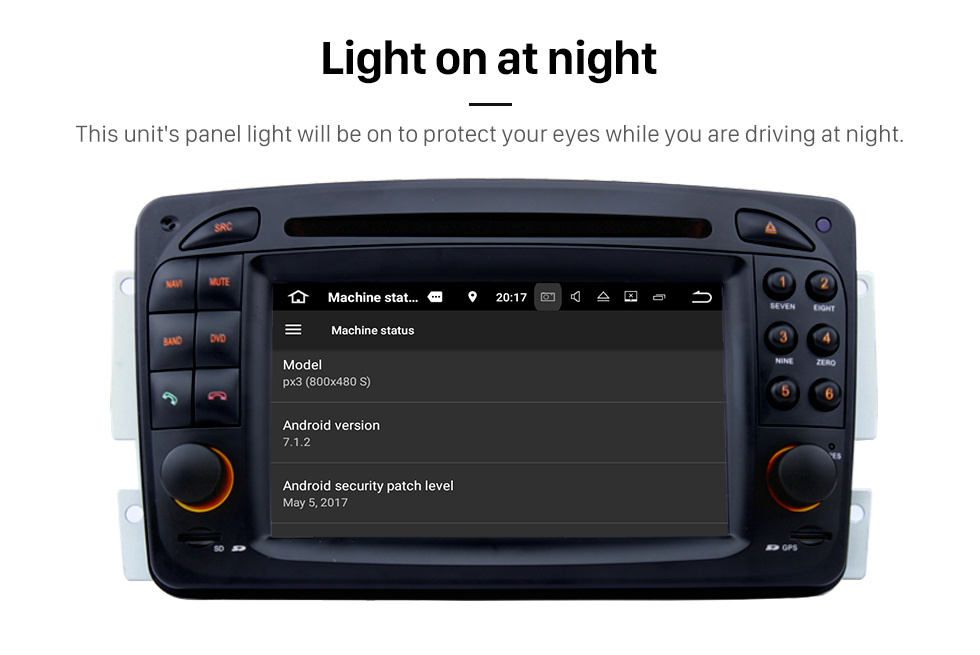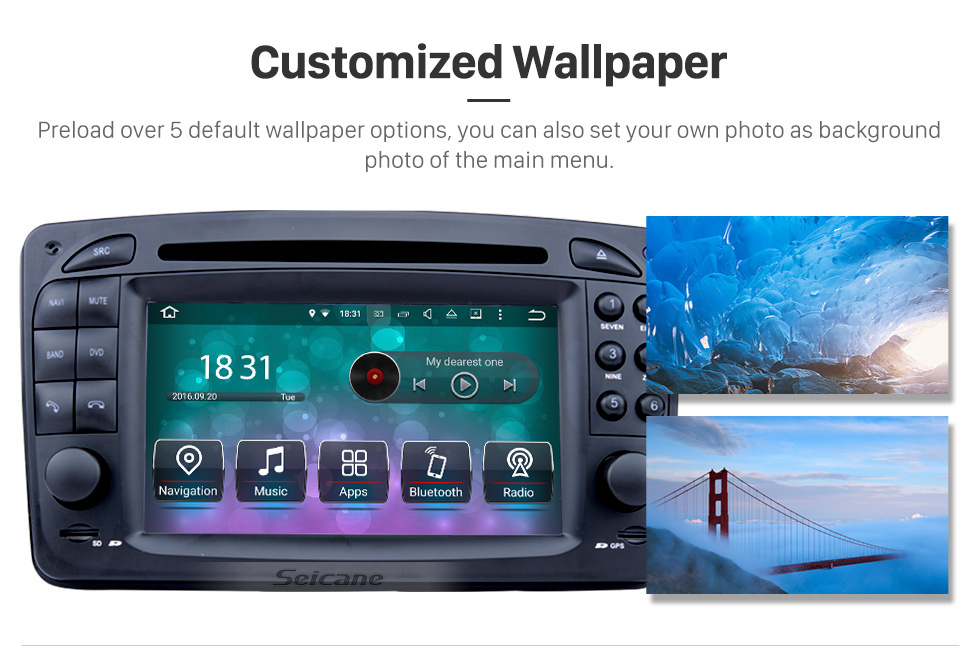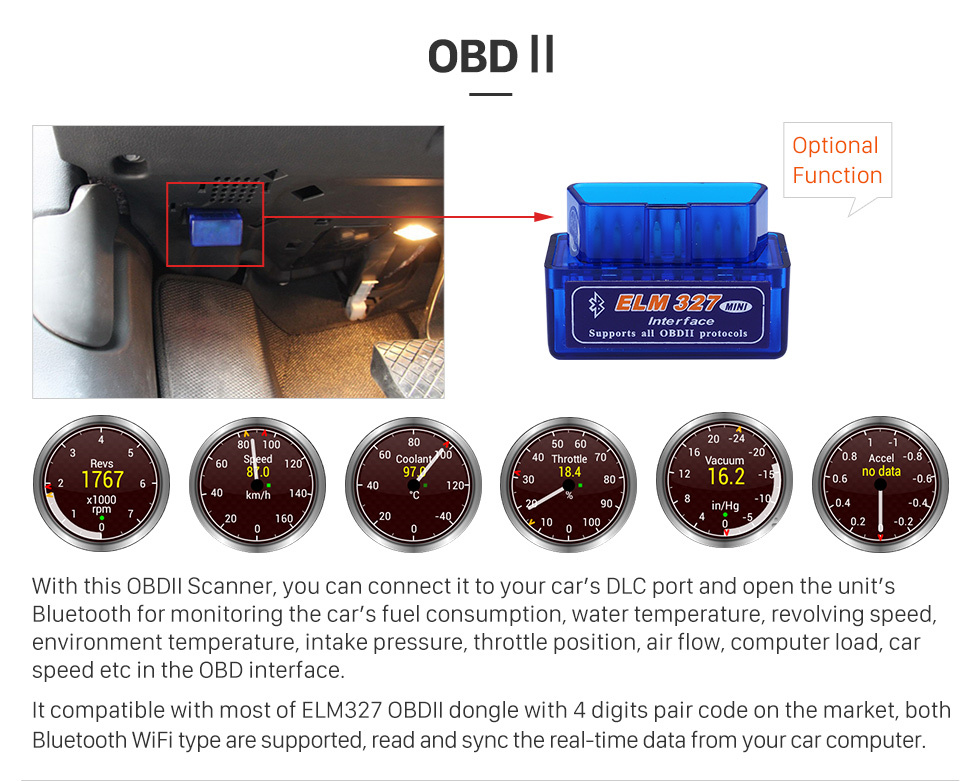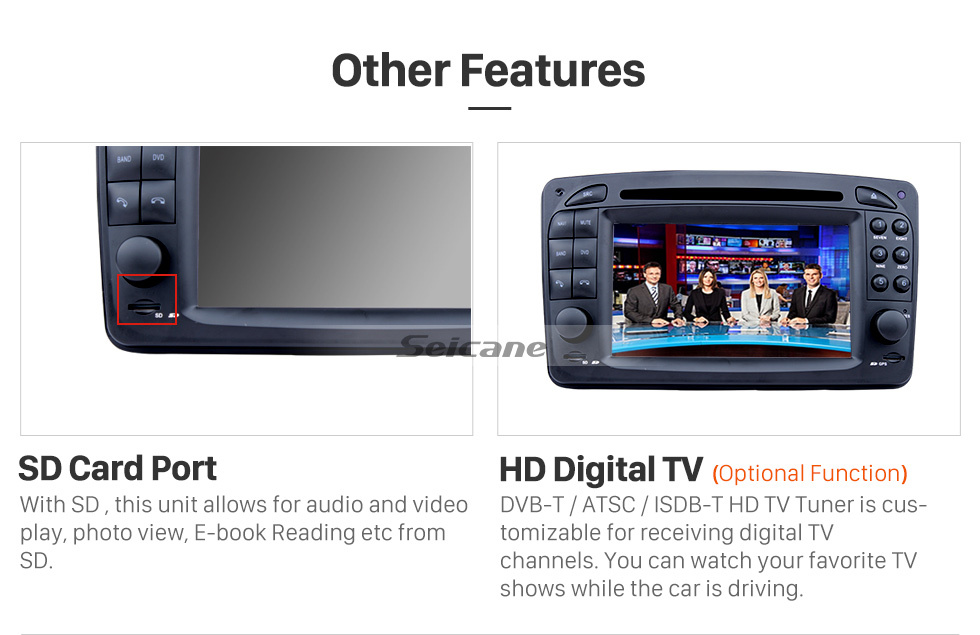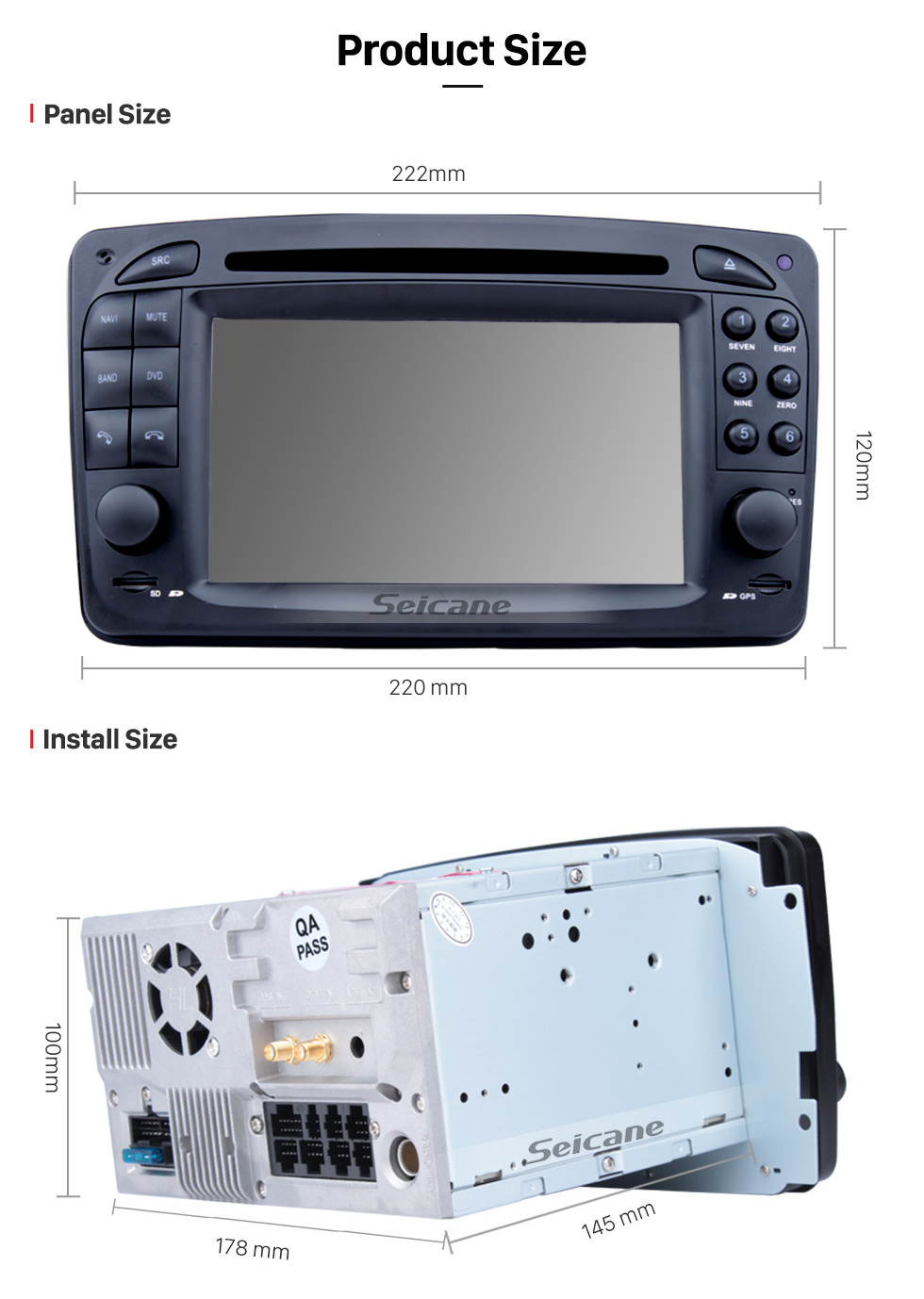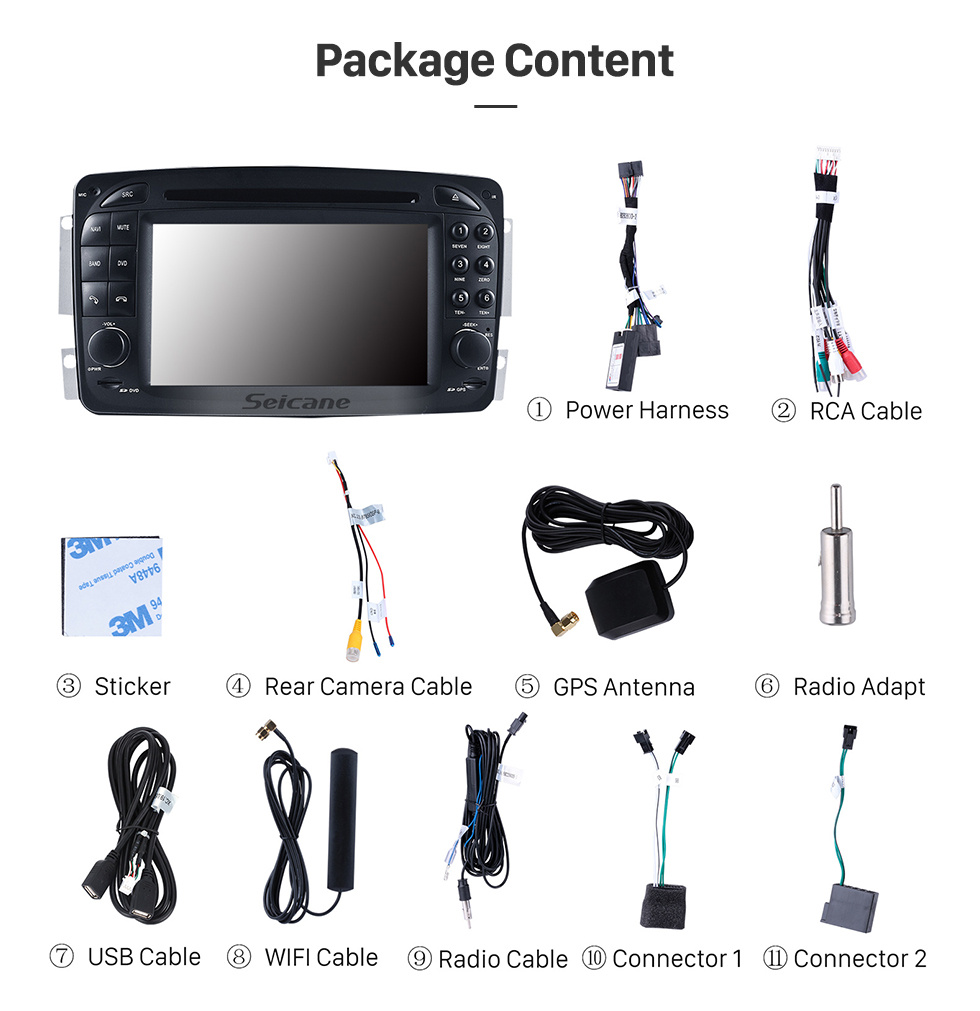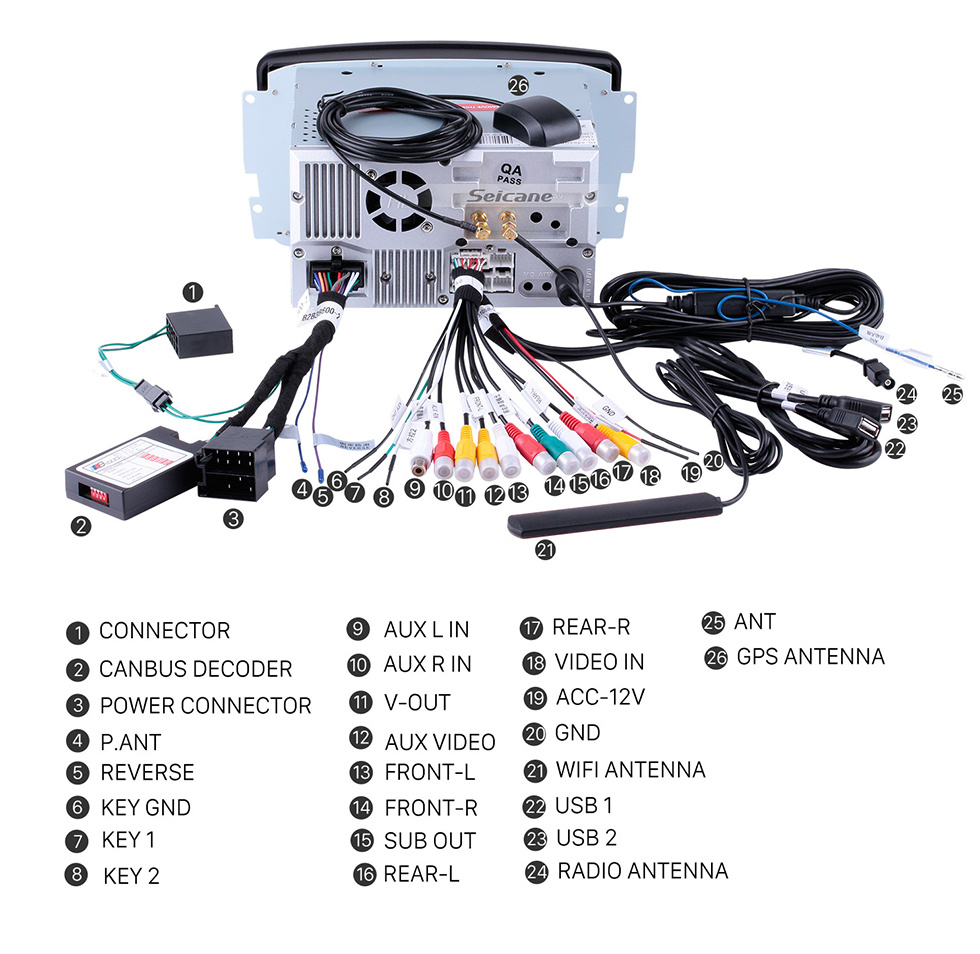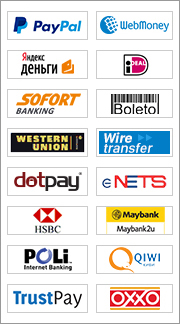 Key Features:

6.2 inch 16:9 1280*480 digital high definition LCD capacitive touch screen
Bases on Android 10.0 operation system.
With 8GB RAM, 64GB ROM.
With 2 USB ports, 1 SD card slot. SD Max support 32GB ,USB Max support 64GB.
With built-in core module, support 3D GPS Map.
Built-in WiFi.
Built-in RK616 Audio IC.
Built-in 3.0 Bluetooth, and support original Bluetooth.
Built-in Microphone, & support external microphone.
Be compatible with original cars with/ without original navigation.
Support original radio.
Support Idrive control in Android Menu.
Support Idrive control in Original Menu.
Support Parking trajectory/radar.
Support original camera and aftermarket camera.
Support Multi Touch.
Support multiple languages.
Support Phonelink Function: AirPlay(iPhone) up to IOS12, Miracast(Android) up to Android 10.0.
Support Carplay function (Optional).
Support DVR function: USB 2.0 & AV/CVBS (Optional).
Options :

HD Digital TV: DVB-T/ATSC/ISDB-T HD TV Tuner can be provided for receiving digital TV channels.
Car DVR: The DVR function is used for recording the whole process of traffic accidents, taking photos for front of vehicles and storing the video in real-time while driving.
Backup Camera: It adds a backup camera for automatically switching to the parking image while reversing. This option includes a waterproof and night vision backup camera which will be mounted to the position of your car's license plate lights and the cables for its connection. The default rearview camera is wired. If you need the wireless one, please send a note us after placing order.
OBDII: With this OBDII Scanner, you can connect it to your car's DLC port and open the unit's Bluetooth for monitoring the car's fuel consumption, water temperature, revolving speed, environment temperature, intake pressure, throttle position, air flow, computer load, car speed etc in the OBD interface.
DAB+: Short for digital audio broadcasting, DAB+ as an advanced digital radio technology for broadcasting radio stations integrates a number of features to reduce interference problems and signal noise. With high-quality sound, it offers more radio programs over a specific spectrum than analogue FM radio. Besides, DAB+ can not only automatically tune to all the available stations, offering a list for you to select from, but also provide real-time information such as song titles, music type and news or traffic updates. It's the best choice for radio lovers and music enthusiasts.
TPMS: Perfectly connected with this head unit with simple installation, the TPMS reports real-time tire-pressure information via a pictogram display or a simple low-pressure warning light to help you save fuel consumption, extend the tire life, decrease downtime and maintenance and increase environmental efficiency. The early recognition of the malfunction of tires provided by TPMS can avoid traffic accidents to improve safety in the whole process of driving.
Carplay USB Dongle: Compatible with IOS and Android mobile phone, this Carplay USB dongle is plug and play. It supports the original car voice control and screen touch. With it, you can freely enjoy your smartphone carplay function in your car.
Write Your Own Review
by Christian

January 30, 2015
Great radio for my 2002 G500
Product works great. The only that does NOT work is the mirror link but besides that, I love it.