After Viewing This Item People ultimately bought
Details
The following are the cars which it will work with for your reference:

2009 Citroen Old C-Quatre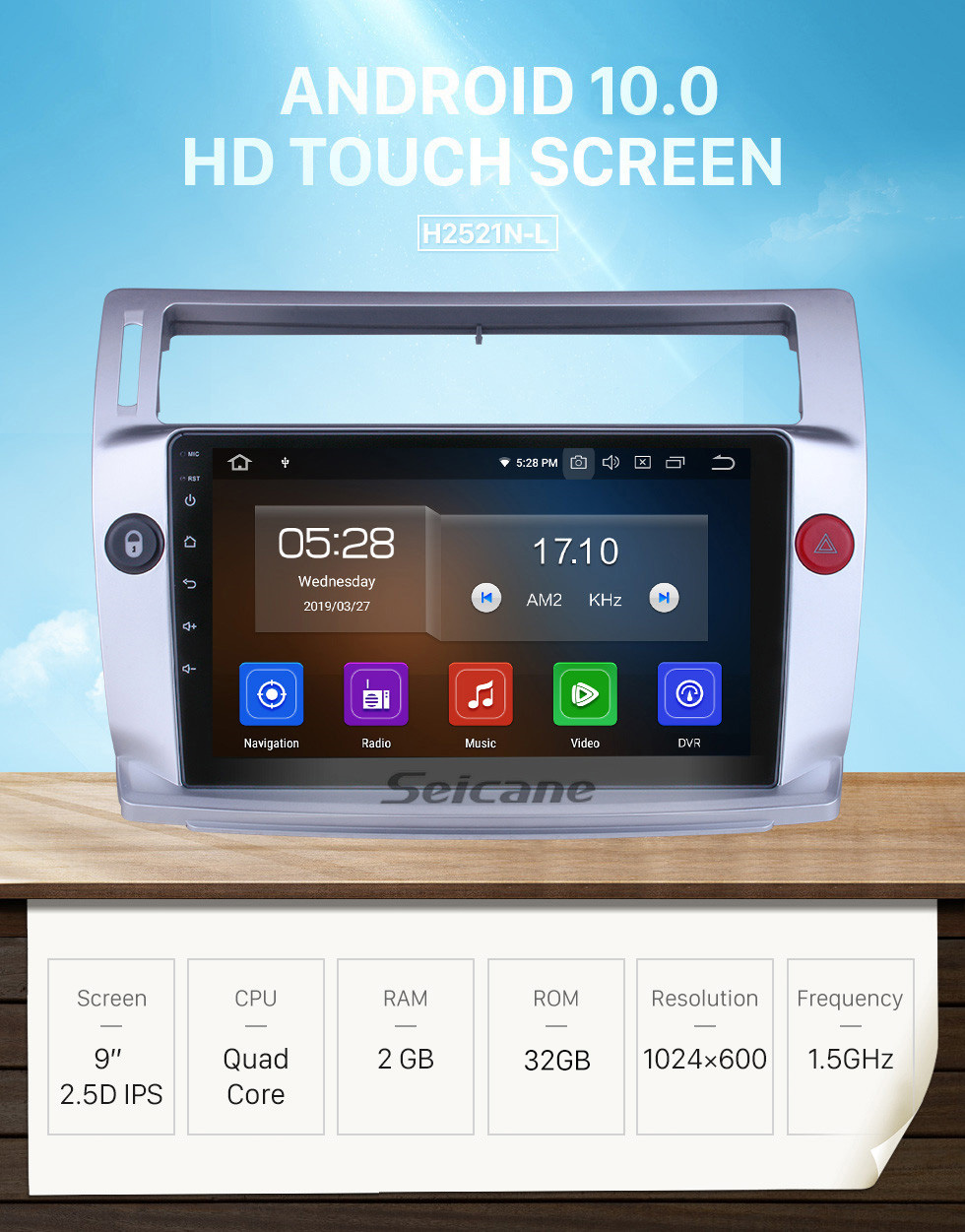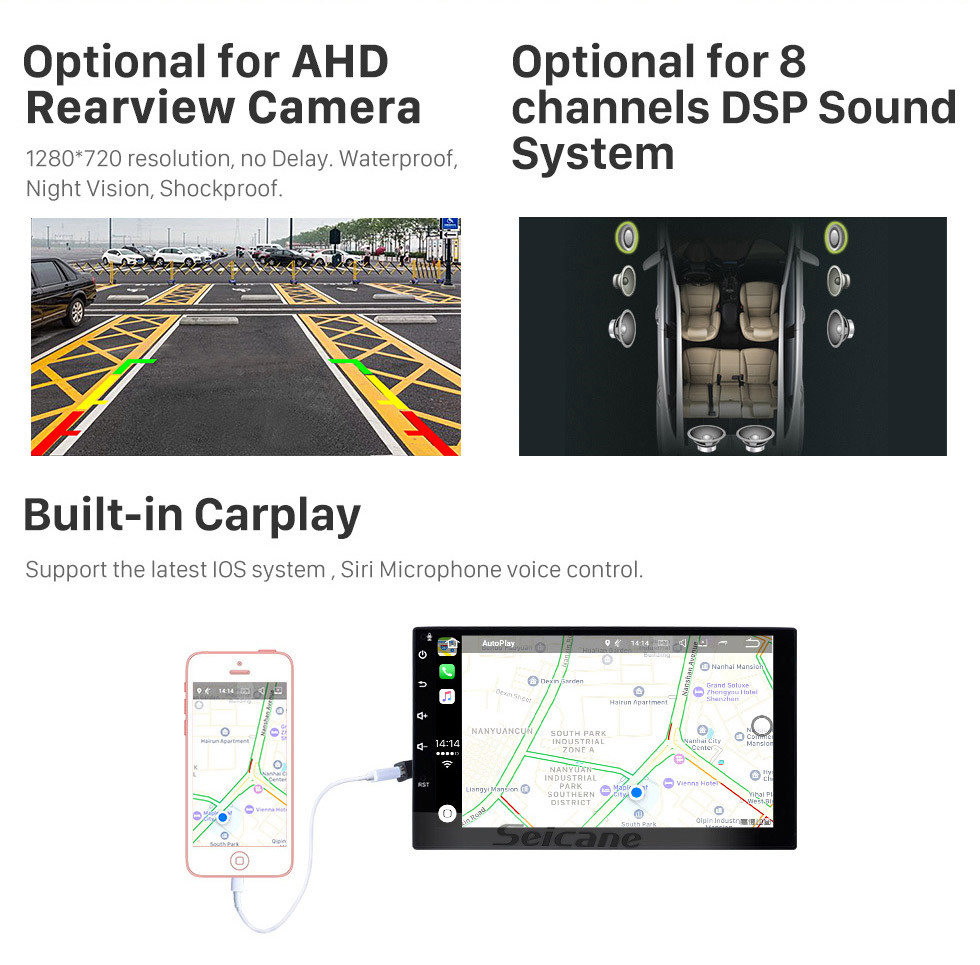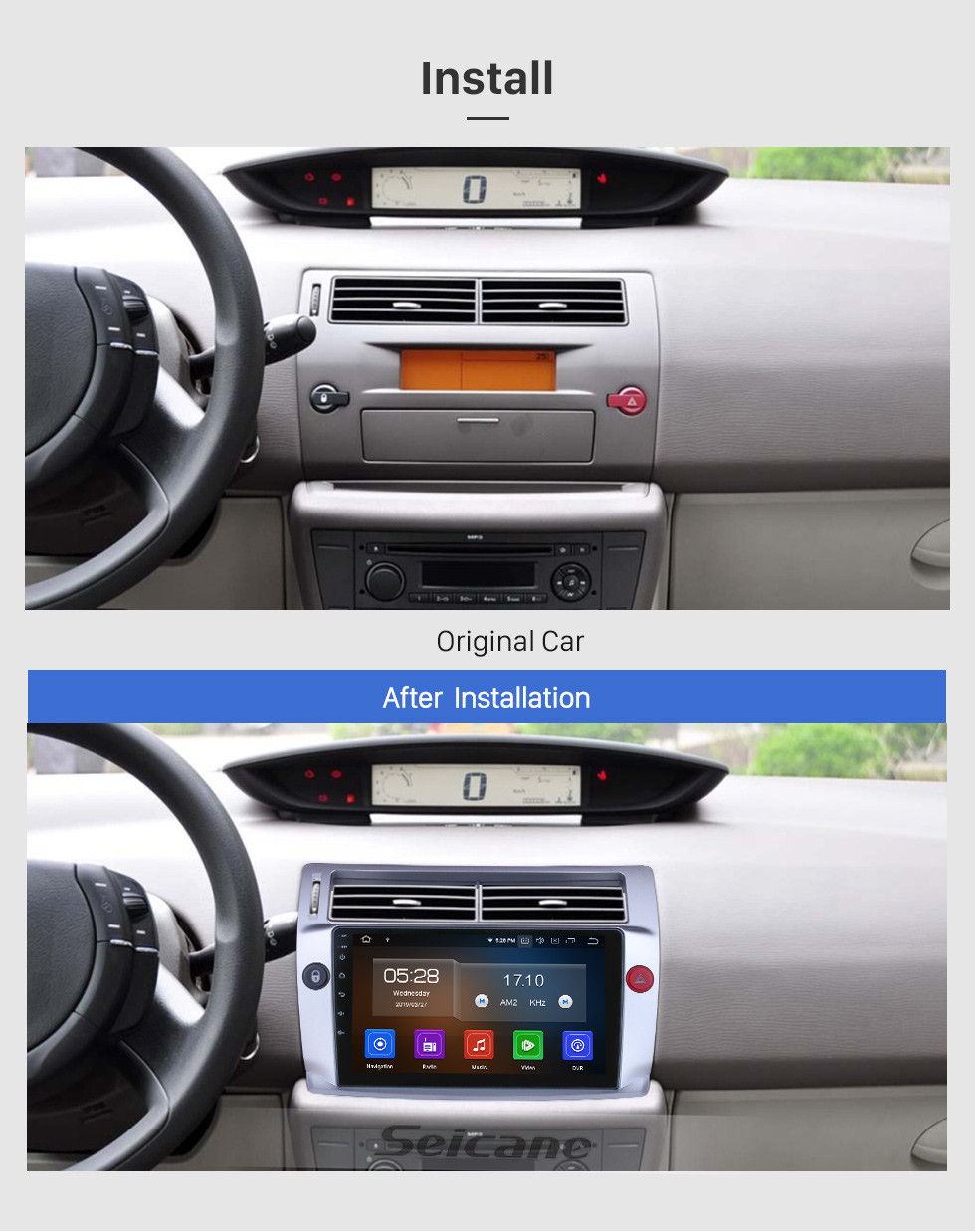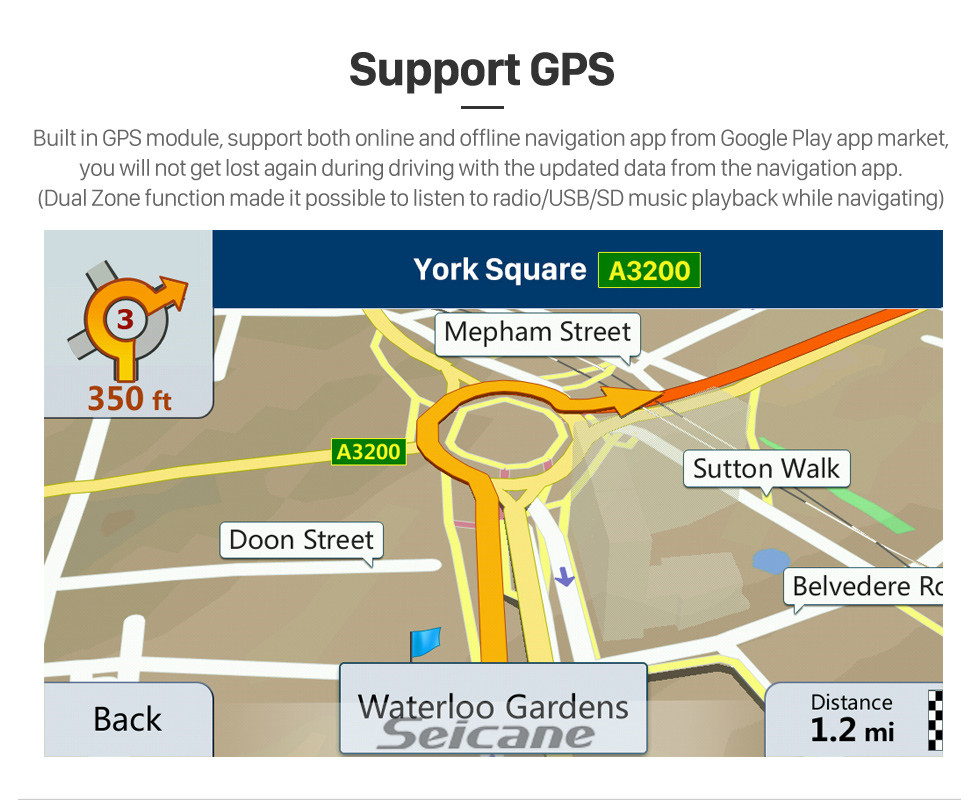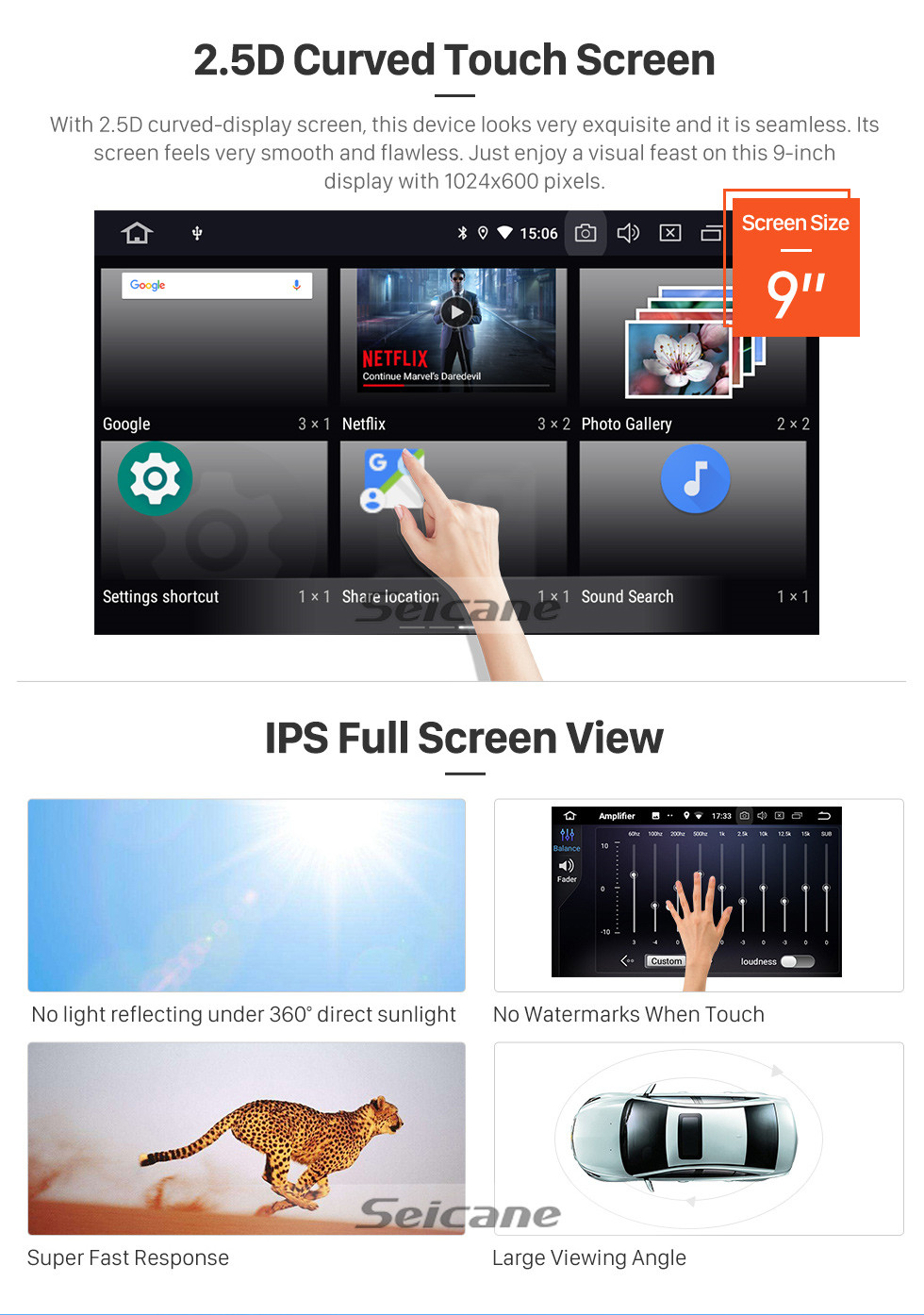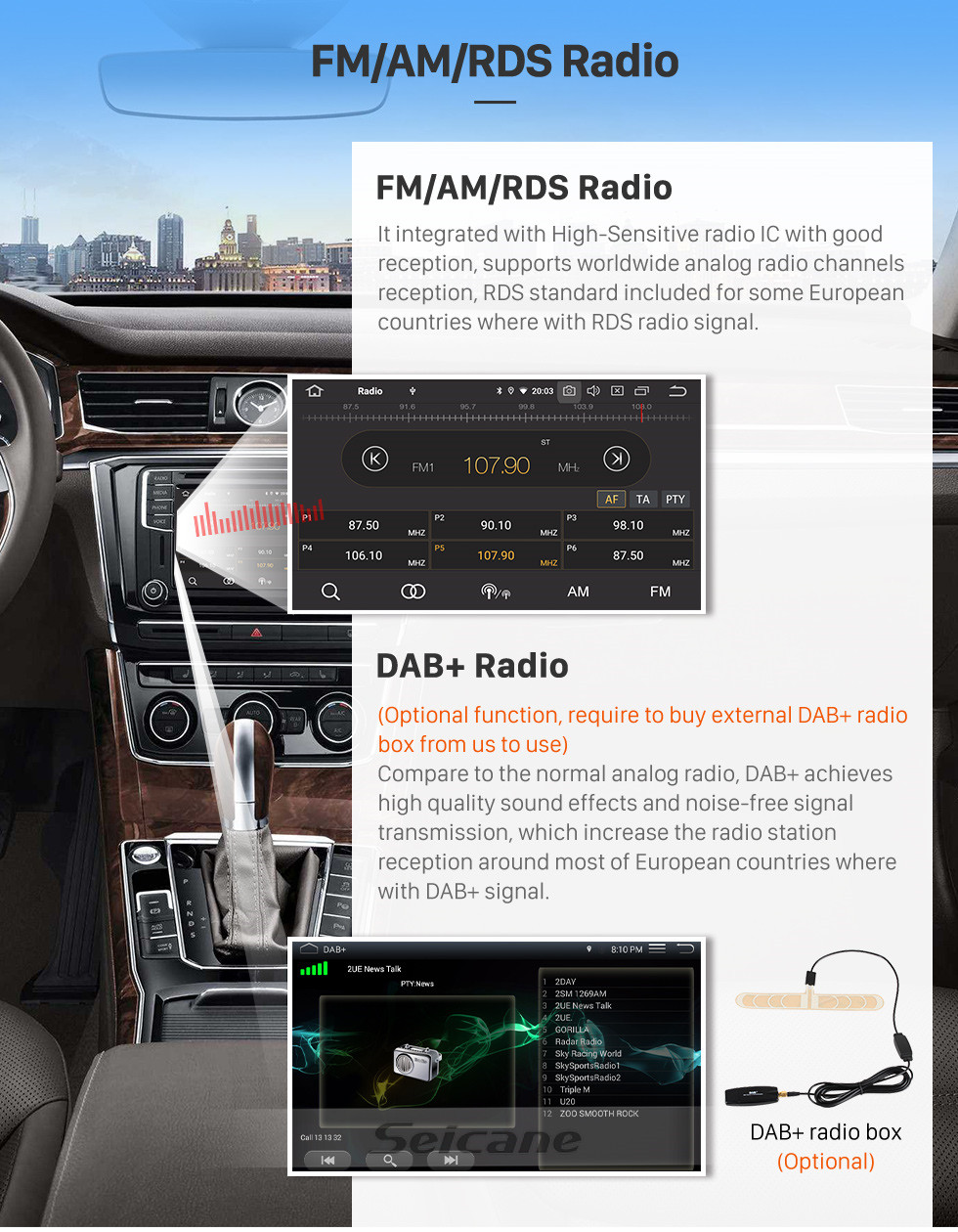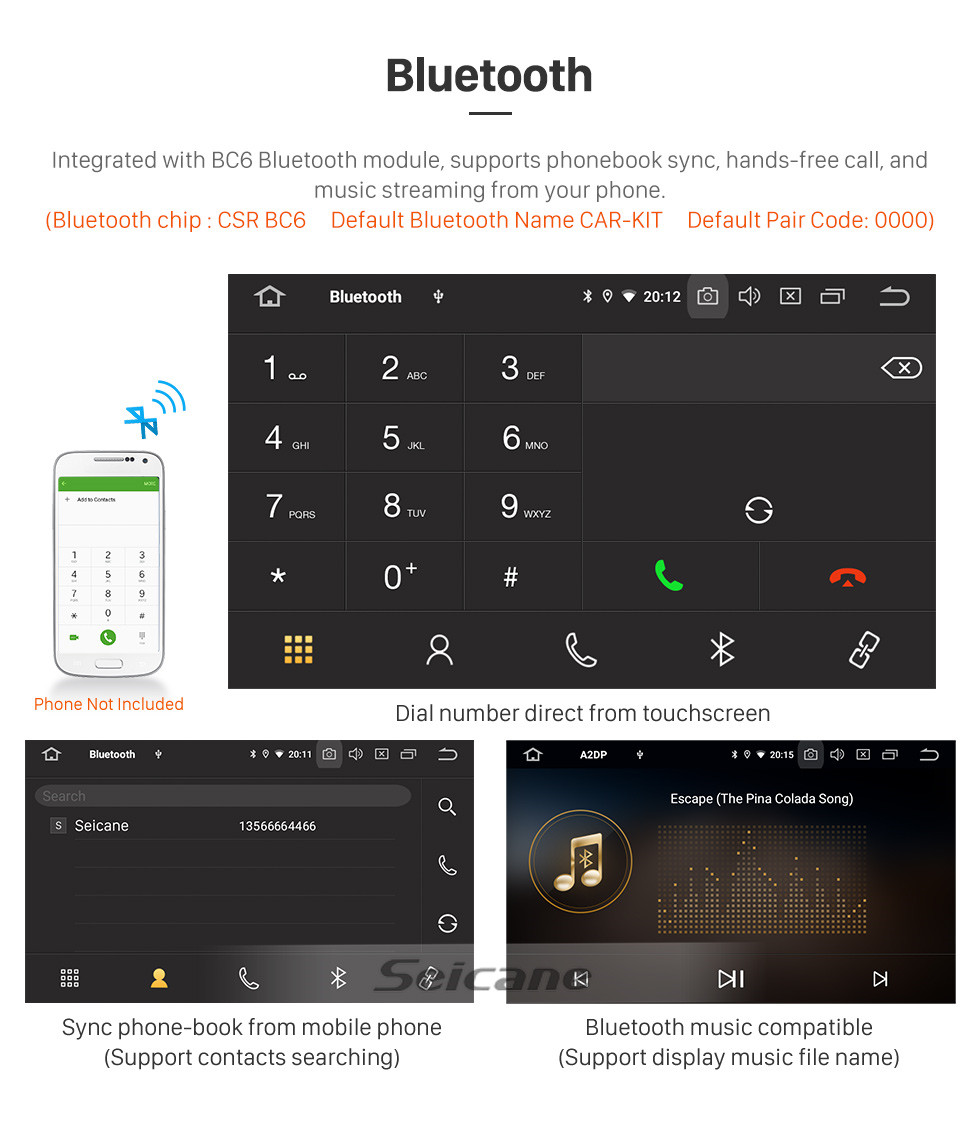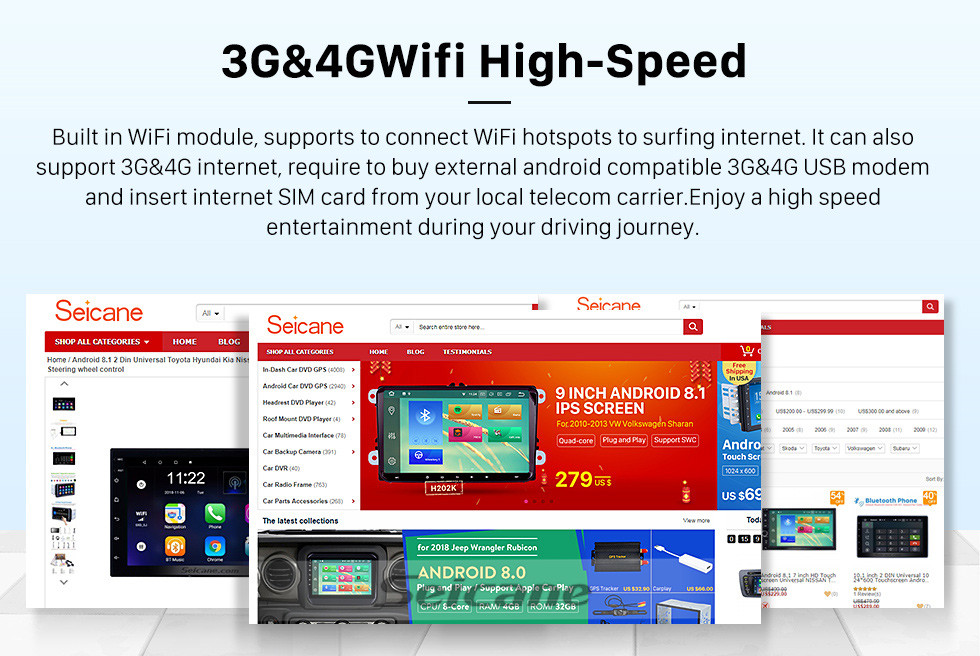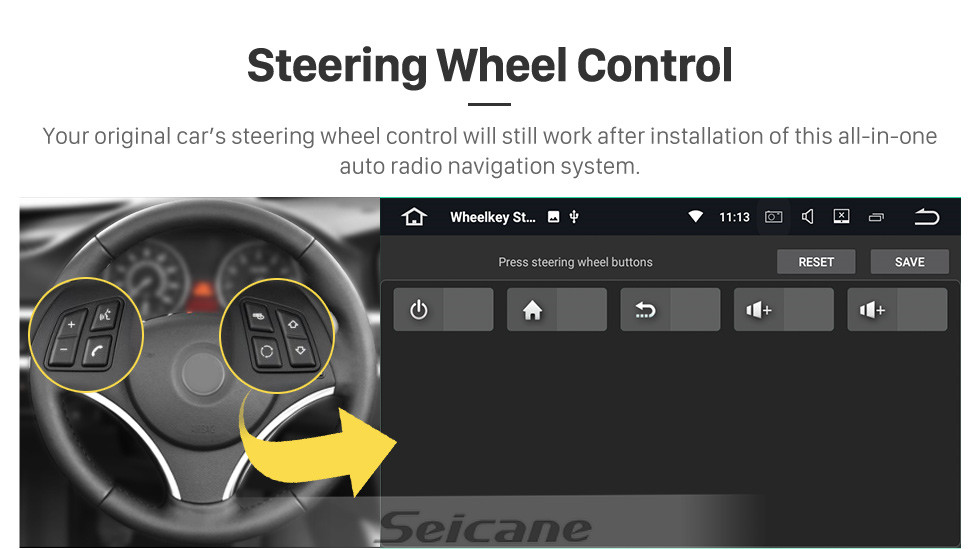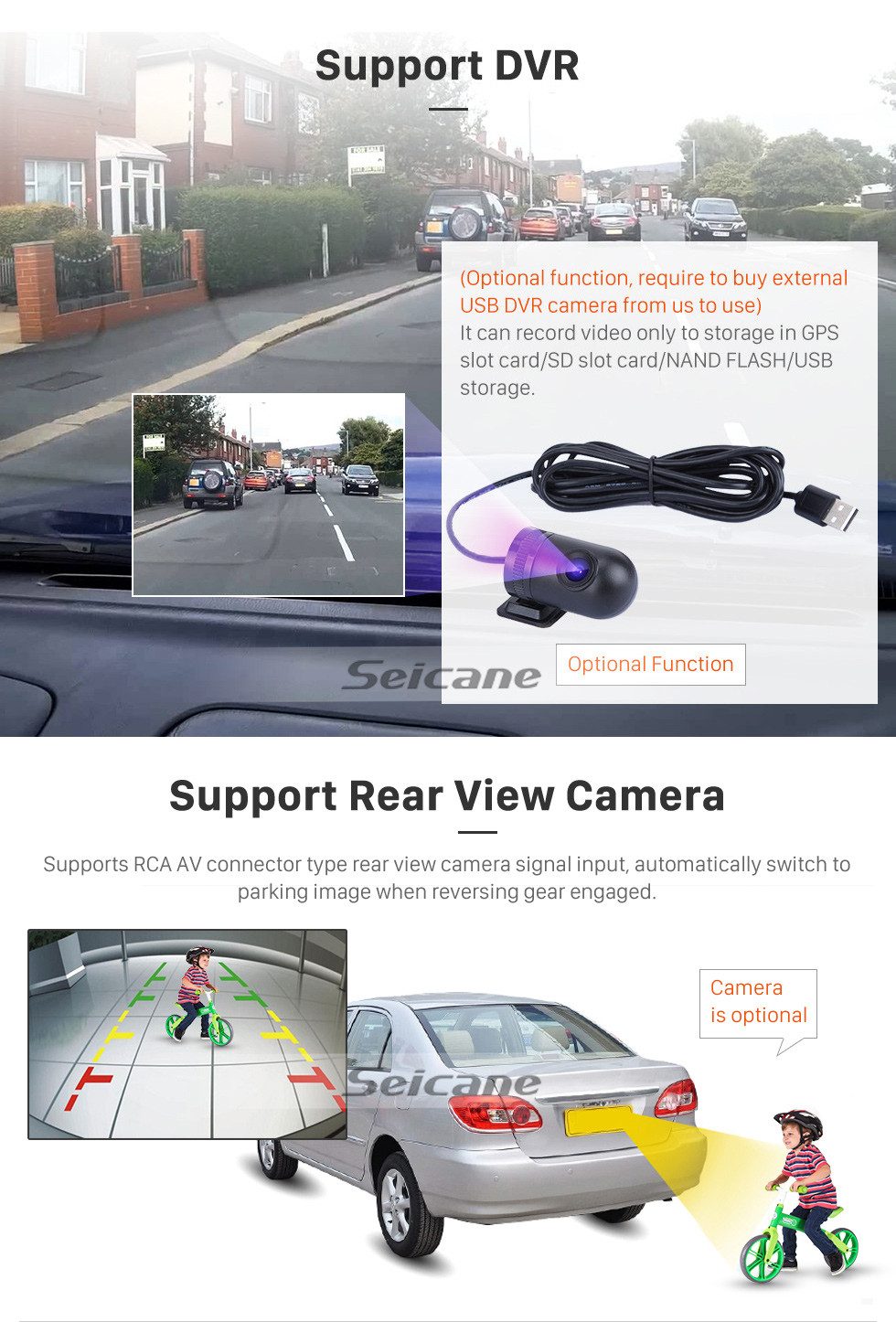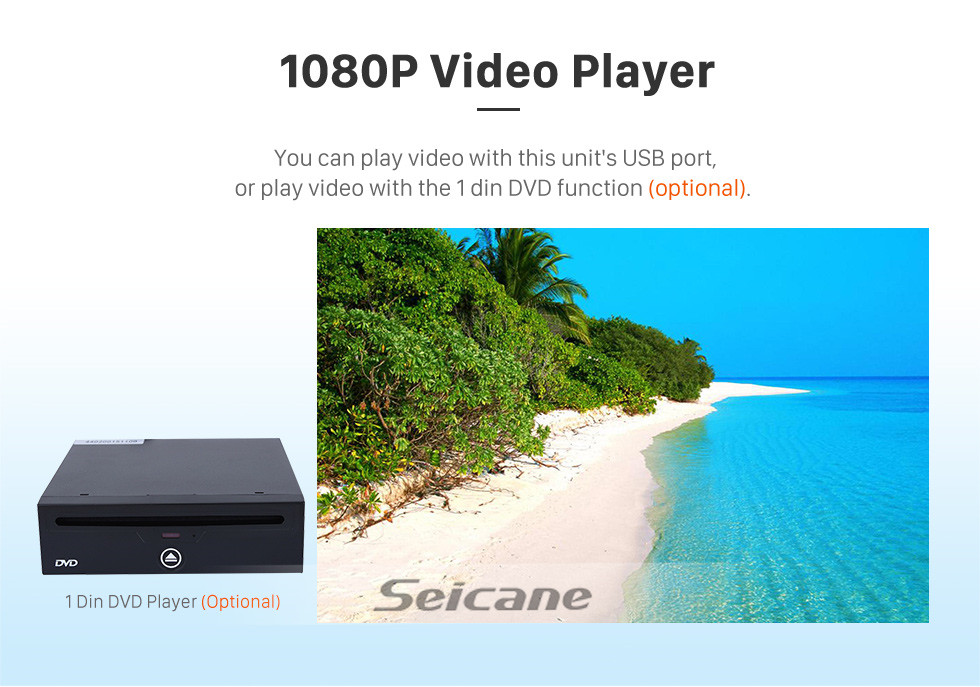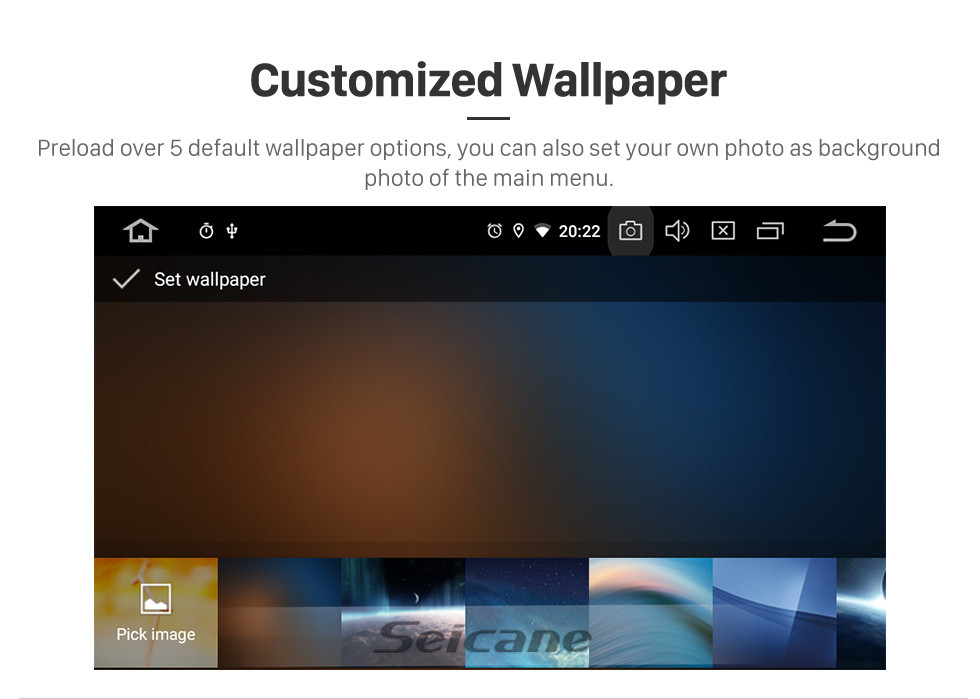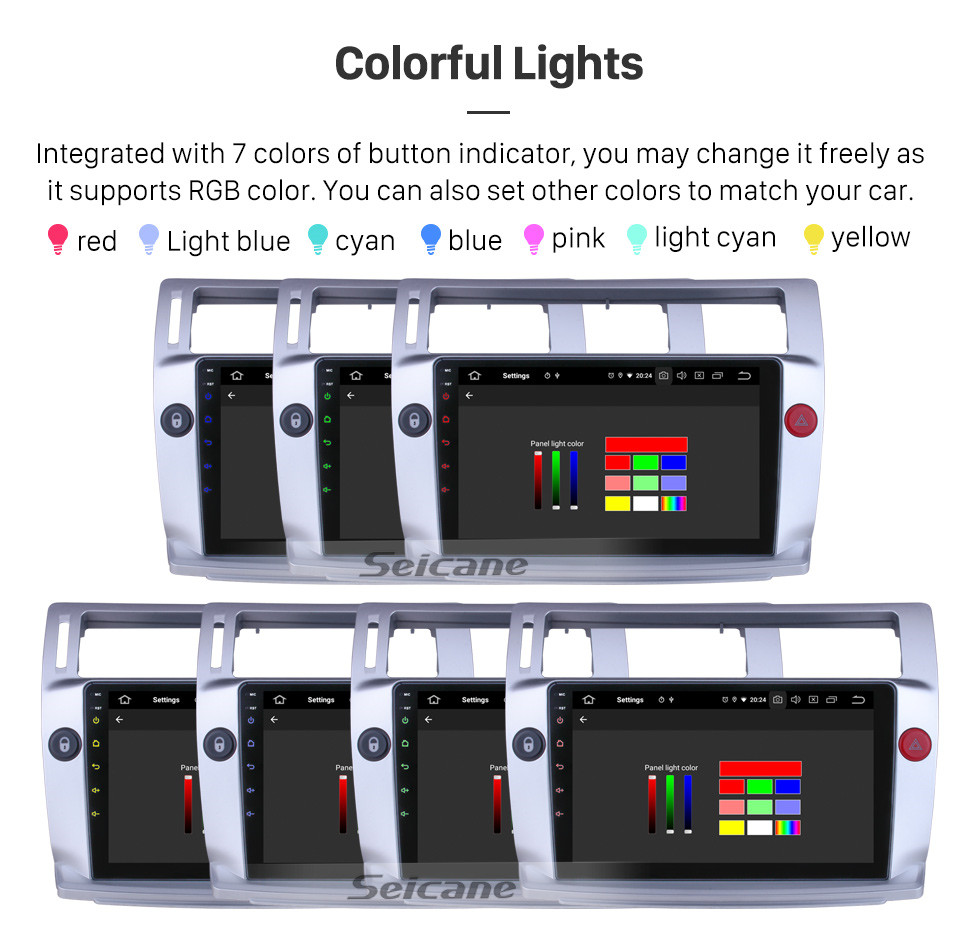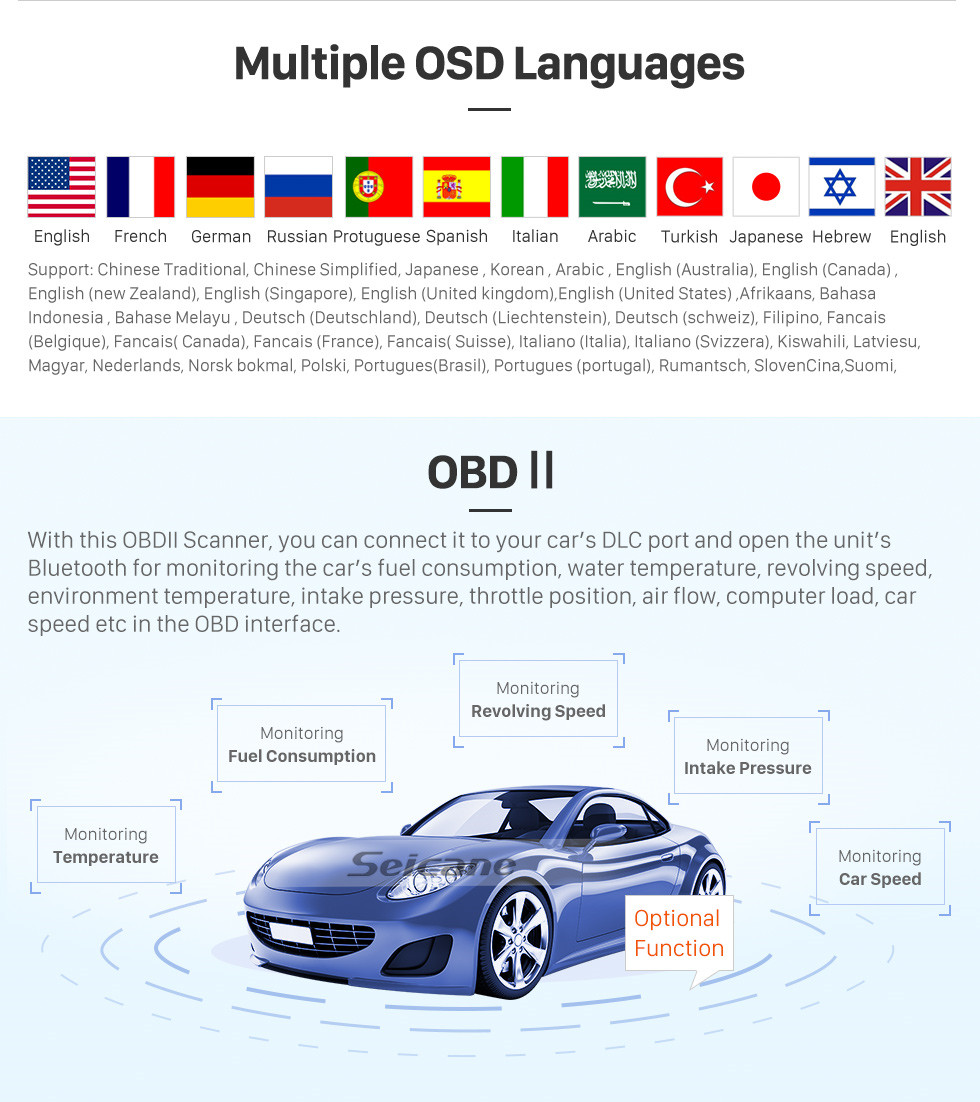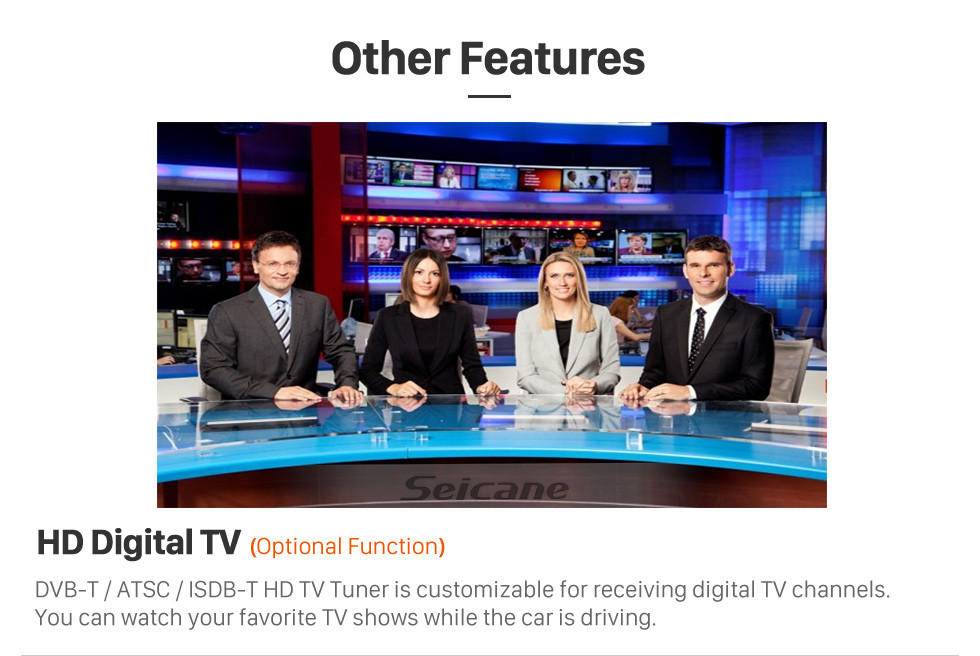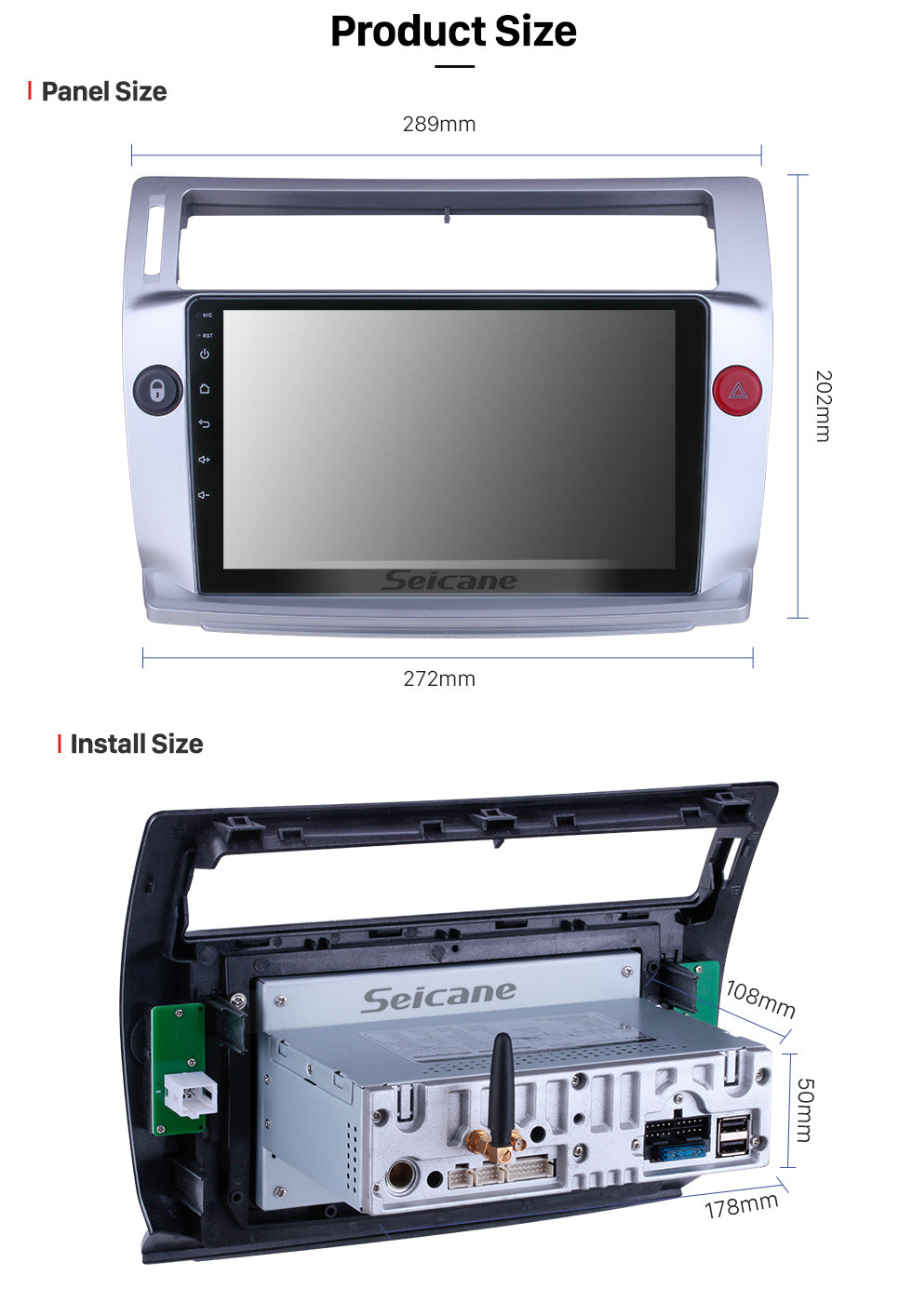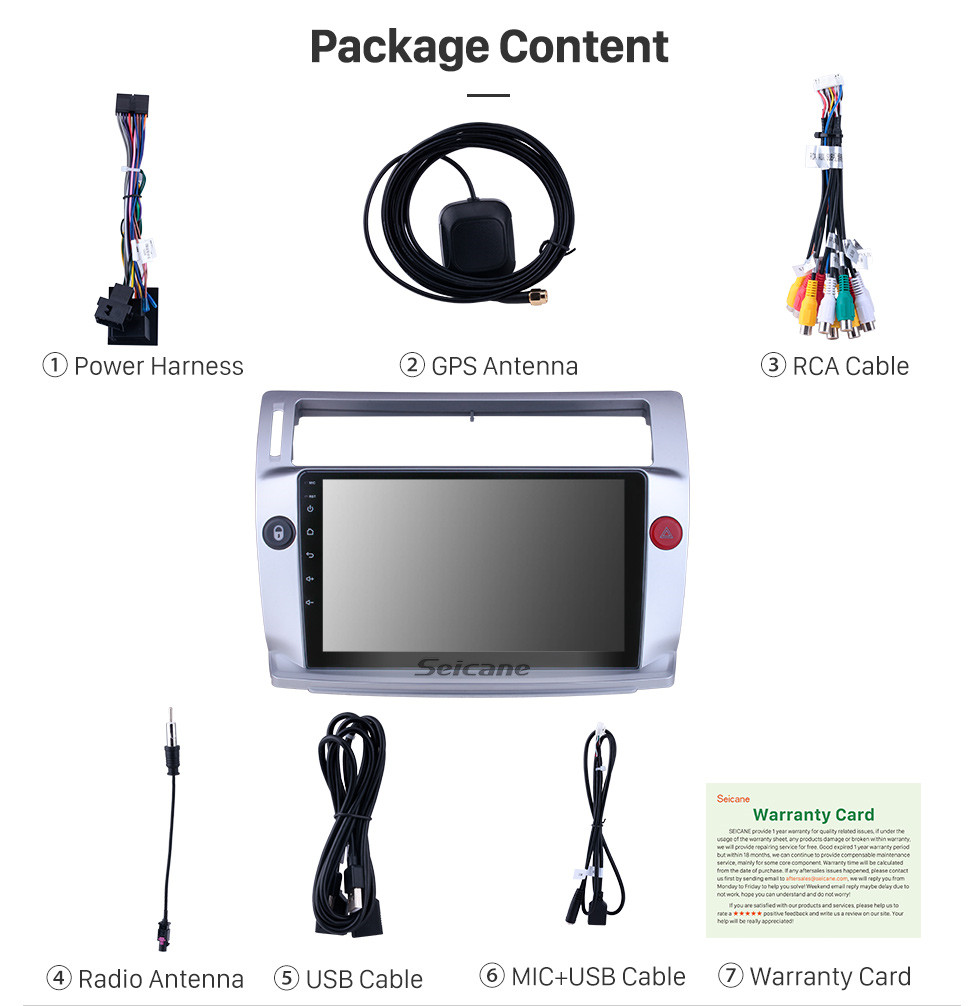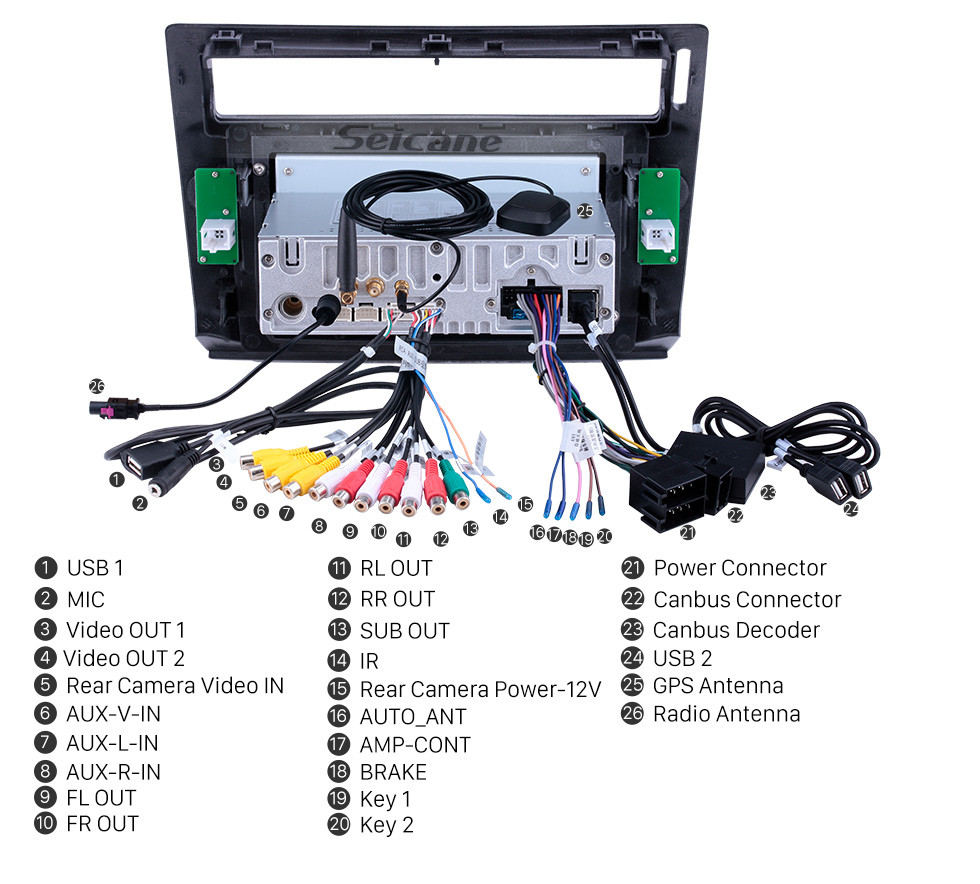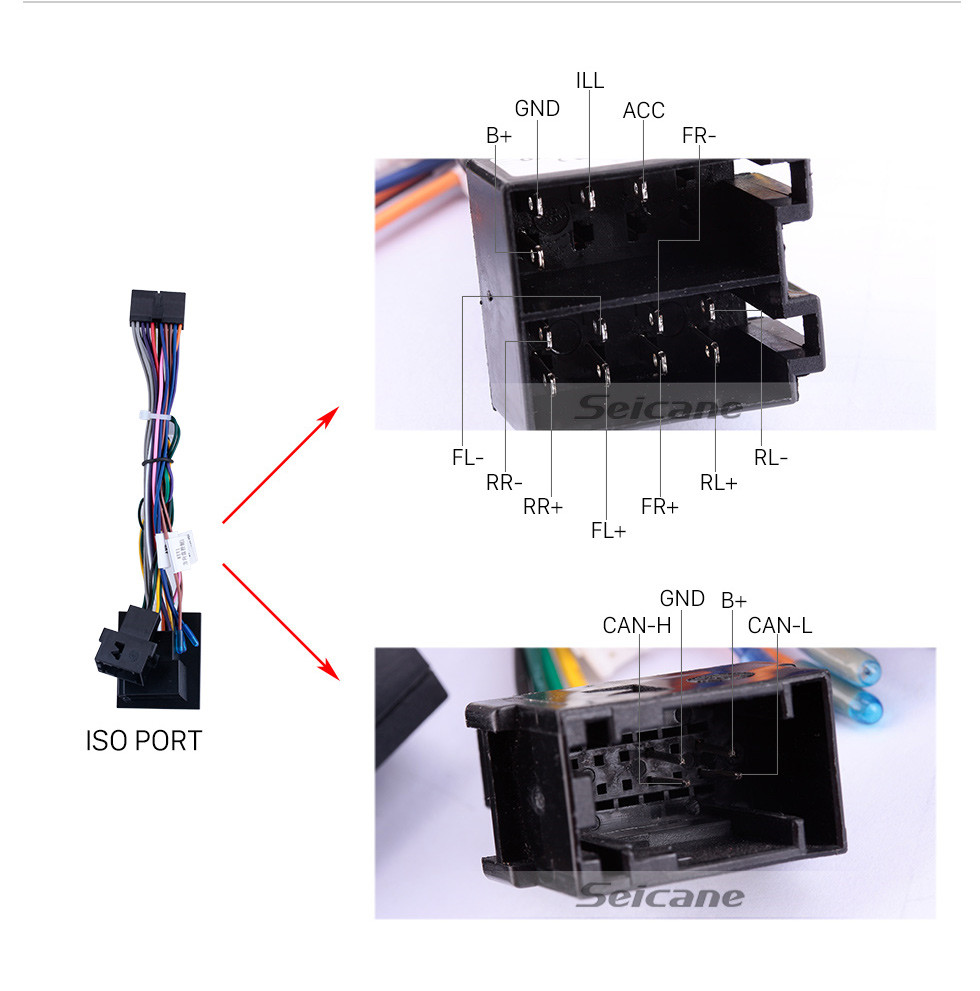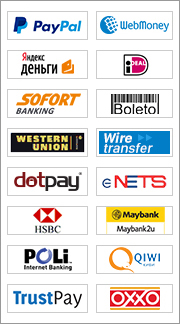 Product Highlight

This aftermarket head unit with the latest Android system can support 4G network, allowing you to get access to internet at the highest speed you've ever had. The full touch screen also makes it stand out in the market with a large touch screen to greatly simplify the operation. As the newest representative for car head units, it features a wide range of capabilities to meet your different needs in your car. To choose a perfect road companion for fun and convenience, it's just this amazing head unit!
Features Overview

4G/3G&WIFI/App download/3D GPS Navigation/FM&AM Radio/Bluetooth/Dual Zone/File Management/HD 1080P/Steering Wheel Control/ Digital TV/Mirror Link/OBD2/DVR/Backup Camera/TPMS/MP3/AUX/USB etc.
Advanced Configurations

OS:Android 10.0 system,fast and smooth operation
CPU: Quad - Core 1.5 GHz Coretex-A35, Main Frequency 1.5Ghz ,more efficient computing capability
RAM: 2G DDR3 RAM memory
Hard Disk: Built in 32GB iNAND MLC, featured MLC particles, high-speed, stability, bring you long-term service life
GPU: Integrated GPU with hardware support 2D/3D speeding, supports OpenGLES2.0 and OpenVG1.1, 1080P hardware decode, run more smoothly for the GPS Maps
UI: Fresh unique user interface with dynamic graphics
Display: Core board digital RGB888 direct drive, support multi-resolution,[email protected]*1200 max, higher definition and clearer display
Screen: Full Touch screen control with dynamic graphic user interface, support larger screens above 10 inch car DVD, clearer than resolution 1024*600 with the same interface
2 USB Ports: It comes with 2 USB Ports to meet your different needs of external devices, more choices for service and entertainment
Unique Features

Latest Android System: Loaded with the most advanced Android 10.0 system, it offers the fastest and smoothest operation you've ever enjoyed.
Prompt Response: Adopted Quad - Core 1.5 GHz Coretex-A35 CPU and high-speed iNAND MLC hard disk, this unit can start up within just 1 sec. And it only takes less than 2 seconds for sound, 3 seconds for rearview and 32 seconds for operation.
High-speed 4G/3G/ WIFI Network: It comes with built-in WIFI network and can support the most up-to-date 4G/3G module, allowing you to easily get access to internet for online music listening, online videos watching, online games watching, e-mail checking, etc as long as you reach a WIFI hotspot or connect it to a 4G/3G module.
Android Apps downloading: It can support thousands of apps downloading from Android market to meet your different needs, such as Twitter, Facebook, YouTube, M&N, Gmail, Skype, Google maps etc.
HD Touch-Screen Display: It greatly simplifies the operation with a digital multi-touch screen which can support multi-resolution,[email protected]*1200 max, making it clearer than resolution 1024*600 with the same interface.
3D GPS Navigation: With 3D maps(maps in iNAND ), the best way to your desired destination is just in your reach within seconds. All the navigation information is available, such as the current location, speed, mileage, landmark building display,3D street view, destination search and turn-by-turn voice directions, etc. You can also download the latest Google maps app.
Bluetooth for All Brands Cell Phones: It synchronizes your smart phone regardless of any brand with Bluetooth connection. The great convenience like Phonebook input, music playback and name search by A-Z are all supported. Hands-free calls and phonebook search on the large screen can greatly ensure your safety on the way. And Bluetooth music streaming just makes you feel relaxed all the way without any fatigue. The latest iPhone and Android phones can all be supported.
Amazing Video Formats Compatibility: A wide range of video formats can be supported, including wmv (VC1 codec), .avi (H.264, MPEG4, MJPEG, Xvid, WMV), .mp4 (H.263, H.264, MPEG4 codec), .mpg (MPEG-2 codec), .m4v (H.264, MPEG4).
Games Support: The HD 2D & 3D games are both compatible with this unit. A huge ton of excitement is just waiting for your families and friends in your car.
Video Out Function : It supports Video Out Function without AD switch, what's more, the pictures of CPU can output as backstage video.
Convenient One-key Functions: It supports one-key rescue, one-key navigation. The great convenience is just within your fingertip.
Mirror link: It synchronizes your mobile phone with this unit through WiFi or USB. This technology enables you to gain access to your smart phone's applications on the unit to play music and videos etc.
Options

HD Digital TV: DVB-T/ATSC/ISDB-T HD TV Tuner can be provided for receiving digital TV channels.
Car DVR: The DVR function is used for recording the whole process of traffic accidents, taking photos for front of vehicles and storing the video in real-time while driving.
4G/3G module: With a 4G/3G module, you can easily get access to the internet in your car. The availability of the latest 4G network makes you enjoy the fastest connection to the internet you've ever had
Backup Camera: It adds a backup camera for automatically switching to the parking image while reversing. This option includes a waterproof and night vision backup camera which will be mounted to the position of your car's license plate lights and the cables for its connection. The default rearview camera is wired. If you need the wireless one, please send a note us after placing order.
OBDII: With this OBDII Scanner, you can connect it to your car's DLC port and open the unit's Bluetooth for monitoring the car's fuel consumption, water temperature, revolving speed, environment temperature, intake pressure, throttle position, air flow, computer load, car speed etc in the OBD interface.
TPMS: Perfectly connected with this head unit with simple installation, the TPMS reports real-time tire-pressure information via a pictogram display or a simple low-pressure warning light to help you save fuel consumption, extend the tire life, decrease downtime and maintenance and increase environmental efficiency. The early recognition of the malfunction of tires provided by TPMS can avoid traffic accidents to improve safety in the whole process of driving.
Write Your Own Review
Head Unit
Hej.
Endelig en car stereo, som kan det hele. Vi europæere er dog ikke så vant til bilstereo, der har så stor fleksibilitet, så brug lidt tid og kig diagrammer igennem med ledningsførsel, hvis du er gør det selv typen. Ellers er det ret simpelt min bil stereo kom forprogrammeret og ledninger var etableret. Dog var to ledninger i min Citroen C4 byttet om så der måtte jeg lige selv koble dem rigtigt sammen. Eksempelvis bagkamera detect er en brun ledning til 12V reverse.
Nu har jeg både DAB radio, GPS, CarPlay, Tmps dæktryksmåling, trådløst bagkamera, og meget mere. Den kommer med komplet forside som virker fint, men jeg har valt at bruge en Launcher som hedder Agama, den samler alt de bedste fra dette bil multimediesystem. Installation var nemt og selv ratstyring fungerer. Menuer til ratstyring er nemt, det er et klik system som parer til multimediecentret i bilen. Og ovenikøbet har alle knapper en dobbeltfunktion, idet de kan programmeres til klik og langt klik.
Så alt i alt har det været en rigtig god oplevelse for mig. En ting er sikkert; bilradioen med den nye processor og masser af hukommelse virker upåklageligt. Det som for nogen går galt, er hvis man ikke kender til ledningsnet i bil såsom + og - volt mv. Så sæt dig ind i det først. Mål altid fra stel forbindelse med dit multimeter og se hvilken volt de forskellige ledninger har og skriv det ned. Således ved du altid hvilke ledninger som skal fødes med 12V og hvor stel skal være. Sæt altid iso adapter og ledninger sammen fra bilradioen og ud mod bilens ledningssystem aldrig modsat. Gør du noget forkert. skil det hele ad og saml ledninger igen fra bilradio og du mod bilens ledningsnet, således bliver den can bus reset. Can Bus er en delikat sag som samlet er 60 ohm i modstand, så brug can bus adapter der passer til din bil og lad være med bare at klippe ledninger over.
Head unit, with fast processor and lots of ram running everything smoothly
Hello.
Finally a car stereo that can do it all. However, we Europeans are not so used to car stereos that have so much flexibility, so spend some time and look through diagrams with wiring if you are the do it yourself type. Otherwise, it's pretty simple my car stereo came pre-programmed and wires were established. However, two wires in my Citroen C4 were swapped so I just had to connect them properly myself. For example, rear camera detect is a brown wire for 12V reverse.
Now I have both DAB radio, GPS, CarPlay, Tmps tire pressure measurement, wireless rear camera, and much more. It comes with a complete front which works fine, but I have chosen to use a Launcher called Agama, it brings together all the best from this car multimedia system. Installation was easy and even steering wheel steering works. Steering wheel menus are easy, it is a one-click system that pairs with the multimedia center in the car. And on top of that, all buttons have a dual function, as they can be programmed for clicks and long clicks.
So all in all, it has been a really good experience for me. One thing is certain; the car radio with the new processor and lots of memory works impeccably. What goes wrong for some is if you do not know about wiring in a car such as + and - volts etc. So get into it first. Always measure from the ground connection with your multimeter and see what voltage the different wires have and write it down. Thus you always know which wires should be supplied with 12V and where the frame should be. Always connect the iso adapter and wires together from the car radio and towards the car's wiring system never opposite. Are you doing something wrong. disconnect it all and reassemble the wires from the car radio and you towards the car's wiring harness so it can be bus reset. Can Bus is a delicate case that has a total resistance of 60 ohms, so use a can bus adapter that fits your car and do not just cut wires.
Would you recommend this product to a friend? Definitely yes