kauften DIESES Produkt
Einzelheiten
Haupteigenschaften:
1. Mit einem 8,8-Zoll-IPS-Bildschirm sieht dieses Gerät sehr exquisit aus. Sein Bildschirm fühlt sich sehr glatt und makellos an. Genießen Sie einfach ein visuelles Fest auf diesem Gerät mit einer Auflösung von 1280 x 480.
2. Dieses Gerät kann das Radio oder die Bluetooth-Funktion des Originalautos unterstützen, oder die Benutzer können das eingebaute Radio oder die Bluetooth-Funktion dieses Geräts verwenden.
3.Support Original ALLE FUNKTIONEN.
4. Dieses Gerät tauscht nur Ihren Original-Auto-TFT-Monitor aus und ist einfach zu installieren. Keine Lücke, OEM-Stil.
Bitte beachten Sie:
Wenn das Originalauto ohne AUX kommt, kann dieses Gerät nicht passen.
Oder Sie müssen AUX für Ihr Auto von Ihrem Autohändler aktivieren.
Oder Sie müssen die Optical Fiber Most BOX kaufen, bitte wählen Sie bei der Bestellung die Option "Support Original car's Optical Fiber Amplifier", dann senden wir Ihnen die Glasfaser-Decoderbox.
Bitte überprüfen Sie Ihren originalen LVDS-Anschluss:
Wenn es sich um ein 4-poliges System handelt, wählen Sie bitte "CIC LVDS-4-polig".
Wenn es sich um ein 10-poliges CCC-System handelt, wählen Sie bitte "CCC LVDS-10-polig".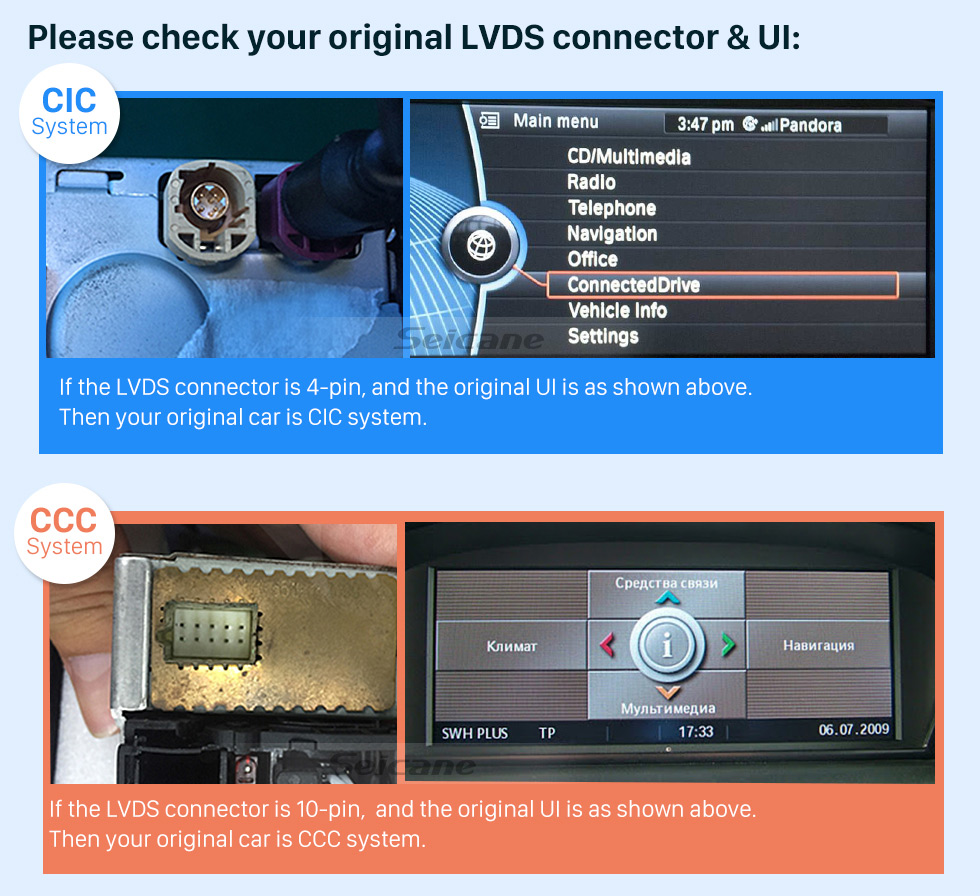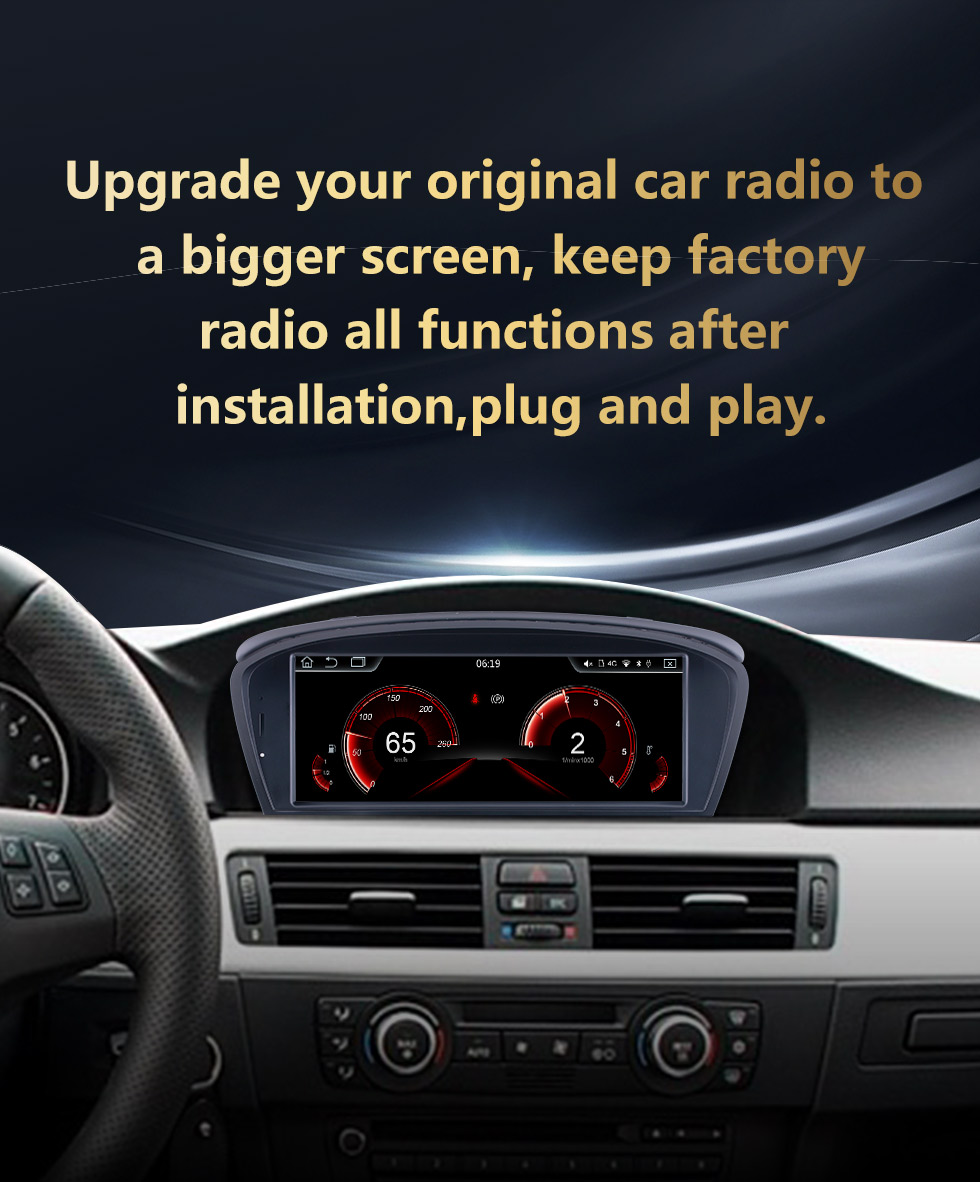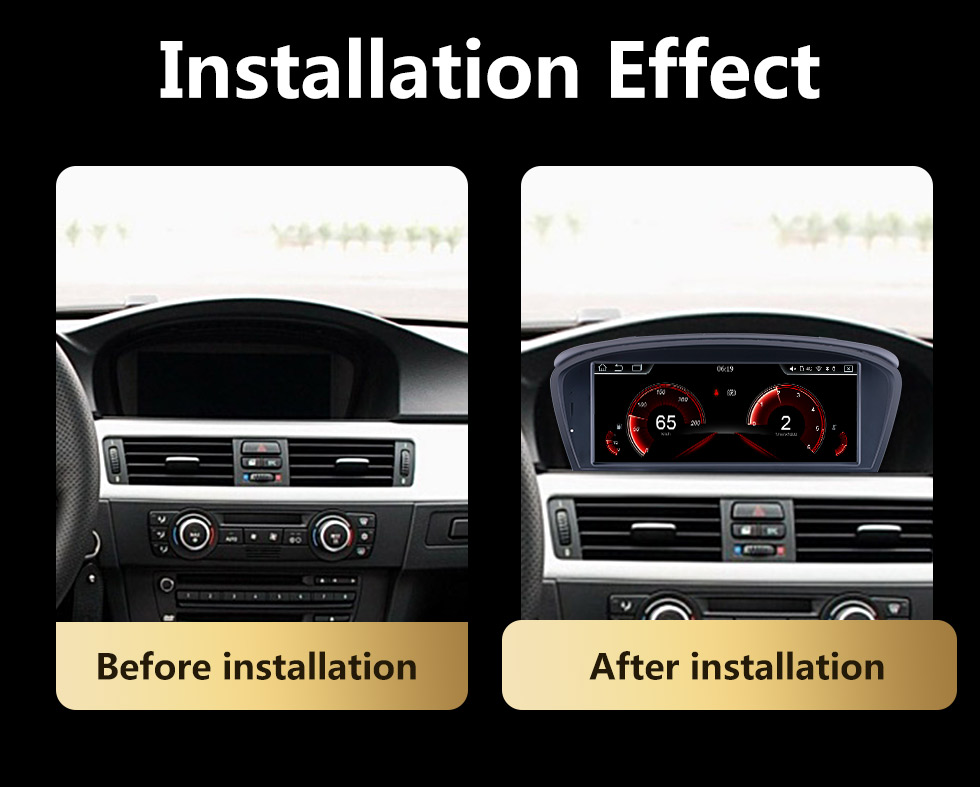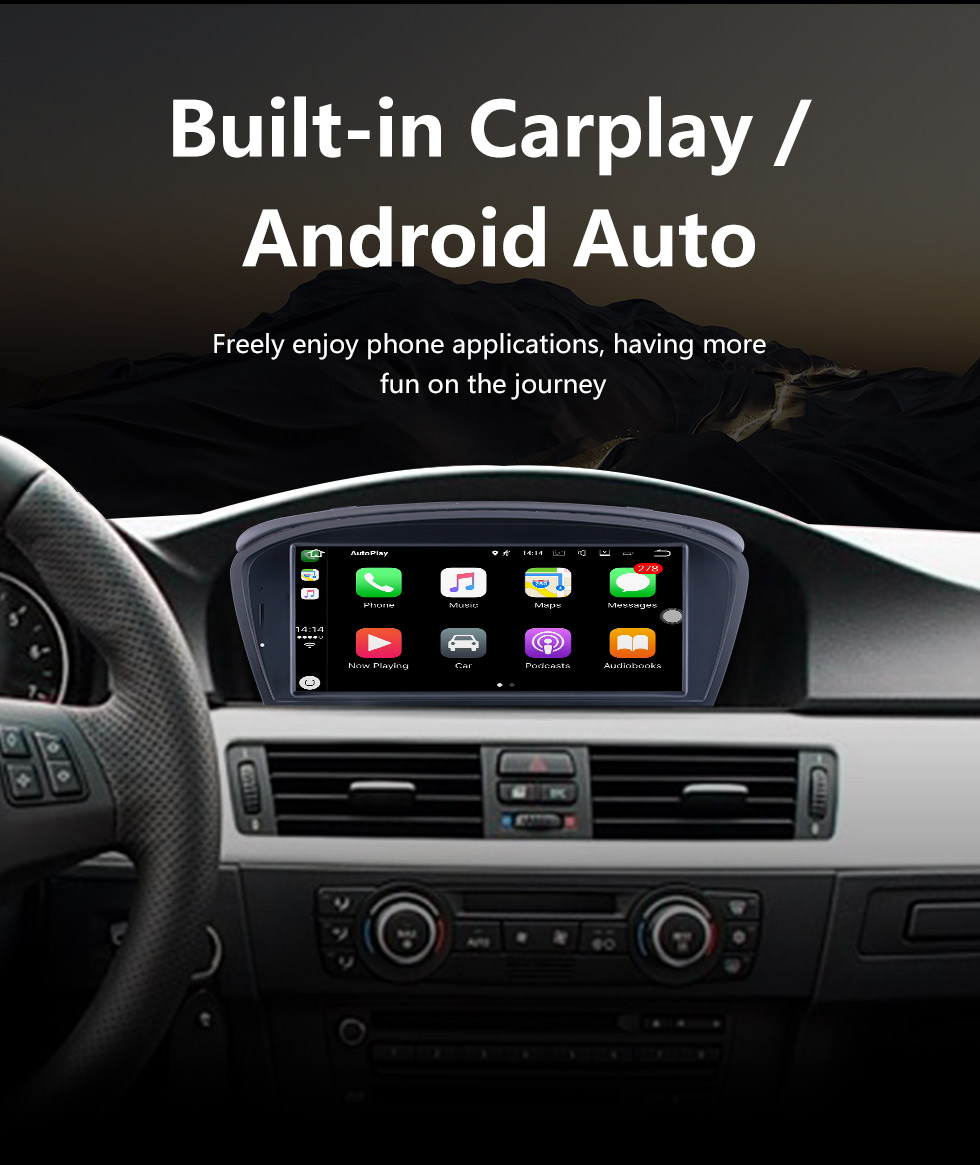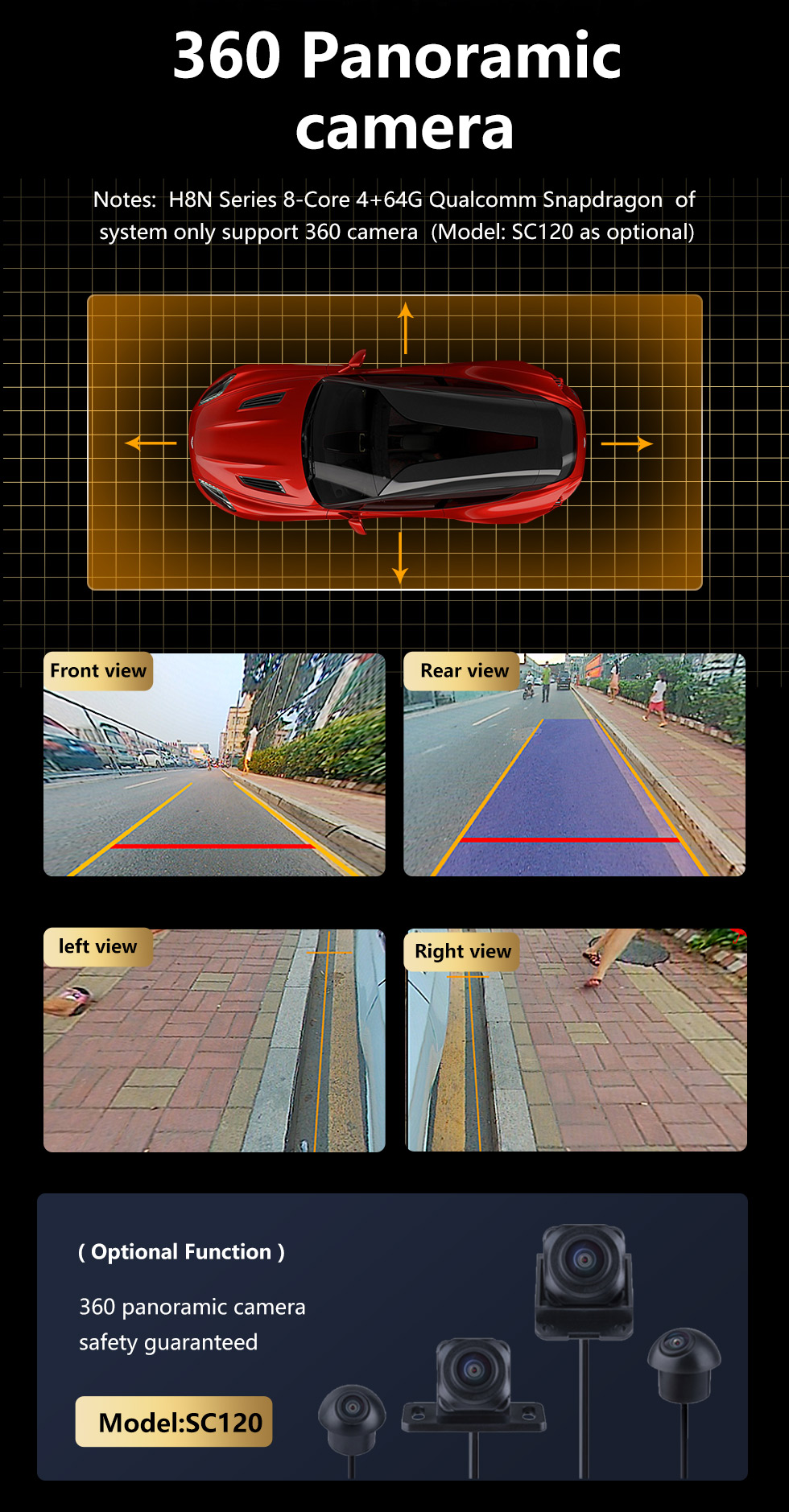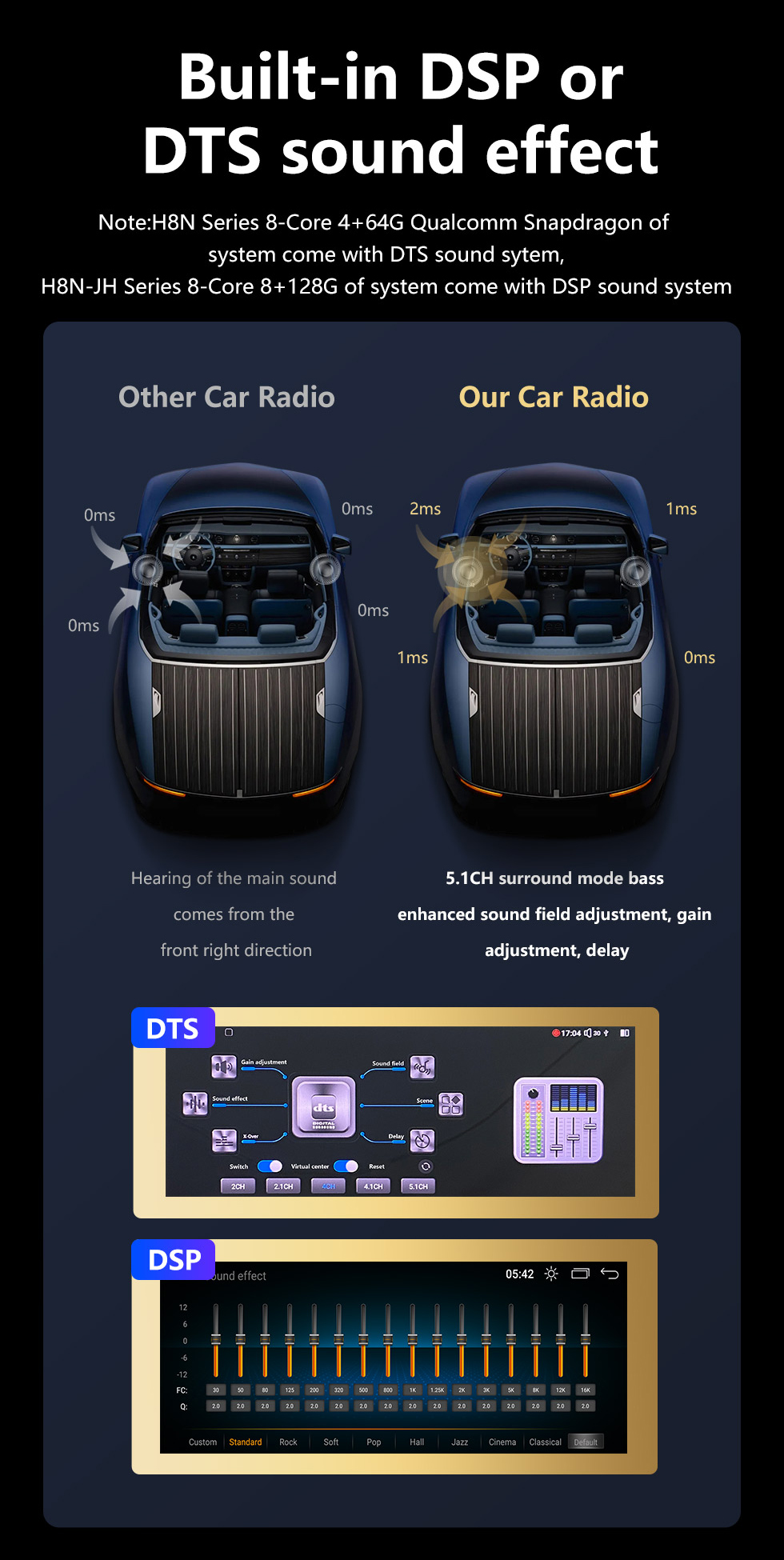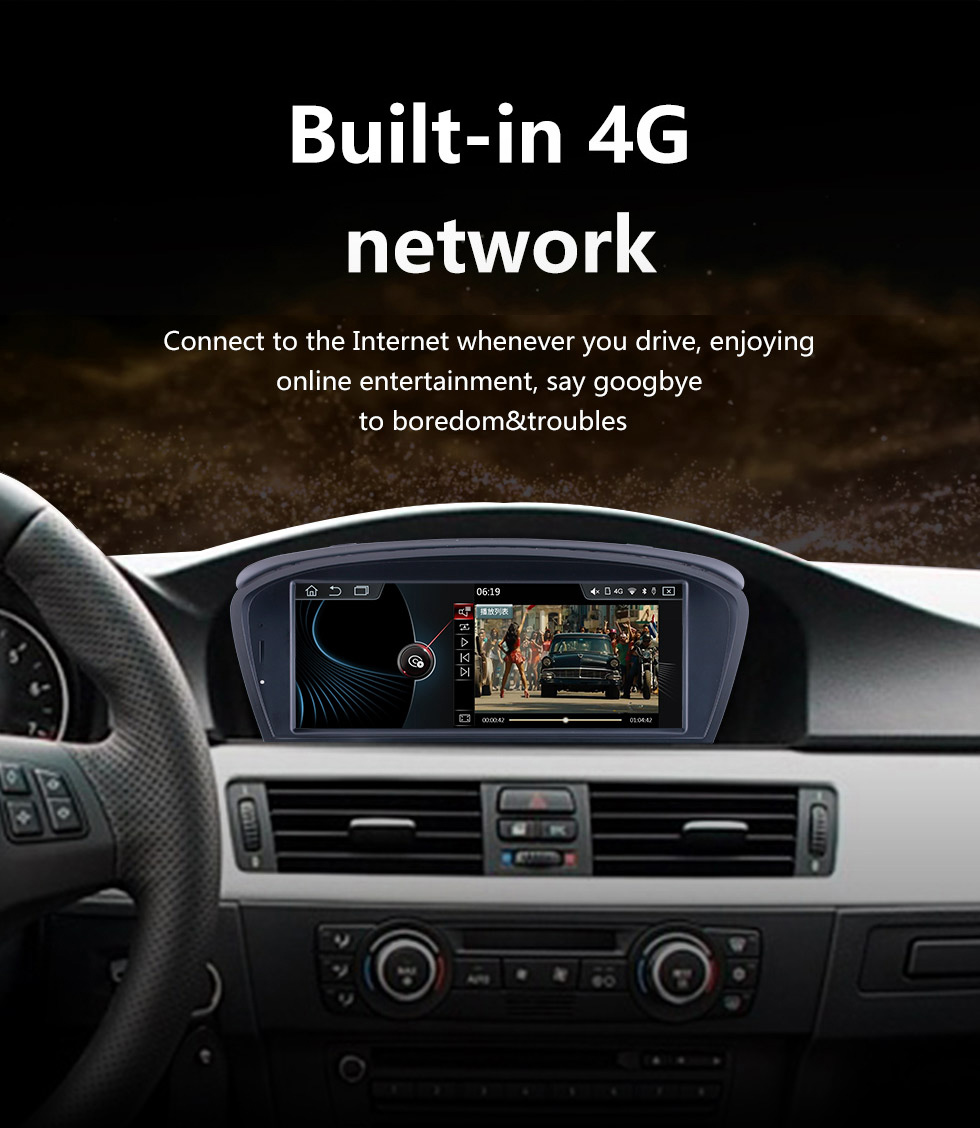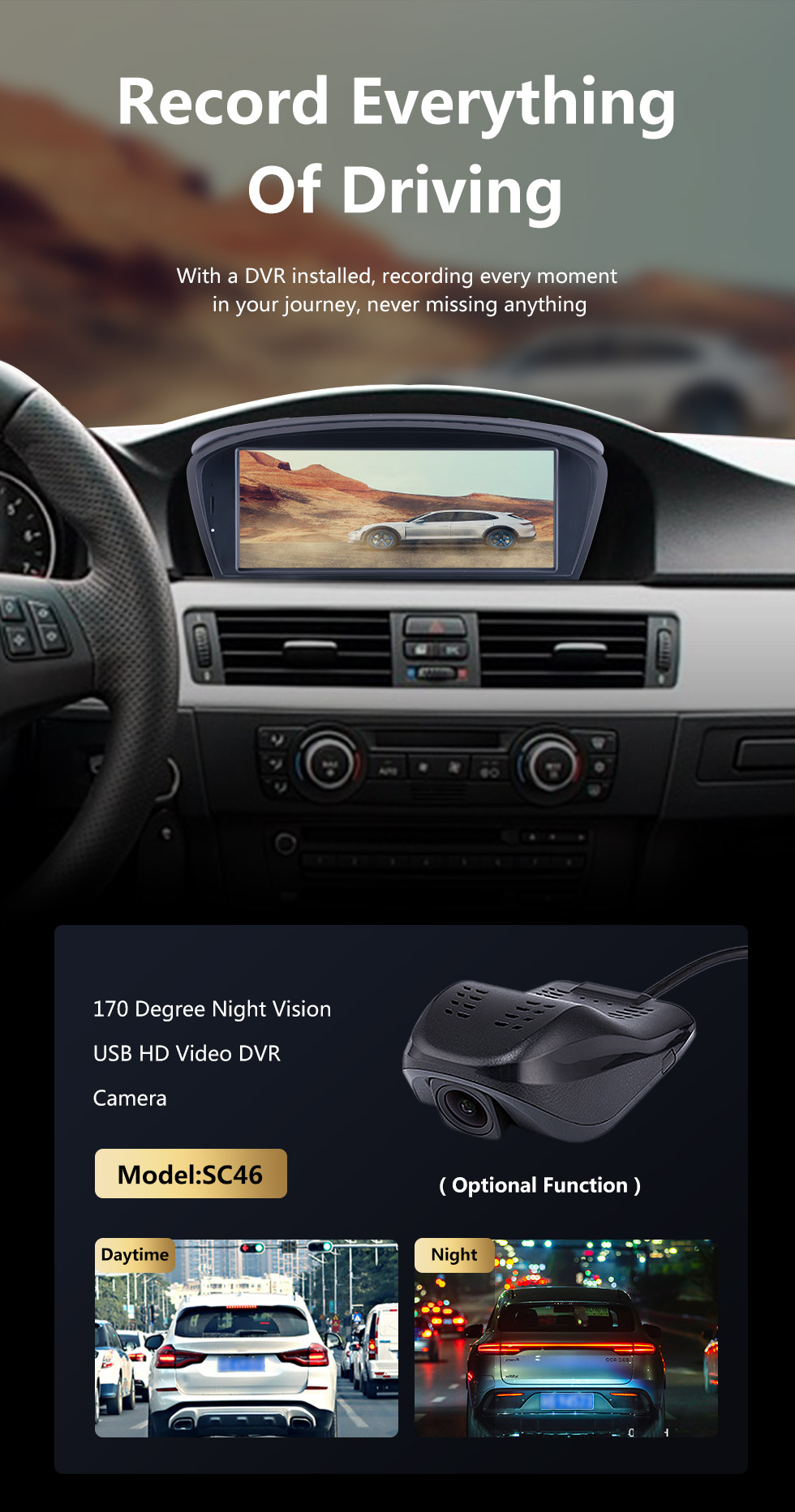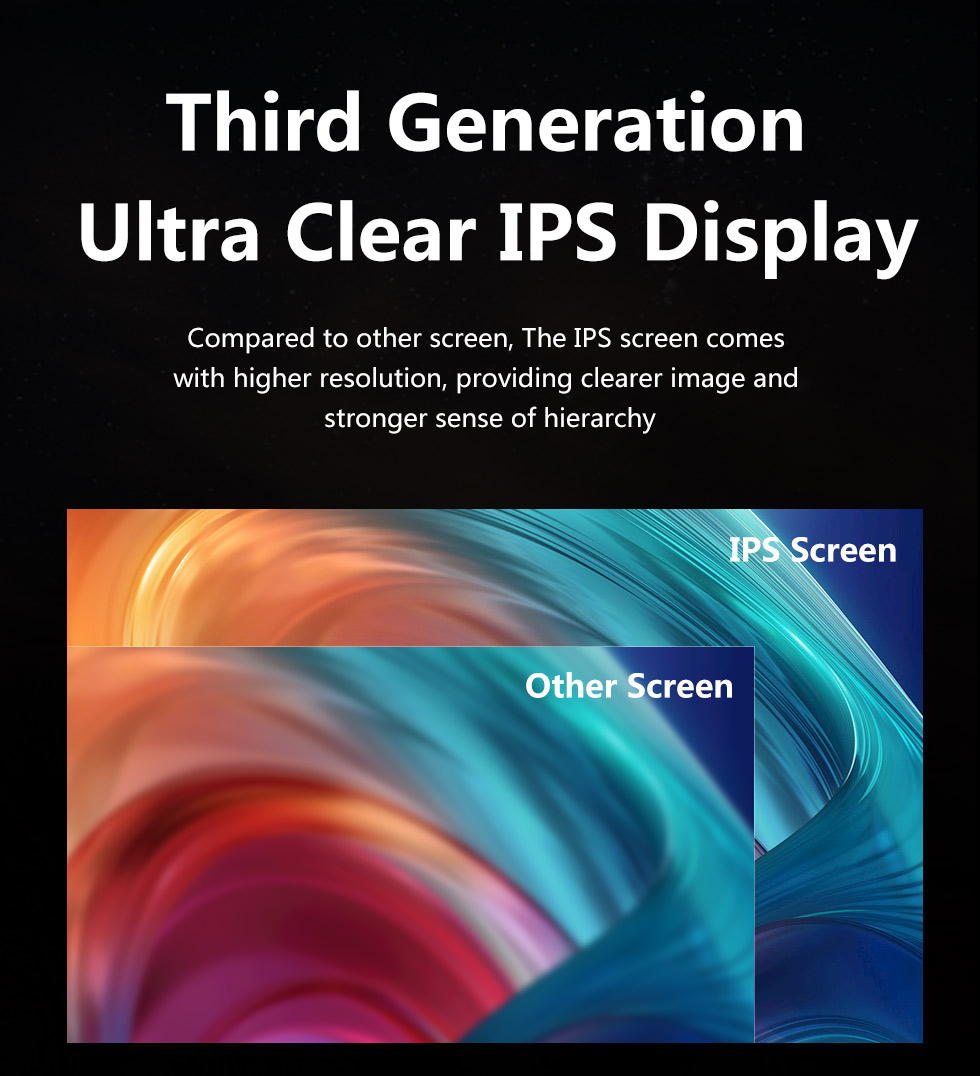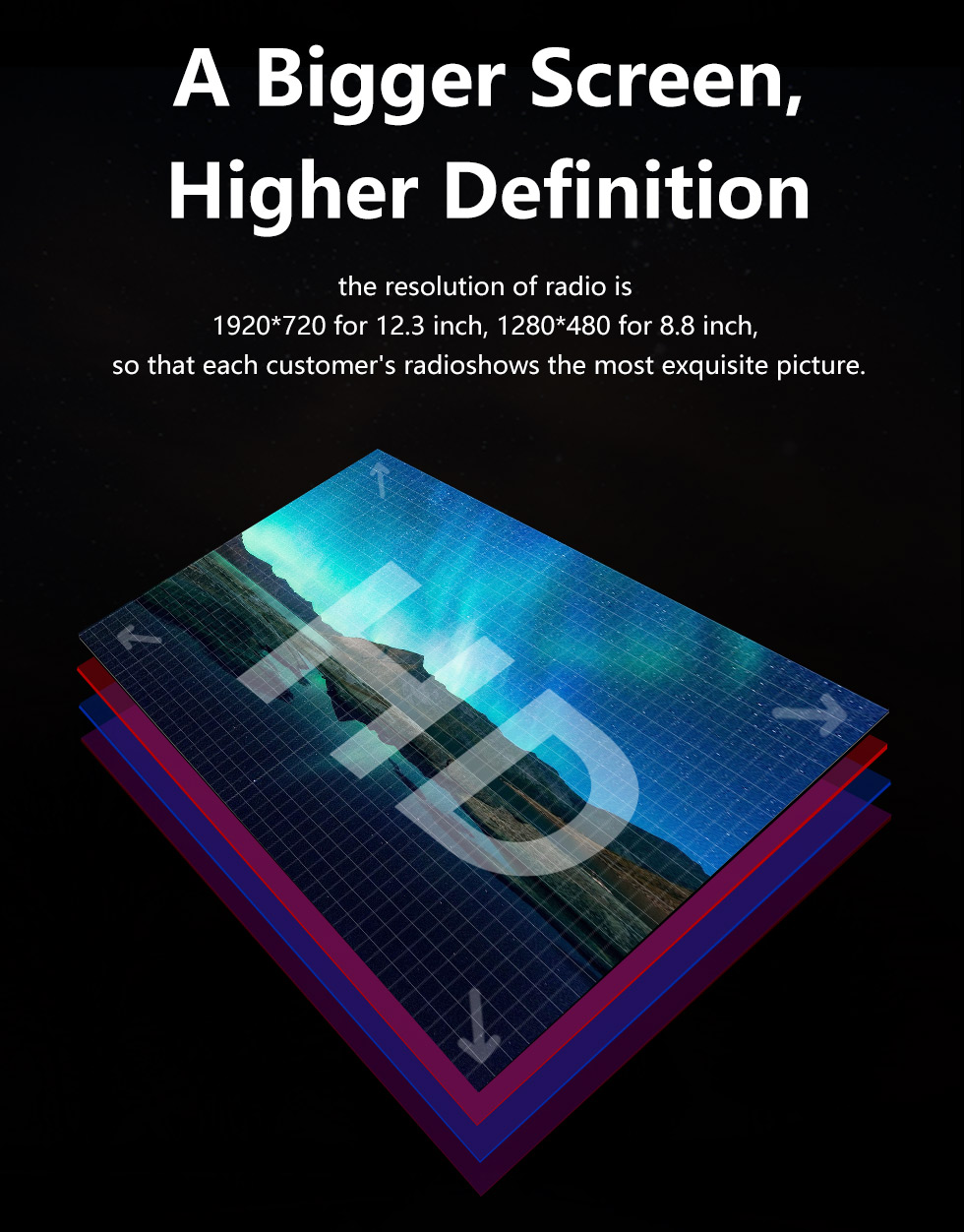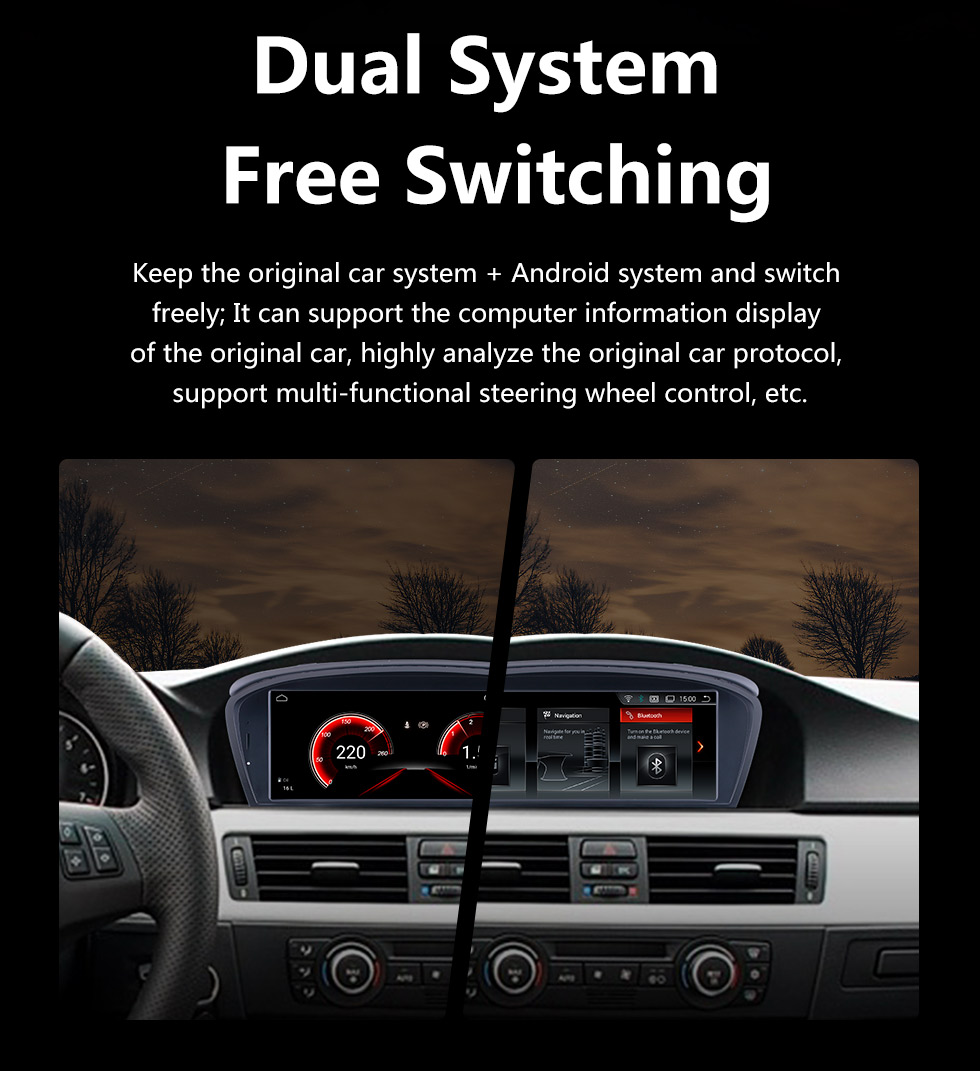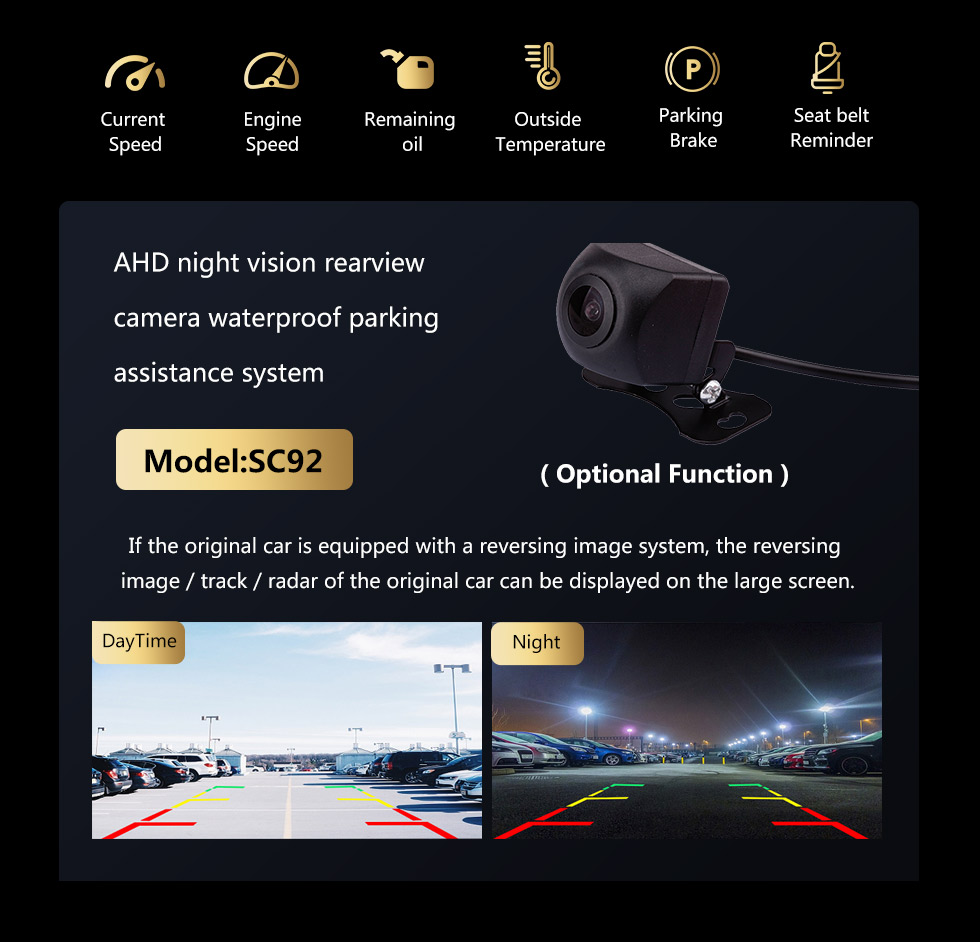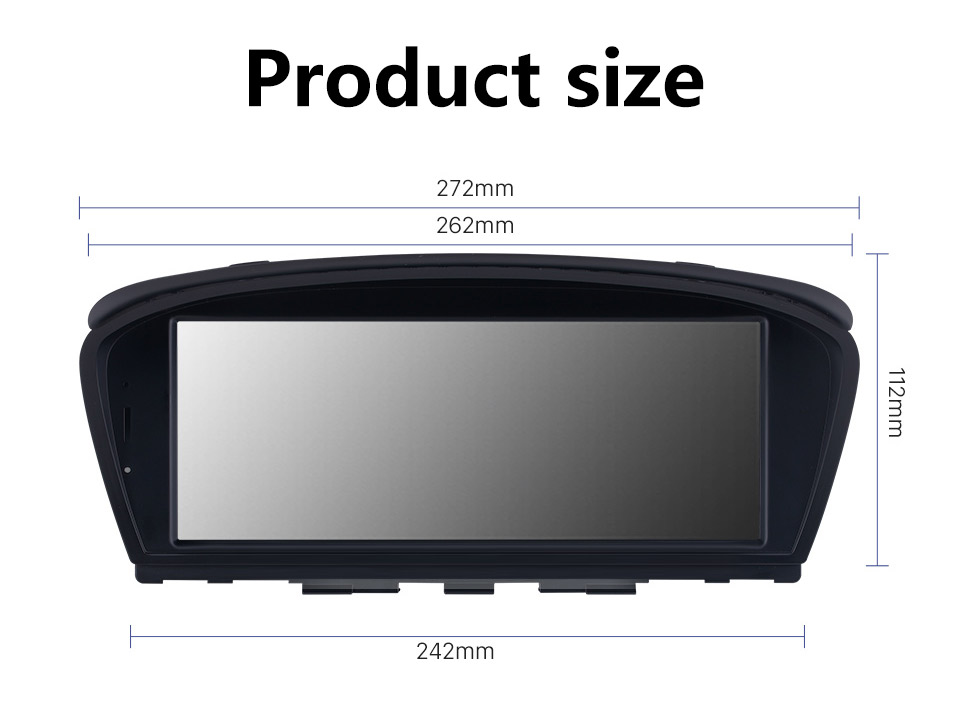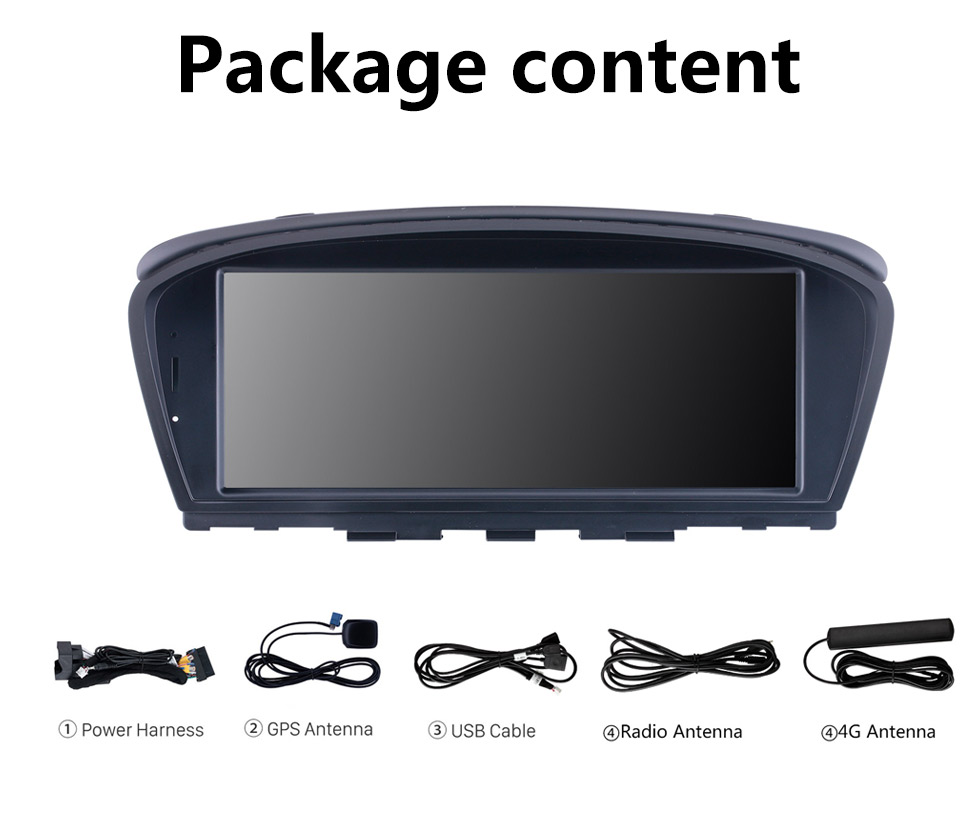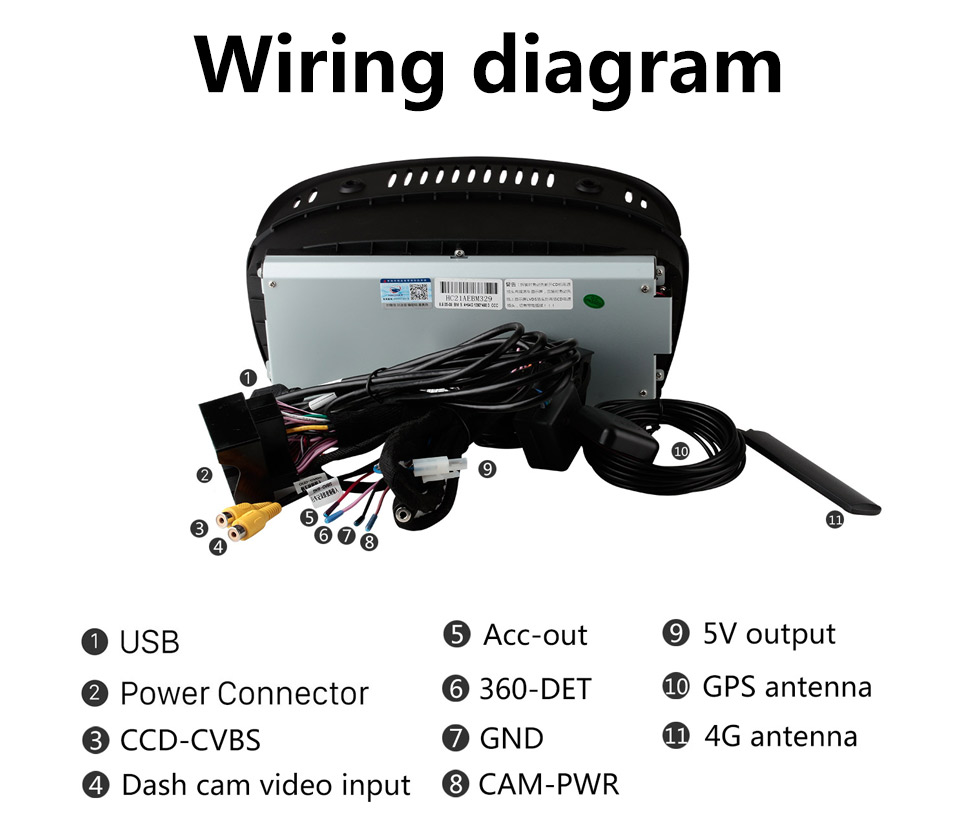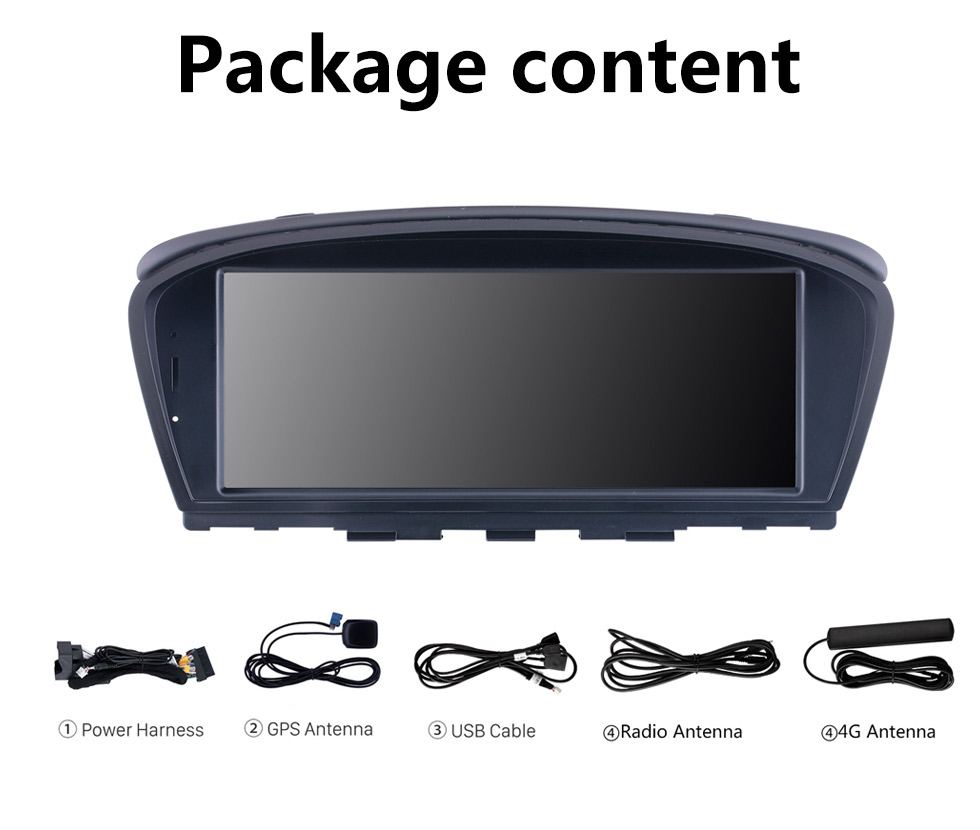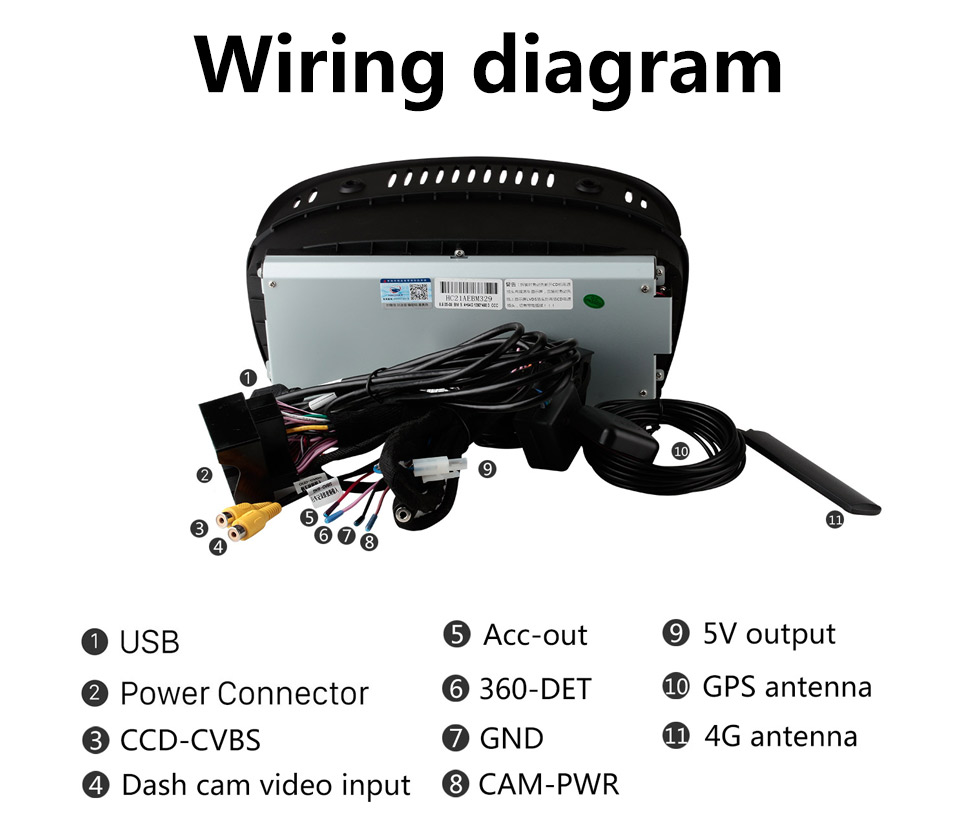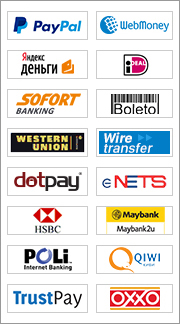 Schlüssel Funktionen:

8.8 inch 16:9 1280*480 digital high definition TFT LCD capacitive touch screen
Bases on Android 10.0 operation system.
With DDR3 2GB RAM, 32GB ROM.
Mit 2 USB-Ports, 1 SD-Kartensteckplatz. SD Max unterstützt 32 GB, USB Max unterstützt 64 GB.
With built-in core module, support 3D GPS Map.
Built-in WiFi.
Built-in RK616 Audio IC.
Built-in 3.0 Bluetooth, and support original Bluetooth.
Built-in Microphone, & support external microphone.
Be compatible with original cars with/ without original navigation.
Support original radio.
Unterstützung von Idrive-Steuerung im Android-Menü.
Unterstützt Idrive-Steuerung im Original-Menü.
Support Parking trajectory/radar.
Support original camera and aftermarket camera.
Unterstützung Multi Touch.
Support multiple languages.
Support Phonelink Function: AirPlay(iPhone) up to IOS12, Miracast(Android) up to Android 10.0.
Support Carplay function (Optional).
Unterstützt DVR-Funktion: USB 2.0 & AV / CVBS (Optional).
Options :

HD Digital TV: DVB-T / ATSC / ISDB-T HD TV-Tuner für den Empfang von digitalem TV-Sender zur Verfügung gestellt werden.
Auto DVR: Die DVR-Funktion zur Aufzeichnung des gesamten Prozesses von Verkehrsunfällen eingesetzt wird, Fotos für Front der Fahrzeuge zu nehmen und das Video in Echtzeit zu speichern während der Fahrt.
Backup-Kamera: Es fügt eine Backup-Kamera automatisch in die Park Bild Schalten bei der Umkehrung. Diese Option beinhaltet eine wasserdichte und Nachtsicht-Backup-Kamera, die Ihr Auto montiert wird, um die Position der Kennzeichenbeleuchtung und die Kabel für die Verbindung. Die Standard-Rückfahrkamera ist verdrahtet. Wenn Sie die drahtlose ein benötigen, schicken Sie bitte eine uns beachten Sie nach der Bestellung.
OBDII: Mit diesem OBDII Scanner, können Sie es zu Ihrem Auto DLC-Port anschließen und die Bluetooth-Einheit öffnen für den Kraftstoffverbrauch des Fahrzeugs überwachen, Wassertemperatur, Drehzahl, Umgebungstemperatur, Einlassdruck, Drosselklappenstellung, Luftfluss, Computer Last, Fahrzeuggeschwindigkeit usw. in die OBD-Schnittstelle.
DAB +: Kurz für den digitalen Audio-Rundfunk, DAB + als fortschrittliche digitale Funktechnologie für Rundfunksender integriert eine Reihe von Funktionen, um Störungsprobleme und Signalrauschen zu reduzieren. Mit hochwertigem Sound bietet es mehr Radioprogramme über ein bestimmtes Spektrum als analoges FM Radio. Außerdem kann DAB + nicht nur automatisch auf alle verfügbaren Stationen abgestimmt werden und bietet eine Liste für Sie zur Auswahl, sondern bietet auch Echtzeit-Informationen wie Song-Titel, Musik-Typ und News oder Traffic-Updates. Es ist die beste Wahl für Radio-Liebhaber und Musik-Enthusiasten.
TPMS: Perfekt mit diesem Kopfeinheit mit einfacher Installation verbunden, die TPMS-Berichte in Echtzeit Reifendruckinformationen über ein Piktogramm-Display oder einem einfachen Licht-Niederdruckwarnung Ihnen zu helfen, den Kraftstoffverbrauch, verlängern die Lebensdauer der Reifen, verringern Ausfallzeiten speichern und Wartung und Steigerung der Umwelteffizienz. Die frühzeitige Erkennung der Störung von Reifen durch TPMS versehen können Verkehrsunfälle zur Verbesserung der Sicherheit in den gesamten Prozess des Fahrens zu vermeiden.
Carplay USB Dongle: Kompatibel mit IOS und Android Handy, dieser Carplay USB Dongle ist Plug-and-Play. Er unterstützt die originale Auto Sprachsteuerung und Bildschirm Touch. Damit können Sie Ihre Smartphone Carplay Funktion in Ihrem Auto frei genießen.
Schreiben Sie Ihre eigene Kundenmeinung
um john

13. August 2014
5 series E60
I bought this unit and it was easy to install. Dragging the cables up was easy with a youtube instructional piece. Just do a search (seicane BMW E60) on youtube. The screen is much bigger than my 6.5 screen. The seicane pages are crisp and clean. The video is high quality. Its definitely 1080dp. I am using this device to run the kivic one so I can mirror link my iphone wirelessly. Its a great product. Great to have my music streaming wirelessly and get texts and email notifications through the speakers of my car. Its quality. Customer service takes a bit of time because of the time difference between US and china but they take care of you. This thing coupled with the kivic one makes the new idrives in new beamers look outdated. Best of all its touch screen!!!!!
um Marco
21. Februar 2022
keep original car all functions
The original car function is well supported. You can also navigate, watch movies, listen to radio, etc., to meet daily needs.
Möchten Sie dieses Produkt einem Freund empfehlen? definitiv ja